Disk cloning software allows you to duplicate the entire contents of one hard drive, including system data that is not accessible or editable, to another disc. There are various reasons why you should clone your hard drive using hard drive cloning software. For example, recovering damaged/lost data, saving a failing disc, upgrading a hard disc, and transferring apps, systems, and content to a new computer or SSD/hard drive. When you're in one of these situations, the best disc cloning software can help you get the job done quickly and easily.
Choosing the best SSD copying software from a huge list can be challenging. To save you time, we've assembled a list of the top 5 best SSD cloning software for Windows 10.
Top 5 Clone Drive Software You Should Try
1. EaseUS Todo Backup
EaseUS Todo Backup provides a wide range of functions even on its free plan. This backup software supports system cloning, partition cloning, hard drive cloning, and disc cloning. It also has various backup options, including complete, scheduled, and incremental backups.
The features are dependent on the plan that the users have chosen. As the price of the subscription rises, so do the features available. Plans are available in three tiers: Home, Business, and Workstation.
Pros:
Excellent user interface.
Both migration and cloning are supported.
Affordable.
Cons:
A limited number of complimentary copies are available.
Price: It starts $19.95/Monthly.
Compatibility: Windows
How to Clone a Hard Drive Using EaseUS Todo Backup
Step 1. Connect the PC to a second hard drive.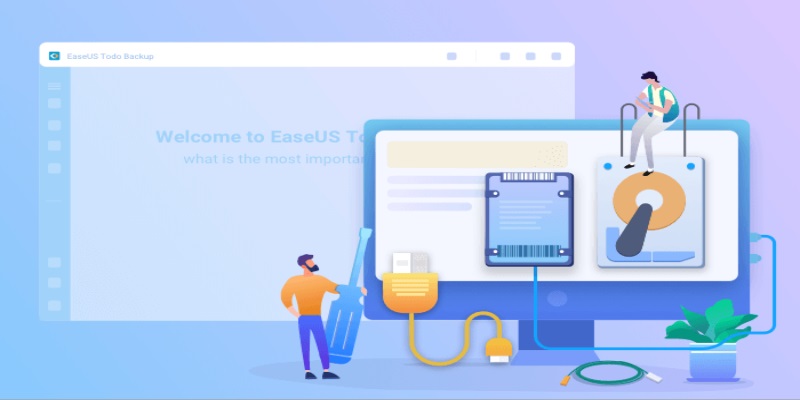 Step 2. Using EaseUS Todo Backup for cloning. Select "Clone" from the "Tools" menu.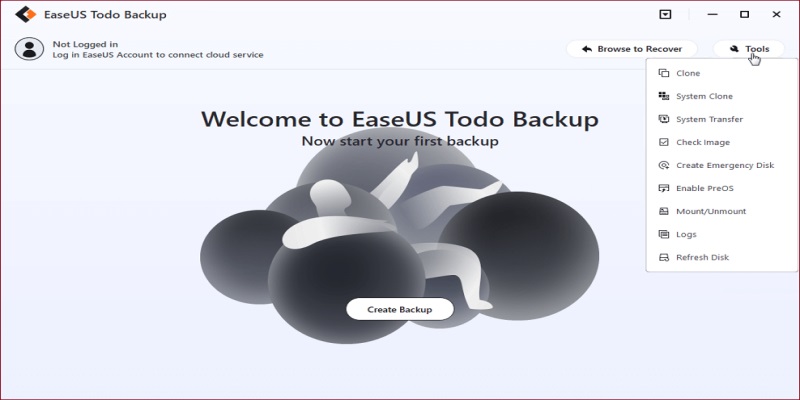 To begin the disc clone, choose the source and target discs, then click "Next."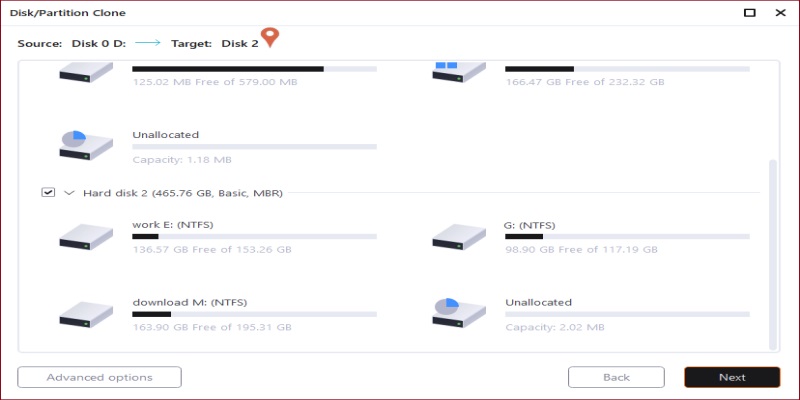 Step 3. Boot the computer from the cloned hard disc.
If you want to preserve the new disc, unplug the old one after copying and ensure the new one is correctly connected before restarting your computer.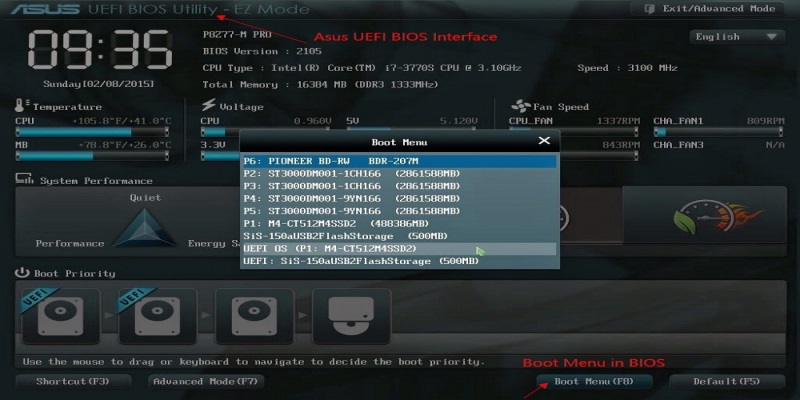 However, if you want to keep both the old and new discs, you must restart your computer and hit F2 (F8, F10, DEL...) Then, in BIOS setup, choose the new HDD/SSD as the new boot drive under the Boot option, exit BIOS, and restart your computer.
2. AOMEI Backupper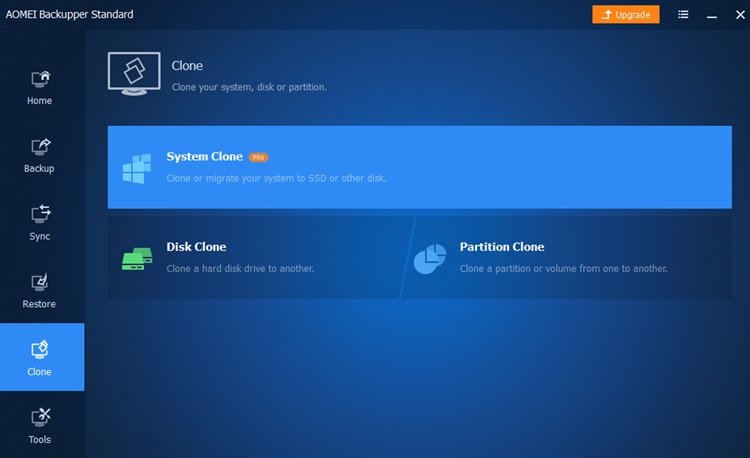 AOMEI Backupper includes a complete data cloning solution and intelligence features that can be detected. Data imaging for unbootable PCs and support for all Windows variants are among the most popular freeware tools. You may also migrate data from HDD to SSD and vice versa without worrying about the size difference. Additionally, the NTLDR, MBR, winload.exe, and BCD file types are auto-synced with boot records migration throughout the cloning process.
Pros:
The user interface is user-friendly and straightforward.
There are a lot of unique features.
Quick and efficient.
Cons:
The speed of backup might be improved.
Prices:
Free trial version
Starting Price: US$39.00/one-time
Compatibility: Windows XP, Vista, Home Server 2011, SBS 2011, Windows Server 2000, 2003, 2008, 2012 (including R2), Windows 7 and 8.
Visit site: Aomei Backupper
3. EaseUS Disk Copy Pro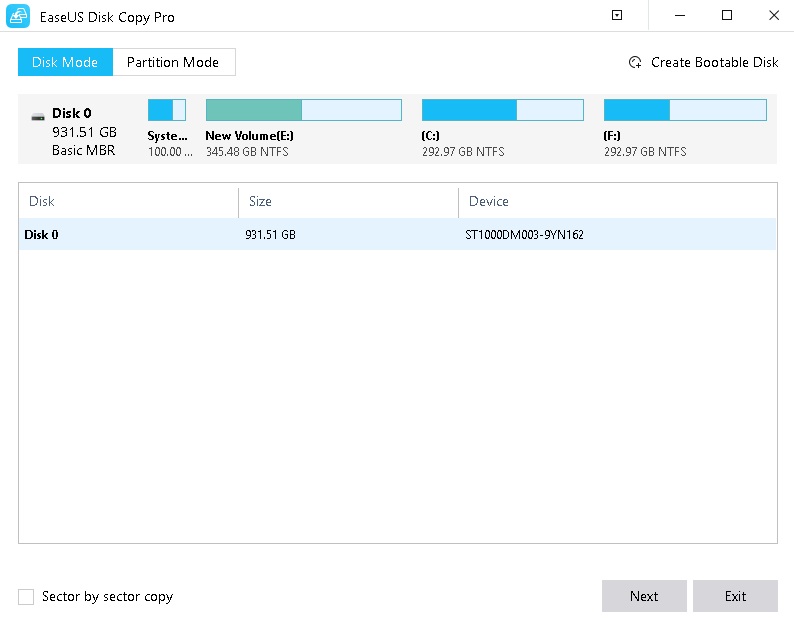 EaseUS Disk Copy makes it easy to build a bootable disc for your system from a CD or DVD, USB drive, or ISO image file. Then, it is used to copy or clone disc partitions and recover data and partitions from backups, including sector-by-sector copying for complete compatibility. It allows you to do disc activities that would typically require several drives (or perhaps multiple computers), such as recovering a backup of your main drive.
Pros:
Cloning at the sector level
OS migration with a single click
When copying drives, resize the partition.
GPT disks are supported.
Make a bootable WinPE drive
Hard disc capacity is supported.
Cons:
I haven't come across any.
Price: It starts $19.90/Monthly.
Compatibility: Windows

EaseUS Disk Copy Pro Review – Best Disk Cloning Software You Can Use
4. Macrium Reflect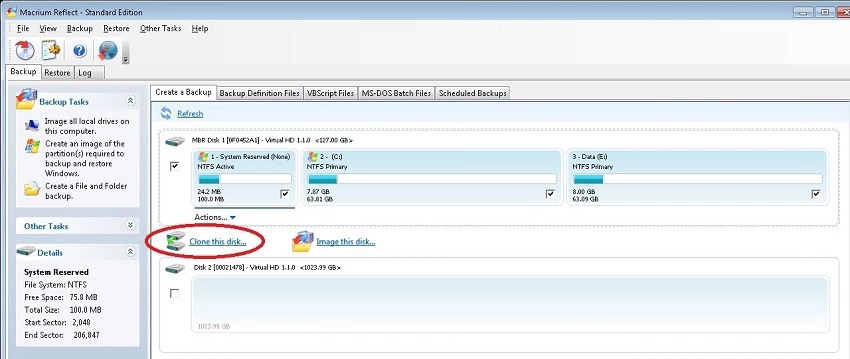 Macrium Reflect Free Edition is a multi-functional direct disc cloning software. The most recent version of clone disc Windows 10 also works with all Windows versions. It's a complete cloning, data imaging, and backup processing solution. Non-bootable systems can benefit from the flexible data migration of HDD to SSD and reverse cloning.
In addition, the regular edition of the data backup includes a Hyper-V Boot capability. The clone and backup process also maintains the Ransomware-protected data movement.
Pros:
Duplicate whole discs
Create image backups of your files and folders.
The ability to create bootable discs with GPT and MBR support is available.
A backup template that has been pre-defined
SSD trimming is supported.
Cons:
The free edition has a limited set of features.
Price:
Free trial version
Starting From: $69.95 one-time
Compatibility: Supports both Windows and Linux OS.
Visit site: Macrium Reflect
5. Clonezilla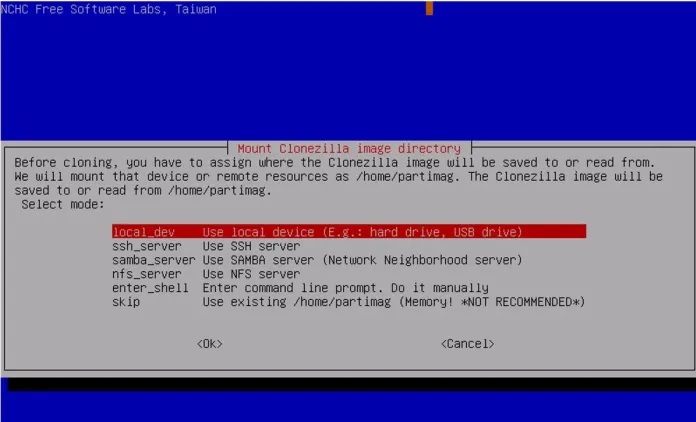 Clonezilla is available in three separate versions, each with its own set of features such as data cloning, imaging, and partitioning. The cloning procedure is accelerated and boosted by the auto-detection of utilized file migration. Furthermore, this software platform supports many file systems, including Windows, GNU, FAT12, ext4, MAC OS, and all other popular variations.
The software can be plugged in through USB, DVD, or hard disc to operate through the operating system. The cloning procedure can also migrate data at 8 GB per minute.
Pros:
Multicast cloning is a technique for cloning a number of
Support for BitTorrent
Encryption with AES 256
Supports MBR and GPT partitions.
Cons:
Backups that are differential or incremental are not supported.
There is no support for online imaging or cloning.
Price:
Free Cloning Software and open-source.
Compatibility: Windows, Macintosh and Linux operating systems.
Visit site: Clonezilla
Conclusion
Regarding the best disc cloning software for Windows 10, we recommend EaseUS Todo Backup because of its ease of use, capability, seamless cloning experience, and system clone feature, which you won't find in other third-party applications.
Download EaseUS disc clone software to duplicate and clone a hard drive with the least effort. EaseUS hard drive cloning software is ideal for copying the precise data content of one hard drive to another, file by file and sector by sector. There will be no data loss or system boot issues.
Price: It starts $19.95/Monthly.
Compatibility: Windows
No more content