A rising number of users wish to download these video clips and movies from YouTube and convert them to mobile phones such as the iPhone, iPad, and so on so that they may be seen whenever and wherever they want. In this article, we'll look at some of the best YouTube video downloader programs.
Top 5 best YouTube video downloader
1. 4K Video Downloader
A user-friendly YouTube video downloader that has a faster response time and is very simple to use.
4K Video Downloader is a multi-platform downloader that can download movies and music files from all of the most popular video networks, including Google, TikTok, Likee, Netflix, Metacafe, Instagram, and others. It allows users to save streams, playlists, and subtitles, but it also has a subscription function that downloads YouTube episodes as they are posted on any YouTube account, even a user-subscribed YouTube account.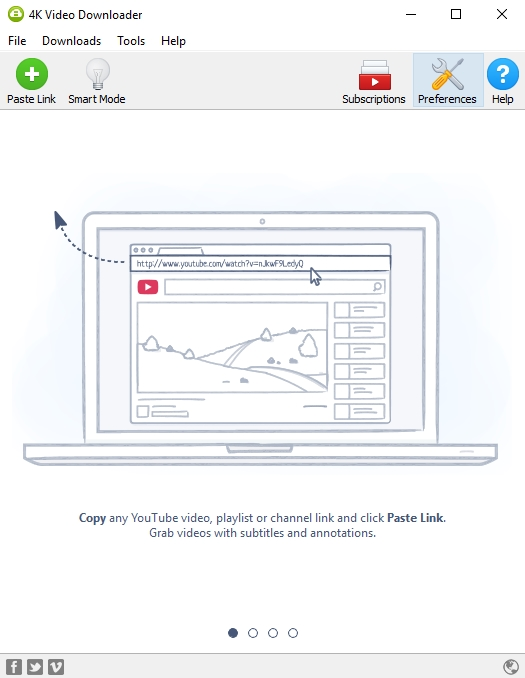 Pros
User-friendly visual UX to help you get started.
Save age-restricted clips, Watch Later playlists, Liked playlists, and other protected content.
Available in a variety of languages.
Cons
Not available on mobile devices.
The free edition has a restriction on the number of playlists and channel downloads.
There is an advertising in the free edition.
Price:  It starts at $15.00/year.
Compatibility: Windows
2. EaseUS Video Downloader
Secure and simple YouTube video downloader that allows you to download movies and audio files in bulk.
With EaseUS Video Downloader, you can store videos from various video streaming services and view them later. This tool not only provides a video downloader but also an audio downloader, allowing you to save online audio, for example, music, sounds, and audiobooks.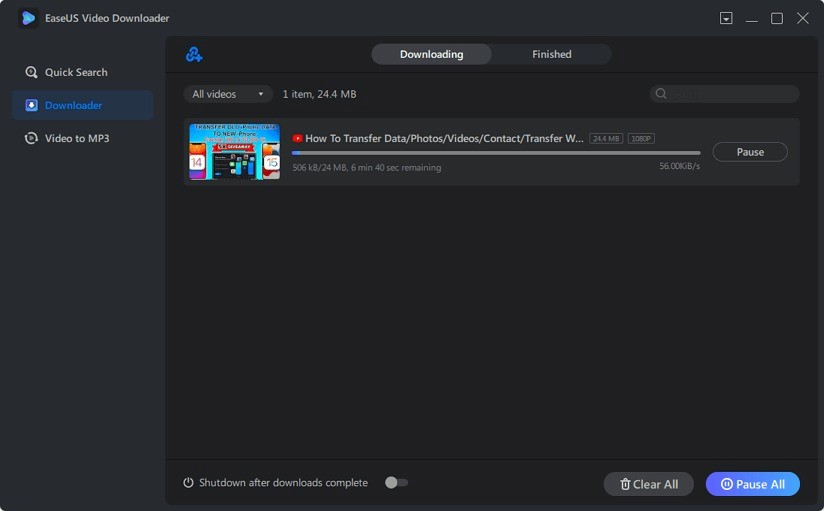 Pros
Numerous output video quality options.
Improved customer service 24 hours a day, seven days a week.
Simple search function to study any downloaded video.
Cons
It might be rather pricey for a large number of users.
Causes an issue while saving videos on the cloud.
Price: Its Windows version starts at $23.95/month for 3 PCs, its Mac version starts at $39.95/month for 3 machines.
Compatibility: Windows and Mac
3. EaseUS MobiMover
A full-featured YouTube video downloader that has iOS data transfer and management functions.
EaseUS MobiMover allows you to download files from over 1000 websites. That means you may utilize this tool to save practically any video from the Internet. Aside from popular websites such as YouTube, Instagram, and Facebook, this also includes a wide range of other videos and social networking websites from where you may download videos through URL.
Its official website looks to be a comprehensive source of information, providing a variety of pertinent data. If you purchase the premium edition, you will also have access to technical help 24 hours a day, seven days a week.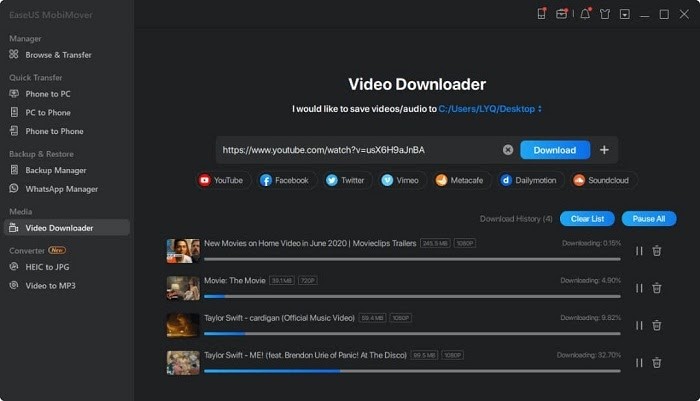 Pros
Improved video downloader for YouTube and other social media platforms.
Provides a superior data transfer mechanism.
Greater optimization when it comes to saving videos on cloud storage.
Cons
It may be too expensive for a specific user.
It is frequently impossible to rebuild the library of downloaded films.
Price: Its Windows version starts at $23.95/month for 3 PCs, its Mac version starts at $39.95/month for 3 machines.
Compatibility: Windows and Mac
4. iTube HD Video Downloader
A professional YouTube video downloader that has an extra screen recorder and video converter feature.
iTube HD Video Downloader is capable of downloading 4K videos from over 10,000 websites, including YouTube and Instagram. You can store HD videos ranging in quality from 720p to 4K, and it also supports standard-resolution films.
It also offers screen recorder function to help you capture the PC screen, video converter function to help you convert the stored and taken clips to nearly any format in full size, and data transfer function to help you quickly transfer an infinite amount of videos to your smartphone.
In the software, Turbo Mode is available to offer you three times faster downloading speed, Private Mode is available to password-protect your stored videos.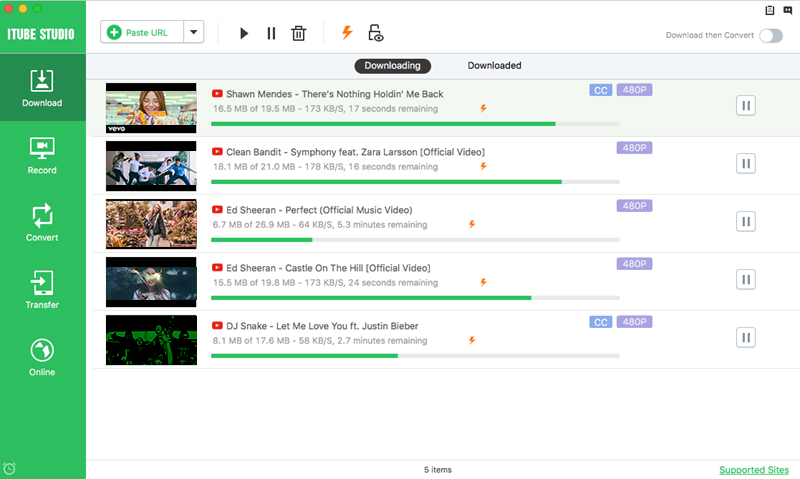 Pros
Integrated Internet Browser Capture screen in native quality Turbo Mode for faster downloads
Videos may be saved to iPhone and Android devices.
Video conversion in a variety of formats is possible.
Cons
The video converting process is a little slow.
Due to the lower frame rate, recorded videos may be laggy at times.
Price: Its Windows version starts at $19.00/year for 1 PC, its Mac version starts at $24.95/year for 1 Mac.
Compatibility: Windows and Mac
5.  MP3Studio
All-in-one YouTube video downloader for downloading and converting videos free from any virus and other threats.
MP3Studio is a first-class and gratis tool that allows you to save YouTube videos to your device or convert them to music smoothly. Its intuitive interface facilitates you to download your preferable video via link copy-pasting, leaving the whole process utterly painless. Better yet, you can select from a wide range of formats depending on your needs while downloading videos.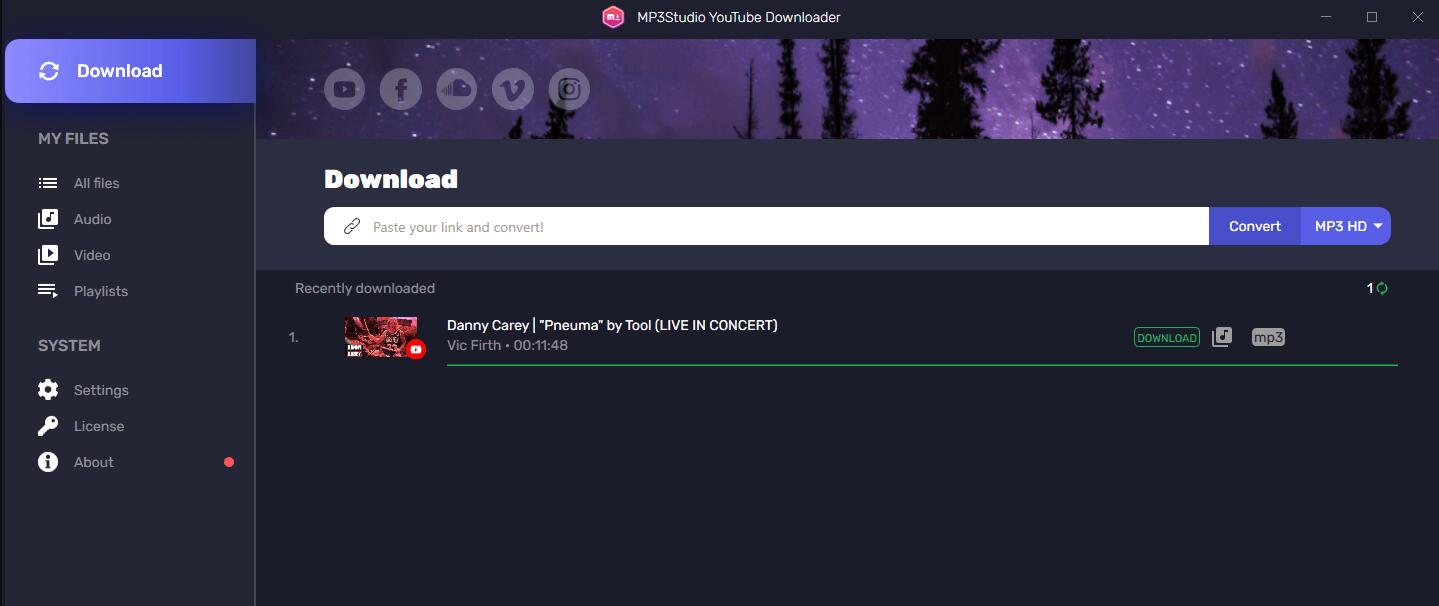 Pros:
You are allowed to grab numerous songs as MP3Studio owns no data caps. 
Free from viruses and other threats
Wide Range of Platform Support
Cons:
You are not allowed to upload 99 files at once.
Which YouTube video downloader is best for you?
There are a variety of video downloaders available to assist you in simply downloading YouTube videos to your device. Some of them are for a fee, while others are free. However, there are several factors to consider while selecting the best YouTube video downloader.
The ability to pick video type and quality
The ability to extract music
An easy-to-use interface
Support for browser integration
The ability to download private YouTube videos
Now you can choose the video downloader that suits you best according to the above rules.
No more content