We understand that security and privacy are delicate topics many individuals are hesitant to speak about. We can protect our online accounts and data with passwords, but what about data stored on your Windows PC? To maintain your secrecy, some measures must be taken. We will explore the 6 Best File Lock Software for Windows in this article to assist you in locking your files.
6 Best File Lock Software for Windows
1. EaseUS LockMyFile
EaseUS LockMyFile is the first one we'd like to suggest. It offers a basic and user-friendly UI. Using this tool, you can simply encrypt your hard discs, files, documents, and even external flash drives. EaseUS LockMyFile is high-quality software for password-protecting files on Windows 10 and later. The user interface is straightforward, resulting in an excellent user experience. With this tool, you can also check who changes your files and discs.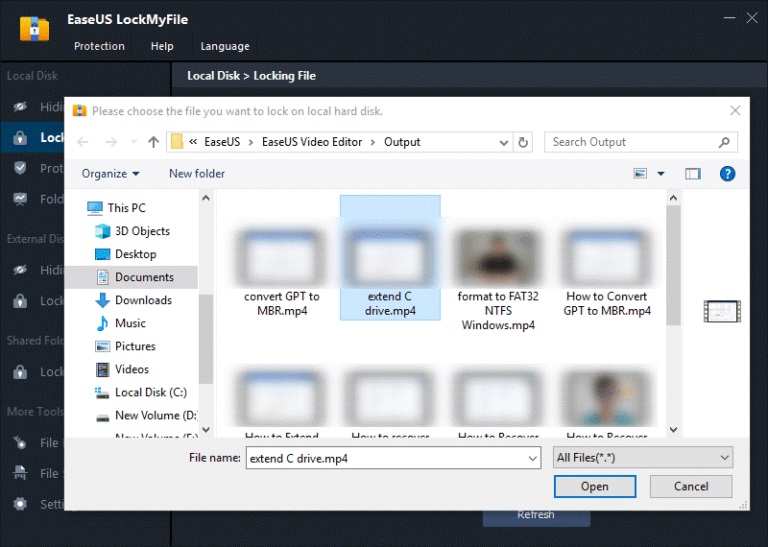 Features:
The benefit of encryption is that it allows you to hide folders from various users.
File protection software that is both efficient and safe.
Use a strong password to secure your folders or files.
In EXE/GFL format files, the AES encryption method encrypts folders and files.
Pros:
It has a robust self-defense mode.
There is a free trial available.
Exceptional client service
Cons:
Some plans are pretty pricey.
Price: It starts $29.95/Monthly.
Compatibility: Windows 2000/2003/XP/Vista/7/8/10/11
2. IObit Protected Folder
One of the most outstanding folder locking programs for Windows is IObit Protected Folder. It is capable of effectively securing folders and files. To prevent unauthorized access to folders, you can set up uprights. Once the folder lock software is installed, all you have to do is set a password, and then you can add folders and files for later use. These folders will now be password-protected, and no one will be able to access them without a password. You can only use it 20 times during the free trial. Once you've finished adding folders, close the app and get some coffee to relax.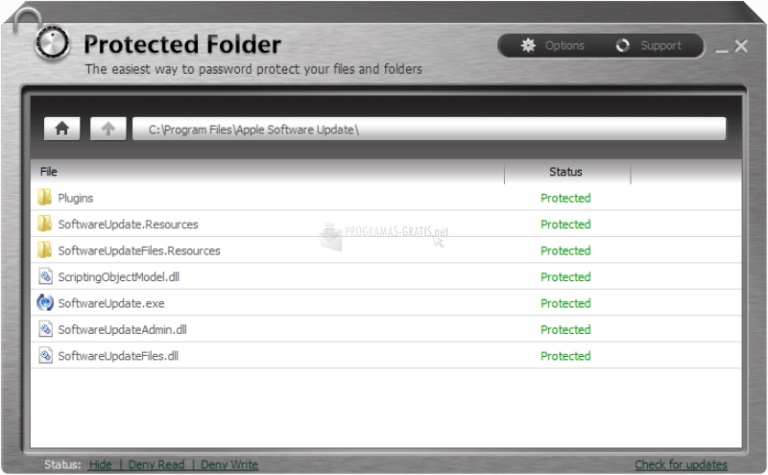 Features:
It's ideal for concealing specific files.
Even if the system is attacked maliciously, files remain locked.
Put a password on your files to protect them.
Privacy Protection Mode has been improved.
Pros:
For file encryption, a simple drag-and-drop feature is available.
A tool that is simple to use
Most Windows versions are supported.
Cons:
 It is not available to Mac users.
3.  Folder Lock
Folder Lock is a comprehensive folder and file lock program that encrypts and locks your files. It gives consumers a plethora of locking possibilities. It can, for example, safeguard a variety of sensitive data, including email attachments, USB and DVD/CD drives, and wallets containing store credit. More importantly, if you're interested in Folder Lock but aren't sure if you want to buy it right away, you may try it out for free for 25 days. Because of the high-quality AES 256-bit encryption, it is one of the most effective privacy and security technologies available. It provides files with military-grade security.
Features:
This software allows users to encrypt sensitive information.
The ability to create backups and restore them is accessible.
Within seconds, password-protect files and folders.
ecurely delete all system history.
Pros:
AES-certified security
All data should be backed up and synced.
The user interface is simple.
Cons:
Secure backup requires a separate subscription.
For locked files, there is no encryption.
4. File Protect System
File Protect System is another option for data protection software. Customers who require professional encryption are the target market for File Protect System. It converts data into cipher code using hash methods like Message Digest 5 and SHA-256. When it comes to password-protecting files, users can select an encryption algorithm. The File Protect System's interface is more sophisticated than other folder lock software. If you are a first-timer, it may take some time to figure out how to utilize it. The data locking software file protect system is highly effective for data and file protection on Windows machines.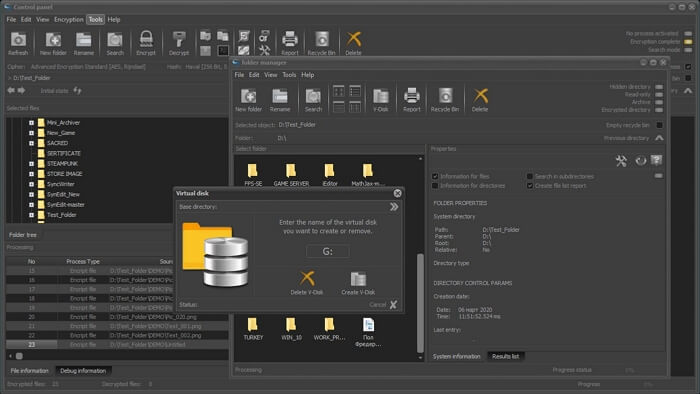 Features:
Users can construct backup file bundles for archive creation.
To send and receive private information, use the embedded email clients.
It can enable the cipher feature in PCs.
Pros:
Government agencies are interested in the ciphering function.
Documentation in real-time
Try it out for free.
Cons:
The interface that is difficult to use
5. Folder Guard
Folder Guard® is a robust computer security tool that allows you to restrict access to files, folders, and other Windows resources. Folder Guard can be used to password-protect your files and folders, preventing other users from viewing your data. You can even conceal your private files from almost all programs, and such folders will remain invisible until a valid password is entered. It's possible to restrict access to the Control Panel, prevent sensitive system files from being modified or destroyed, and more.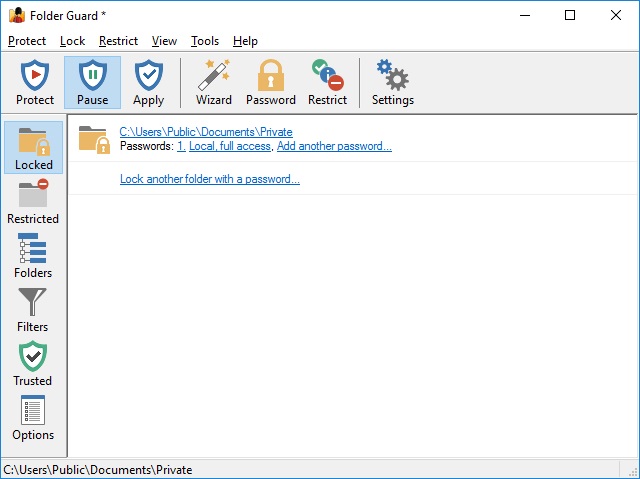 Features:
Files and folders can be password-protected.
Protects critical information stored on pen drives, USB devices, CD/DVDs, and flash drives.
The program can be password-protected.
Pros:
Using the control panel, disable it.
Keep track of who has access to external drives.
File access can be controlled based on the type of file.
Cons:
In the free version, there are no filters.
Costly
6.  WinRAR
Surprise! For the majority of users, WinRAR is simply a compression program. It can also be used as a file encryption tool. It offers Advanced Encryption Standard (AES) 256-bit keys to consumers, making it a strong competitor on our list. And the procedure is straightforward: right-click the files you wish to encrypt and select Add to archive. The Set password option will then appear. Use WinRAR as both a compression tool and file encryption software.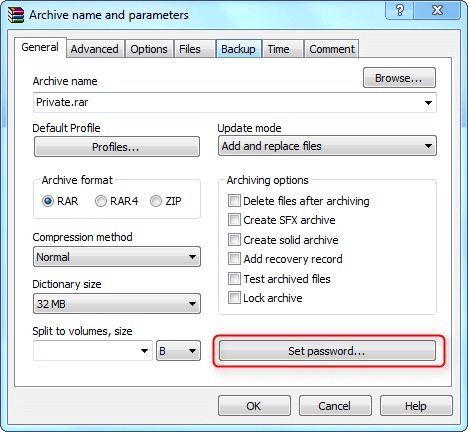 Features:
Encrypted and compressed files are supported.
It's compatible with a 256-bit encryption tool (password).
Authentication signature protection is supported.
Pros:
The process of encryption is simple.
Strong data security
The UI is simple to use.
Cons:
Not very cost-effective.
Many functionalities are missing.
Sum Up
Choosing a decent folder lock tool is wise for people who wish to better protect their files and folders. Here are five tools from which to pick. You may examine the characteristics of each software and select the best one for your needs. We believe EaseUS LockMyFile is the finest file locker for PC among these six. It has a long list of security features that do a good job of keeping your information safe. This tool has shown to be really dependable for us. Try it out right now to see what I'm talking about.
Price: It starts $29.95/Monthly.
Compatibility: Windows 2000/2003/XP/Vista/7/8/10/11
No more content