Despite its popularity, one of the reasons people seek WhatsApp alternatives is the quest for more privacy. Since becoming part of Facebook, different speculations have risen regarding the privacy of users' data. The less popular messaging apps have capitalized on this, which explains the rising demand for other messaging options.
In this post, we will discuss these other messaging apps. Please keep reading to see our top 15 best WhatsApp alternatives in 2022.
Top 15 Best WhatsApp Alternatives You Should Try in 2022
1. Telegram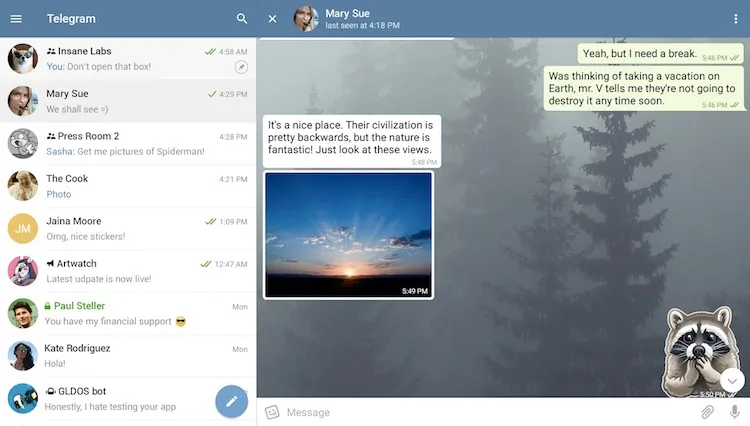 Arguably the closest WhatsApp alternative, the Telegram messaging app boasts some nifty features absent from WhatsApp. You can create public groups and even have as many people added. Also, the limit cap on shared files is up to 1.5GB.
Other notable features include the Live Text option on iOS 13 or macOS 10.15 and above. The feature allows the copying of texts directly from photos in chat.
Download Telegram
2. Signal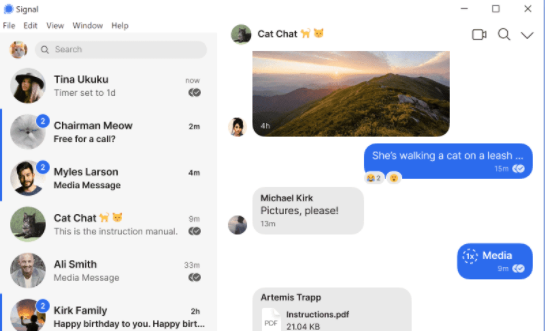 The Signal app is the jackpot for folks looking for a secure and private messaging application. There is end-to-end encryption on all calls, backups, and app data. Users also get to set a timer on messages to allow auto-delete.
Another security feature that makes Signal an excellent WhatsApp alternative is how it prevents random persons from taking screenshots. The Signal privacy policy is totally awesome. We suggest this messenger for privacy-oriented users.
Download Signal
3. Skype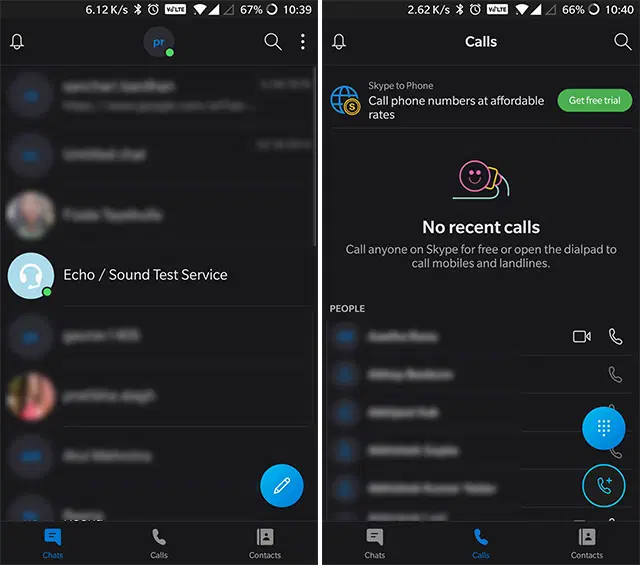 Although many people see Skype as a business chatting app, that narrative is not entirely true. Skype messenger offers a lot more. Particularly worth discussing is its video call functionality, which increases its appeal as a WhatsApp alternative. Using Skype, you can make group calls with awesome quality, sound, and smooth flow.
Another reason to download Skype is the screen-sharing function that makes chatting feel more real. Individuals can also record calls and call phones using Skype credit.
Download Skype
4. Line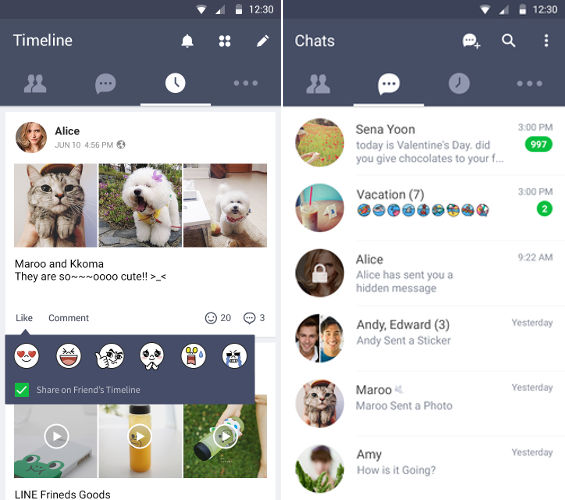 Next on our list of 15 best WhatsApp alternatives, the Line instant messaging application adds spice to the usual chatting features. One of its benefits is the higher group chat limit of 500 compared to WhatsApp. The Line conference call feature also takes up to 200 people. The video call supports up to four people. Note that all video and audio calls are FREE with customizable stickers too. Only data charges apply.
Download Line
5. Viber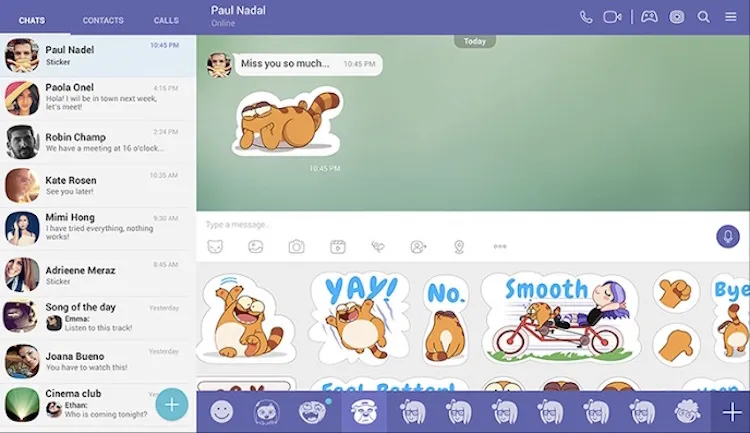 Consisting of the major features of the WhatsApp messenger, Viber is another WhatsApp alternative that's worth a try. It has end-to-end encryption for messages, calls, and media files. Other common features include last seen status, sticker supports, and media transfers.
However, Viber is a step ahead of WhatsApp regarding voice and video calls. Its Viber Out feature makes it possible to call international numbers at regular rates. We also have Viber games that can be played within the app.
Download Viber
6. WeChat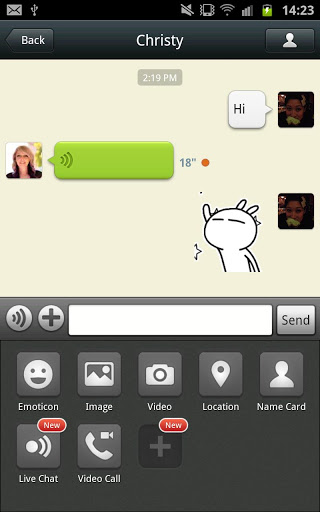 WeChat is another excellent WhatsApp alternative that provides something extra. Like WhatsApp, it supports instant text messaging, voice messages, broadcast messaging, and stickers. Users can also make video calls and even exchange contacts with nearby folks via Bluetooth.
Another interesting feature is the message recall feature for text or media within 2 minutes. Unfortunately, WeChat is more popular in Asia alone. Besides, there are privacy concerns by the Asian government.
Download WeChat
7.  Wire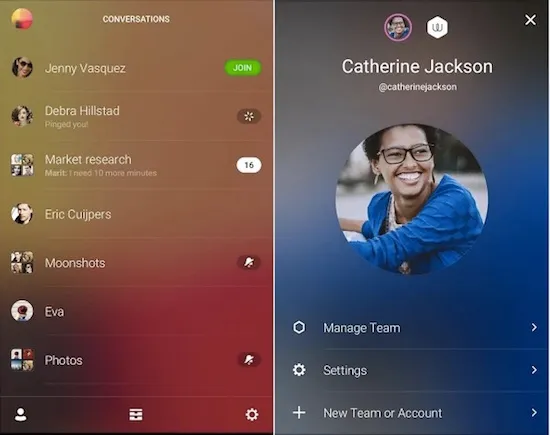 With its end-to-end encryption protocols and secure file sharing platform, the Wire messaging app stands out among the different WhatsApp alternatives. No wonder it is a preferred choice for business users.
The audio & video conferencing features are superb. Note that Wire is FREE, but you can pay for the Wire for Enterprise and Wire for Government versions.
Download Wire
8. Kik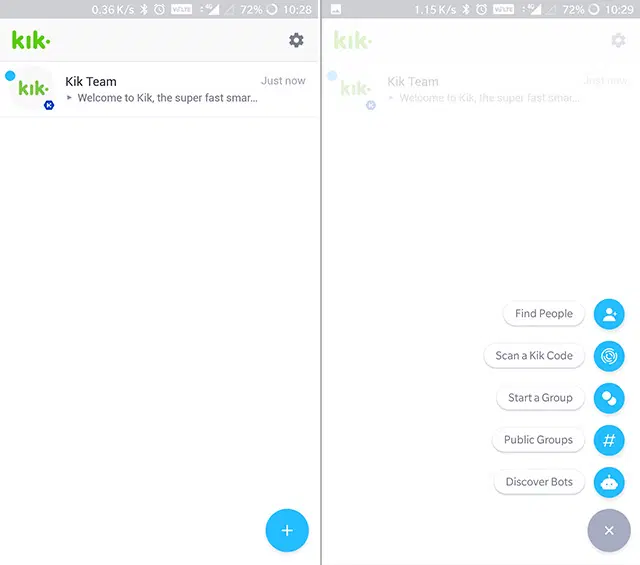 What separates the Kik messaging app from other WhatsApp alternatives is its anonymity. Kik does not require your contact number to get started. Users sign up using their email ID. A username is then created, and you can start enjoying Kik by sharing the username with friends. Messages are end-to-end encrypted, and the app even supports the use of bots.
Download Kik
9. Threema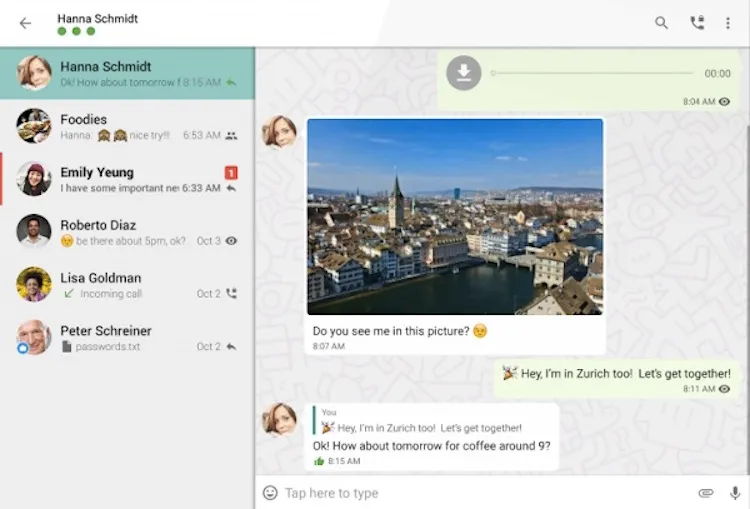 Threema is a top WhatsApp alternative with secured messaging and reliable end-to-end encryption. All data is encrypted from normal texts, shared media files, and uploaded statuses. Besides, the app has some very unique features like the option to create a poll in group chats and agree/disagree to messages.
Getting started is also smooth with the anonymous setting that does not require phone contact to set up. However, Threema is a paid app, but it is worth every penny. A major disadvantage is the absence of voice/video calling functions.
Download Threema
10. KakaoTalk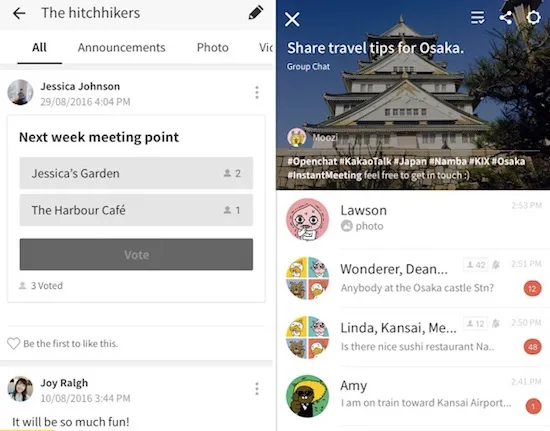 This messaging app is another WhatsApp alternative with a user-friendly platform for sending text messages and making voice/video calls. You can also share live locations. Additional cool features include polling in group chats, conference calling (5 person limit), and full-customization options. Nevertheless, KakaoTalk is not popular outside the Korean region.
Download KakaoTalk
11. Tango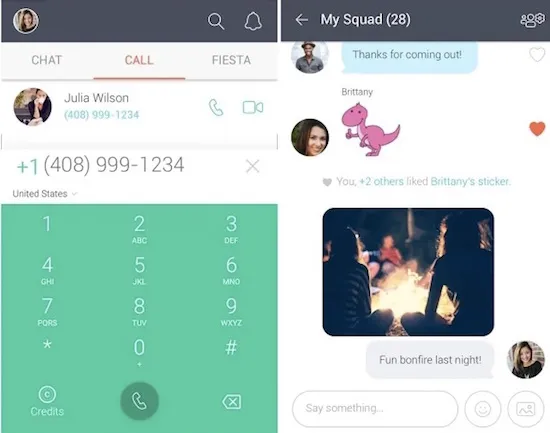 Enjoy the feel of conversing with friends and families with the Tango messaging app. By turning on the location services, Tango makes it possible to connect with those close to you. It is one of the top WhatsApp alternatives, and the features explain that. With Tango, you can text chat, share multimedia, voice & video calls, play games, etc.
Download Tango
12. Hike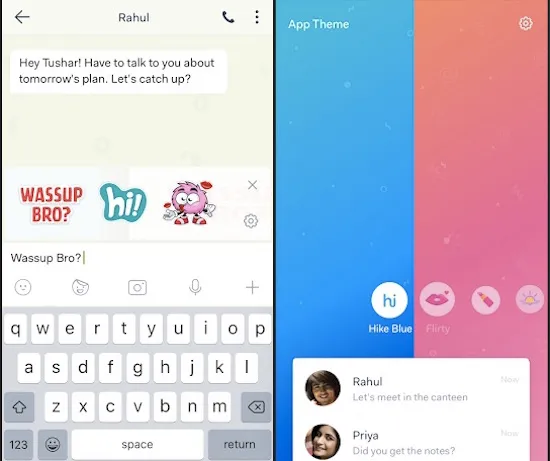 Talk about a fun messenger with updated security patches, and you have the Hike messenger. Added to our list of WhatsApp alternatives you should try, Hike offers the basic WhatsApp features like text messaging and media sharing, uses SSL message encryption and does not store the backup. It also allows you to share pictures/videos like Snapchat
Download Hike
13. Wickr Me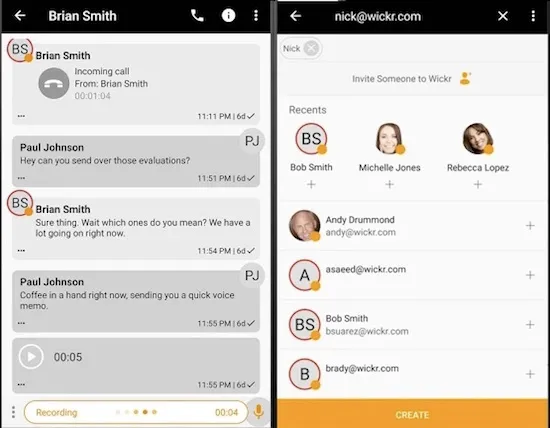 Another WhatsApp alternative to download and try is the Wickr Me messaging application. Although there were slight concerns over its security with Amazon's purchase of the software, it has remained secure. You enjoy end-to-end chat encryption, anonymous profile, and burn-on-read messages/files.
Download Wickr Me
14. Keybase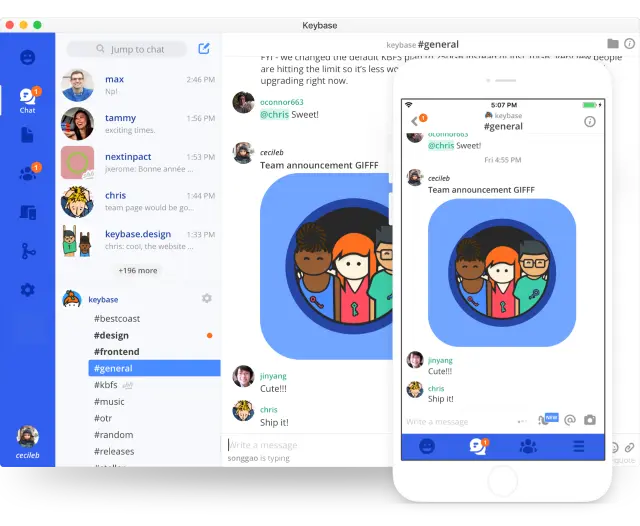 With privacy being a leading cause of the increased demand for WhatsApp alternatives, Keybase is one secured end-to-end encryption messenger for users. It also supports anonymity, allowing you to connect with people without sharing your phone numbers. Besides, Keybase privacy features do not allow screenshots of chats.
Download Keybase
15. Snapchat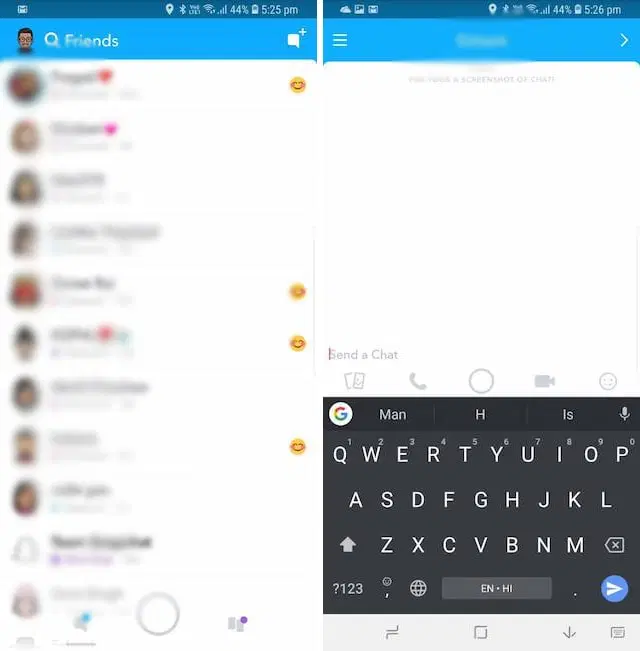 Although it is perceived more as a social media app, Snapchat can also serve as a messenger app. Besides, its flexibility makes it more appealing than some other WhatsApp alternatives. You send text messages that self-destruct after a while, have voice/video calls, send gifs, and even create group chats. Another cool feature is Snapchat notifying you when your contact screenshots your chats.
Download Snapchat
Conclusion
That's it! We have come to the end of the best WhatsApp alternatives worth trying out. Of course, we understand that these listed messaging apps might not match the large database that WhatsApp Inc boasts of, but their added features and privacy policies certainly make up for that.
Carefully go through them again, and let's know what you feel in the comment section.
No more content