Every social media platform has its type of content, goal, and audience. During interpretation of the data for social media platforms, it's been reported that the best time to post is on Tuesdays, Wednesdays, and Thursdays in the morning between 9 am-10 am. 

People are eager to know the ideal time to post on social media platforms due to two main reasons such as:-
It enhances the digital engagement of your content. If you post at the right time on the right day, you will likely have more likes, comments, shares, retweets, and follows. Through that, you can know your audience more closely.
It brings more traffic to your website.
For instance, Your audience is going through your website and scrolling through your content. If you manage to engage your audience, they will inevitably keep coming back to your website to know detailed information about the products or services you sell.
To summarize, the ideal time is one of the main factors that decide your digital presence's success and visibility. Moreover, apart from business, we also use social media to share happy, sad, and funny moments of our life with our loved ones. So it's essential to know the best time to post so that your post reaches everyone.
Table of Content:
The Best Time to Post on Instagram
The Best Time to Post on Facebook
The Best Time to Post on Twitter   
 Some Tips to Make Your Post Attractive
The Best Time to Post on Instagram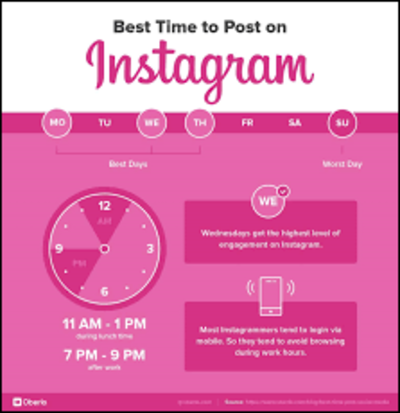 Everyone is curious to know the ideal time to post on Instagram to higher views and engagement on your posts. And one should take care of this factor; after all, Instagram has billions of active users, so that it can boost your business.
Best time of the day: 9 am-5 pm
Best day: Wednesday
Best day & time: Weds 5 am, 11 am, 3 pm
Worst day: Monday
It has been noticed that maximum Instagram users are very interactive with content mid-week and mid-day. And well, it makes sense since this is when most people take a break from their work or school and spend their time scrolling and engaging with the content.
You should avoid posting on weekends since most people are out and are busy doing different stuff in the real world. So they are less likely to use phones and scroll on Instagram.
Relation between the ideal time to post and the Instagram algorithm
Each time you open Instagram on your phone, the Instagram algorithm shows the latest and best posts since your last visit. The most appeared posts are based on three primary factors:-
1. Interest: The level of your interest in content based on pure engagement with similar other topics.
2. Timeliness: The recent posts are prioritized more than older ones.
3. Relationship: The content from those accounts you have interacted with most ( in terms of likes, comments, and shares) is prioritized.
If you open your Instagram once every day, you will notice that the most relevant posts for that day appear on your feed.
The Best Time to Post on Facebook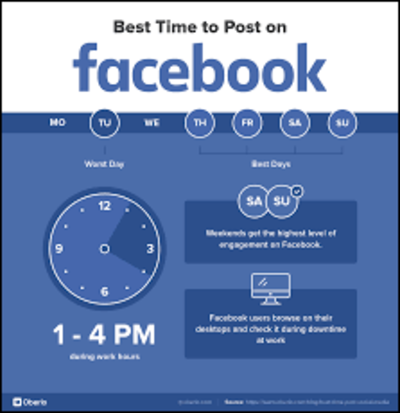 By posting on the right day during the right time, you'll receive higher likes, comments, shares, and friend requests on your Facebook. It optimizes your website's traffic.
Best times of the day: 3 am to 10 am
Best days: Tuesdays through Fridays.
Best days and Times: Monday 3 am, 6 am Friday 10 pm.
Worst day: Saturday
It's recommended to post the content in the morning, and people generally catch up more while having breakfast on their newsfeed and scroll. Lunchtime is the second best because people get huge gaps from their busy schedules to scroll. After working hours, many people check their phones to see what they have missed throughout the day. 
'Recency' is the prime factor that matters in newsfeed algorithms of both Facebook and Instagram to determine your ranking signal. Posting the content when most of your followers are active is the easiest and best way to enhance your organic reach.
Relation between ideal time to post and the Facebook algorithm:
Your Facebook newsfeed includes content based on three main factors such as:-
1. Who posted it: The feed includes posts from your higher interactive sources of businesses and your friends.
2. Type of the content: If you often see videos, you will notice more videos on your newsfeed. Similarly, if you engage more with photos, you see more of them.
3. Post Interaction: Feed prioritizes posts with higher engagement, mostly from users you often interact with.
The ranking of every post is done based on such signals to determine the appearance of the content in
your feed. 
The Best Time to Post on Twitter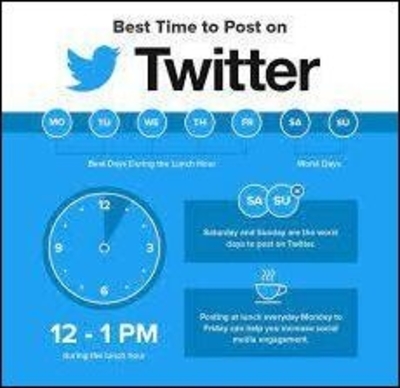 One of the supreme factors to getting higher engagement and clicks is the suitable time to post. Publishing captivating and informative content when most of your online audience is a great way to boost the brand's presence.
Best time of the day: 4 am, 6 am, 3 pm, 6 pm
Best days: Tuesday and Wednesday 
Best day & time: Tuesday 4 am, Wednesday 6 pm
Worst day: Sunday
This data is set as per the lunchtime, the afternoon break, and the number of time people spends at home. By posting on such timings, you can grab the maximum traffic on your website. 
Tweets appear and disappear within seconds, so it's essential to grab the audience's attention. Make sure to tweet a day thrice if you have enough original content as a critical part of the social content strategy.
Relation between the ideal time to post and the Twitter algorithm
The ranking signals on Twitter include the following:-
How recent and relatable the post is
Usage of rich media such as GIFs, images, and video
Engagement in terms of retweets, likes, replies
User behavior 
Relationship of the user to author
For instance, a user is sure to see a tweet on their feed coming from a user they often engage with and if that particular tweet has a lot of likes and replies.
Some Tips to Make Your Post Attractive
To boost your social media presence, here are some tips and tricks you can apply:-
1. Add vivid images and videos 
Being a visual platform, if users notice poor quality content on your social media page, they will move to your competitor's page. Therefore ensure to use quality images with a signature filter to make your profile attractive.
2. Use some hot topics
Even if most of your audience is eager to know more than your business, sharing trending news from your domain will show how you want your audience to be well informed about the hot topics rather than just promoting the business.
3. Post unique special stuff, thing, or thoughts 
If your pages stand unique from other social media pages, you would have more audience comparatively. People will be glued to your page in the hope of finding unique content.
4. Post a Quiz or Poll
Often a survey generates higher engagement; a fun poll or quiz can capture more attention. Think about the recent development in your domain or topics related to the audience.
5. Use Hashtags
While using hashtags for current topics to maximize visibility, use hashtags sparingly in different posts. Avoid using multiple hashtags to increase the visibility of your content.
Conclusion
If you have just started using Instagram and lack some past data or in-depth audience insights to begin working with, try to post on the times mentioned above. Notice how it works for you. At the end of this article, you will know the best time to post on Instagram.
With the escalating growth of your account, you might want to reset your schedule to post to better fit the Instagram activity patterns for your audience. 
Apply tips such as using appropriate hashtags and interacting with your audience regularly to maximize engagement and expand your business growth.
No more content