Screen Recorder is an incredible feature that allows you to record videos online and offline on your PC. If you are playing a game, attending a zoom meeting, watching a presentation, or attending a webinar, you can quickly screen record it with the screen recording feature. Screen recording captures the video and still images as well that are known as a screenshot. Even some screen recorders come with a distinctive feature of recording a part of the screen.
Many people use a PC screen recorder to make video game tutorials, record ongoing office meetings to watch later, or any YouTube video. This tool is helpful for teachers, small businesses, trainers, video gamers, and employees.
In this guide, we have compiled a list of the 8 best Screen Recorders for PC in 2022, including:
Some are entirely free, whereas others come with a free trial that you have to purchase later. Let's look into the detail of each.
8 Best Screen Recorders for PC 
Since screen recording is an incredible feature and it is used so much. Considering the importance of screen recorders in mind, we have compiled a list of the 8 best screen recorders for PC. Let's begin by looking into the best screen recorder. 
1. EaseUS RecExperts 
When it comes to screen recording, EaseUS RecExperts is one the best screen recorder  for PC you must consider trying out. It is a perfect tool for recording videos on your PC. This tool can be used by teachers, trainers, YouTubers, small businesses, and learners. It has multiple screen recording and editing options. It not only records the offline video but also is capable of recording online meetings that you can watch anytime.  

Compatibility: Windows and Mac 
Pros:
Screen records video with internal audio 
Records online meetings on Zoom, videos on YouTube, and Games
Records complete and part of the screen 
It can schedule recording of a specific time
Cons:
It has limited features in the Free version 
Price: It starts $19.95/Monthly.
Compatibility: Windows and Mac
2. OBS Open Broadcaster Software
OBS is a free and open-source recording and live-streaming software suite. It's developed in C and C++ and runs on Windows, Mac, and Linux. If you're a gamer, OBS is the perfect program to use on any of those machines because it allows you to live stream games on YouTube and Twitch. There is no latency because the OBS uses the GPU (Graphics Processing Unit) in live feeds with up to 60 frames per second.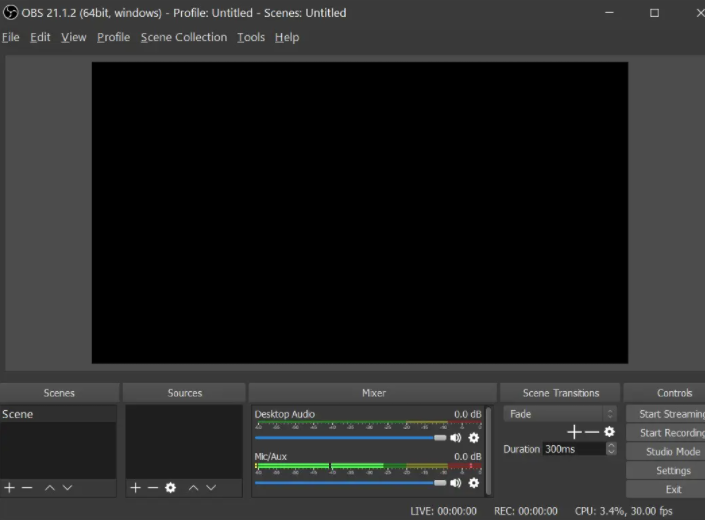 Compatibility:  Windows, Mac, and Linux
Pros:
Available for free
Compatible with all Windows and Mac operating system
Real-time audio and video capturing 
Cons:
If you use Mac, it may crash since many problems occur with Mac's operating system
Limited features 
Price:  Free 
3. Fraps
Fraps is a little utility that only takes up 2.3 megabytes of disk space. It may not have as many features as other similar applications, but it does offer some of the greatest. It records movies in 7680x4800  resolution, ranging from 1-120 frames per second. It may be used as a benchmark to check if everything is running correctly by displaying the total frames per second while gaming.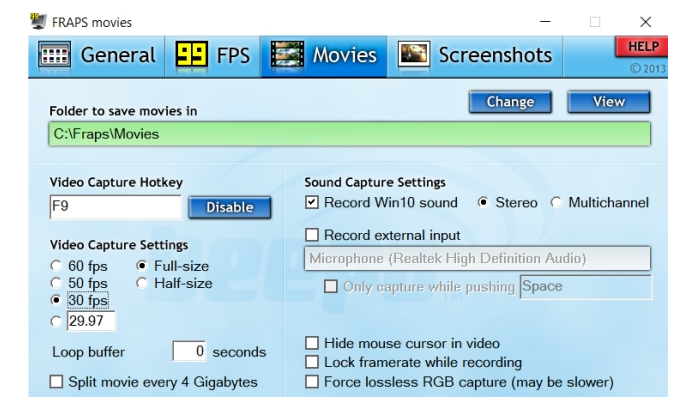 Compatibility: Windows 10, 8.1, 8, 7, Vista and XP
Pros:
Simple to use
Records audio from an external input device 
Supports 12 FPS video recording 
Cons:
Its capabilities are severely limited
Records video in large size 
Price: Free with limited features, $37 for Full Version
4. Camtasia
The TechSmith Camtasia Studio is a two-in-one application that can be used as a personal screen recorder and a video creator and editor. It can create some pretty creative, professional-looking movies that you may use for a range of projects required. New callout options, enhanced sharing capabilities, and a redesigned layout are among the current edition highlights. There is no need for a separate license for Windows and Mac so that customers may use Camtasia Studio on either platform.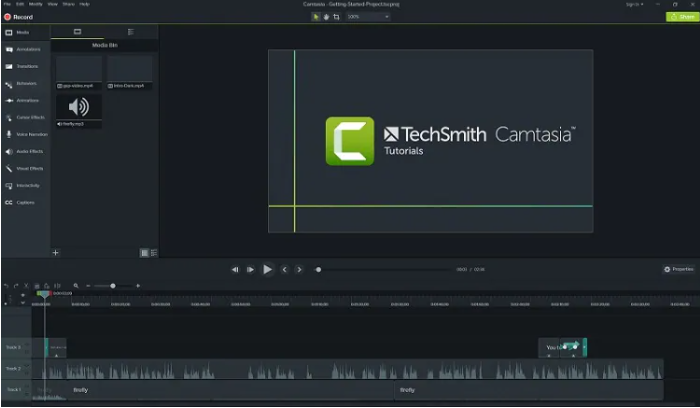 Compatibility: Windows and Mac
Pros:
No Time Limits 
Everything is recordable 
 It's simple to convert to any file type and then modify it
Anything may be added to or removed from the video.
Cons:
Currently, no web-based version
 Camtasia does not use the live recording from a digital video camera
Price: Free Trial available, Paid version $199 
5. Screencast-O-Matic
Screencast-O-Matic is a free screen recording program that works on Windows and Mac computers. You may also purchase it for additional tools to improve screen recording.
Compatibility: Windows, Mac and Chromebook 
Pros:
 Ability to save videos in a variety of formats with ease
Publishes everything on YouTube
Overall simple and easy to use 
Cons:
 No cursor tools are available as an option. 
Watermark is added when posting to YouTube
 The editing tools are both too simple and insufficiently advanced.
Price: Free 
6. ShadowPlay
ShadowPlay is a free program that allows you to stream and record your gaming sessions. ShadowPlay takes advantage of Nvidia Geforce GPU technology, which aids the game's ability to operate smoothly on a PC's CPU. Shadow mode and manual mode are the two options. In shadow mode, all gameplay from the previous 20 minutes is recorded with a single button click, while earlier moments are destroyed. The typical manual mode allows infinite recording to be turned on and off manually. It records at 4K resolutions at 130 Mbps, resulting in incredible quality. The disadvantages are that live streaming is not enabled and that while utilizing the free version, a watermark appears on top.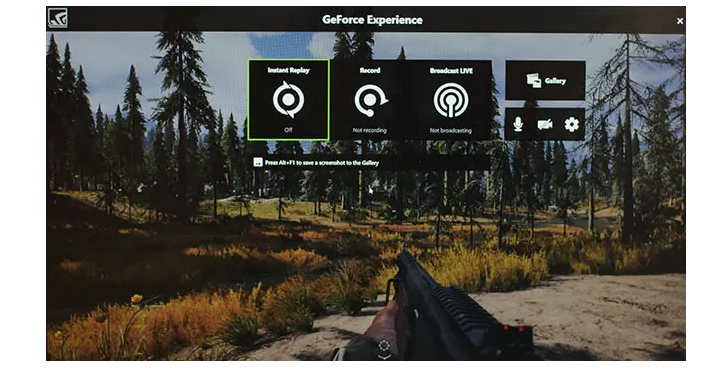 Compatibility: Windows 10, 8.1, 8 and 7
Pros:
Completely free Only a GTX 650 or superior visual card is required 
Simple to Use
 Download locations, and call recording options 
High-quality High, Medium, and Low, or 50Mbps, 22Mbps, and 15Mbps are all options.
Cons:
It can only record at 1080p and there is no way to change the frame rate
It needs GTX 650 before it can be downloaded
Price: Free 
 7. Icecream Screen Recorder
Icecream Screen Recorder is a program that records the full computer screen or specific sections. This program can record webinars, video calls, and conferences with its built-in, user-friendly interface.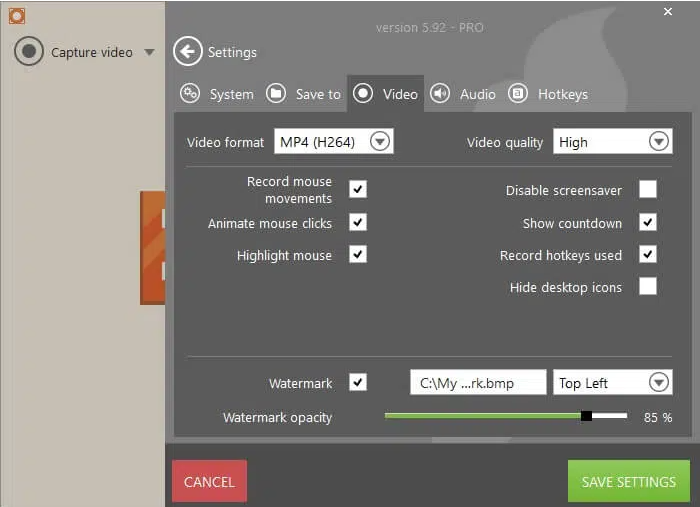 Compatibility:
Windows 10, 8.1,8, 7, Vista
MAC: OS X 10.9 Mavericks, OS X Yosemite
Android: 9.0, 8.1, 8.0, 7.1, 7.0, 6.0, 5.1 
Pros:
It can record movies in MP4, MKV, and WebM formats 
Records audio and webcam recordings, on-screen annotations when screen capturing, and screenshots in JPG or PNG formats.
Cons:
It only provides a limited story and editing option for free users
 Restricted to 10 minutes of screen recording time
 Recordings are not available for commercial usage.
Price:  Free, Paid version costs $29.95
8. Bandicam
Bandicam is a Windows software program that captures everything on the screen in high-definition video. Bandicam allows you to record a particular area of your screen, camera, or game using DirectX/OpenGL graphics software. It uses a special encoder to improve recording performance, allowing the video to be recorded at rapid speed and with a high compression ratio while maintaining flawless quality.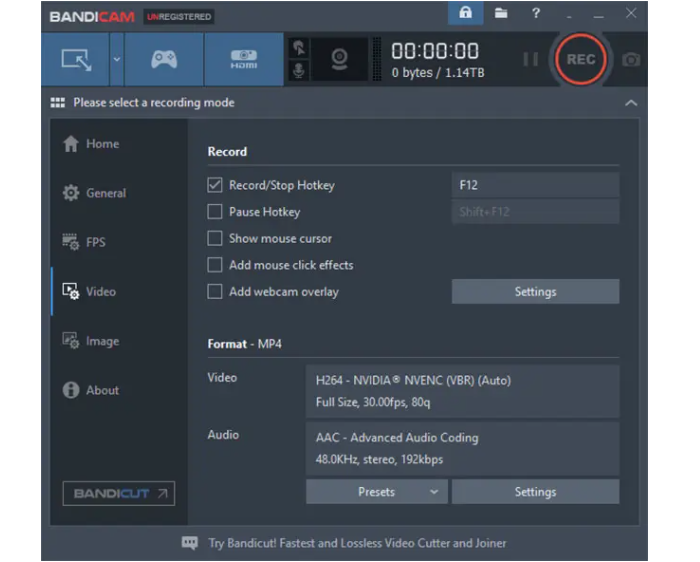 Compatibility: Windows 10, 8.1, 8, 7 and Vista
Pros:
Hardware-accelerated recording
Ability to record 24 hours of footage in 4k Ultra High-Definition.
Capable of resizing the capture area
It can do two-mode capture  
Cons:
Live streaming is not enabled and while utilizing the free version, a watermark appears on top.
Price: Free Trial, $60 for 1 license
Sum Up
We have listed the 8 best video recording software for PC in this article. Every software has its unique set of features, pros, and cons. Some of the software mentioned above is completely free, whereas others have free versions. You can download and use the best Screen recorder that best meets your needs. We recommend you to try EaseUS RecExperts. It is one of the best screen recording tools for PC you can rely on with your data. The ease of operation, number of features, and data security make it preferable to other screen recording software. Download it today! 
No more content