EPUB is one of the most used eBook formats worldwide. They are file-reading software that allows you to read a file usually stored in the EPUB format, hence the name. With EPUB, you don't need to spend a fortune acquiring a specialist device like a Kindle, thanks to the many free eBook readers available.
However, reading eBooks via a reader app might be frustrating. One of the reasons is that the online market is filled with numerous eBook readers, and not all of them are made equally. Therefore creating a hassle of choosing which one is best for you.
No worries; this article provides you with the top 7 EPUB readers. You can take a look explicitly at their core features, suitability, pros, and cons, etc. below to make an insightful choice:
1. Icecream ePUB Reader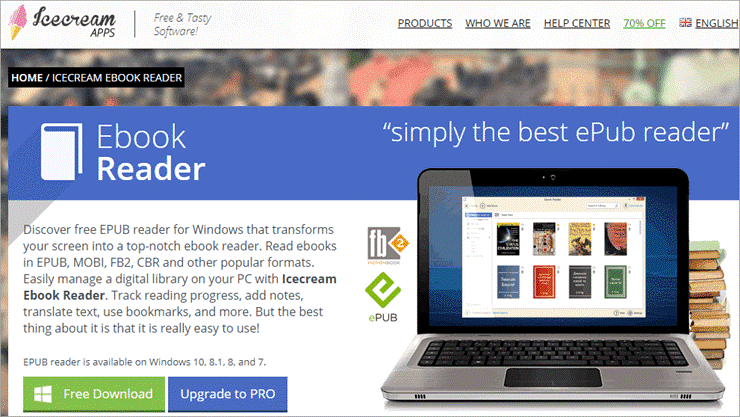 Icecream EPUB Reader is a potent, free EPUB reader, especially for Windows. You can download the software on your Windows 10 or older versions and enjoy its valuable features. The software supports various file formats and can help you easily track your reading progress using its practical annotation tools. Besides that, it's extravagantly clean, making it easy to navigate with a friendly user interface, displaying all of its features on one page to avoid disarray. Apart from EPUB, it can access all other popular formats, and you can effortlessly transfer your eBook library from one Windows system to another using its export option. The only crack is that it is not compatible with Windows 11.
Pros
A simple, well-designed UI.
It has a feature that permits importing and exporting ebook libraries.
Cons
Memory utilization is high, especially when dealing with photos.
Lots of functions are not available in the free plan.
Click here to visit the site
2. Sumatra PDF Reader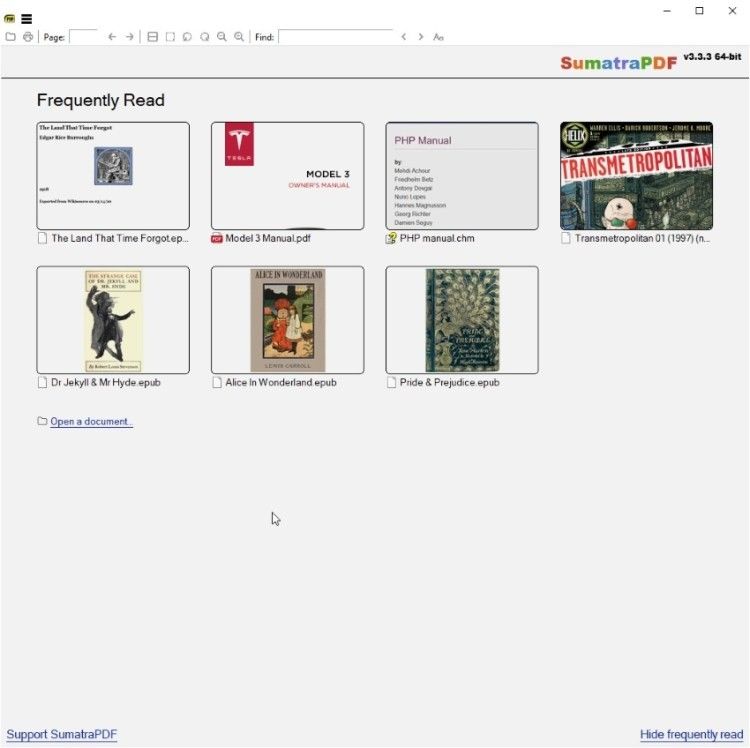 A concise, accessible, all-in-one tool with an amateur aesthetic. This feature makes it an exceptionally lightweight tool for its users with an insanely rapid functionality. Sumatra can benefit EPUB readers with its clutter-free Interface and enhance a good reading experience. The best part for comic lovers is that it supports comic book formats on different Windows computers, especially if you are looking for a Windows 11/10 Epub reader that works just fine without breaking a sweat.
Pros
It supports CBR EPUB, PDF, MOBI, XPS, and CBZ formats asides from ePUB format.
It has a super-fast loading time.
Con
No annotations and advanced features.
Click here to visit the site
3. Kobo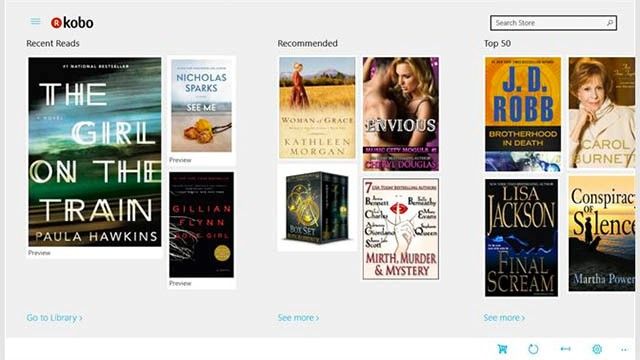 Talking about all features you should expect from an EPUB reader like; search, bookmarks, progress tracking, theming, etc., Kobo has them all in stock. These features make it one of the best EPUB readers you can get on the online market. Like Kindle, the app not only allows you to read eBooks but also allows you to buy numerous books from its store. Nonetheless, Kobo supports both ePUB3 and ePUB formats, unlike Kindle, which doesn't support these two formats. However, its biggest catch over other Epub readers is the store which gives access to over 5 million free or affordable eBooks.
Pros
Easy access to the bookmarks
Built-in store to browse and buy eBooks
Con
Hard to maintain a series of imported books.
Click here to visit the site
4. Calibre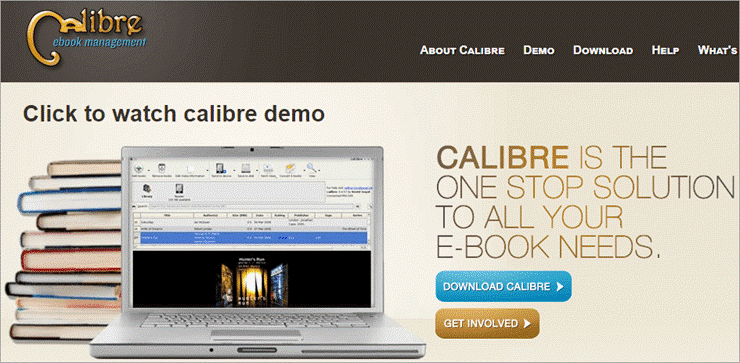 Although the oldest, Caliber is still the most popular and probably the best epub reader in demand today. Calibre support numerous eBook formats, including MOBI, EPUB, MOBI, HTML, TXT, DOCX, DJVU, and more. Besides that, it allows you to convert your eBooks into the different supported formats rapidly and accurately using the app. Also, based on your choice, it can help you download the latest articles online automatically. It is a potent e-book manager that allows you to access thousands of eBooks and provides a comprehensive interface to keep and maintain them.
Pros
Edit and convert eBooks
Manage Metadata
Con
Click here to visit the site
5. Freda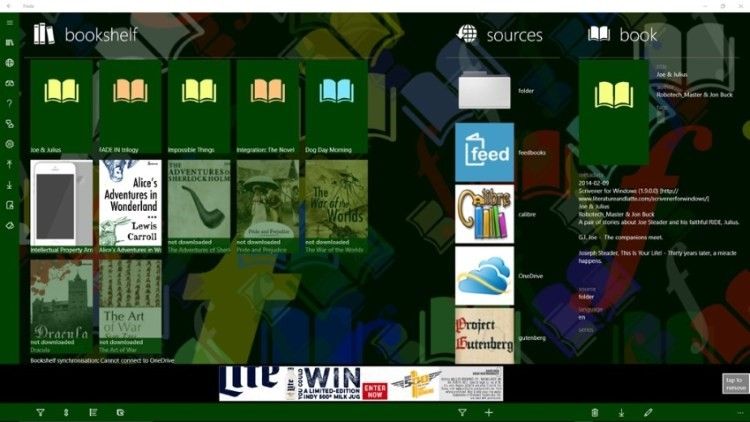 Freda is one of the favorite EPUB readers with its catchy look. Freda stands out amidst all, and a few of the reasons are first because they scream the nativity of the Windows 10 app and its theming flexibilities that allow users to tweak the look and feel of the app to exactly how they want it. It utilizes modern UI to give a good reading experience and support for annotation. Asides from that, it supports text-to-speech reading to aid in listening to eBooks online instead of reading. Not just that, you can also adjust the speed of the audio to suit your preference.
Pros
Integrates with Calibre, Dropbox, OneDrive, Gutenberg, and Smashwords.
Fully Customizable Interface
Con
Supports Windows 8 & 10 app only
Click here to visit the site
6. Epubor Reader
Epubor Reader is specially designed for PC with highly comprehensive and easy-to-use navigation. The app locates not just the digital books but all the digital files on your PC, whatever their format, immediately after installing the app. It supports many eBook file formats, including EPUB, PRC, TXT, MOBI, HTMLZ AZW, and AZW3. Also operated on Windows 7, 8, and 10 versions with a highly customizable interface; you can customize the text, fonts, colors, and even make notes. The best part is its versatility, allowing you to read horizontally or vertically.
Pros
Highly Customizable Interface
Supports almost all popular eBook formats
Con
Not compatible with encrypted eBooks
Click here to visit the site
7. Neat Reader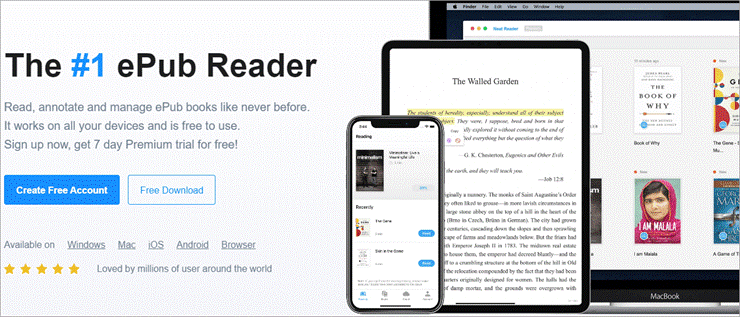 Although highly recommended for PC versions, it works well on Android, iPhone, iPad, Mac, Kindle Fire, and the Web. In addition, neat Reader for Web is available on all web browsers. The app has a sleek, clean, and user-friendly interface and all first-timers' basic needs. However, while Neat Reader can effectively parse multiple EPUB files and provide exclusive features such as search, annotations, highlight, customize the look, and more, you cannot unlock these useful features unless you upgrade to the premium version. Worse still, you might only be able to view part of your EPUB file online.
Pros
It has a simple user interface
Almost all the functions are available in the free plan
You can add notes, highlight and bookmark easily
Cons
Only support Epub format
It does not support DRM-protected book
Click here to visit the site
Convert an Encrypted eBook for Reading Anywhere
Epubor Ultimate is one of the best eBook converter software for Windows PCs. This software allows you to convert eBooks to your desired format, be compatible with your device, and read eBooks anywhere. While Epubor Ultimate is a premium program that reasonably comes with a price tag, its impressive features come in handy. Here are some of its core features:
Modifies metadata
Detect and load books automatically
Supports multiple file formats such as EPUB, PDF, MOBI, TXT, and AZW3
Price: Its Lifetime license costs $49.99/1 PC, $54.99/1 MAC.
Compatibility: Windows and Mac
Here is how to convert encrypted eBook for reading anywhere with Epubor Ultimate
Step 1: Download, install, and launch the app. Then register by creating an account.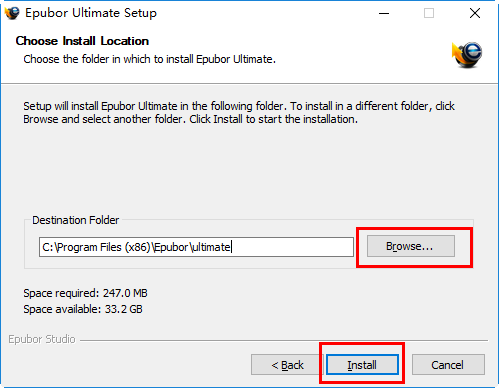 Step 2: Ensure your books are readable on a computer or an e-reader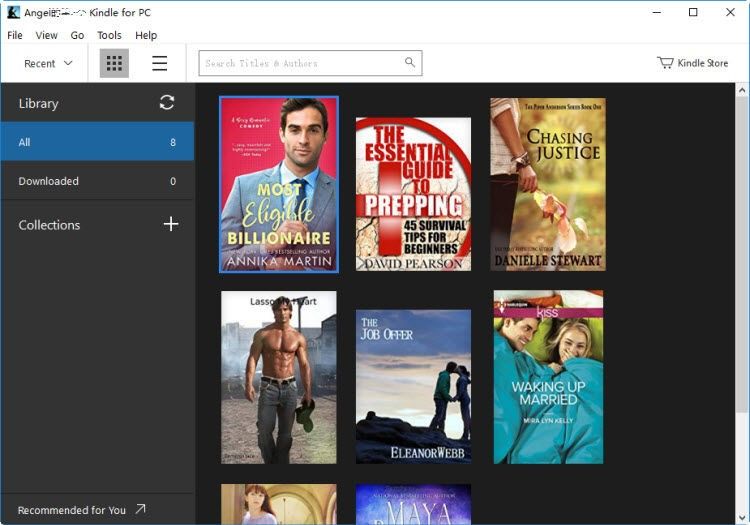 Step 3: Select the books you want to decrypt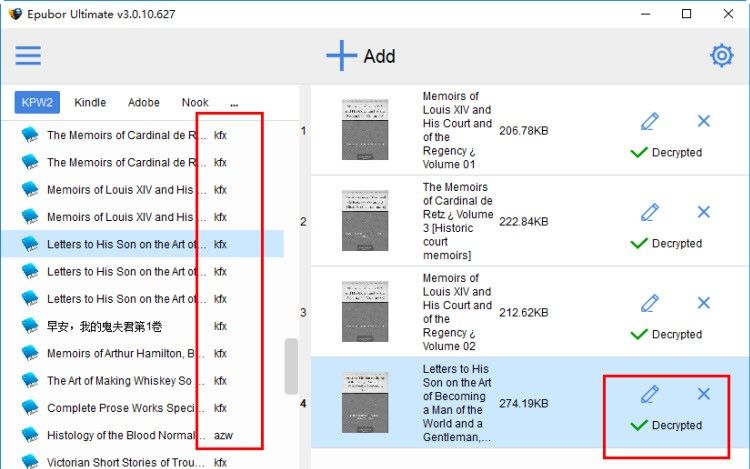 Step 4: Edit metadata of the books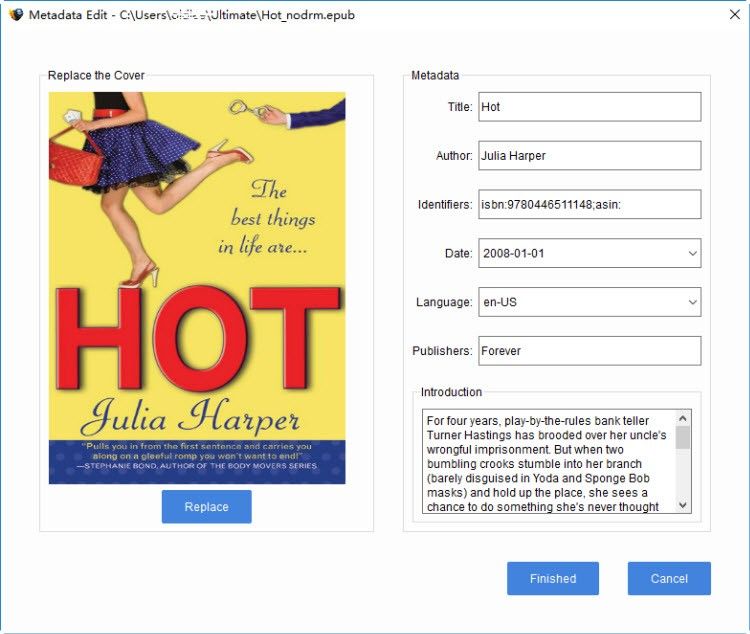 Conclusion
Each free EPUB reader listed above has unique features that make it appealing. Although you may still want to weigh the options, consider your requirements and budget to make the best choice for yourself. Never be unaware if you get stuck with an EPUB file that refuses to open on your PC; Epubor Ultimate is your go-to app without breaking a sweat.
Price: Its Lifetime license costs $49.99/1 PC, $54.99/1 MAC.
Compatibility: Windows and Mac
No more content