Fanfiction is fictional writing that uses the characters, settings, plot, or world from popular TV shows, cartoons, anime, films, comics, plays, etc. Fanfiction is usually created by fans who adore the original work and wish to add or explore the lives of the characters they love and their world.
Fans can re-write scenes, include new characters in their story, or retain the original characters. Fanfiction is unrestricted mainly because the writers make their work based on the fun or love of the original work. Fans of fanfictions get to live out their wildest and unworkable dreams with their cherished characters.
Occasionally, when we see a movie, we wish some scenes were made better, excluded or that the film shouldn't end. We imagine plots in our heads and try to explore more. Well, if you're a fan of frictional movies and want the creativity of other fans, below are the top 10 fanfiction sites where you can find endless and infinite happiness.
Top 10 Best Fanfiction Websites in 2022
1. Archive of Our Own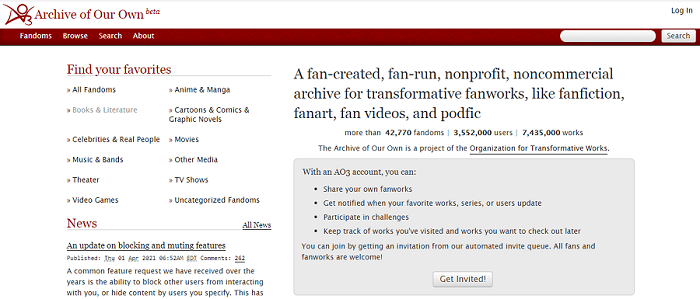 Archive of our own is a non-profit story-sharing fanfiction site designed by a fan. It's non-commercial and purely runs on donations made from fanfiction readers globally. The site has an extensive collection of over 7,357,000 captivating fan works. You can access a massive collection of Anime fan arts, fan videos, Manga, podfic, and much other creativity. It presently has over 3.4 million registered; however, to access files from this platform doesn't require creating an account.
Pros:
It's accessible to all kinds of fanworks.
It consists of all ratings of fanfictions.
The platform enables users to host Meta fandom writing and fiction.
Cons:
The platform is heavily laden on media fandom.
There's no option to separate crossover from non-crossover stories.
The server is sometimes slow.
2. Wattpad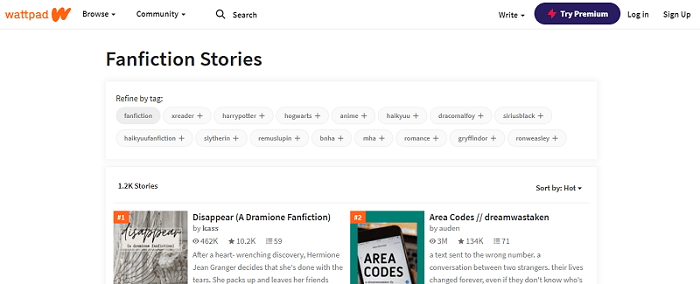 Wattpad is one of the top-rated global platforms where writers can share their fictional creativity among Wattpad's extensive user base to attain popularity and readership. It's a gigantic community of over 90 million readers and writers.
Wattpad isn't limited to fanfiction work alone; it also features a vast library of over 70 million stories from different genres. The site encourages writers to publish more stories by holding contests and giving awards.
Pros:
Users can read and write at no cost.
It's open to all creative writers and encourages expression.
Host one of the largest communities of fictional writers.
Cons:
Users get a pretty number of spam.
Rankings don't count.
3. FanFiction

FanFiction is another common fandom-sharing platform. It was created in 1998 and can be the first multi-fandom automated document platform. FanFiction has a massive library of fanfiction artwork and a good user interface. It gives users access to upload their fanfiction art in more than 40 languages.
On FanFiction, users create a free account and post their fics for free. At the same time, readers can view their work and extend valuable remarks.
Pros:
The UI is smooth and provides easy accessibility.
Host an extensive library of fanfiction artwork
Users from various parts of the globe can access fics in other languages.
Cons:
Uncensored
About 80% of the works are in English.
4. Commaful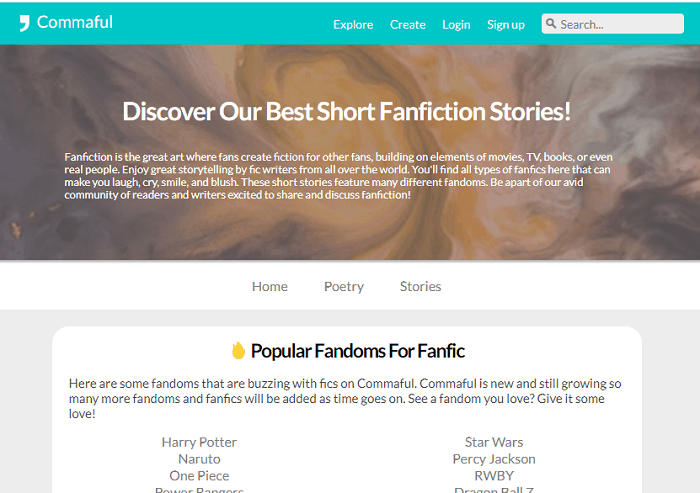 Commaful is among the best online communities for budding writers. The platform is more teenage writers and many experienced writers, professors, bestselling novel authors, and books. Although its user base is low compared to other platforms such as Wattpad or AO3, individuals are friendlier, active, and highly engaging.
Pros:
The platform host many budding fandom writers.
Its community is highly engaged and active.
Teenagers get to express their creativity on the site.
Cons:
It has a lesser user base compared to some well-known sites.
The platform isn't suitable for readers due to its posting style.
5. Quotev

Quotev is another top-rated fanfiction website that provides an exciting collection of fanfics. Aside from fanfics, it allows users to upload their original work, such as stories, novels, poems, etc. Quotev offers different categories of fanfiction for writers and readers. Quotev has everything both writers and readers need with an exquisite user interface.
Pros:
It offers extensive categories and genres for users to select from.
It hosts a gigantic library of stories, poems, novels, and many more.
The user interface is clean, smooth, and easy to use.
Cons:
Readers can't save stories unless they create an account.
6. Tumblr

Tumblr is popularly known as a social networking and microblogging website. However, it also hosts various kinds of fanfiction that users can view. The website provides an effective means of getting connected with the entire fandom. You can easily find memes, fanfictions, and fan art by searching. Tumblr is also an excellent platform for you to promote your fanfictions and draw attention to your work.
Pros:
The site allows users to upload their fanfics for promotion.
It hosts an extensive community of readers and writers.
It provides an excellent means of connecting with the entire fandom.
Cons:
It contains many tags that seem confusing to users.
The interface is quite tricky.
7. AsianFanfics

AsianFanfics is the site for individuals who love to read, write, share stories, entertainment, pop culture, and music. The website mainly focuses on Asian fanfiction covering Asian books, movies, TV series, dramas, or bands.
Pros:
The website hosts many Asian fanfictions.
It has an easy-to-use user interface.
Cons:
The majority of the fiction on the site is Asian-centered.
8. DevianArt

As the name connotes, DevianArt is an online art community that features videography, artwork, and photography. The site is known for its incredible fan art and creative community. You get to find a lot of innovative fanfiction, fan comics, fan art, and more. DevianArt is one of the most beautiful and well-designed fanfiction websites.
Pros:
It houses numerous fanfictions and fans arts for illustrative individuals.
The site offers essential tools to style your post and images.
Cons:
Although the user interface is intriguing, it may look confusing to new users.
9. MediaMiner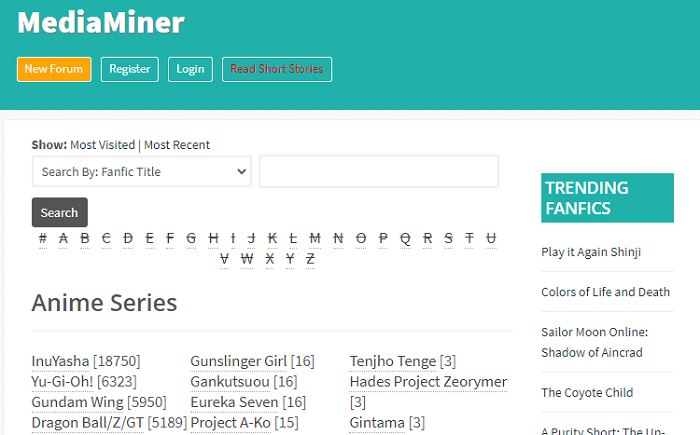 MediaMiner is known for its quality fanfictions, fan arts, and anime. The platform has many contents to read, and its organized library makes it an excellent choice for users. The site has its content distributed into three distinct sections for easy accessibility.
Pros:
Users can search for their favorite genres or fanfic work using essential keywords.
It has a simple and visually attractive users interface.
Cons:
Fewer numbers of contents as compared to other sites.
10. AdultFanFiction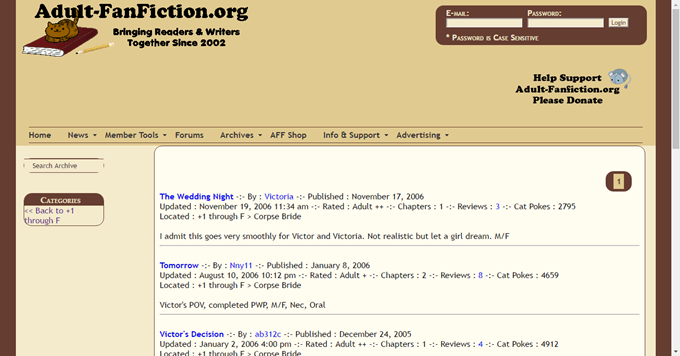 AdultFanFiction is the most extensive legit adult fanfiction archive of various types on the web. The website has a smooth and clean, user-friendly interface and functions on a no censorship rule to give users a place to explore their imaginations.
Pros:
The site contains original adult fiction of all types.
It has a beginner-friendly user interface for easy accessibility.
Cons:
Conclusion
Whether you are a fanfiction writer or reader, selecting the best fanfiction site depends on the site's ability to serve your needs effectively. Read through our top ten best places to help you choose the best.
No more content