Audible is a popular application that hosts a digital library of thousands of audiobooks, playable across different devices. The app is accessible through computers (macOS or Windows), mobile phones (Android or iOS), and Fire tablets.
However, users cannot download and hear Audible audiobooks on different portable MP3 players since they have AA/AAX encoding. Plus, many devices cannot recognize the stored audiobook titles or cause problems with storing unlimited Audible files.
How to Convert Audible to MP3 in 2022?
Particular tools for Audible file conversion work differently on varying devices. Here, getting the best audible converters should help you transform the Audible audiobooks into easy-to-access MP3 files. To make this search easier for you, we have assessed and then compiled this list of the top 5 reliable audible converters to download in 2022.
The AudKit Audible Converter is a user-friendly professional tool for audiobooks to MP3 conversions. The tool targets encrypted AA/AAX formats without damaging the original audio quality. Besides MP3, the tool allows modification of the encrypted audiobooks from AA/AAX to WAV and AAC formats, among other options.
The interface of the software is user-friendly and straightforward. You can adjust settings like codec, format, bitrate, and sample rate for the conversion. Users can keep the ID3 Tags when stripping the format limits off.
Pros:
High conversion speed
Retains sound quality of AA/AAX audiobooks after conversion
Simplified and minimal user interface
Carries different output formats
It can work without the iTunes app
Cons:
How to Use?
Step 1: Download the converter and access the software. Opt for the "Add" button on the tool interface and import your selected Audible audiobooks from your local folder. You can drag/drop the files too.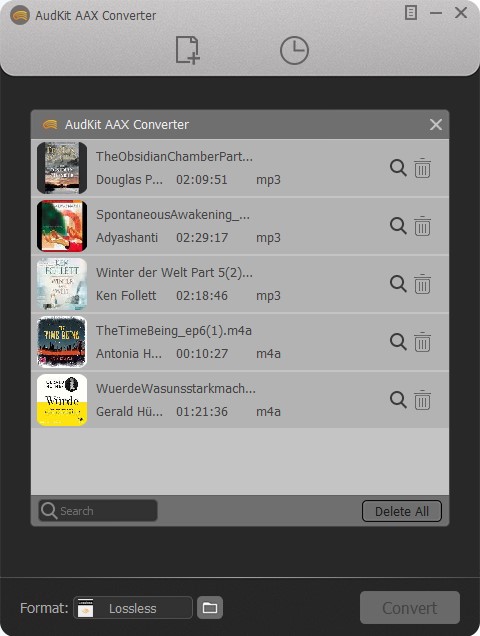 Step 2: Choose "Lossless" at the bottom part of the program to access the Settings menu. Choose MP3 as the output media format.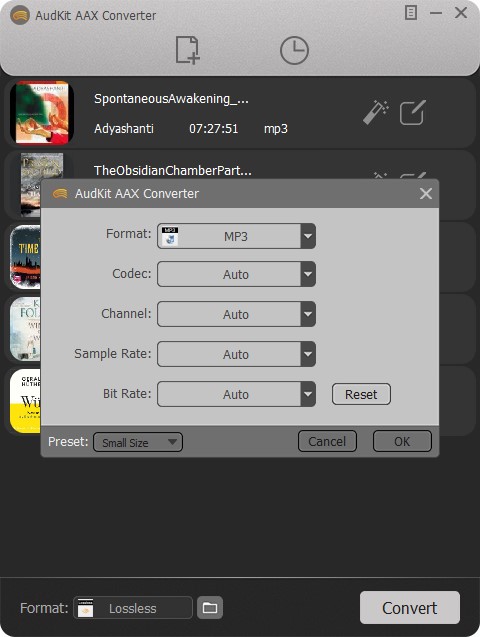 Step 3: Make other changes like sample rate, Bitrate, codec, etc. Or, adjust the "Preset" mode to "High Quality."
Step 4: Select Convert > History > Search icon. Then, you can access the "Converted" folder.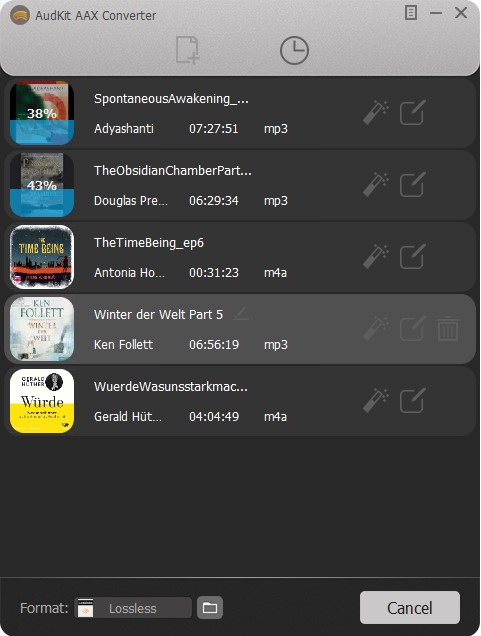 This tool canconvert Audible to MP3easily and is one of the most trusted software options for users. It can simply convert AA and AAX formats to WAV, AAC, and other audio formats through an easy-to-use interface. Users get a high-quality guarantee of the audio sound during the conversion.
The Audfree tool works well with unprotected audio tracks. Moreover, it supports various platforms like iTunes audiobooks, iTunes songs, and Apple Music. The app has an easy-to-use interface and allows customization with the conversion; users can change bitrate, sample rate, and other settings.
Pros:
It supports iBooks and Audible audiobooks
Includes a functional build-in editor
Retains 100% of the audio quality
Cons:
You need to install iTunes first
Costly
How to Use:
Step 1: Launch the AudFree Auditor tool and import your chosen files.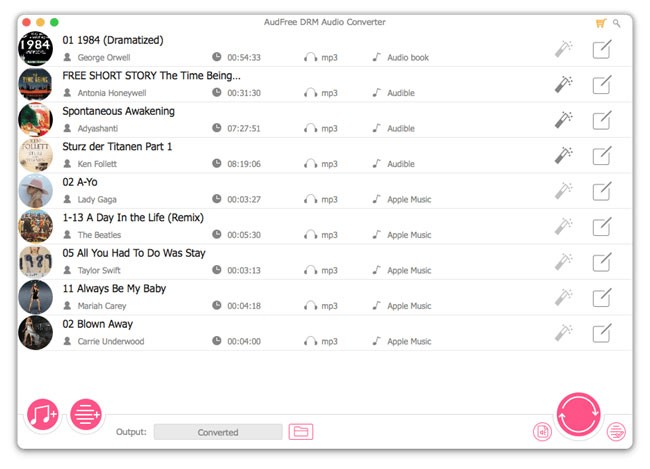 Step 2: Select the type of output format, i.e., MP3, and choose your preferences for Bitrate, channel, codec, sample rate, etc.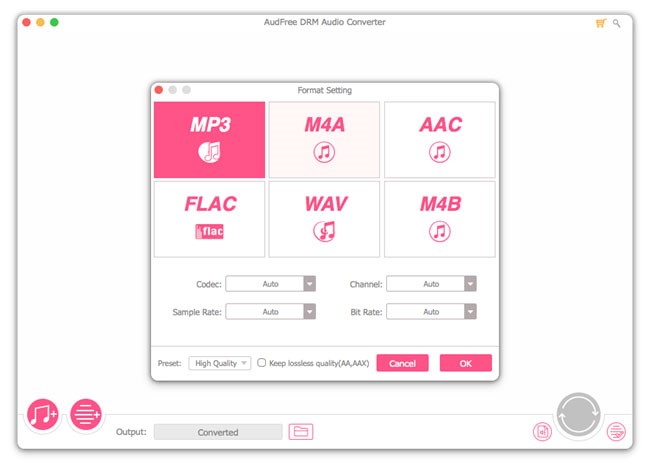 Step 3: Do extra edits to the ID3 Tags or split the audio.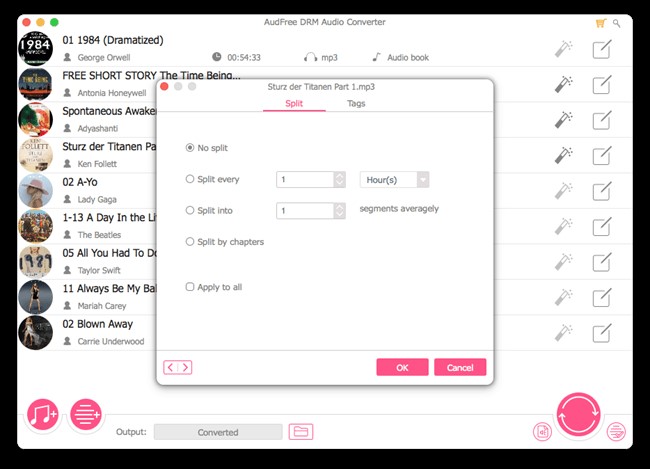 Step 4: Click on "Convert."
TunesKit Audio Converter is another user-friendly tool for adapting Audible audiobooks into MP3 audio format. It can convert Audible to MP3, WAV, AAC, and other such arrangements. It is helpful for both personal and professional-level conversion needs. Moreover, it works as an all-in-one tool with many conversion-related features easily accessible on the software.
Moreover, users can easily drag and drop the files and begin the conversion process through this tool. Plus, you can customize the audio files with the built-in editor feature available in this software.
Pros:
You can remove any format locks
Includes a built-in editor
Saves the original ID3 Tags
Cons:
The quality of the output file is not high-level
Costly.
You need to install iTunes.
How to Use:
Step 1: Choose the second "Add" button on the tool interface and select the audiobook.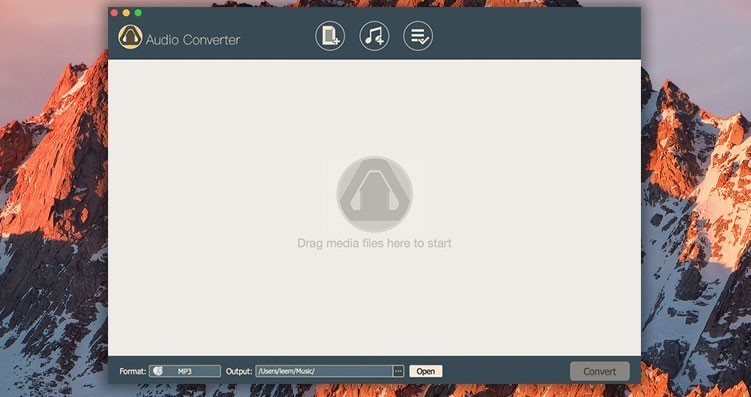 Step 2: Select the option to "Format." Choose your output setting in the pop-up window that comes up.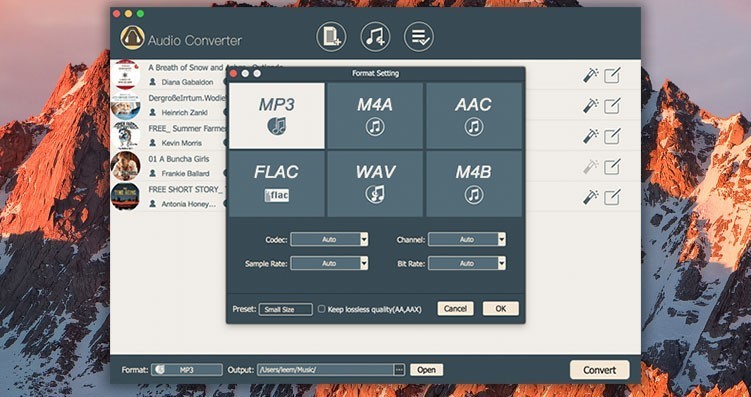 Step 3: Click on Convert and then download.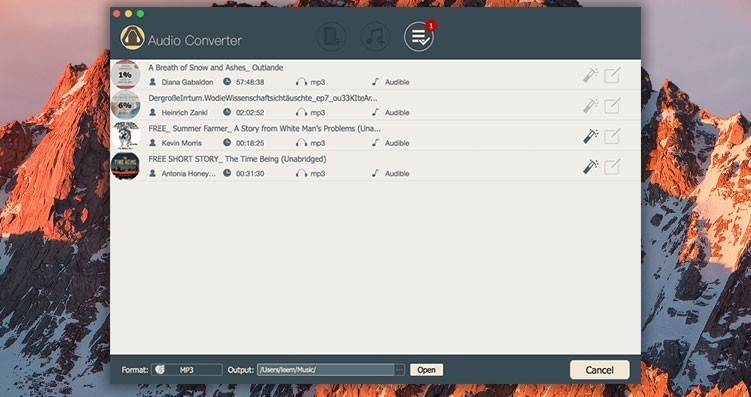 One of the best Audible Converters available online is the TuneCable iMusic Converter. It ensures proper audiobook file conversion into different audio formats with 100% quality retained. Users can operate this tool to convert Apple Music files as well. The supported output audio formats are MP3, WAV, M4A, and FLAC formats.
This software is compatible with Windows 11/10/8/7. It primarily caters to Amazon music download and conversion but allows audiobook conversion. You need to install the software into your PC, click on the "+Add" button for importing audiobooks, and choose "MP3" from the Settings menu. Then, convert.
Pros:
Compatible with Mac and Windows 11/10/8/7
Simple installation and usage
Cons:
Primarily caters to Amazon music download
Better alternatives available
How to Use:
Step 1: You need to install the software into your PC.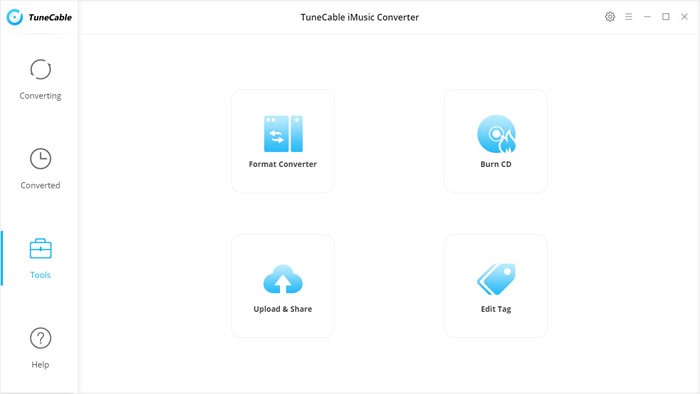 Step 2: Click on the "+Add" button for importing audiobooks.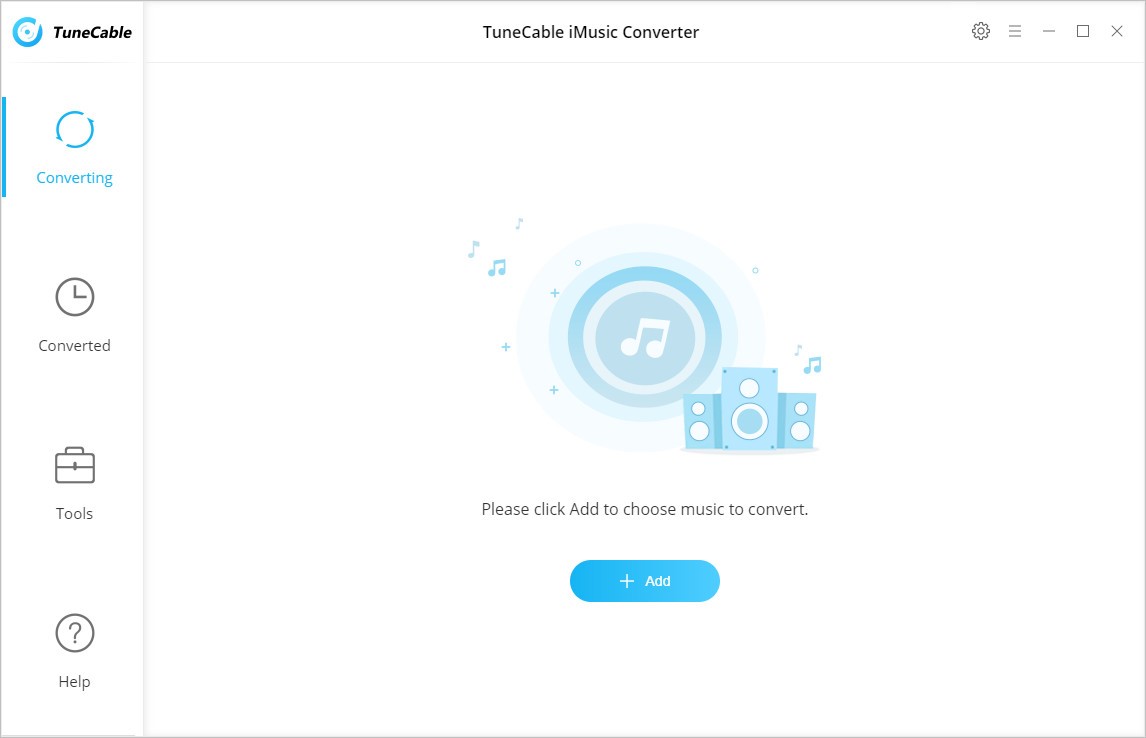 Step 3: Choose "MP3" from the Settings menu.
Step 4: Then, click on Convert.
InAudible is one of the usable conversion tools available online suitable for changing audiobooks into MP3 format. It is available entirely for free and ensures quick conversion of AA/AAX formats into M4B, MP3, and WAV formats, among others. The ID3 Tags of all of the audiobooks you would try to convert through this software would not get deleted.
The software is more popular with Windows users, and they use inAudible v1.97 and the newer version, inAudible v1.96. Mac users get only inAudible v0.09. The tool splits up the audiobook into chapters for easier playback and supports batch AAX conversion and RIP CD features (only on Windows). You can adjust aspects like CBR bitrate, sample rate, and VBR mode in the audio output.
Pros:
Free to use
Include features for Audible and music conversion
Cons:
Mac version not updated consistently
The interface is difficult to manage
How to Use:
(On Windows)
Step 1: Launch the inAudible Converter. Add Audible audiobooks by File > Open > Audible/M4B.
Step 2: Select the download the output format and location.
Step 3: Use the "Adjust Chapters" feature to split the big audio file into chapters.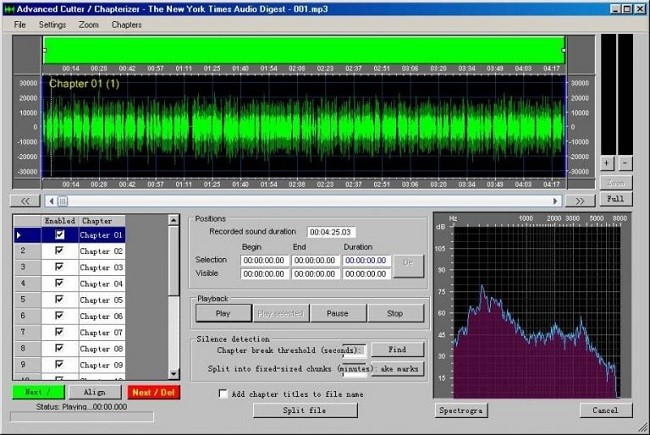 Step 4: Click on "Begin Conversion."
(On Mac)
Step 1: Launch the inAudible tool. Select the three-dot icon beside the Input option on the interface. This would import the Audible file.
Step 2: Select the output file format (e.g., MP3) and location (e.g., local device folder).
Step 3: Choose the "Begin Conversion" option.
Conclusion
Overall, multiple tools are available for users to convert their AA/AAX Audible audiobook files into MP3 and other audio formats for easier offline listening.
Among the options, TunesKit and AudFree are usable versions, but you need to download the iTunes app first to use it. Both also come with a built-in editor.
However, if you want top-quality conversion, AudKit Audible Converter has multi-format compatibility, speedy conversion, and 100% audio quality guaranteed.
Most options have simple interfaces, except the built-in inAudible converter. While it is free, usability is better with other versions.
You should check all of the different Audible Converters we have listed here before choosing the one you can work with for the long term. If you found this list helpful, please search through our other posts; we have covered guides on different software-related topics such as this.
No more content