At times, the speed with which technology is propelling the globe might be overwhelming. Yet, we've seen wonderful discoveries come center stage throughout the years, prompting people to reconsider what they consider to be the bounds of impossibility, walls that scientists and bright minds from various fields continue to smash.
The phones we use today are constantly being redesigned and fine-tuned. For example, we now have smartphones with fingerprint scanners, facial recognition, PIN, or password to improve security and privacy. When that first barrier is broken on most phones, however, there is no further protection for the amount of data a person has on their phone.
We all snap pictures that we don't want others to view. We all have our motivations for doing things the way we do. As a result, we've decided to highlight some of the most excellent tools you can utilize to keep such photos hidden from prying eyes. Let's look at a few of these photo-obscuring apps.
Top 15 Free Apps to Hide Photos and Videos in 2022
Fortunately, a slew of apps can help keep even the nosiest of persons out of your confidential information.
Some apps are expressly intended to hide your Android images and videos. Check out our list if you need anything similar for your device!
8. Vaulty - Hide Pictures & Videos
1. Hide it Professional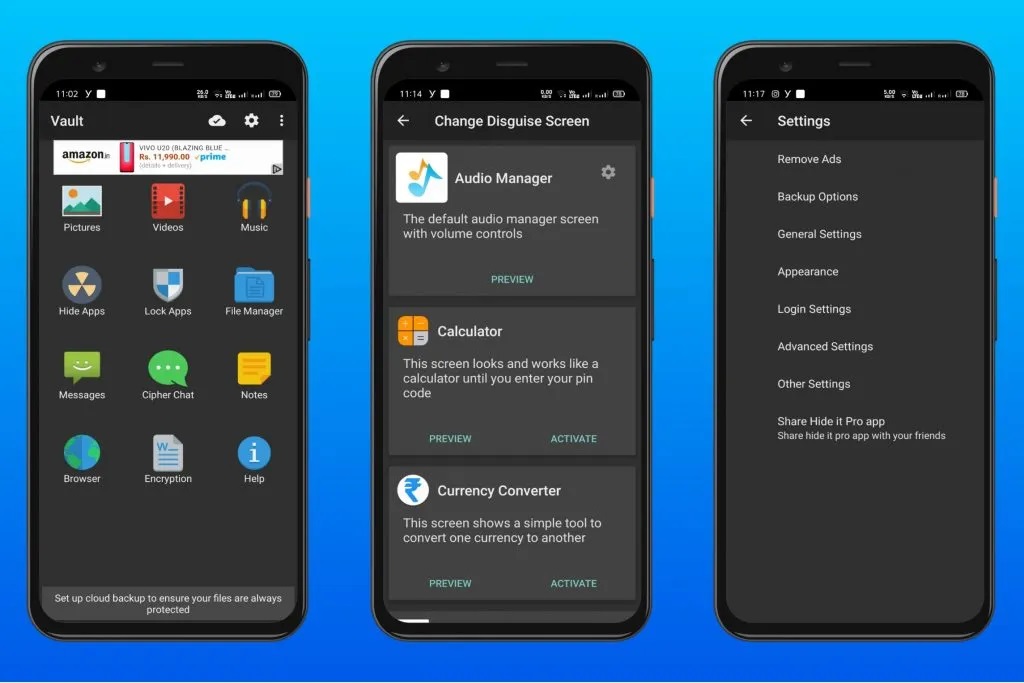 Hide it Professional is one of the most incredible Android video and photo hiding apps. The app's user interface is straightforward, not fancy, but it gets the job done.
Photos, videos, documents, and notes may all be hidden using this program. However, suppose you have an Android device. In that case, you will have access to extra capabilities such as hiding apps and music, a file manager, a video player, and even the ability to lock programs. On Android, you can also hide apps, but you'll need to have the phone rooted.
Hide it Pro now includes Google Drive cloud backup, allowing you to recover contents in the event of theft, device damage, or device format. Aside from that, you may use a fingerprint or FaceID (iPhone) to unlock the phone, themes, recovery emails, shaking the phone to exit, and slideshow.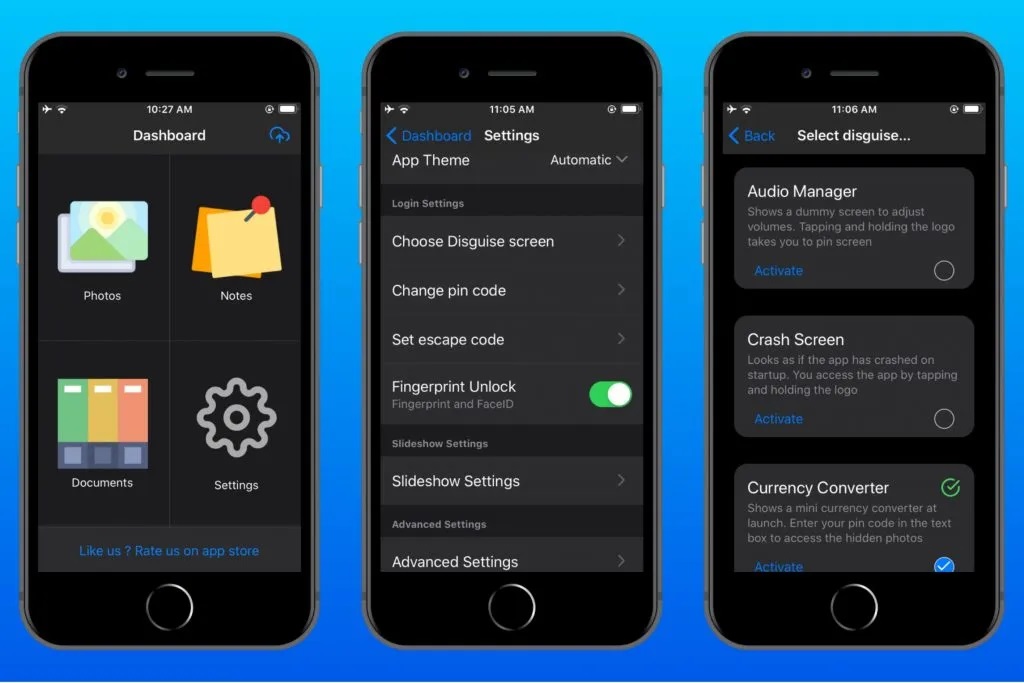 Features:
• Disguise Screen: This feature provides a phony app screen that appears real. A calculator, a currency converter, a joke of the day, and other disguise screens are available. I strongly advise you to use this function so that others are unaware that you are using a secret data-hiding program.
• Escape Code: Another feature I recommend enabling is the escape code. When you are forced to open this software, it will make your vault appear empty.
Overall, Hide it Pro is an excellent app for keeping files hidden from prying eyes, and you should give it a try.
2. KeepSafe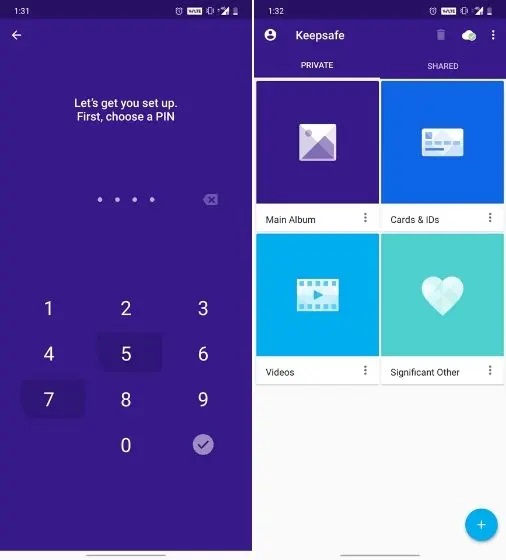 You've probably heard of KeepSafe Photo Vault if you've used an Android app to hide your private photographs or videos. It's been around for a long and is still one of the best programs for keeping your material hidden from prying eyes. Over the years, the app has received numerous improvements, making it cleaner and easier to use for everyone. It allows you to lock photos and videos using PIN, pattern, or fingerprint identification, after which it displays a clutter-free and organized folder grid.
You can add and safeguard your private images, videos, and personal IDs in these folders. In addition, you may make your folders, share them with other KeepSafe members, and back them up to your own private cloud space.
KeepSafe includes several advanced security features, such as false login PINs, break-in warnings (which log a selfie of the intruder and the time and date of failed attempts), and Secret Door, which allows you to do so hide the app behind a new front-end. All of the functions, however, are hidden behind a barrier, so I recommend purchasing it if you're serious about protecting your personal information.
Key Features:
Easy-to-use
PIN, pattern, and fingerprint authentication
Private cloud storage
3. LockMyPix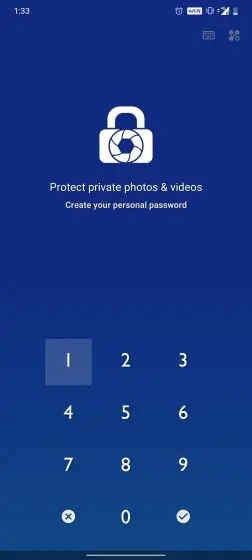 This is one of the most sophisticated programs for concealing your private photos and videos. The program has so many functions that it took me a long time to go through them. This app offers capabilities that you won't find in any other app or are only available as a paid upgrade.
Features:
We'll begin with the most basic functions, such as Disguise mode, Unlock with Fingerprint, Shake Lock, Intruder Selfie, Video Player, and Recovery Email.
You're mistaken if you believe that's the end of the features. Other features that distinguish this software include:
Keep Screen on When viewing photos and videos, keep the screen turned on.
Internal Camera App: Take fresh photographs or videos with the LockMyPix internal camera app.
Design & Styling: This function is great if you want to do more than just hide photos and videos. This program offers a wide range of color options for customizing your app and a dark mode.
While the free version of the program already has a lot of capabilities, you can upgrade to a subscription plan to get rid of the ads and use the Fake Vault feature.
Unfortunately, this app is not available for iOS. If you have an Android device, though, LockMyPix is undoubtedly one of the most outstanding video and photo hiding apps in 2022.
Download LockMyPix from Play Store
4. 1Gallery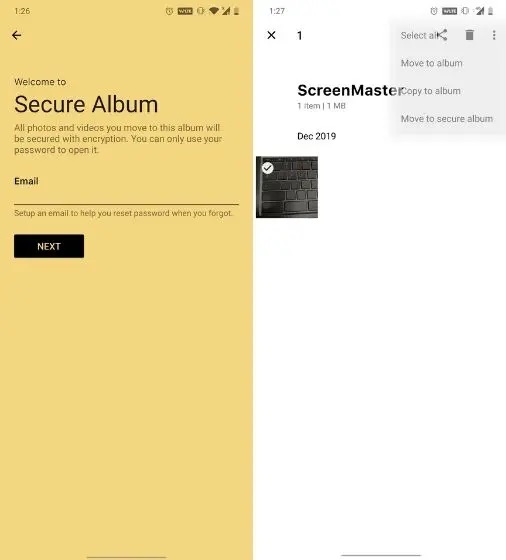 1Gallery is a photo and video management app in the form of a photo gallery. However, the main feature of this gallery software is its impenetrable vault, which securely hides photographs and movies. Many apps on the Play Store allow you to hide pictures and videos, but they all employ the. No media extension to make the media files unsearchable.
If you use the 1Gallery app to hide photographs and videos, no one will be able to find them, even if you have root access. To hide your pictures and videos, you can use one of three password modes: PIN, Pattern, or Fingerprint.
Aside from that, I placed this program so high on my list due to its stunning user interface. With a new design and approach to user experience, the app is flawlessly built and appears modern.
There is also a dark mode, compatibility for many file formats such as RAW and SVG, search management, video, and it can also be used as an Android picture editor. Overall, I would recommend 1Gallery as the most fantastic tool to hide photographs and videos because of its encrypted vault, stunning design, and all-in-one approach.
Key Features:
Encrypted vault
Use a PIN, a pattern, or a fingerprint to hide photos.
Simple gallery app
Easy to use
Dark mode
5. Gallery Vault
Many wonderful features are included to keep your photographs and videos safer on Android, including:
Icon Disguise: It works similarly to the Hide it Pro app, which turns your default Gallery Vault into a Calculator app.
Private Camera: When you enable this function, a camera icon will appear in your launcher, allowing you to snap photos and videos and automatically upload them to the Gallery vault.
Cloud Sync, Recycle Bin, Folder Lock, Enable/Disable Screenshot, Uninstall Protection, Built-in Video Players, and many more functions are available.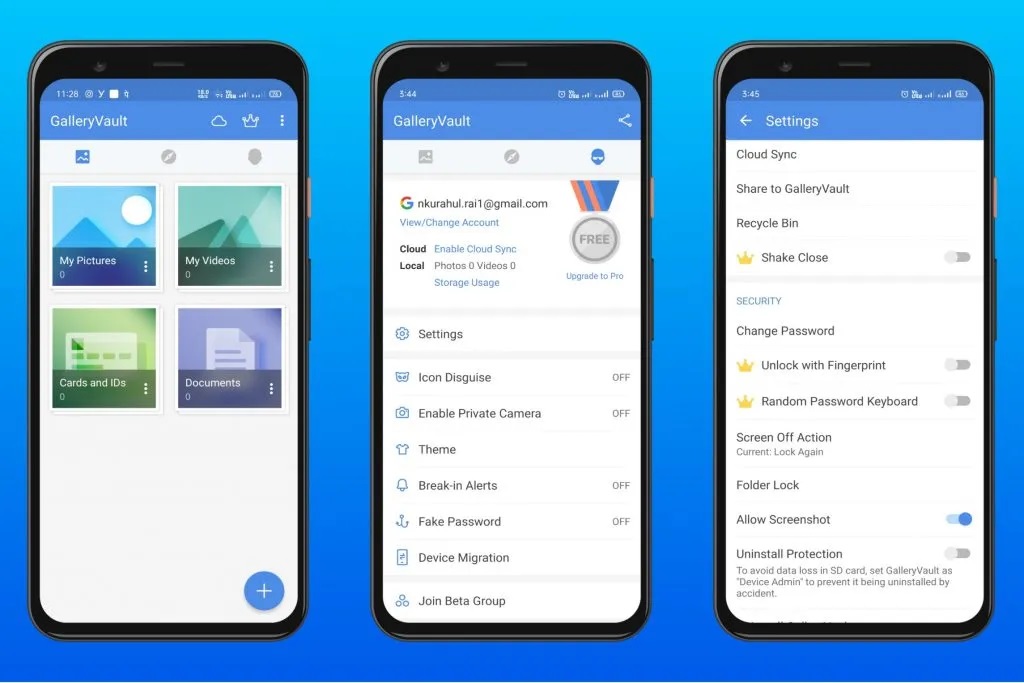 Premium Features:
Break-in Alerts: When someone types in the incorrect password, it takes a picture using the front camera.
Fake Password: It's similar to the Escape Code function in the Hide it Pro software, which displays an empty vault when bogus passwords are entered.
Shake to end, Fingerprint Unlock, and Random password keyboard are among the premium features.
Gallery Vault for iPhone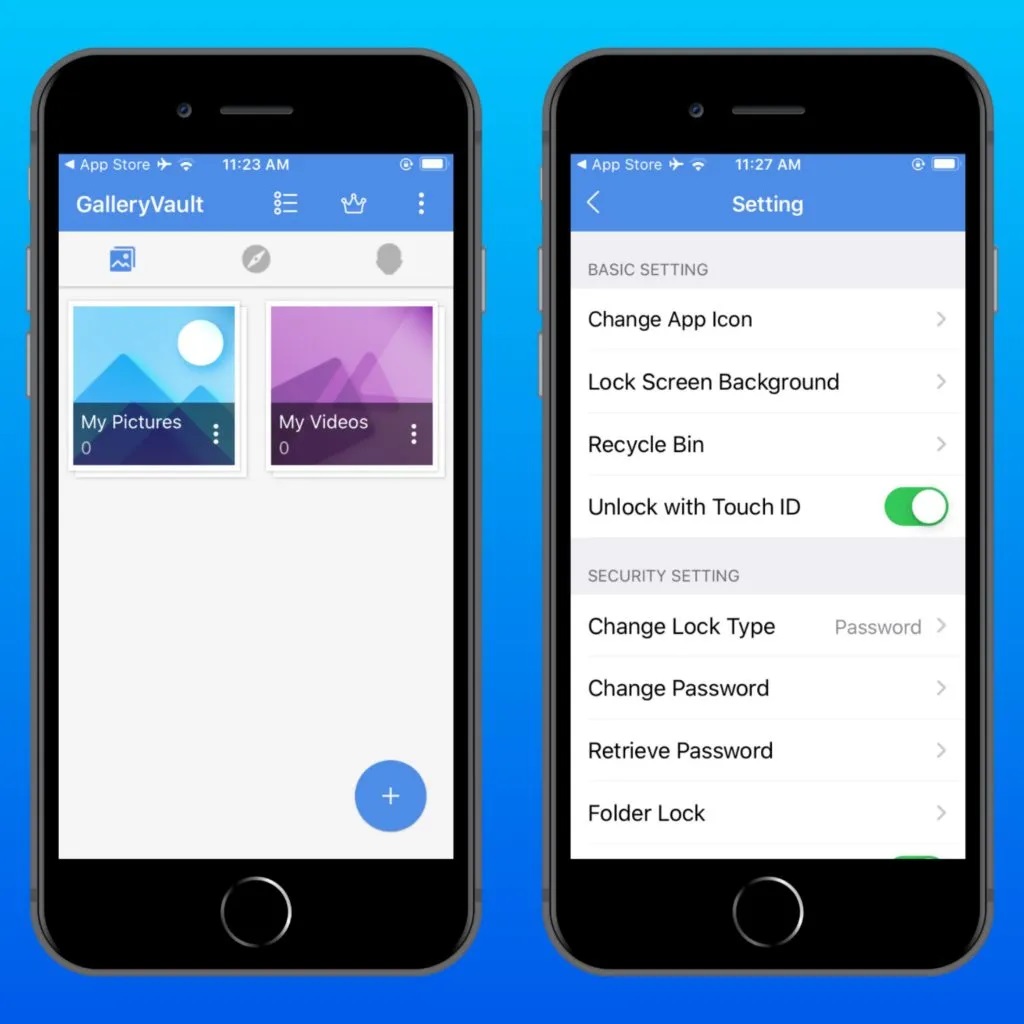 The iPhone app Gallery Vault has its own set of unique features:
Enable Secret Door: Gallery Vault is disguised as a camera app to fool people into thinking it's a camera app.
Change App Icon: The primary icon can be changed to either the Album or Camera icon.
A unique lock screen wallpaper, recycling bin, unlock with TouchID, change lock type, Folder lock, and other functions are included. It also has a paid function called Break-in Alerts, similar to Android.
The software has a slew of useful features, making it one of the top free photo and video hiding applications for iPhone and Android in 2022.
6. Vault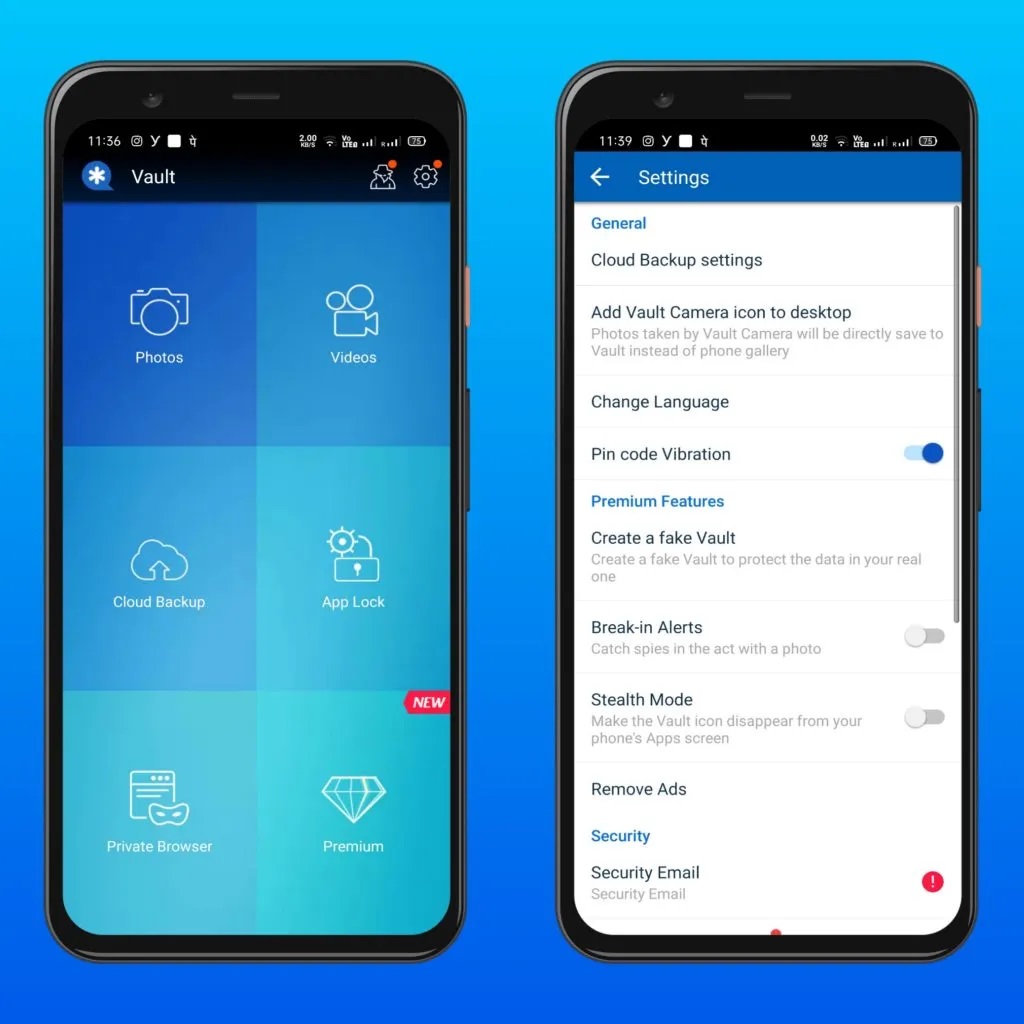 With over 50 million downloads, the vault is one of the most popular apps available. Not only can you hide photographs and videos with this software, but you can also use it for private browsing, app security with a built-in App locker, and 1 GB of free cloud storage.
Other unlocking options include Unlock with Pattern and Unlock with Fingerprint.
Vault for iPhone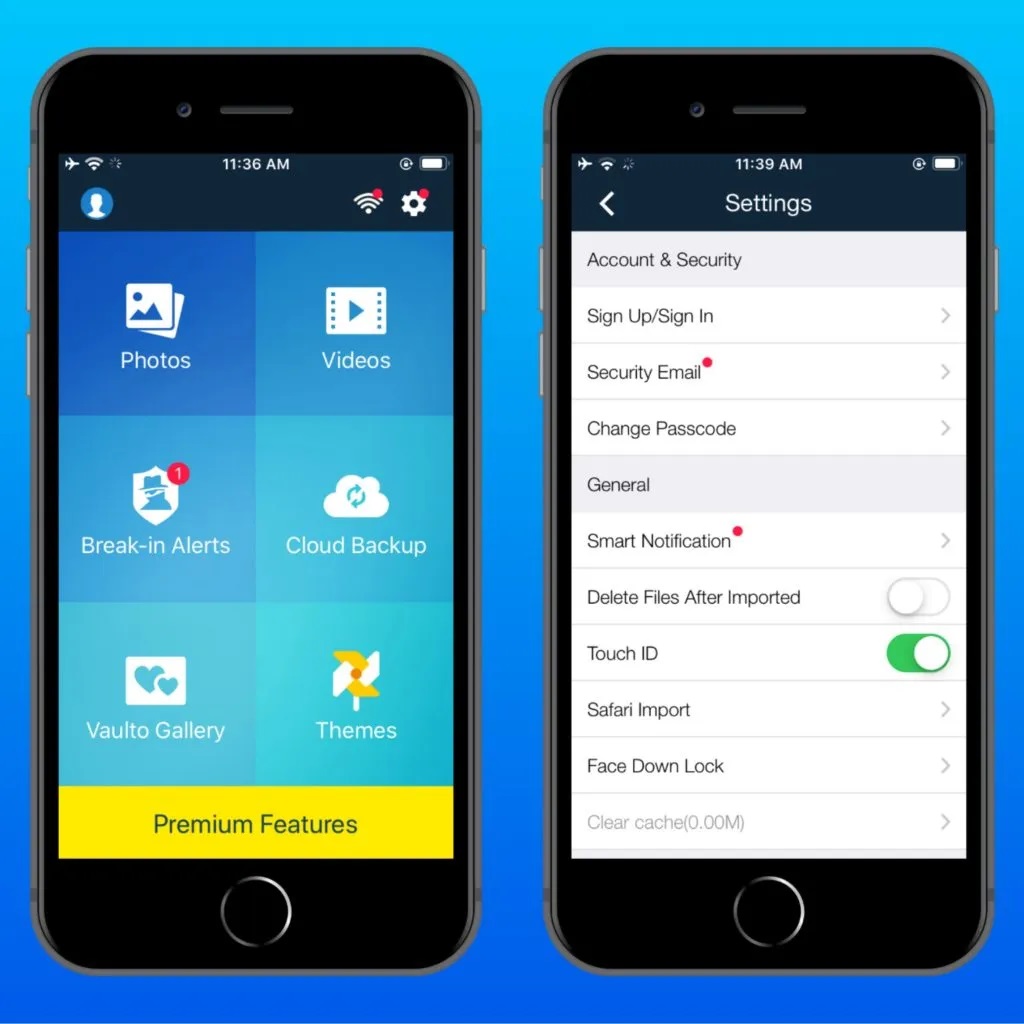 iPhone users will benefit from two new features:
Use TouchID to unlock.
Face Down Lock: Simply face down the screen to quit the vault and launch another app. Messages, Mail, Music, and Safari are all options.
You can also add a vault camera icon to your home screen as an additional feature. As a result, images taken with the vault camera will be stored straight in the vault rather than in a photo gallery. You can also create a security email that will be used to reset your password if you forget it.
Although the free version of this program should be enough for most of you, there are some paid features to consider.
Fake Vault: This function allows you to further encrypt your private photographs and movies. Simply make a fake vault, and when someone asks you to open the app, it will display the false one, and they will not be able to tell the difference.
Break-in Alerts: When someone tries to break into your vault, it takes a photo.
Stealth Mode: Make the vault icon vanish from the app screen of your phone.
7. Calculator by FishingNet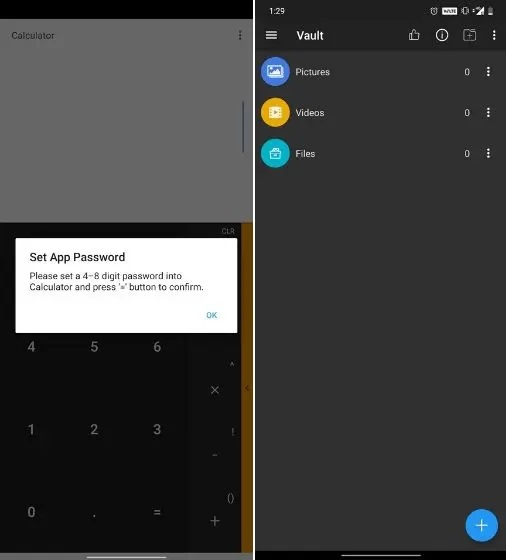 The calculator is a one-of-a-kind program in our list that is designed to act and look like a calculator but hides a safe vault behind it. So if your friends and family use your smartphone frequently, you may use the Calculator app to hide photos and videos without appearing to be hiding anything.
To open the secret vault, you can set a numeric PIN that you must input into the Calculator and press the "=" key. The best thing is that the media material is secured using AES encryption, so you're safe on that front as well.
When it comes to features, you have Intruder Selfie, which allows the app to snap photographs of users who attempt to enter the secret vault. Aside from that, if someone forces you to open the secret vault, you can build up a false vault.
Another great feature of this app is the ability to quickly close the app and hide photos and videos by shaking the phone. Overall, FishingNet's Calculator is jam-packed with capabilities that can significantly assist you in hiding photos and videos from curious eyes.
Key Features:
AES Encryption
Fake Vault
Intruder Selfie
Close the app and hide photos by shaking it.
8. Hide Pictures & Videos – Vaulty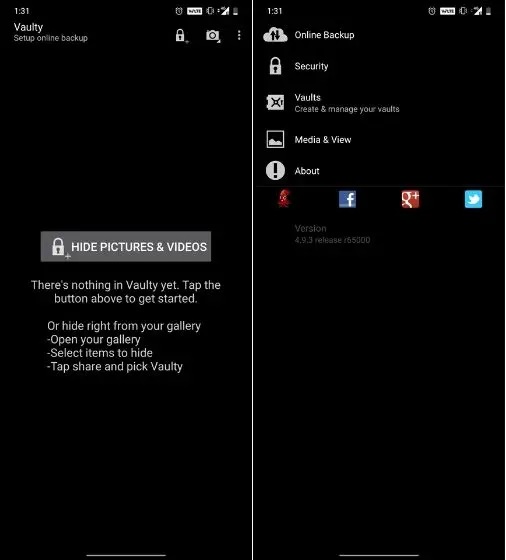 Vaulty is yet another well-known and dependable photo/video hiding program that, while it may appear a little old, does an excellent job. Simply open the software, choose the media items you want to conceal from the gallery, and password guard them against prying eyes. Vaulty's main feature is that it records "mugshots" of attackers who attempt to access your vault but fail to type in the correct password.
You'll know who tried to trespass into your personal space the moment you open the app. This feature is offered to all users for free, which is beneficial. You'll also be able to build many vaults, each with its own password, to store different types of photos or films. If you wish to backup your files to the cloud or remove adverts from the app, you'll need to upgrade to the Premier membership.
Key Features:
Multiple vaults
Intruder 'mugshots'
Hide photographs from your gallery app directly.
9. Photo Lock App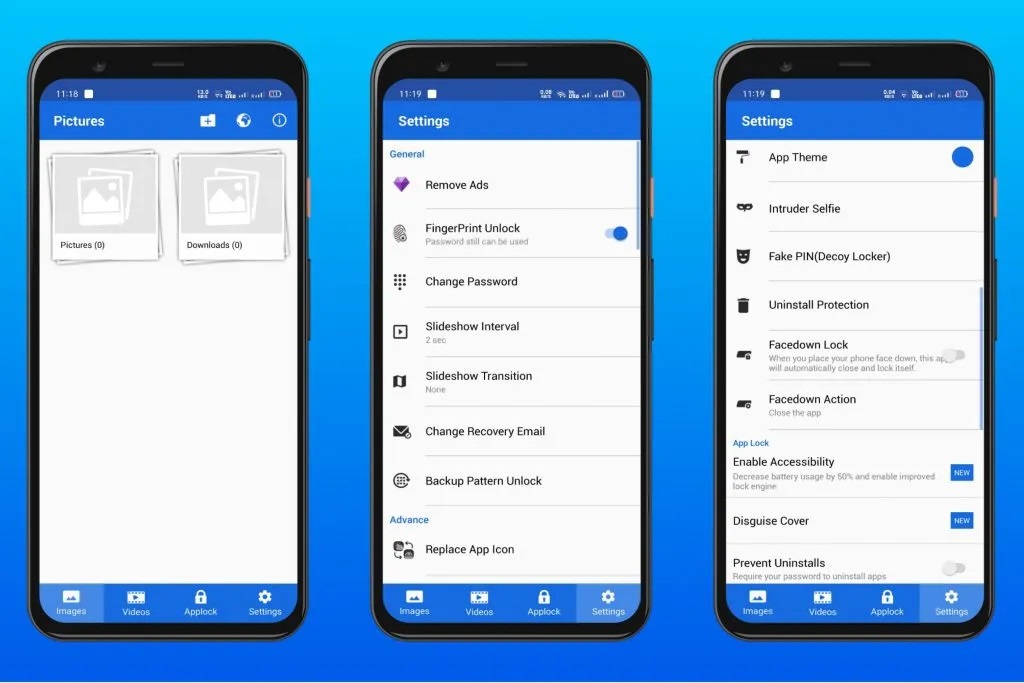 Fingerprint unlock, themes, a fake PIN, and uninstall protection are all included in the Photo Lock App.
Features:
Replace App Icon: Other icons such as a clock, news, calculator, weather, and radio can be substituted for the default one.
Intruder Selfie: When someone unlocks with the wrong pin, pattern, or fingerprint, it automatically captures images.
Fake Pin (Decoy Locker): It generates a second PIN, which unlocks a dummy Gallery Lock. If your friends or family force you to access the app, simply enter the second PIN, and the app will display an empty gallery vault.
Facedown Lock: This app will automatically close and lock when you place your phone face down. You can also perform other actions with your face down, such as opening another app or visiting a website.
Fake App Lock Cover: You can utilize this functionality to trick someone using Fake Force Stop or Fingerprint Scanning lock cover to make your app safer.
A built-in app locker and browser are among the other features. Overall, the Photo Lock App is one of the best video and photo hider apps for Android, with more capabilities for free than the majority of the apps on this list.
10. Hide Something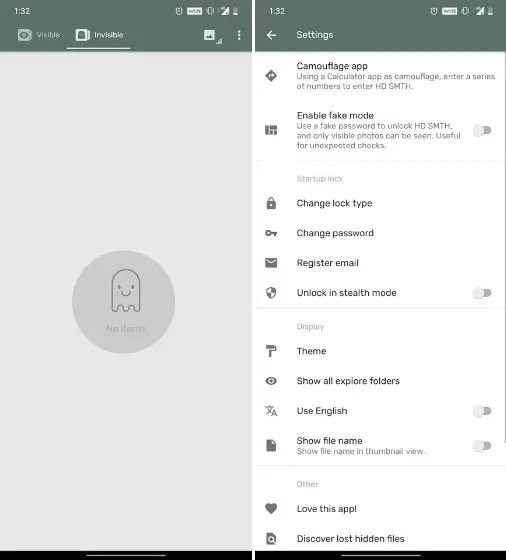 Hide Something is one of the easiest apps for hiding photos and videos on your Android device, with nearly 5 million downloads. PIN, password, or fingerprint security can be used to safeguard pictures and videos. It's as simple as uploading a file with the Hide Something app to add new photographs or movies to the 'invisible' folder.
You also receive a mini-theme library, support for a range of media file types, an advanced image viewer, and a fake login mode to protect your anonymity. Hide Something is likewise sensitive to detection, so it does not appear in the recently used' list.
But the feature that stands out to me is that the software backs up all of your private media files to Google Drive and allows you to explore them using the desktop browser. This makes sorting through and viewing photographs and videos much easier for the end-user.
Features:
PIN, password, and fingerprint security are all options for securing photos.
No show up in the recent apps list
Fake login mode
11. Photo Vault
When you first glance at the Photo Vault app, you'll notice that it has an out-of-date appearance and does not appear to be modern. I can't say I disagree with you; however, did you know this software has a 4.7-star rating on the Apple App Store?
The software does an excellent job of hiding photographs and movies, and it also has a built-in browser that allows you to download images and videos from the internet.
On an Android, you can use fingerprint login to open the app; however, this is a Pro-only feature. iPhone users, on the other hand, can utilize this feature for free.
Features:
Unlimited Photos
Unlimited Albums
Wireless File Transfer
Decoy Password
Ads-free experience
Break-in Report
12. Safe Folder of Google Files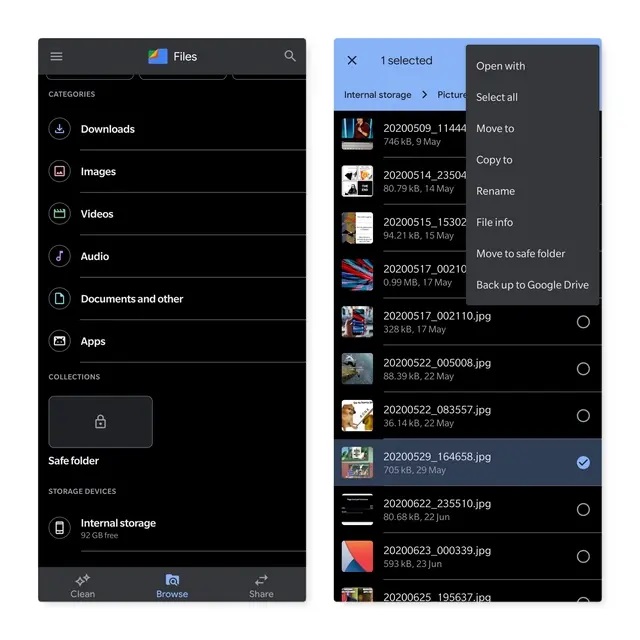 Google Files, unlike most of the programs on our list, is not a full-fledged vault app. Google, on the other hand, just released a useful Safe folder that allows you to hide your documents, photos, videos, and audio files. The Safe folder can be found in the Browse tab's "Collections" section.
By creating a four-digit PIN, you can keep your sensitive files safe. However, keep in mind that there is no way to reset your password if you forget your PIN.
Key Features:
Built-in on Google Files
With a PIN, you can hide sensitive photos and videos.
13. Sgallery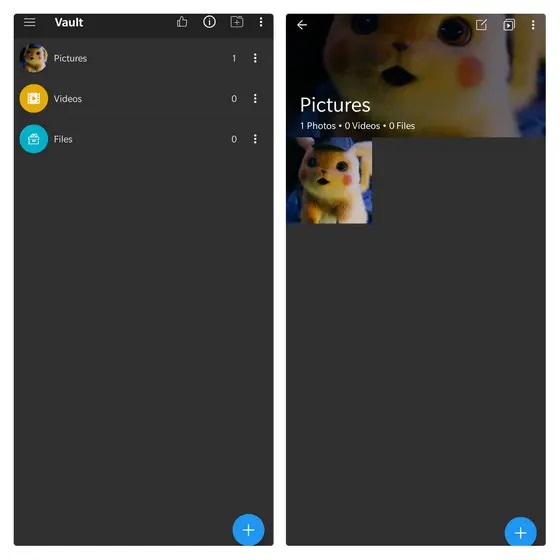 Sgallery is another free Android video and photo concealing app. PIN, pattern, and Fingerprint sensors can be used to secure your photographs and movies. The program also features a Disguise Icon feature that allows you to change the app's icon to Converter, Black Hole, or Calculator.
Other features include an integrated video player, browser, note, app lock, dark mode, recycling bin, and app hide. App Hide, however, will only work if your Android phone is rooted.
You can also make use of the private camera that comes with it. It adds a shortcut to your launcher's home screen for a private camera that can snap images and immediately encrypt them in a vault.
You can upgrade to their premium subscription if you want more solid features and security.
Features:
No Ads
Theme Manager
Icon Disguise
Fake Password
Random Password Keyboard
Custom Wallpaper
Even though the premium plan includes most of the wonderful features, the free version will be enough for most customers.
14. PhotoGuard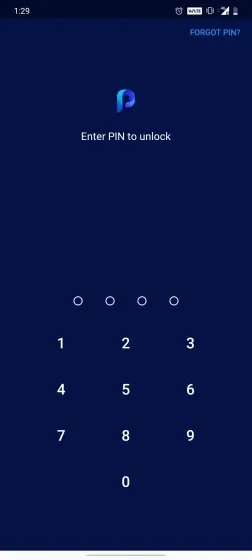 Another program you may use to hide photographs and videos on your Android device is Photo Guard. Your media files are extremely safeguarded and can't be brute-forced to unlock the vault because it uses AES encryption instead of TKIP. Aside from that, Photo Guard offers cloud backup and claims to maintain encryption active at all times, whether on the device or in the cloud.
You can also use a PIN, Pattern, Password, or Fingerprint to protect your photos and videos. The best part is that you may also add an extra layer of security inside the vault. For example, you may establish a password for albums inside the vault, which is fantastic.
Break-in notifications are also provided by PhotoGuard, which takes images of the invader and notes the time so you can track down the burglar. Aside from that, you get a private camera to utilize for snapping images and storing them inside the vault, away from other gallery apps. PhotoGuard is one of the best programs for hiding photographs and videos, and its capabilities are worth exploring.
Key Features:
AES-256 bit encryption
PIN, pattern, password, and fingerprint can all be used to hide photographs and videos
Break-in alerts
Private camera
15. Dialer Vault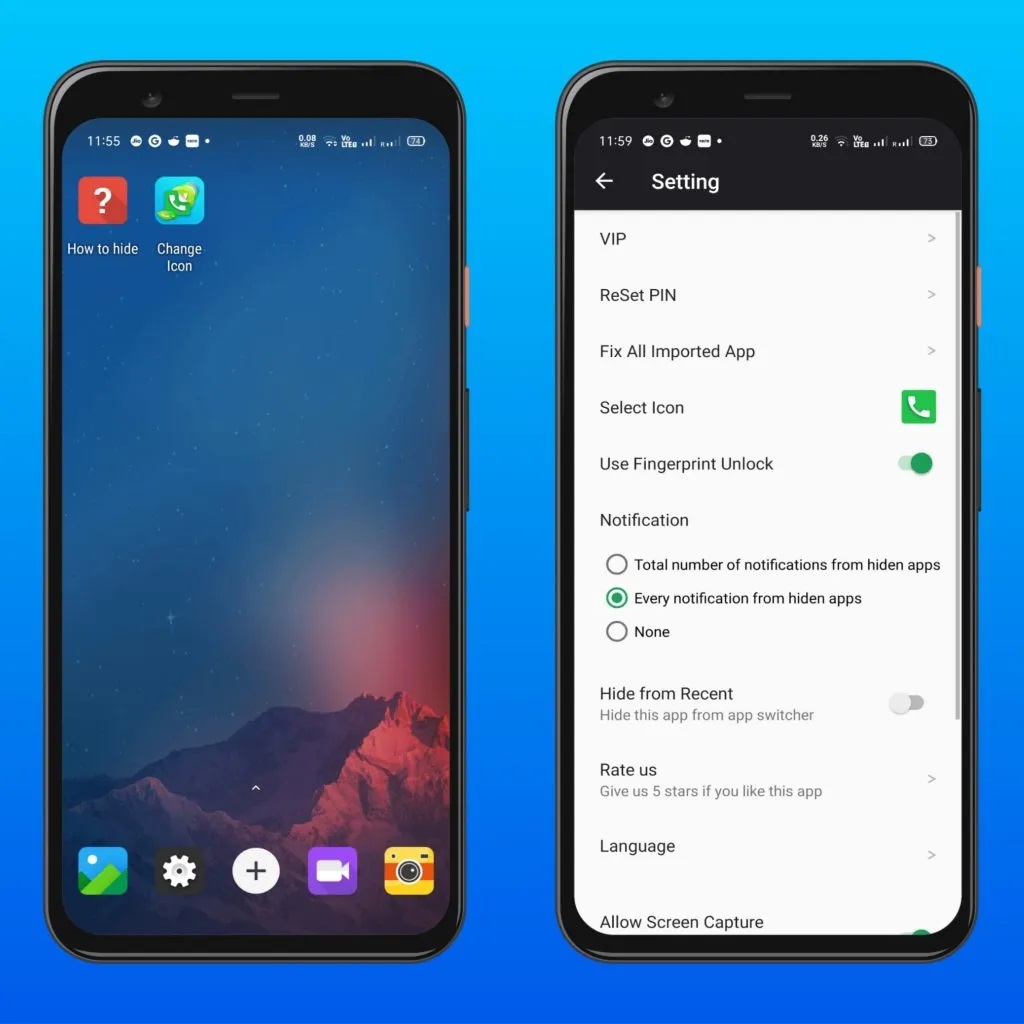 Dialer Vault is a fantastic privacy protection program that allows you to easily hide and encrypt photographs, movies, audio, documents, applications, and any other information you don't want others to see. Dialer Vault-Hide Photos & Videos is an app that allows you to store private images, videos, files, and audio in a secure vault gallery.
Hide photographs and videos in your photo album Vault in DialerGallery - Hide photos, videos, and files and simply access them with a secret PIN.
"Dialer Lock - Hide Photo, Video, and Contact" hides photos from prying eyes and stores them in the Dialer app.
These encrypted photographs or movies can only be viewed and accessed via this app and the pin you will set once you install our app. Because we used the latest security technologies inside our app, and it was developed by a team of experts in data security.
You can not only conceal your photos (photos) or movies, but you can also use a password to lock and hide any content you want to keep a secret.
Features :
Dialer that works quickly and smoothly
Vault of the Dialer Gallery
Fingerprint Lock
Quick Dial
An empty vault is displayed when a fake passcode is entered.
The best part is that Dialer Vault - VaultDroid Hide Photo Video OS 10 is entirely free and will remain so for the rest of your life. There are no hidden costs, special memberships, or annual subscription payments to keep your gallery vault private.
Conclusion
We all snap pictures that we don't want others to view. We all have our motivations for doing things the way we do. And to that end, we've compiled a list of the most exemplary applications for hiding images from prying eyes. We require quickness, security, and the ability to maintain maximum anonymity if our phones fall into the wrong hands from these apps, contributing to a smooth experience.
Some of these photo hiding applications have basic capabilities that will suffice for your everyday privacy needs. On the other hand, others come with sophisticated features that ensure your privacy by preventing your data from falling into the wrong hands at all costs.
You've seen how most of these apps work and what features and tools they include; we're confident you'll find the photo hiding software that best meets your privacy requirements.
No more content