One of the severe issues you are likely to face when opting for screen recording is putting up with the lagging and choppy screen recording. If you are into recording live streams, this can be quite a devastating experience. It can get further excruciating if you are fond of game recording.
We will check out a few great ways that can work wonders in letting you get access to the best screen recorders without lag for Windows and Mac devices. Here we go with the best screen recorders for game recording.
Best 6 Screen Recorders No Lag for Windows and Mac 
The lagging of a screen recorder can be due to the RAM being consumed to an excessive level. The best no lag screen recorder should be the one that does not hog much of your RAM. We are looking forward to the best no lag screen recorders that do not roast your resources.
Every once in a while or regularly, the methods of best screen recorders without lag for Windows and Mac are a perfect necessity. We list out the outstanding choices for an enjoyable and fabulous list of the best screen recorders you would want to try.
1. EaseUS RecExperts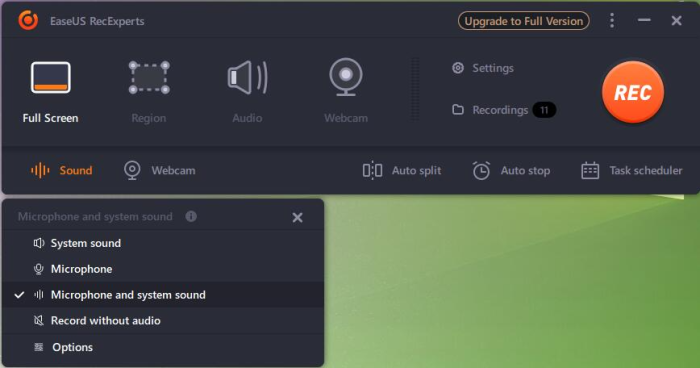 The EaseUS RecExperts is an excellent selection for enjoying intelligent and straightforward screen recorder choices. It has been considered unique software for capturing video, audio, webcam, or image for any occasion. Also, it assists you in recording Zoom meetings, YouTube videos, tutorials, games, etc. It has been regarded as the perfect way for recordings and screenshots alike.
Pros
You can record the screen with the internal audio or your voice.
You can record an entire screen or only a part of it.
The ability to record multiple audio streams
Capture the content from the web camera with ease
The tool supports scheduled recording
Cons
The free trial offers only two minutes of recording
Supported file systems: MP4, MOV, AVI, MP3, PNG, etc.
Price: It starts $19.95/Monthly.
Compatibility: Windows and Mac
How to use:
Step 1: Launch the EaseUS RecExperts software on your computer. 
Step 2: You can either click the "Full Screen" option (for recording the whole screen) or select "Region" (for customizing the recording area). Upon that, choose the recording area with your mouse. If you want to record video with audio, you need to click the "Sound" icon on the bottom-left corner. 

Step 3: Click the "Settings" button to apply more options and select the corresponding specification based on your needs. When finished, click "OK".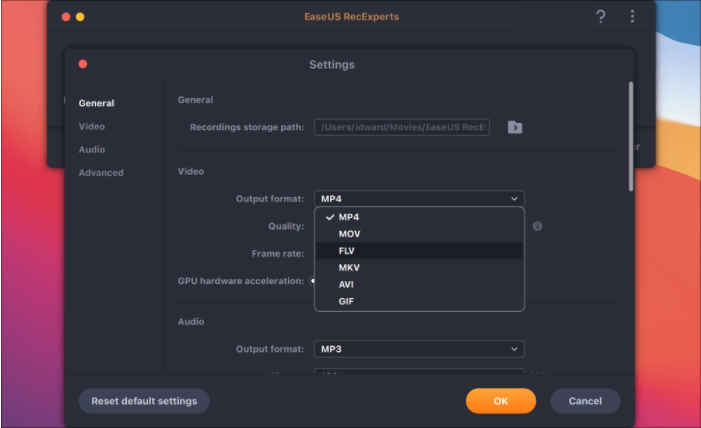 Step 4: Hit the "Sound" button on the bottom-left corner and open the system or microphone sound if you prefer to record audio and screen simultaneously. With that, select "OK" to ensure the audio options.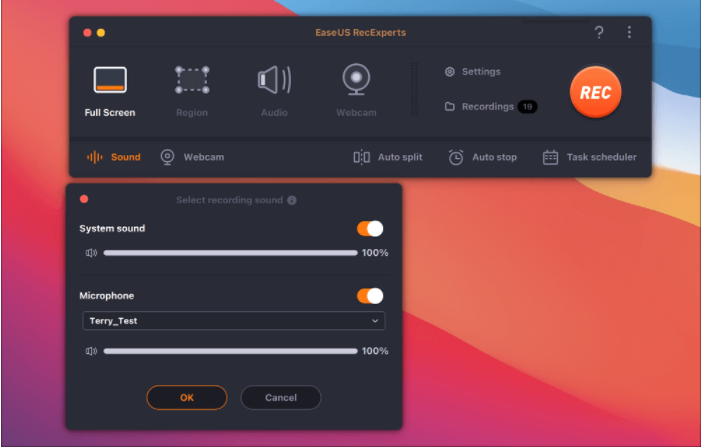 Step 5: Click the "REC" button to start recording. And click the red button on the timing bar to stop recording when it finishes.
You can find the recording videos in the "Recordings" which is located in the main interface. Select the video and edit it as you want.
2. FonePaw Screen Recorder

A versatile way for the best screen recorder without lag, it should double up as incomparable choices. The features you stand to get with the screen recorder are pretty impressive. You can enjoy your recordings with the computer system sound, the microphone, and the webcam. FonePaw Screen Recorder can also work well with hardware acceleration.
Pros
The adjustable frame rate for a high-quality recording
Adjustable audio and video quality
Built in-game recorder feature
Scheduled recording capability
The drawing panel included
Cons
Not many features are available
Safety and privacy concerns
Compatibility: Windows and Mac
Supported file systems: MP4, GIF, WMV, AVI, MOV, MKL, FLV, MPEG
3. Camtasia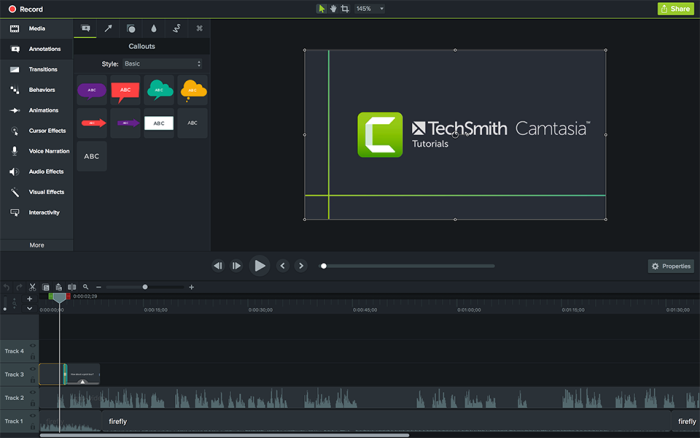 Camtasia is another highly popular screen recorder. The no lag screen recorder comes with advanced features and functionalities. The best fine-tuning ability offered by the screen recorder should further improve your experience. The powerful video editing tools should be the most substantial factor in its favor. Multiple video editing tools are available to achieve a far better degree of screen recording capabilities.
Pros
Support for multi-device faster recording and editing capabilities
Multiple output formats to suit your needs.
Lets you organize your media library efficiently
The compelling editing feature
It can record a variety of screen situations that include websites, software, video calls, or PowerPoint presentations.
Lag-free video recording at its best
Cons
Frequent crashes reported by a few users
Not much customization available
Compatibility: Windows and Mac
Supported formats: AVI, WMV, MPEG-1, MP3, WAV, WMA
4. Bandicam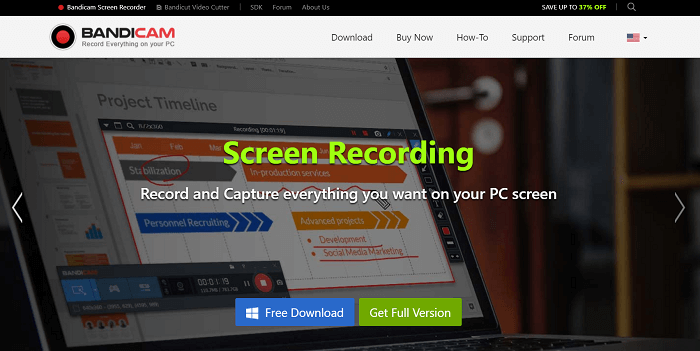 Bandicam is an outstanding and powerful screen recorder tool that you would find exciting. It should be the powerful one-stop solution for all your screen recording and editing requirements. The screen recorder comes with lightweight construction yet provides you access to a powerful performance. The task scheduling and chroma key features should make it a genuinely formidable choice. It can be a great choice to help you record videos for multiple purposes.
Pros
Support for recording the external sources as well
The features for recording the screen with annotations and highlight effects
Scheduled recording capability
It can handle a host of sources that include a game console, webcams, and IPTV
The flexible recording capability
Cons
No support for Mac or other platforms
Compatibility:– Windows only
Supported file systems: MP4, GIF, WMV, AVI, MOV, MKL, FLV, MPEG
5. Screenrec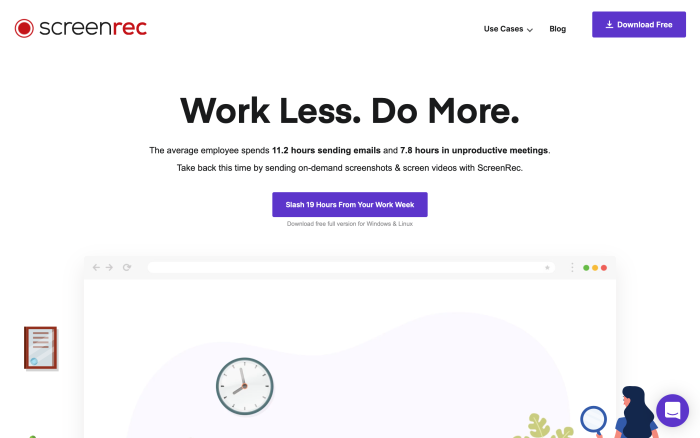 Screenrec is yet another popular and powerful screen recorder tool that can be used for your game recording requirements or other screen recording needs that you may have. This screen recorder can be a perfect choice for enjoying a free and lusty screen recorder with no lag that assist you in recording high-resolution gameplay or even tutorial videos. The software can be a robust way to assist you in saving up RAM that may be spent unnecessarily.
Pros
The screen recorder lets you enjoy an encrypted content
If you are into privacy requirements, the screen recorder should be the right choice.
High-quality videos in a small size
An option to add annotations and encryption
You can save all your recordings in MP4, giving it a universal compatibility
Cons
You need to create an account for full-fledged recording
No video editing features are available
Compatibility – Windows only
Supported file systems – All mainstream formats that include MP4, GIF, WMV, AVI, MOV, MKL, FLV, MPEG
6. AceThinker Screen Grabber Pro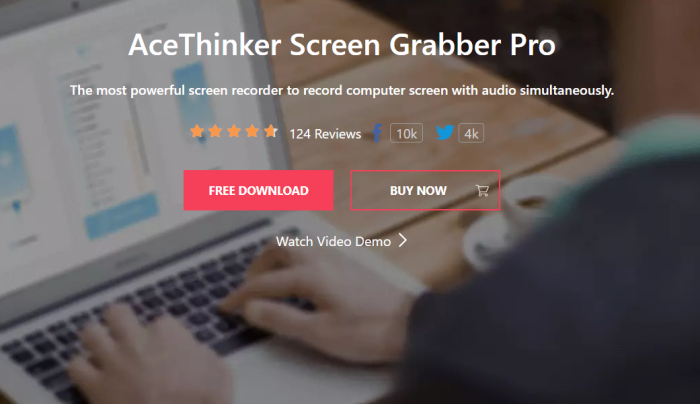 The AceThinker Screen Grabber Pro is your best choice if the paid screen recorder is not an issue for you. It is a seamless screen recording tool with your computer screen, webcam, and audio. It can be your best choice to record audio from the mic & internal system simultaneously. The ability for annotations and powerful editing tools should further provide an outstanding experience.
Pros
You can upload the video recordings to the services such as Google Drive, Dropbox, or YouTube.
A faster recording performance
The internal video downloader feature further makes it a unique choices
Support for practically all output formats.
Cons
Compatibility: Windows and Mac
Supported file Systems:Video: MP4, WMV, AVI, MOV, FLV, MPEG, VOB, ASF, TS; Audio: MP3, AAC, OGG, WMA, WAV, FLAC; Image: GIF (record screen to animated Gif)
The Concluding Thoughts
Suppose you have the correct type of screen recorder. In that case, it should be an outstanding experience to get access to genuinely formidable expertise in achieving a far better degree of performance with your screen recordings. We assume the list of the best choices that have been featured here should prove to be quite exciting in letting you arrive at remarkable knowledge ever.
If you are lost for choice and cannot finalize a single product among the ones outlined here, we recommend going with the EaseUS RecExperts. The software is equipped with many advanced features, yet it offers an easy-to-use functionality that would not trouble newbies or beginners. Try it out once, and you will find it the great experience ever.
Price: It starts $19.95/Monthly.
Compatibility: Windows and Mac
No more content