Are you looking for a comprehensive storage solution that can transform and enhance your business productivity and boost task management in your enterprise? Well, then you must be confused with Box vs dropbox. Let us get an insight for the two to decide better.
Box: What is it?
The BBox is a storage and sharing service based on a cloud storage system that Aaron Levie developed in 2004, and it launched the following year. It has its main focus on enterprises providing cloud-based solutions that are easy to handle and use. But it also offers services to individuals.
DropBox: What is it?
Dropbox was founded in 2007 by Drew Houston and Arash Ferdowsi, as a service for sharing files and content management. It provides a collaborative workspace to avail essential documents and files from a central place. Along with uploading videos and documents, it also benefits as backup storage for users and provides automatic synchronization with the dropbox account for accessibility across devices.
Box vs. Dropbox: What are the Main Differences?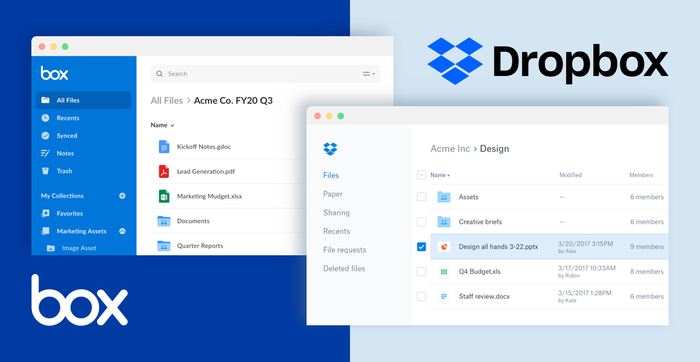 With the following parameters, you will get a clear judgment of Box vs dropbox and find out which one is more suitable for you.
1. Ease of Setup
Box provides the creation of a new folder as soon as you start with it. With the setting up of email addresses, there is a facility for giving specific permissions to colleagues. It has a clean and straightforward interface that allows beginners to use the platform for searching files via the folder tree.
On the other hand, Dropbox provides clear instructions for its business account to manage ease of use among its users. There is provision for team space for the organization, and the admin has all the hold for permissions adjustment. The admin can decide whether to give or limit the access to specific folders, and team members are also free to create folders that they can share. As soon as folders create, coordination and creation start from there.
2. Collaboration
Collaboration is possible with Box and Dropbox through Integrations that help stack software entirely. Box has a rich list of 1500+ integration tools: Salesforce, Google, and MS office for unified management of your content for proper business alignment. In addition, Broadcom and Okta are there to get online security for your enterprise. With these solutions, you get additional defense without compromising your content flow.
On the other hand, with Dropbox, you get 200 integrations and partnerships with software providers like Trello, Okta, Slack, and Autodesk. With the integration of Dropbox and Slack, the teams can get documents and conversations in one place. With Autodesk, the user gets access to the Dropbox library in Autodesk directly. If you are looking for specific integrations, Dropbox gives you the DBX platform and the ability to create the exact tools you need for your business.
3. Project and task management
Box provides a centralized workspace for sharing, storing, and organizing files of different types for accessibility via the same page. Box notes allow for creating task lists, planning projects, tracking the progress of tasks, etc. With FINRA, FedRAMP, or HIPAA regulations, the user can expect compliance in project management. There is a facility for manually setting due dates, assigning tasks, or monitoring progress, and you can also switch the same to an automated one to enhance team productivity.
Dropbox provides a bird's eye view to the user by delivering necessary task management tools to manage complex projects. With Dropbox Paper, users can add meetings, images, notes, or anything from a single place. Herein, assignees and collaborators can develop queries and tracking tasks. With the mention of due dates, as soon as deadlines are near, contributors receive reminders automatically.
4. Pricing
Box caters to the needs of both individual users along with business people. In comparison to Box, if you look at Dropbox, there are basic plans offered that come with free storage space of 2GB. But in case you require more space to store your valuable information, you can always make use of Professional, Plus, or Business plans offered by Dropbox.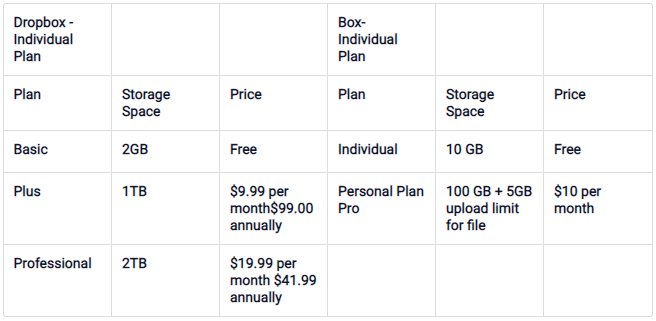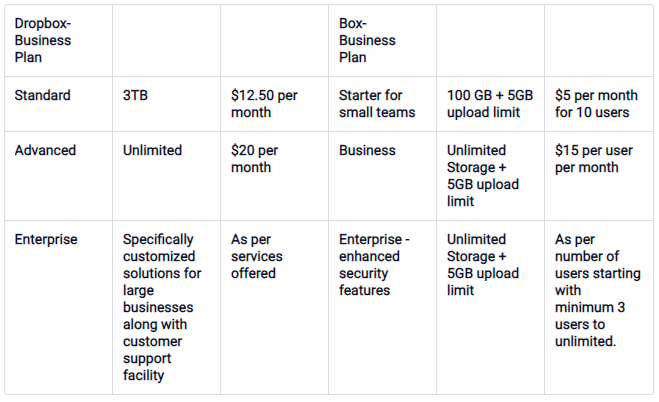 5. File Syncing and Sharing
The BBox allows file syncing to make them available offline; however, compared to Dropbox, it is more complicated as it involves a new app download for the process to complete.
Box also allows users to share files of any kind and size, ranging from raw images, zip files, or images. You can share files within Box or create a link for communicating with another person from the ease of a laptop, desktop, and any mobile device. The recipient need not have a Box account for editing, downloading, and commenting on shared files. There are seven levels for permission to maintain the safety of users' files. It also provides a previewing facility for 120+ files.
Alternatively, Dropbox provides sync features that keep your files updated across various devices, so any changes reflect as soon as they occur.
Dropbox also encourages collaboration facilities for business teams to enable their smooth working from different locations. Herein the users can make adjustments to permissions for only viewing the file, or a non-dropbox user can be given a link to the file.
6. Speed
In a trial, Box provided a 450 Mbps download, and 21 Mbps upload speed with an expected average downtime of 19 seconds and upload time of 6 minutes and 49 seconds, irrespective of network overhead. Box cannot be said to be slow, but it is not fast either, as it takes time to upload in the absence of block-level sync. Moreover, if there are some changes in the file, Box demands reupload of the whole file.
On the other hand, when Dropbox was on trial, it had an upload speed of 22 Mbps and a download speed of 460 Mbps. It also had an expected 18 seconds of download time and 6 minutes and 30 seconds of upload time. Dropbox not only supports sync for block-level, but it's faster than Box. Unlike Dropbox, you need not upload the whole file again but only the changes made to the file. As soon as the initial upload starts, the syncing and editing process also speeds up.
Dropbox vs. Box - Is There a Clear Winner?
You can consider both Box and Dropbox as cloud hosting giants, and each one of them has an unconventional approach to their business users. There is collaboration and security in storing your important documents in both mediums.
However, if you compare the features of these fantastic options, it will be challenging to land on one. As per a close fit for your needs, you can choose Box for its versatile plans that offer unlimited storage capacity for your files. Or, if you choose Dropbox, you can save some extra amount owing to its affordable plans.
Box stands out on this point if we talk about integrations, but if you need user-friendly synchronization, then Dropbox provides a more user-friendly process.
We have given you a detailed comparison of Box vs dropbox; you can decide upon either one or both of them as you use them in your business or personal life. So, go ahead and choose right!