Our Verdict 
Advanced Driver Updater is a powerful utility saving you from the hassle of finding outdated drivers and updating them manually, leaving your PC performance at its peak. It will meticulously scan your computer to detect any corrupted, problematic and missing drivers that deteriorate the performance of your PC and settle the issue smoothly. 
Better yet, Advanced Driver Updater can swiftly backup drivers to avert any compatibility issues later. The software also supports a host of devices in all categories and enables you to synchronize your drivers as the latest version is released.
| Parameter | Score(10 Points) |
| --- | --- |
| Updating Driver | 9.5 |
| Overall Performance | 9.5 |
| Large Driver Database | 9.0 |
| Features | 9.5 |
| Pricing | 9.0 |
| Interface | 9.0 |
| Support | 8.5 |
In this comprehensive Advanced Driver Updater review, we'll go over its key features, pricing, and a bunch of other elements you need to consider when evaluating whether it's worth your money. Without further ado, here we go.

Start from$39.95

Table of contents
Parte 1. Advanced Driver Updater: Main Features
Parte 2. Advanced Driver Updater: Pricing 
Parte 3. How to use Advanced Driver Updater
Parte 4. Advanced Driver Updater: Alternative software
Parte 5. Final verdict

Main Features
1. User-Interface
Advanced Driver Updater comes with an intuitive interface that users of all experience levels can easily understand. You are allowed to select any features as per your need at the toolbars listed on the above section of the Window, including "Status," "Driver Scan," "Backup," and "Restore."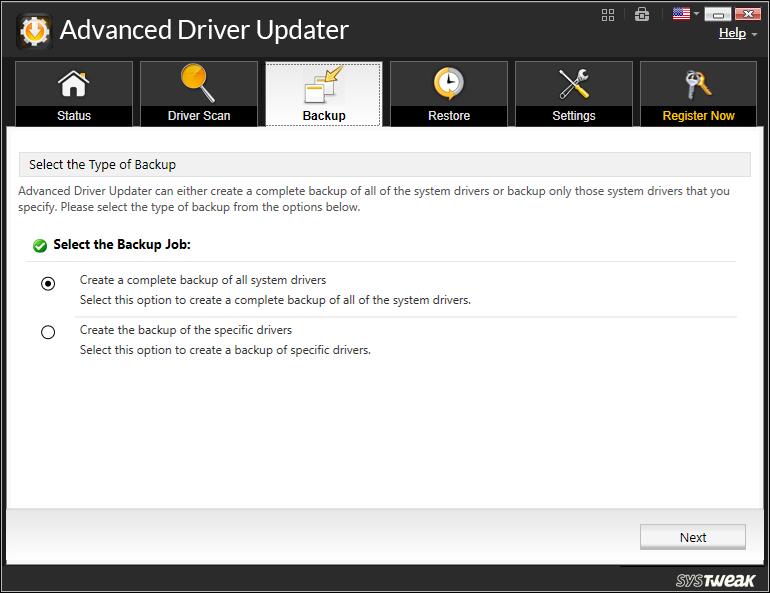 2. A One-Click Solution to Resolve Driver-Related Issues
Advanced Driver Updater is an ideal tool to troubleshoot all your driver-related issues, from the display, network connectivity, and sound to Bluetooth and printers. The software scans your devices and reports the obsolete drivers undermining your PC's performance. Afterward, it will check its vast driver database and recommends the drivers that are seamlessly compatible with your devices. You are allowed to update the drivers one by one or simultaneously with the click of a button. 
More than that, this amazing allows you to set schedules to launch an extensive scan on your PC's drivers, which could be daily, weekly, or anytime your PC boots afresh. In this case, there is no need to launch the app every time to check up on your drivers.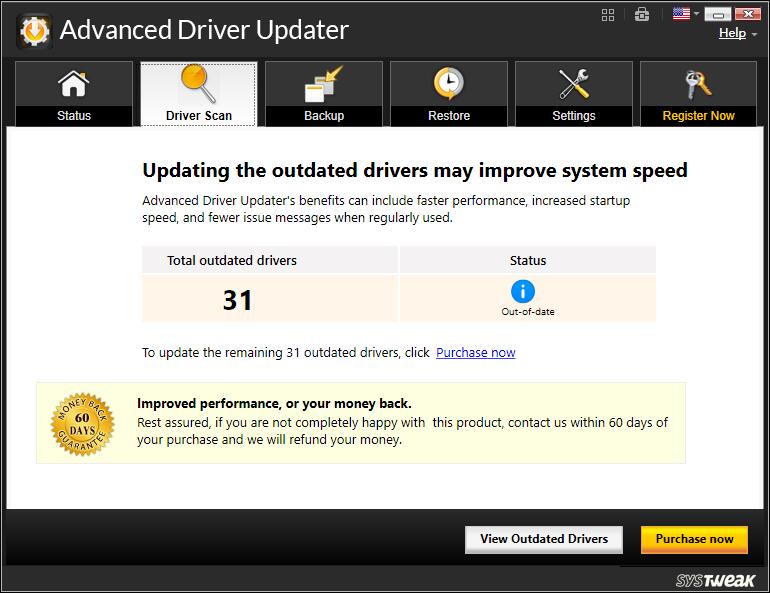 3. Supports a Large Number of Devices
Advanced Driver Updater supports loads of devices in all categories. It is compatible with many Windows versions, including Windows 11/10/8.1/8 and 7 (both 32-bit and 64-bit). 
4. Huge Driver Database
Advanced Driver Updater comes with a massive database of more than 6 lac drivers, supporting more than 670,6330 devices. With this powerful utility, you'll be able to update all the obsolete and corrupted drivers to keep your PC at its peak.
5. Backup And Restore
This software can also backup compatible drivers and restore them in a click. 
It also saves the previous driver updated even after the update, allowing you to restore to your previous version based on your needs.
6. Optimal Performance
Advanced Driver Updater enables you to schedule the scan for drivers, saving you from any intervention. It also facilitates a driver exclusion list, allowing segregation of drivers without the necessity of any update.
7. Fix Hardware Errors
This tool ensures that all faulty, outdated, or missing drivers are updated, which will fix a host of hardware errors. It can resolve errors in Audio, Printer, or Scanner without taking your PC for repairs, rendering spending extra time and money unnecessary.
Pricing 
Advanced Driver Updater is not a freebie. Yet a free version is available during the trial period and you can directly download it from the separate download button at its official website.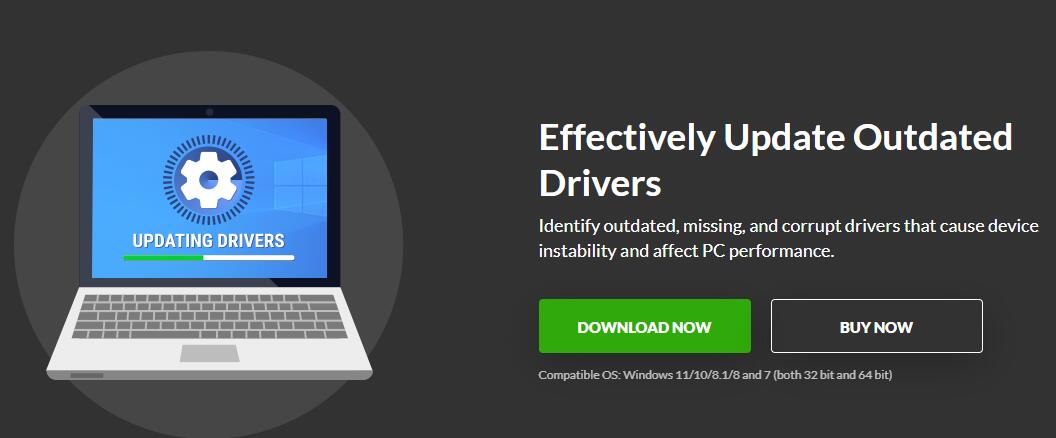 The current price of Advanced Driver Updater Pro is $39.95. Considering its powerful and exclusive features, the price is quite reasonable. Also, a 60-day money-back guarantee is available. So you don't have to worry about the withdrawing money issue if you are not completely satisfied with the utility.
Step-by-Step Guide on How To Use Advanced Driver Updater
This section will guide you on how to utilize ADU smoothly, which is literally effortless. All you need to do is take a few clicks. Here's how to use it: 
Step 1: Download the ADU on its official site. Double click the saved adug_systweak-default.exe setup file to install the software.
Step 2: ADU will automatically run after you finish with the installation. Click "Start Scan Now" to start the process of scanning your system for
outdated, corrupt, and problematic drivers.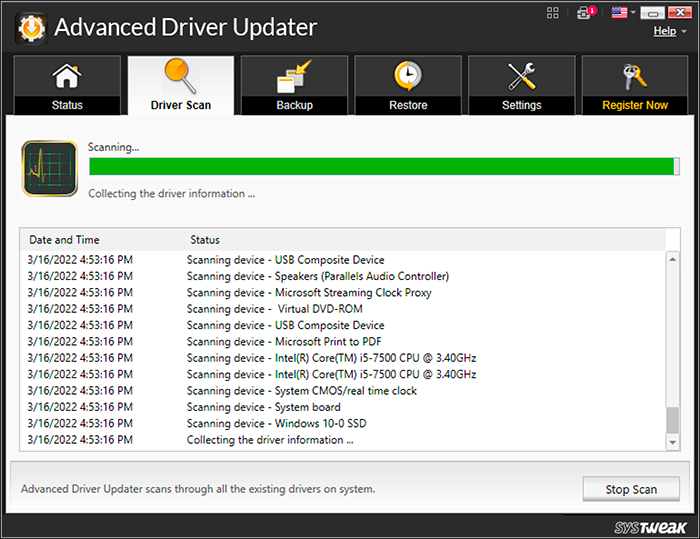 Step 3: Once the process is done, you'll see a list of outdated drives with driver details, the old version number, and the option to update the driver.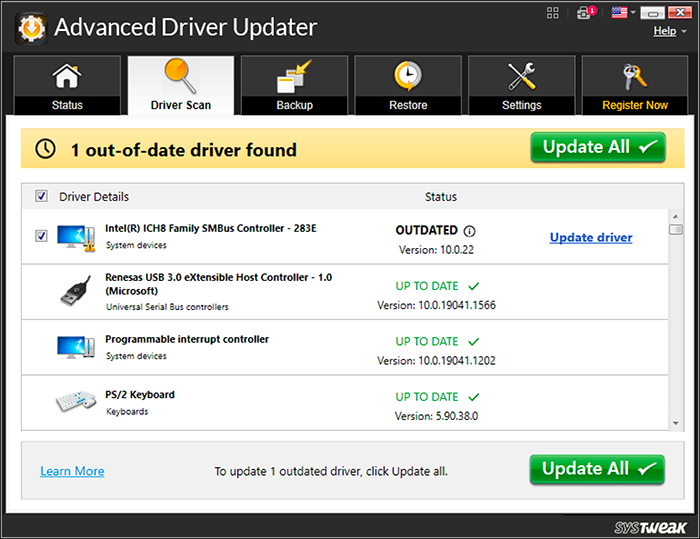 You can learn more details about the outdated drivers by clicking the i icon.
Step 4: Click on "Update All" to resolve all the driver conflicts. Alternatively, you can update them individually by clicking the Update driver option next to each driver.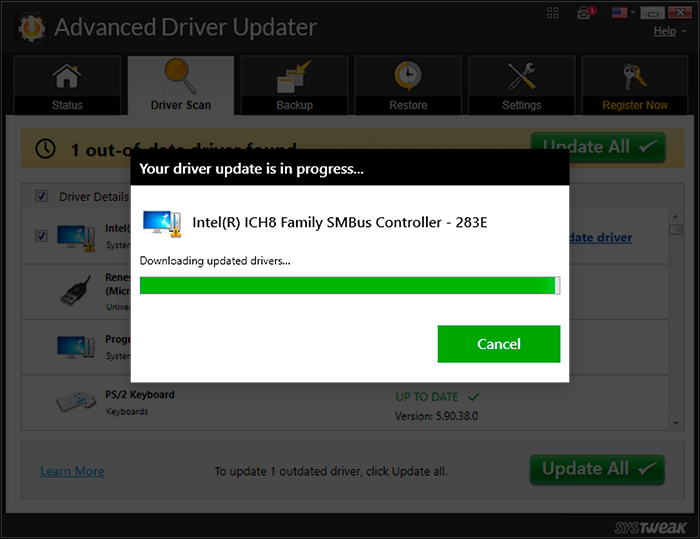 Note: ADU will backup your old drivers in case anything goes wrong.
Alternative Software
There are loads of alternatives to Advanced Driver Updater out there. We don't pretend that any application is right for every user, so you might want to check this chart and see how Advanced Driver Updater stands up to these rival solutions.
Parameter
Advanced Driver Updater
Driver Genius
Outbyte Driver Updater
Pricing

Start from $39.95

Visit Site

Start from $39.95

Visit Site

Start from $29.95

Visit Site
Fix driver-related issues
9.5
9.0
9.0
Backup and Restore Old Drivers
Extensive Database


Scheduled Driver Scan

Large number of Devices Supported

Synchronise Your Drivers


Support
Windows 11/10/8.1/8 and 7
Windows 11, 10, 8 and 7
Windows 11, 10, 8 and 7
Restore Incompatible Updates


Sum up
Advanced Driver Updater is a decent tool to ensure your drivers are updated regularly, keeping your devices at their peak. With this powerful software, you'll be able to scan all the corrupted, outdated, and missing on your PC and resolve the driver-related issue within a couple of clicks. Better yet, it saves you from the hassle of maintaining a list of all the hardware components, their model number, and version.
Still, if you are on a Mac, ADU may not be your best bet as it's only compatible with the Windows platform. Leaving this apart, ADU is genuinely a must-have utility for all Windows computers.
Should I buy Advanced Driver Updater
Expert's Rating: 

Pros
Backup and restore old drivers.
Extensive database.
Free version available.

Pros
Our Verdict
Advanced Driver Updater is a nifty driver updater tool that enables you to effortlessly scan, install and update drivers to keep your PC at its optimal performance.

Start from$39.95

Start from$39.95
FAQ
What Is The Difference Between The Trial Version and The Registered Version Of Advanced Driver Updater?

The Pro version of Advanced Driver Updater differentiates itself from the Free version in that it enables you to update all outdated drivers with a single click.
Is Advanced Driver Updater safe?

Absolutely! ADU is 100% safe to use.
How to restore the backup of the previous drivers?

To restore the backup of your previous drivers, you need to click the "Restore" option and select the backup of the respective date. With that, click on "Load Backup," select the device driver you want to restore, and click on the Restore button.
Advanced Driver Updater

Start from$39.95
60 Days Money Back Guarantee