Our Verdict 
O&O DiskImage 17 presence is felt thanks to the wide range of features it boasts like one-click imaging, direct creation of VHD/VHDX, monitoring and warning of security risks alongside the ability to back up an entire computer with the push of a button, and easily restore files, folders, drives, and disks.
O&O DiskImage 17 can also assist you in incremental/differential backup and creating a Windows Boot system from within the program with driver integration. Available for Windows 8.1, 10, and 11, the software allows variable pixel density settings.
| Parameter | Score(10 Points) |
| --- | --- |
| Clone Capability | 9.5 |
| Overall Performance | 9.5 |
| Features | 9.5 |
| Pricing | 9.0 |
| Interface | 9.0 |
| Support | 9.5 |
In short, it's a reliable tool that offers almost all the features you need in disk imaging software. Alongside these features, it provides loads of options that we will explain in a thorough review of O&O DiskImage 17.


Start from$49.95

Table of contents
Parte 1. O&O DiskImage 17: Main Features
Parte 2. O&O DiskImage 17: Pricing
Parte 3. O&O DiskImage 17: Support
Parte 4. How to use O&O DiskImage 17
Parte 5. O&O DiskImage 17: Alternative software
Parte 6. Final verdict

Main Features
1. User-Interface
The O&O DiskImage 17 has a slightly cluttered yet simple-to-use interface that renders the experience of taking image backup of files entertaining. The home screen is proportionally listed with core features or operations that you can perform.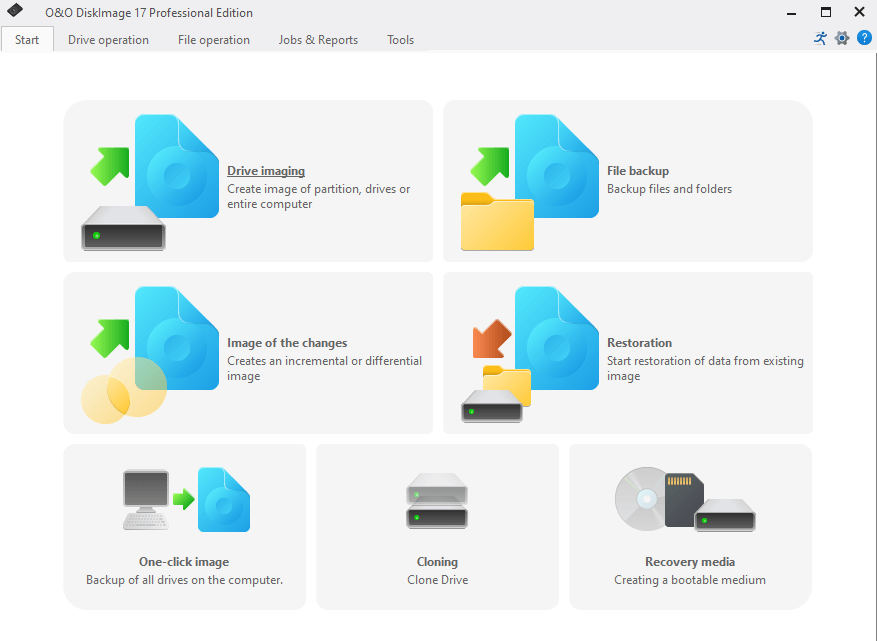 The navigation around this disk cloning and imaging utility is well-guided and straightforward. You'll be further taken to the sub-menus concerned with the tab as you click on each of the options that exhibit on the home page or more specifically under the Start tab.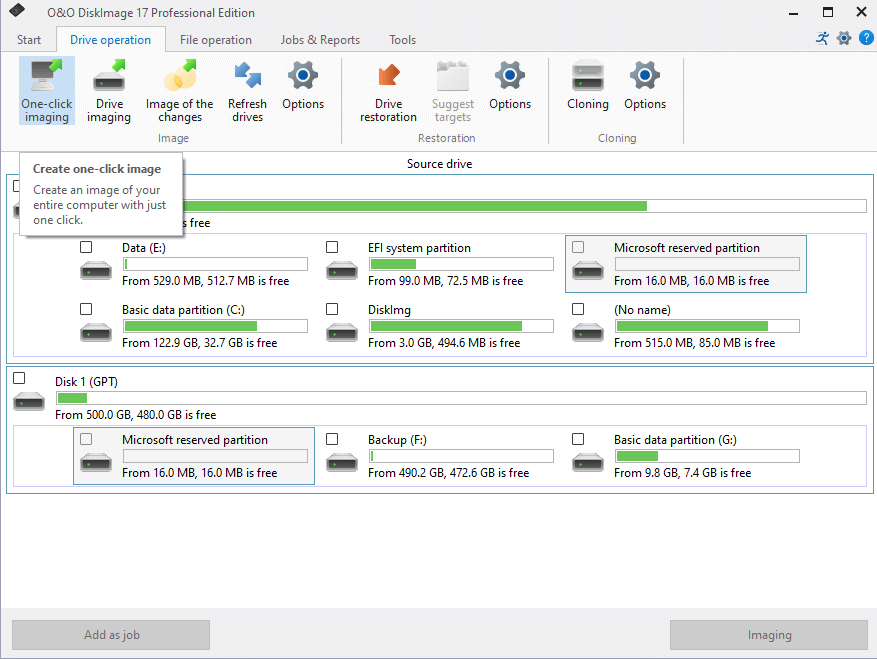 2. Backup entire PCs, hard drives or files with the push of a button
O&O DiskImage will save all personal files along with hard drive data and individual settings as you back up your PC. This not only protects irreplaceable information but, in a worst-case scenario, also saves you the hassle of having to perform a time-consuming and laborious new setup of software and the Windows OS.
O&O DiskImage enables you to back up an entire computer, system, and hard drives or just individual files and folders. To make sure your backups are always up to date, you'll need to create them at short intervals from one another.
3. Drive imaging
O&O DiskImage allows you to create images of individual drives that cover partitions and volumes as well. To help you out of the plight of restoring your entire PC, O&O DiskImage 17 images data drives and system separately.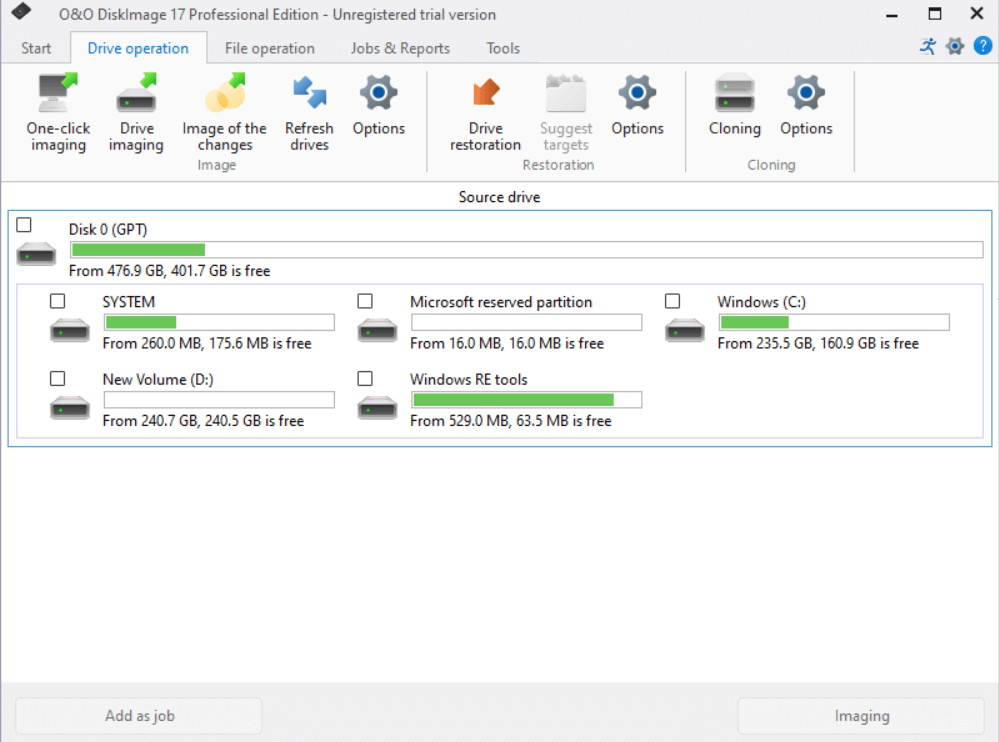 4. Plug-and-play function
O&O DiskImage 17 is ideal for those who want to save data on an external hard disk. 
Owe to the integrated plug-and-play functionality, selected files and folders can be backed up automatically once an external hard disk is connected to your PC.
5. Drive Cloning
With O&O DiskImage 17, you'll be able to clone your source drive to another one easily. Being an efficient disk cloning tool, O&O DiskImage 17 allows you to clone your drives smoothly without losing any data or creating image files. Compared to an image, a clone can neither be encrypted nor compressed.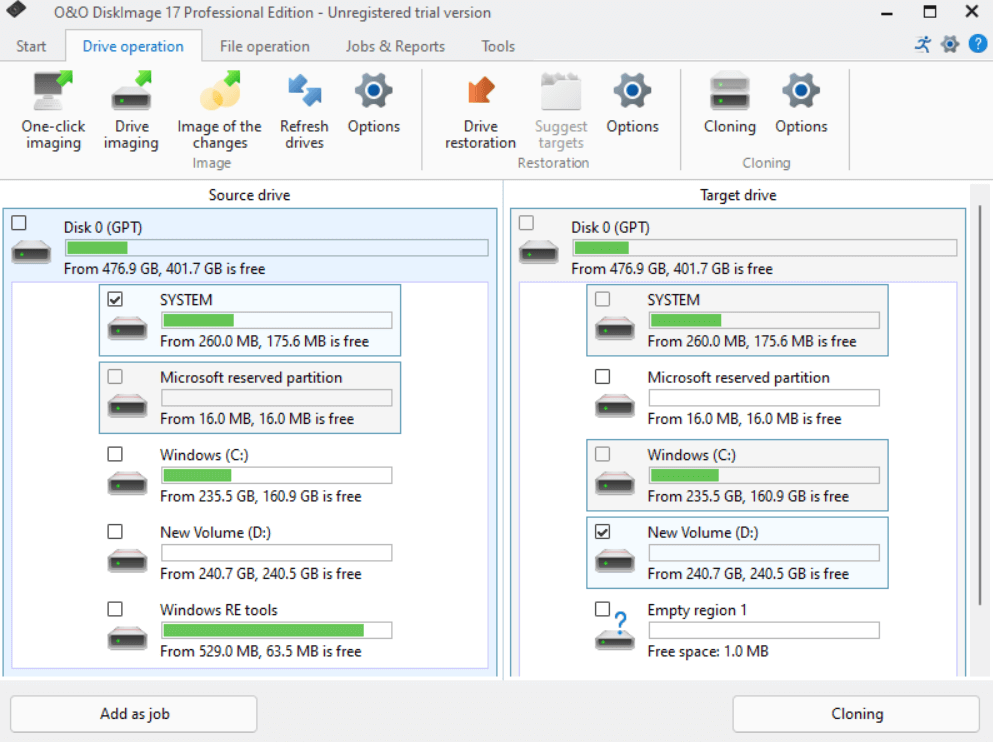 Pricing 
O&O DiskImage 17 comes in three variants – the Professional Edition, which is valid for 1 PC and comes with a price tag of $49.95, and the Professional Edition, which is valid for 5 PCs and retails at $69.95. Apart from these two versions, you can also choose an O&O PowerPack, which contains O&O DiskImage 17 along with O&O Defrag 25, O&O AutoBackup 6, and O&O SafeErase 17. 
Here are more details:
Version
Price
Limitations or Perks
Primary usage scenario
Professional Edition – 1 PC
$49.95
perpetual license
Image entire PCs, individual drives or files.

Personal use

Professional Edition – 5 PCs

$69.95

Install on up to 5 PCs
All features of the Professional Edition included

Perfect for families or small companies

O&O PowerPack

 $59.95 
Unlimited PCs and licenses
No charged technical services
Business use, image deploy tool, PXE boot tool, and the Profitable Toolkit.
How to use O&O DiskImage 17 to backup your data
Create a boot medium
You'll need to get all the bases covered before starting. To do so, connect your USB drive to the PC and backup vital data on it as all data on the target drive will be removed during the boot medium creation.
1. Install and launch O&O DiskImage 17. Select "Continue with unregistered trial version" and click "Next".
2. Type into your e-mail to subscribe to the O&O newsletter. Alternatively, you can leave it empty and click "Next".
3. Now, choose "Recovery media" on the Start page.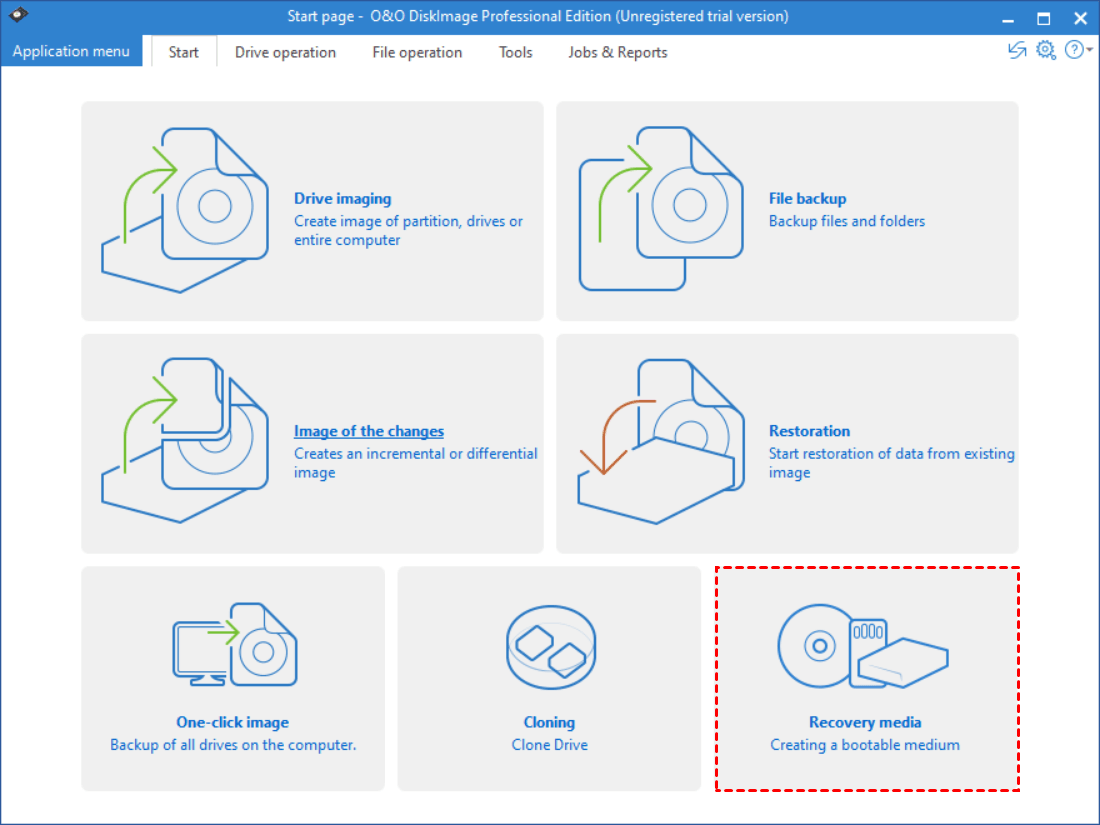 4. The program will identify those options available to create a bootable disk within the system, and it selects the Windows recovery environment by default if it is found. You can click Change to adjust the base.
5. Integrate drivers into the bootable medium based on your need.
6. Navigate to the O&O DiskImage ToGo / Disk tab, then choose your USB drive from the drop-down menu. 
7. The option "Automatically perform 1-click image on device plug-in" and "Keep a maximum of 5 image files" are selected by default. You can uncheck them in case you don't need this backup. With that, click "Create" to start.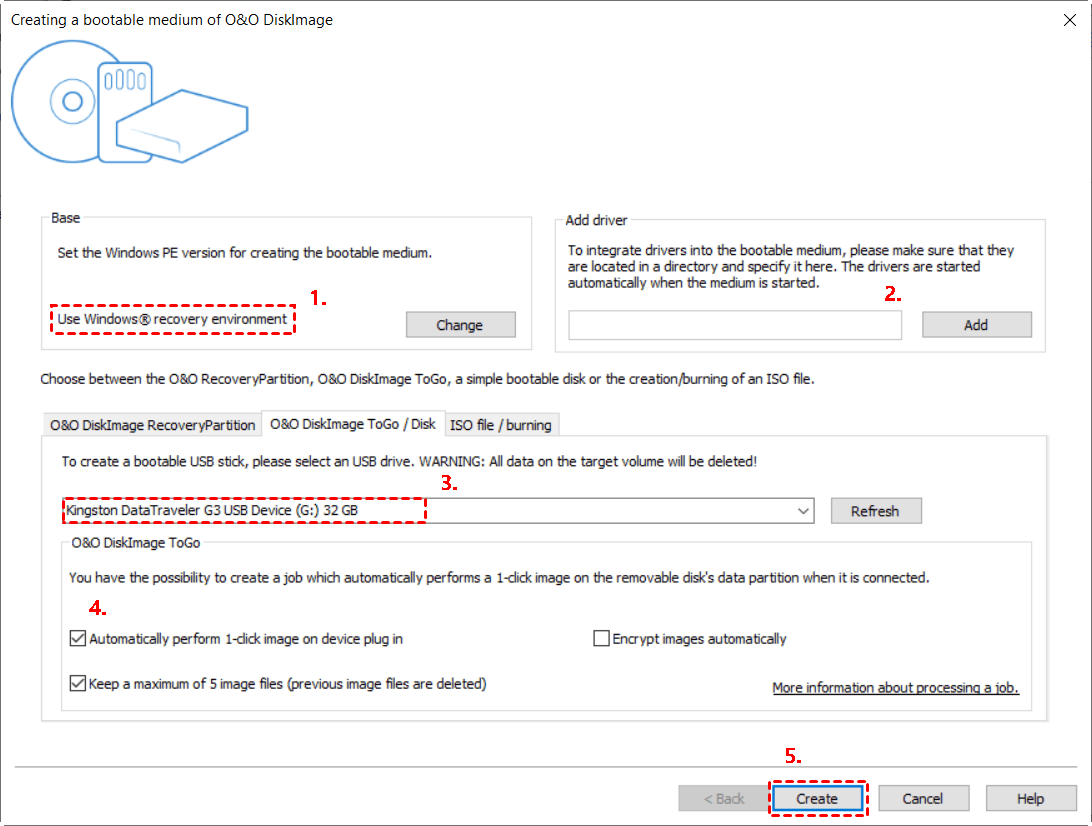 Create a full image for the system disk
1. Launch O&O DiskImage and choose Drive imaging on the Start page.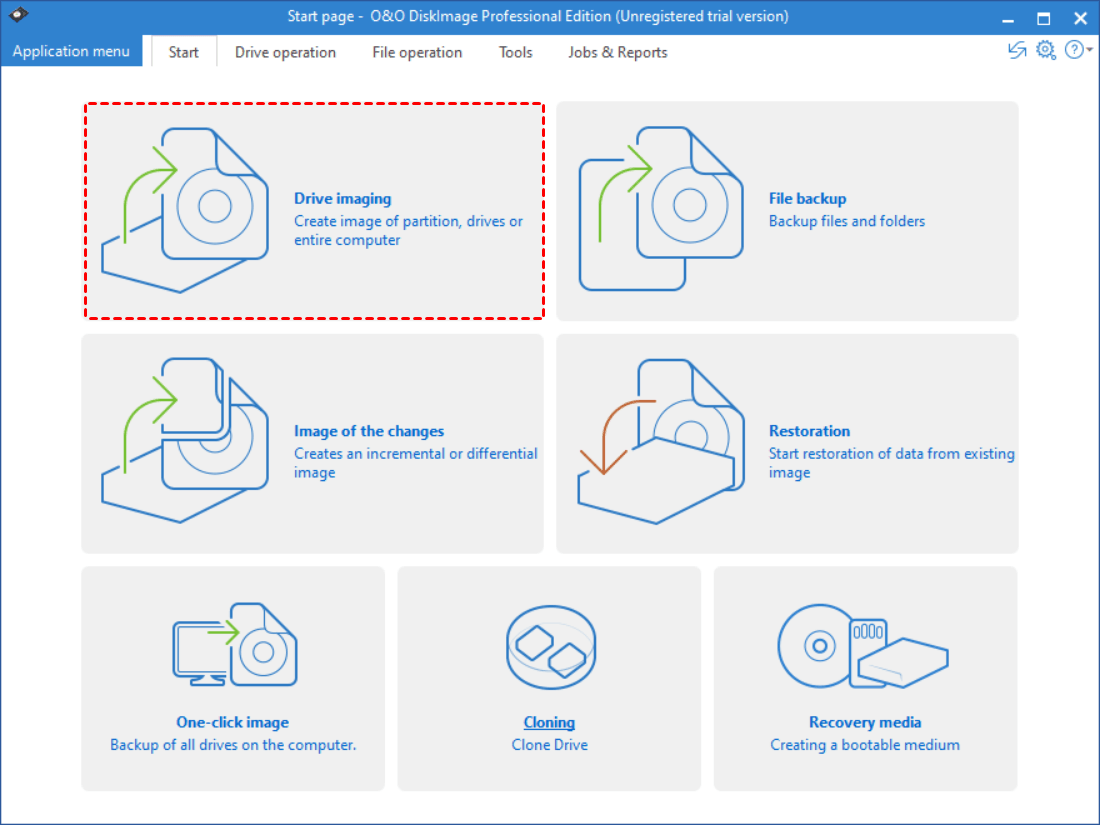 2. Choose the system disk you want to back up. With that, click "Start drive imaging".
3. The program will automatically save the backup image in C:\ProgramData\OO Software\DiskImage\Images. You can select another location as per your need. Once done, click Start to start the imaging process.
Alternative Software
There are loads of alternatives to O&O DiskImage 17 out there. We don't pretend that any application is right for every user, so you might want to check this chart and see how O&O DiskImage 17 stands up to these rival solutions.
Parameter
O&O DiskImage 17
Paragon Hard Disk Manager Advanced
Acronis Cyber Protect Home Office
Pricing

Start from $49.95

Buy Now

Start from $79.95

Visit Site

Start from $49.99

Visit Site
Cloning capabilities
9.5
9.0
8.5
Direct creation of VHD/VHDX


Capture Web Camera
Incremental/differential backup


Disk Wipe


Create a Windows Boot system directly


Support
Windows 11/10/8.1
Windows 11/10/8.1/8/7 SP1
Windows 11/10/8.1/8/7 SP1, Mac OS
Replicate your local backup in the cloud

Final verdict
O&O DiskImage 17 is quite a robust software for backing up and restoring data. Not only can it create images and restore entire hard drives, but it can also restore individual files and folders. Due to its intuitive and several well-organized wizards, this utility is incredibly easy to use. Some competing rivals do offer more features, yet O&O DiskImage 11 is still a solid disk-imaging tool.
Should I buy O&O DiskImage 17
Expert's Rating: 

Pros
Push the button to backup entire system.
Incremental and differential backup.
Comprehensive VHD (Virtual Hard Disk functionality.
Fast backup and restore even on a machine that has different hardware.

Pros
Backup could be a little time-consuming.
Our Verdict
O&O DiskImage 17 is an ultimate tool for backing up and restoring data.


Start from$49.95


Start from$49.95
FAQ
Is O&O DiskImage 17 Free?

No, DiskImage 17 is priced at a one-off $49.95 for a single perpetual licence or at a one-off $69.96 for a 5x licence pack!
Does DiskImage 17 support encryption?

Yes, DiskImage 17 supports strong encryption up to and including AES 256-bit, available for both image and file-level backups.
Can I continue working during the imaging process?

You can continue working without any hassle. Still, the working memory buffer is restricted. You can see how much is available in the Memory buffer display.
Is O&O DiskImage safe?

Absolutely! No malware or any other malicious threat was detected even after passing through the Antivirus software. Better yet, the software itself prompts you to take backups and other secure ways to create an image of your data at every step.
Do I have unlimited use of all functions with the trial version?

The trial version is not inhibited – the entire program functions are utterly operational for 30 days.
O&O DiskImage 17

Start from$49.95
30-Day Money Back Guarantee