KiwiGeeker Verdict  
Avira Antivirus Pro is professional antivirus software that can guard the safety of Windows and Mac computers by blocking malware, phishing, and ransomware. Besides essential antivirus functions, it also offers extra features like PUA shield, web protection, ads blocking, email and device scanning, etc. With much more functionality than we thought. It also provides excellent customer support to help you when you have trouble with the tool.

Viruses and malware always cause us a lot of trouble when we use the computer every day, which may cause the computer to crash suddenly or lose important files. None of us want this to happen. So, antivirus software is essential. Today we will review one of the famous antivirus tools: Avira Antivirus Pro, which has received many good comments. Read this post to check if it meets your expectations.
| Parameter | Score(10 Points) |
| --- | --- |
| Userfriendly interface | 9.0 |
| Web protection | 8.5 |
| Anti-phishing, anti-ransomware | 9.5 |
| Email, device scanning | 9.0 |
| Easy to use | 9.0 |
| Real-time scanning | 9.5 |
| Customer support | 9.0 |
| Compatibility | 8.5 |

Table of contents
Avira Antivirus Pro: Main Features
Avira Antivirus Pro: Pricing
How to Use Avira Antivirus Pro
Avira Antivirus Pro Alternatives
Final Verdict
Avira Antivirus Pro Main Features 
1. User-friendly Interface & Simple to Use
The simple and intuitive interface controls your PC security and the freedom to conduct other feasible tasks, suitable for beginners and experts.  
It will start scanning with one click, and the scanning speed depends on the storage.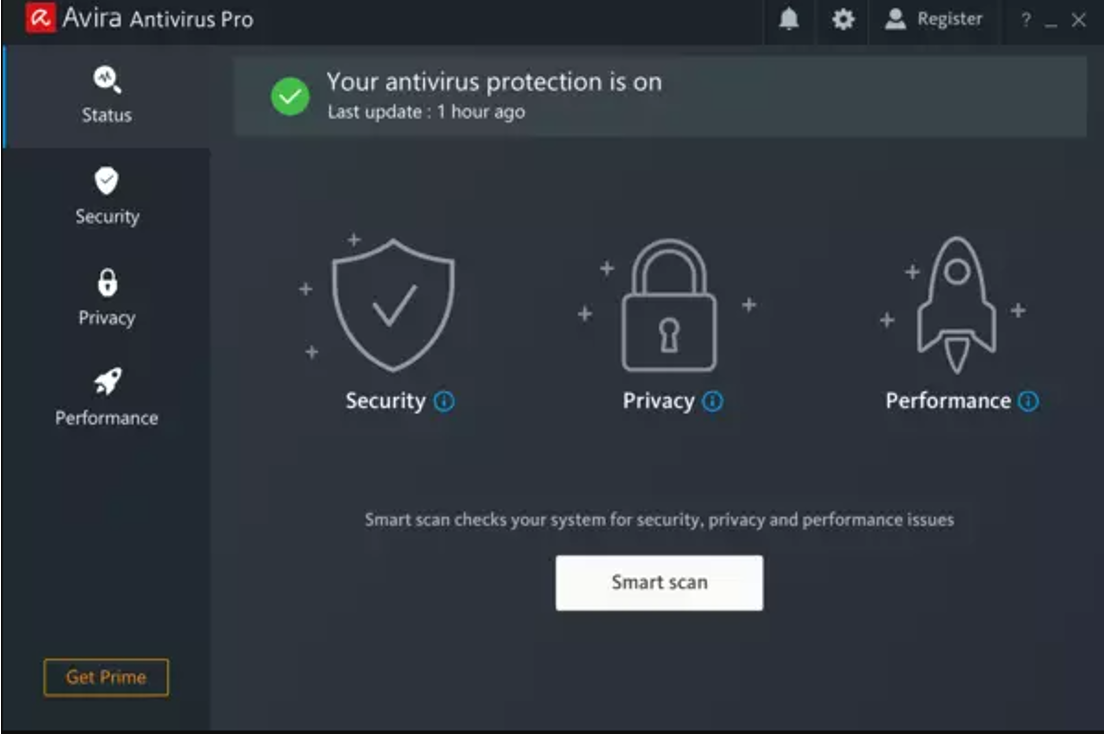 2. Web protection & Anti-Phishing & Anti-Ransomware
Backed by colossal data support, it shows that the Avira Antivirus Pro can block over 25 million infected sites every month, over 8 million phishing attacks every month, and over 1.4 million ransomware attacks every month. 
A Quick Review of Avira Antivirus Pro Main Features  
Apart from the above features, there are many other functions of Avira Antivirus Pro. Here is a summary of its features on Windows and Mac.
| Features | Avira Antivirus Pros |
| --- | --- |
| Antivirus scanner(Windows & Mac) | |
| PUA(potentially unwanted applications) sheild | |
| Web protection(Windows) | |
| Device scanner(Windows & Mac) | |
| Real-time scanning(Mac) | |
| System scanning(Mac) | |
| Quarantine management(Mac)     | |
| Anti-phishing(Windows & Mac) | |
| In-product tour(Mac) | |
| Windows and Mac version | |
| Linux version |  |
| Free customer support via phone and email | |
| Ads blocking(Windows & Mac) | |
| Email Protection(Windows & Mac) | |
| Customer support(Windows & Mac) | |
| Browser tracking blocker(Windows & Mac) | |
| Firewall manager | |
Avira Antivirus Pro Pricing  
Avira has many different versions equipped with various features. Here we make a brief comparison of the Free, Pro, and Prime versions.
Version
Price
Limitations or Perks
Technical support
Avira Free Antivirus
x
Ransomware
Adware
Spyware
Hacking
Phishing
Rootkits
Trojans
Worms
Compatible on Windows, Mac, Android and iOS
No technical support
Avira Antivirus Pro
$4.99 for 1 month
$17.99 for 1 year
$77.99 for 2 years

TFor Windows and Mac;
Advanced detection system for preventing novel ransomware and zero-day exploits;
Complete web protection for safe online shopping and banking;
Enhanced performance to keep your system fast and optimized

Free customer support via phone or email
Avira Prime
$9.99 for 1 month/5 devices
$39.99 for 1 year/5 devices
$198.99 for 2 years/5 devices

Antivirus, VPN, and more;
The ultimate security suite for all your devices;
Detects malware & online threats in real time;
Anonymizes & encrypts your web browsing;
Speeds up your computers & mobile phones;
Generates & remembers passwords for you;
Compatible on Windows, Mac, browsers, Android, iOS

Free customer support via phone or email
The chat shows that its free version satisfies the basic need to protect computer safety. The Pro adds advanced highlights, supporting free customer support on phone or email. 
The Prime version is suitable for company use because one account can be used on at least five devices. What's more, it is available on Android, iOS and browsers. You can choose according to your actual needs. 
 Tip

The discounted price of Pro will no longer be available for renewal for a second year and will return to the original $44.99 for one year.
How to Use Avira Antivirus Pro
Avira Antivirus Pro Alternatives 
There are loads of alternatives to Avira Antivirus Pro out there. We don't pretend that any application is right for every user, so you might want to check this chart and see how some other products.
Parameter
Avira Antivirus Pro



Avast Premium Security



McAfee Total Protection



Pricing

Start from $4.99 a month /1 PC

Visit Site

Start from $39.99 a year/1 PC

Visit Site

Start from $29.99 a year/1 PC

Visit Site
User-friendly interface 
9.0
9.5
8.5
Safety ensurance
Web protection 
Fast scanning speed
Free version


Easy to use
Real-time protection
Compatibility
Windows, Mac
Windows, macOS, Android, iOS
Windows, macOS, Android, iOS
From the chart, you can see that these two alternatives have similar features as Avira Antivirus Pro, but Avira Antivirus Pro takes advantage of Free version, which helps to ensure PC safety without paying. but as for the user-friendly interface, Avast Premium Security is better. 
As for the compatibility, these two alternatives are available on Android and iOS, which Avira Antivirus Pro isn't. You can choose according to your needs.
Final Verdict
Avira Antivirus Pro is an excellent tool that can protect your computer away from malware and virus. Its easy-to-use features make it suitable for almost people. Furthermore, its Free version offers all basic antivirus features, which can satisfy daily antivirus needs, while the Pro version adds advanced features. Here are the pros and cons of the product:
Should I buy Avira Antivirus Pro
Expert's Rating: 

Pros
Safe and reliable to use
User-friendly interface
Quick scanning speed
Ransomware protection, web protection, phishing protection
Compatible with Windows and Mac
Three available version
Reasonable price
Small storage space

Cons
No Linux version support
The Pro version doesn't support iOS and Android 
Device Protection can't prevent users from allowing unknown USB drives
Our Verdict
Overall, Avira Antivirus Free and Pro provide fabulous guards for our Windows and Mac computer. Compared with the Free, its Pro version adds some extra advanced functions but doesn't make a big difference. So we recommend the Free version. Or, you can give try our other antivirus tool. 
FAQ
1. Is Avira Antivirus Pro safe to use?

Yes, this antivirus software is safe and reliable to use. Besides, it will ensure the safety of any downloaded file. It will automatically scan downloaded music files, photos, and all existing and emerging threats and block those potentially dangerous applications and advertisements. And it will never slow down your PC speed or performance.
2. Is Avira Antivirus free to use?

Avira antivirus has a Free version which is supported by the same powerful scan engine and AI-enabled detection system for real-time protection against malware and threats. However, the Free version lacks some advanced features compared with the Pro version, like web protection, email protection, and advanced ransomware protection, all playing an essential role in protecting the security of the whole PC.
3. Are there any alternatives for Avira Antivirus Pro?

Yes, of course, some similar products can be used to protect the safety of your PC. Two of them are Avast Premium Security and McAfee Total Protection, and you can refer to the above chart for detailed specifications. Their general functions are similar, but there are differences in some small features.
4. Can I use Avira Antivirus Pro on my Mac computer?

Yes, you can. This software is compatible with both Windows and Mac. As for Windows, it can be used on Windows 7 or higher. For Mac, it is available on macOS 10.13 (High Sierra) or higher.
5. How does ransomware protection work?

The ransomware protection in Avira Antivirus Pro is based on behavior analysis, which guards the PC security by checking what actions a piece of code triggers. The antivirus Pro blocks these dangerous activities if the measures are associated with processes typically initiated by ransomware.
Avira Antivirus Pro

Start from$4.99a month /1 PC