The Windows 11 product key helps users activate the new version of Windows, giving them access to its features without limitations. It also gives you the necessary information to prove that you have purchased your operating system appropriately.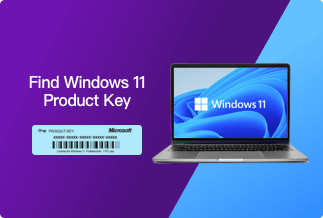 If you activate Windows 11 with the product key, it will be saved locally on your system. It uses a digital license activation method, which means that you do not have to enter your code manually whenever you install or update your Windows OS.
That said, when installing Windows on another PC, you will need the key again. If you have lost your original product key to activate Windows 11, this article will help you find the Windows 11 product key using simple methods.
What is Windows Product Key?
The Product Key or Windows Activation Key is a 25 character code (composed of letters and numbers) that helps verify the authentic Windows license. The Product key is provided to you when you purchase Windows 11 from an authentic source like Microsoft's website or the other retailers. Windows 11 requires a product key whenever you install Windows 11 on your device to ensure all the features are active.
When using a retail version of Windows, you can only use the key on one machine connected to your Microsoft account. While you can use the same key when you switch the PC to a new one, you cannot activate the key on multiple PCs.
Different Ways to Find Windows 11 Product Key
We have listed several methods of finding your Windows 11 download key on your operating system. You can follow these methods and locate the Windows 11 product key.
Method 2: Third-Party Tool- EaseUS Key Finder
Method 4: Check the Licence Sticker on the Computer
1. Use A VBS Script to Find the Windows 11 Product Key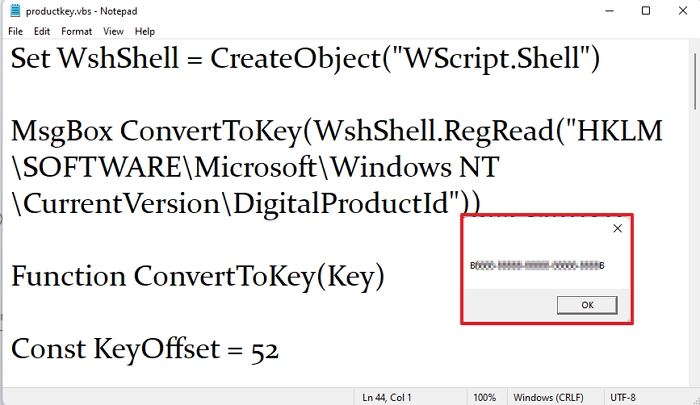 You can run the VBS script to identify the product key to your version of Windows. It is recommended to use a Windows-enabled computer to locate the code. Although it might appear complex, running a VBS script takes only a few steps, which is how you can accomplish it.
Launch the Notepad application on your computer.
Copy the code below to paste in your Notepad file.
Set WshShell = CreateObject("WScript.Shell")
MsgBox ConvertToKey(WshShell.RegRead("HKLM\SOFTWARE\Microsoft\Windows NT\CurrentVersion\DigitalProductId"))
Function ConvertToKey(Key)
Const KeyOffset = 52
i = 28
Chars = "BCDFGHJKMPQRTVWXY2346789"
Do
Cur = 0
x = 14
Do
Cur = Cur * 256
Cur = Key(x + KeyOffset) + Cur
Key(x + KeyOffset) = (Cur \ 24) And 255
Cur = Cur Mod 24
x = x -1
Loop While x >= 0
i = i -1
KeyOutput = Mid(Chars, Cur + 1, 1) & KeyOutput
If (((29 - i) Mod 6) = 0) And (i <> -1) Then
i = i -1
KeyOutput = "-" & KeyOutput
End If
Loop While i >= 0
ConvertToKey = KeyOutput
End Function
Once you are done, hit Ctrl + S.
Save the file as Productkey.vbs name
Then, select the Save as type and choose All Files.
Hit to click the Save button
Next, Double-click productkey.vbs to run the VBS script.
 The product key will show your Windows 11 license key in a pop-up window. Use the keyboard shortcut i.e. Ctrl + C to copy the code and save it safely.
2. Use A Third-Party Tool to Find Windows 11 Product Key- EaseUS Key Finder
EaseUS key Finder is best among the best key finder softwares. It is so easy to use and works with almost every license key/product key activated application and operating system out there. The software helps you restore and find the license key/ product key for most newer Windows and Windows server versions. With EaseUS Key finder, you can easily find Windows product key for Windows 11, 10, 8.1, 8, 7, and Windows server.
The good does not end here. The software works flawlessly with all the latest Office 365 and Office versions, and you can retrieve the product key for all the latest Adobe softwares. Other popular softwares are covered too.
On top of all this, you can view passwords saved in popular browsers such as Microsoft Edge, Google Chrome, Mozilla Firefox, and other Chromium-based browsers. You can also view the password for the Wifi network you are connected to so that you don't need to change the password if you forget one. 
Price: It starts $19.95/Monthly.
Compatibility: Windows 11/10/8.1/8/7/Server
Step-by-step Guide:
Step 1: Download and install EaseUS Key Finder on your computer.
Step 2: Launch EaseUS Key Finder and select Windows under the Registry Key tab.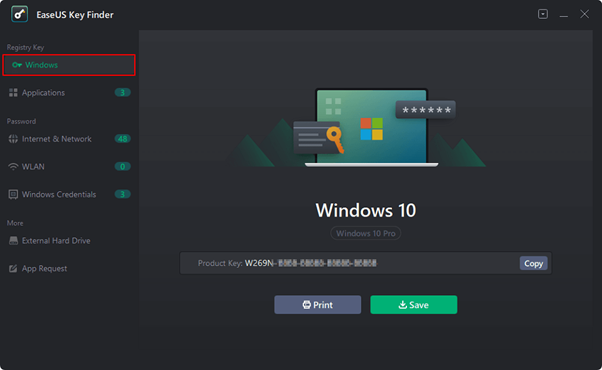 Step 3: Check the product of the Windows on the right side. Hit the Copy option to copy the product key.
Note: You can also save or print the product key.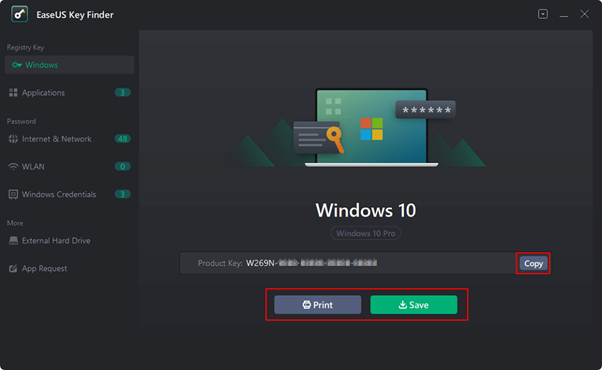 3. Use Command Prompt to Find Windows 11 Product Key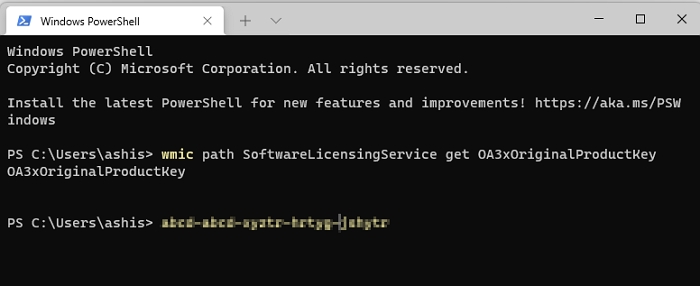 If none of the methods above work for you, don't worry about it. You can use Command Prompt to locate your Windows 11 product key. It is possibly the most efficient method to locate your product key on Windows 11. To find the product key follow these below-given steps:
Search Command Prompt in the start menu and select Run As Administrator. 
Copy and paste the below-given command in the Command window. Then press Enter
wmic path SoftwareLicensingService get OA3xOriginalProductKey 
You will immediately get your Windows 11 product key in the Command Prompt window.
 It is a simple method and works across almost all versions of Windows flawlessly. 
4. Check The Licence Sticker on the Computer to Find Windows Product Key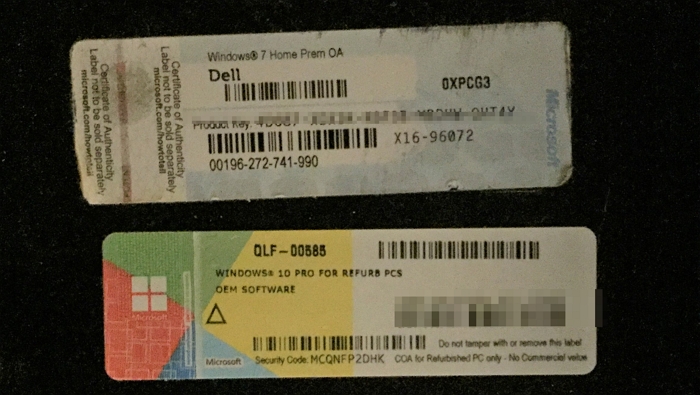 If you have purchased a pre-built computer system and have paid for a Windows License, you might discover your key to the product on a sticker affixed to your computer's chassis. These stickers usually come as holograms to indicate that they're authentic.
If you own a desktop computer that you bought from the OEM, the sticker will be available on one of the side panels, and if you're using a laptop, it should have a sticker that contains the product's key on the bottom of the device. If it is not there, look at the box. The computer manufacturer or the manual could be a solution to find them if they are hidden in a strange place.
Whenever you make substantial hardware changes, like replacing the motherboard, you'll require reactivating Windows 11 with the original product key. The license code component will automatically detect and verify ownership when you update to the latest version.
Conclusion
Follow the steps in the above article, and you'll be able to recover your product key in no time. EaseUS Key Finder is third-party software that you can use to locate your original Windows 11 Product key. The process is also relatively easy. You have to download the installer from the website and run it. However, if you're still unable to locate the download key, call Microsoft support for assistance. 
No more content