Audio drivers are special software that allows applications to communicate with audio hardware more efficiently. Your PC stores Audio drivers in the operating system, and they serve as a link between applications and audio hardware. Many current operating systems have generic audio drivers that can connect to a variety of audio devices.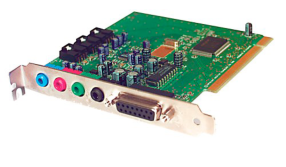 Problems encountered due to outdated or inadequate audio drivers
If you do not install or update audio drivers correctly, the hardware will either not operate or only work to a restricted extent, for example:
No Sound
Crackling/Drop-outs
Poor Performance
Limited Features
So, you need to keep updating your audio drivers. Perhaps the manufacturer has issued a new version, or you've upgraded to a more recent version of Windows, or you're experiencing audio problems in general.
This comprehensive guide will show you how to update audio drivers in Windows 11/10/8/7 using various methods.
4 Ways to Update Audio Drivers Automatically & Manually
Audio drivers enable your PC's audio adapters to connect with external audio devices such as microphones, headphones, and speakers. They also aid in the processing of audio signals and the fine-tuning of your PC's audio quality. A suitable and functional audio device driver is required for Windows to identify your audio device.
[Easiest]Automatically Upgrade Audio Drivers with Driver Easy
To update audio drivers that are outdated, damaged, or corrupt, look for the audio device's manufacturer online and obtain the most recent driver for the device. But it is a little bit time-consuming and challenging to locate the correct driver for your audio equipment.
Fortunately, Driver Easy can help you update drivers automatically without having to go through the trouble. All you have to do is download and install Driver Easy on your computer, and the software will take care of any sound issues that your computer may have.
Price: Its 1 PC version costs $29.95/year, 3 PCs version costs $59.90/year.
Compatibility: Windows
Steps to automatically update your audio driver using Driver Easy
Step 1. Download and install Driver Easy, then run it and click Scan Now. 
Step 2. Wait patiently until Driver Easy finish scanning your computer and listing any hardware with missing, outdated or mismatched drivers.
Step 3. Click Update All to download and install all the new drivers automatically.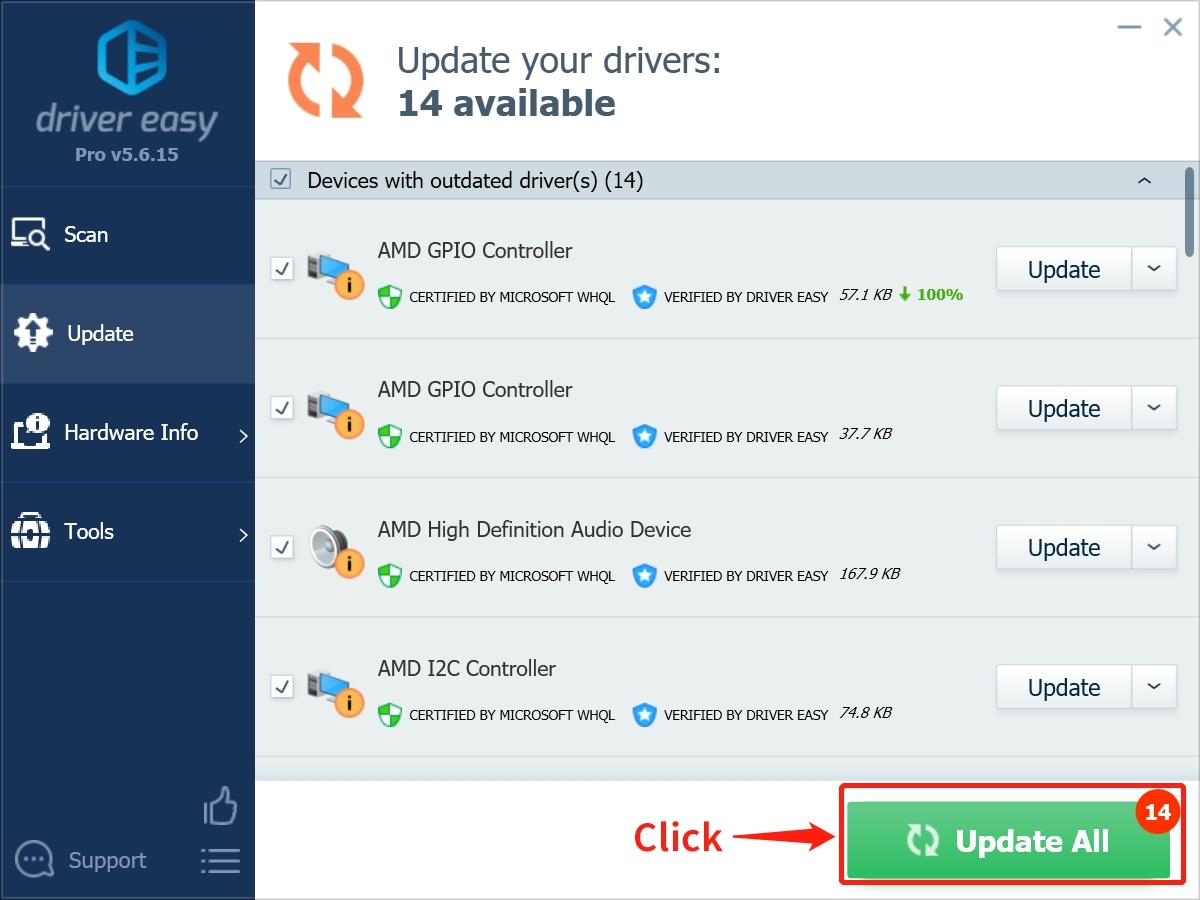 That's all. You may relax and enjoy a cup of coffee while Driver Easy takes care of the rest! All drivers are confirmed licensed and reliable and come directly from the device/chip vendor.
The developers use the 'Certified for Windows' driver if it's available from your manufacturer. They have a fast and efficient customer care service to help you out if you ever face any difficulties updating your audio driver.
Alternate audio driver update methods
1. Update audio drivers using Windows Update
Using Windows Update is one technique of upgrading audio drivers.
First, do a system search for windows updates and then choose check for updates to see if they're available. It will search for any available critical and optional updates and enable you to decide which ones to install.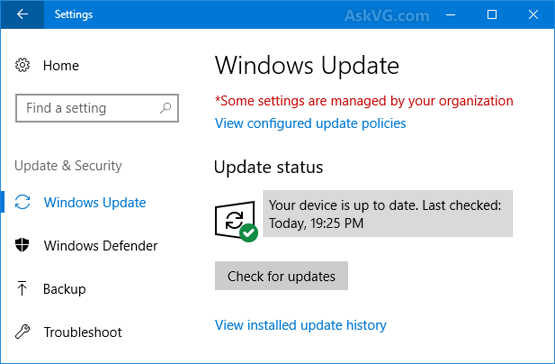 If you want Windows to check for and install updates automatically, choose Change settings. You may narrow this down to how often and when to installs them. Your PC enables it by default, so you should already update it unless you've modified it before.
2. Update audio drivers using Device Manager
Manually updating the driver is also an option. Don't worry, this straightforward procedure takes a few more steps than the previous ones. It entails visiting the manufacturer's website, typing in your sound card's model name or number, and then downloading the appropriate driver.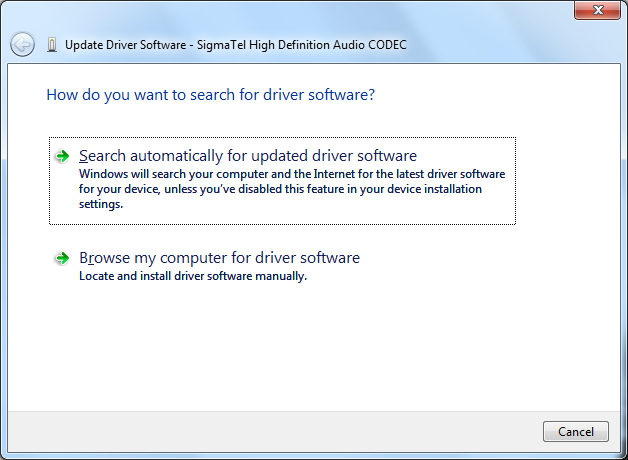 If you need more information, run a system search for device management and extend the choices to Sound, video, and gaming controllers.
You'll be able to locate the name of the manufacturer and the specifics of what needs to be updated here. Type it into a search engine, then go to the manufacturer's website to get the most recent driver for your card. Most of the drivers will load as executables, but if they do not load:
1. Go back to Device Manager, right-click the relevant sound device, and select Update Driver Software.
2. Next, select Browse my computer for driver software, identify where you downloaded the driver, then complete the wizard's instructions.
3. Update audio drivers from manufacturers
Depending on how you acquired your system, you may get a CD from the manufacturer's software or builts it into the motherboard. Some Dell systems, for example, come with a CD that has all of the drivers you'll ever need.
However, if it's from the sound card manufacturer, insert the disc into your drive, run the appropriate software, and it should automatically install the driver.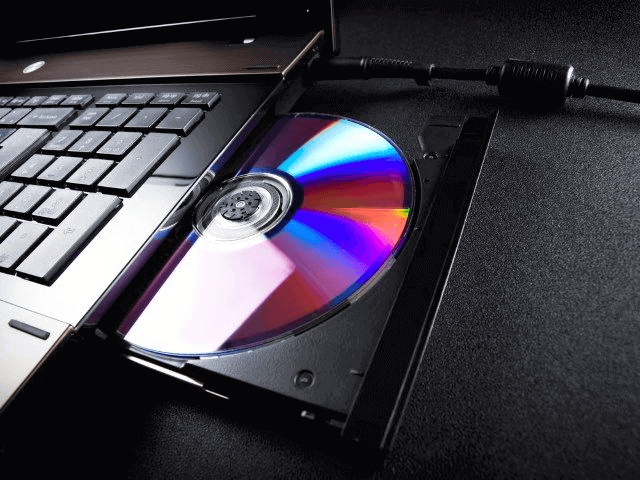 It is a good option, but it isn't ideal. For example, you may have to install an audio program that you do not require, but the worst-case scenario is that you will have to install an out-of-date driver, depending on when it was last updated. Manufacturer software may connect to the Internet and search for updates automatically, but installing a driver from the disc will not.
Conclusion
Hopefully, one of these methods may assist you in updating your audio driver and resolving any problems you may be experiencing. Keep in mind that updating your drivers is generally a great idea, not only for your audio.
You don't need to update audio drivers very often, and only certain circumstances, such as a change in an operating system, necessitate it. However, if you have audio problems, such as no sound, the first thing you should do is make sure you have the most recent driver installed. The best audio driver option for your PC is Driver Easy.
Driver Easy includes several features that will allow you to experience loud and clear acoustics from your desktop or laptop computer. It helps to enhance your computer's sound quality by acting as a bridge between the operating system and external hardware devices. 
No more content