You may have many reasons that would make it quite essential to look forward to if you are looking to find the location of your kid's phones. There are several reasons that you would find unique and superior to go with the best ways to help you track your mobile phone's location. We will find the best methods and free apps that can help you track your mobile phone's location. 
Why do you need to track mobile phone location? 
The exact reason you would want to track mobile phones location can vary across several factors. It can address a host of scenarios, and you would find that the tracker apps meet almost all the needs you may have. 
Kids location – You may be worried about where your kids are. You can use the tracker apps not only to find the location of their phone. In addition, it can also be a worry-free way for tracking other details such as call history, Internet searches, social media messages, and more of your kids. 
Lost Phone – The scenario where you might have lost your phone can be yet another reason that would assume importance. With the tracker app, you would be able to find the whereabouts of your lost or misplaced phone. 
Employee Tracking – The tracker tools would also benefit from tracking the employees and their whereabouts. If you have employees involved in fieldwork or marketing, you will find that the tracker tools can be more productive in your business. 
2 Apps to Track Mobile Phone Location When You Lost It
To begin with, we will check out the built-in features for tracking your mobile phone location when you lose it. There are default apps for Android and iOS devices also. The default apps would include Find My Device on Android and Find My iPhone on iOS. 
1. Find My Device(Android)
Find My Phone is a leading application that has been designed for parents or employers to locate the devices of their kids and employees. It can also be a robust choice for tracking lost or stolen devices.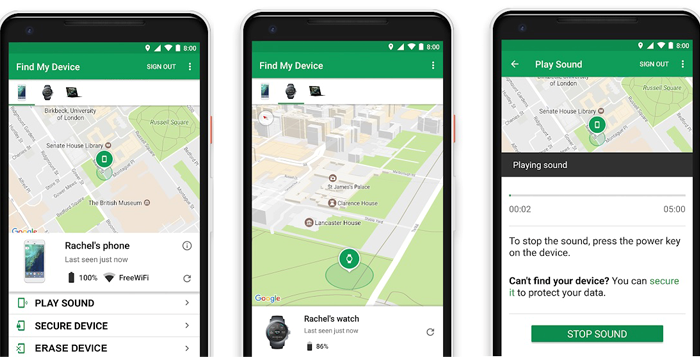 A few features of the tool would include 
It can be your one-stop solution for tracking a stolen or lost device. 
Ability to lock and erase your device to protect your confidential data.
You can track the device belonging to you, your spouse, or even your kids. 
Real-time and accurate location tracking. 
Get the regular updates for your live location. 
You can make ringing the lost phone remotely.
How to Download and Use it:
It's a free tool by the tech giant company Google. The Find My Device app comes with most Android phones as a built-in feature. You need to turn it on from Settings> Security, then search for Find My Device. 
Suppose you don't have this app installed on your phone. You can download the Google Find My Device app from the Google Play store.
After installing, make sure to link your device by visiting this link: Visit Site  
2. Find My iPhone(iPhone)
The Find My Device is a tracker similar to the Find My Phone app on Android, but it is available on iOS. The app is very popular among all Apple users. The latest version of this app does support all the Apple devices such as iPhones, iPad, AirPods, etc.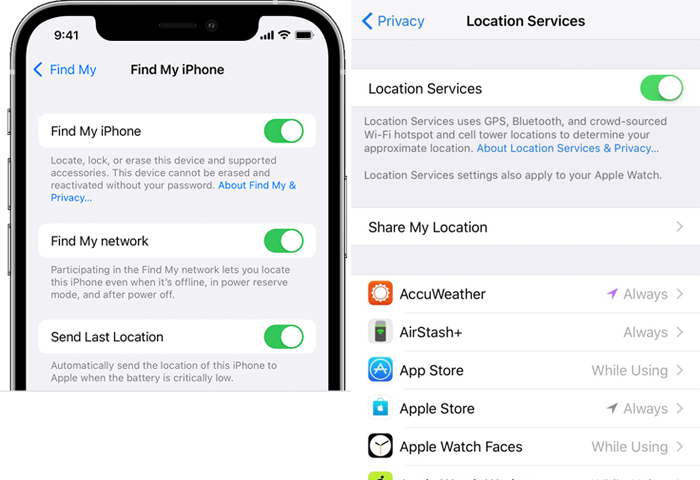 Some of the features are on the Find My Device would include 
Locate practically any of your iOS devices. 
It can even play a sound on the device.
You can lock the device remotely if you suspect it has been stolen. 
Get directions to the device. 
Completely erase all data from your device remotely. 
You can view the location history of your lost or stolen device.
How to Download and Use it :
This app is a powerful built-in feature for Apple users. You can also download the Find My iPhone app from Apple App Store.
To use this app, go to Settings, select Your Name(Apple ID)> Find My, turn on Share My Location > Find My >, then turn on Find My iPhone. To locate your device when offline mode, turn on Find My Network. Ensure you enabled the Location Services. Go to Settings > Privacy, then turn on Location Services. 
4 Apps to Track Mobile Phone Location with Other's Permission
Apart from the default tracking apps available on Android and iOS devices, we will also look for the other third-party apps available for tracking mobile phone locations. Let us check out the four different free apps that you would find impressive and convenient in almost every right. 
1. Google Maps(iPhone & Android)
The leading navigation service in its own right, Google Maps, can also be a good choice for assisting you in finding your phone's location. The app comes with many built-in functions that you would find quite impressive. It can also help you in a live location as well.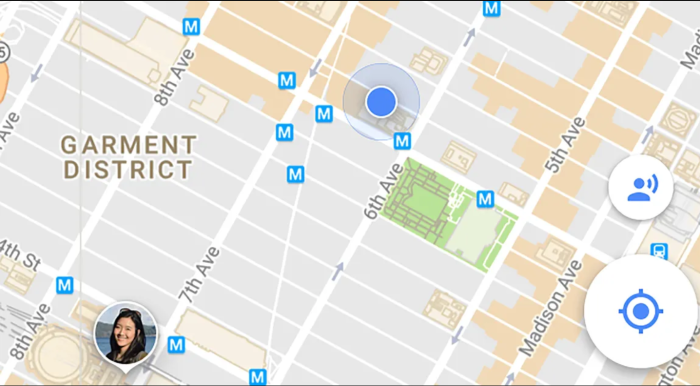 Some features would include:
The location sharing function lets you access the target location of the device. 
You can share the location with multiple people at once. 
It can find the nearest places to visit, hotels, airports, and your favorite restaurants.
High accuracy of the location with GPRS, Wi-Fi, or GPS.
Ability to navigate any maps offline without an internet connection. 
2. Find My Friends(iPhone)
Find My Friends is another fantastic feature for iPhone users for enjoying one of the advantageous capabilities in tracking mobile phones' location. It has been an excellent way to enjoy your experience tracking your phone location on iOS. Ensure that you have signed to the app and devices with the same Apple ID.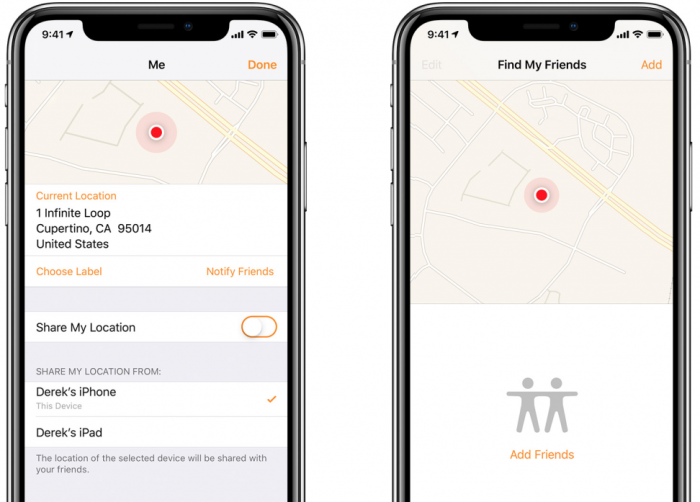 Download : iPhone  
A few features worthy of mention would include 
It is your brilliant choice of app for tracking your cell phone location. 
A faster and more secure location tracking system.
You can download it from the app store free of cost.
You can track more than one device. 
3. Geo-Tracker(Android)
The Geo Tracker is yet brilliant location tracker apps for enjoying an effective service in tracking mobile phone locations. It can provide you with an excellent choice for plotting the location on a map. The free app for tracking a cell phone location can prove the superb method ever. You will be able to download the app from Google Play Store.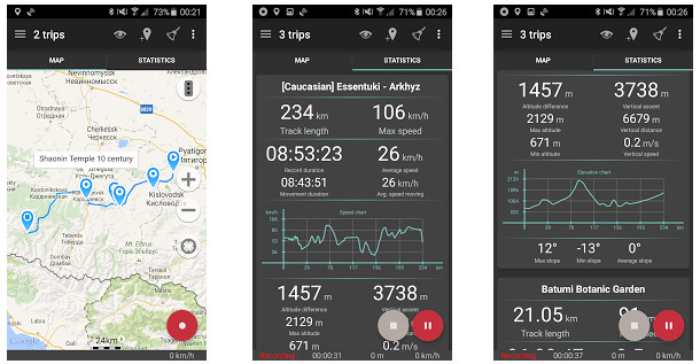 Download Link: Android
Some salient features that you would find on the location tracker can include 
You can share your trip with your family and friends. 
It can be an excellent choice for tracking long-distance trips. 
The visual data display can be what would make it a great choice. 
Speed, altitude, and vertical distance are a few of the features. 
Compatibility with Google Earth and Ozi Explorer.
4. Glympse(iPhone & Android)
The simple and free real-time location app provides you access to the most unique options ever. Glympse is another leading app for the best location tracking way available on both Android and iOS devices. It can also be a perfect choice for getting access to the location history of your target devices. 
Download : Official Website | Android | iPhone
Some prime features that you would find impressive can include 
An easy-to-use tracking app.
Best possible location tracking capability. 
No need to sign up for the service. 
Find your friend or family members while traveling.
Real-time location sharing capability. 
Wrapping Up
The list of the best mobile phone location tracking for Android and iOS devices outlined here should be handy in providing you access to a great degree of efficacy and performance. While all the six apps outlined in this compilation are worthy of mention, it is a great choice to go with 
Geo-Tracker and Glympse are outstanding apps for providing the fastest and easiest location sharing with your friends and family. The exceptional performance offered by these apps should make them genuinely formidable choices ever. 
No more content