Watching TV shows and movies on a big TV screen is more exciting and relaxing than a smartphone screen. Nowadays, SmartTVs in recent years have already provided us with easy and quick ways to connect our smartphones to TVs, so we can effortlessly share smartphone content with TV. But if you have a non-smartTV, do you know how to project your smartphone to TV? 
Don't worry about this problem, and you are in the right place now. This post discussed both wired and wireless solutions to share screens from smartphones to TV. 
But keep in mind that there is no one way that fits all smartphones and TVs. You need to choose different methods according to your devices and TV protocols. We will tell you the premises before the specific procedure. Now let us look at the solutions to this problem.
      1. For SmartTV - Use TV Built-in Screen Sharing Function
      2. For Non-SmartTV - Use Dongles like Google Chromecast, Amazon Fire TV Stick
Part 2. Wired Solution - Use HDMI Cable Slot 
Part 1. Wireless Solution
1. For SmartTV - Use TV Built-in Screen Sharing Function
As we mentioned in the previous content, the smartTV in recent years has the built-in function of sharing screen from smartphone to TV. You need to press the cast option on your smartphone; your TV and phone will connect automatically. Then all the contents including apps, videos, photos and music will be projected to your TV. When you are operating on your smartphone, the content on the TV will change accordingly. 
Note: Make sure that your smartTV and smartphone use the same WiFi. 
Besides the built-in screen sharing function, some apps in your smartphone are also equipped with the feature to cast content to TV or projectors. But as for this, the Android and iOS smartphones are a bit different. 
1) For Android Smartphone
For Android smartphones, all the frequently used apps, including Netflix, YouTube, and Amazon Prime Video, can be cast to TV through Google. Launch these apps on your smartphone, click the cast buttons, and you can see these apps projected on your TV. Open the movies or videos you want to watch, and you can enjoy them on your TV screen.
2) For iPhone Smartphone
If you are an iPhone user, you are enabled another function - AirPlay. This feature allows Apple devices to share videos, pictures, and music to other devices, like TV and projectors. The good news is that some other brands, like Samsung and LG in the India area, also support the AirPlay function. 
Find the AirPlay icon on your iPhone(or iPad or Mac) and click it. The contents in your iPhone will be displayed on the TV.
3) For Other TV Apps
Some other smart TVs also come with their apps which manufacturers support. If in this case, you need to download their app on your smartphone, follow their instruction and then connect the smartphone to the TV. After joining, you can enjoy all the contents on the big screen TVs.
2. For Non-SmartTV - Use Dongles like Google Chromecast, Amazon Fire TV Stick
But if you are using a non-smartTV at home, you need donglaes to share the screen. The dongles we commonly use and most popular are Google Chromecast and Amazon Fire TV Stick. Of course, Flipkart's MarQ and Airtel's Xstream are also available. 
The Google Chromecast and the Amazon Fire Stick are tools that can form a wireless connection without using a cable. You need to make sure the smartphone and TV use the same WiFi network. 
1) For Google Chromecast
You can cast content from apps including YouTube, Netflix, Amazon, etc., to your TV with the Google Chromecast. After casting, you can play the movies and TV shows on your smartphone and mirror them to the TV.
2) For Amazon Fire TV Stick
All the above-mentioned apps can be mirrored on the TV through Amazon Fire TV Stick. When connected, your smartphone will be projected on the TV, and you can control these apps on the TV screen. 
These wireless stream dongles are practical and useful methods to connect your smartphone to TV. And they will work flawlessly with a non-smartTV, giving you an excellent watching experience.
Part 2. Wired Solution - Use HDMI Cable Slot 
There are still some old version TVs that can't be connected to a smartphone with all the above paths. The only solution is through an HDMI slot on your TV.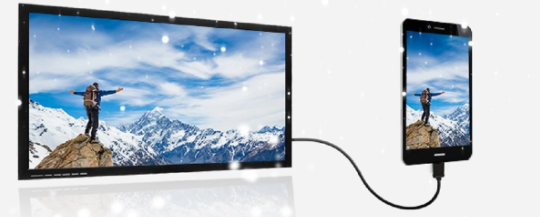 You need to connect your TV to your smartphone by a cable in this method. The premise is that your smartphone supports HDMI output. And the cable is compatible both with your TV and phone. 
The truth is that most mobile phones nowadays are equipped with a Type-C port, don't have a micro-HDMI port. So you need an adapter or a docking station to convert the port. 

Using a cable to connect your phone to TV, then the content on your phone will be shown on TV.
Wrapping up
Here we offer wireless and wired solutions to share screens from smartphones to TV. And some practical tools are also provided. What you need to do is to find the proper tools or methods to enjoy your big screen. 
You can also read: Share Screen with Friends on iPhone & Android
No more content