One of the intriguing things you can do with Kindle is to read your favorite books (PDF most times) on the go. But if you think this is all to Kindle, you'll miss out on many fantastic opportunities.
Aside from making it super easy for avid readers to read on Amazon's e-readers by purchasing books directly from the Kindle store, you can also add books from other sources. Although the simplest way is to buy them directly from Amazon's store
Kindle offers excellent portability and comfort when reading a PDF book. However, sending a PDF file to your Kindle is not always easy. It tends to be a strenuous process if you don't know how to do it.
But the good news is that this article will provide you with three different solutions to ace this difficulty without breaking a sweat.
How To Send A-PDF to A Kindle
Through Email
Step 1:Open the email client of your choice, Attach your PDF using the attachment section and create an email to send to your Kindle-approved address.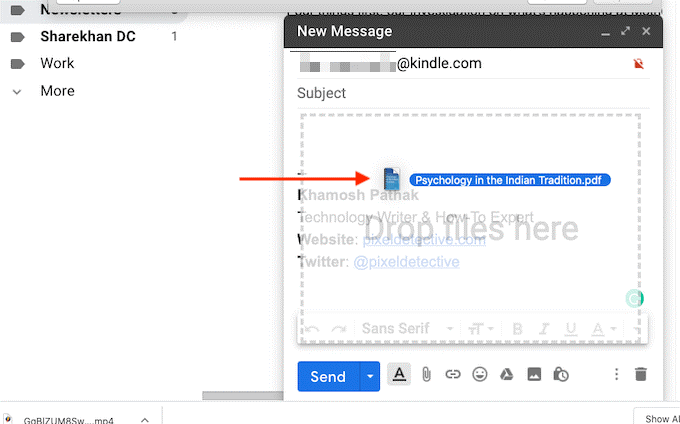 Step 2: Once the attachment is added, click the Send button.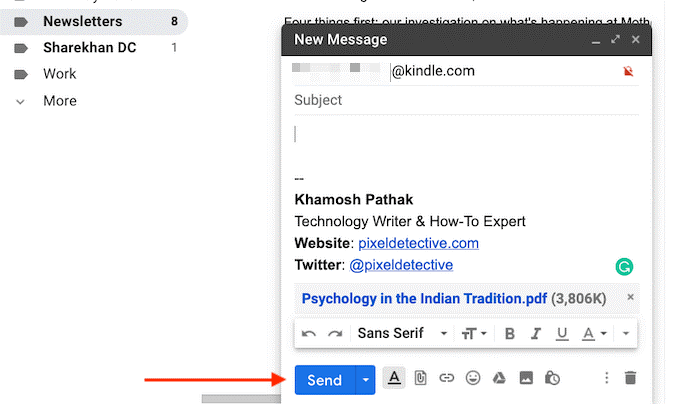 Step 3:If your Kindle is connected to the internet, it will sync in a couple of minutes and download the PDF automatically.
However, you can speed up the process if you are impatient. Go to settings and tap on the sync my kindle button. You'll see your PDF downloaded in a couple of seconds.
Step 4: Open the Kindle device, and you'll see your newly downloaded PDF document.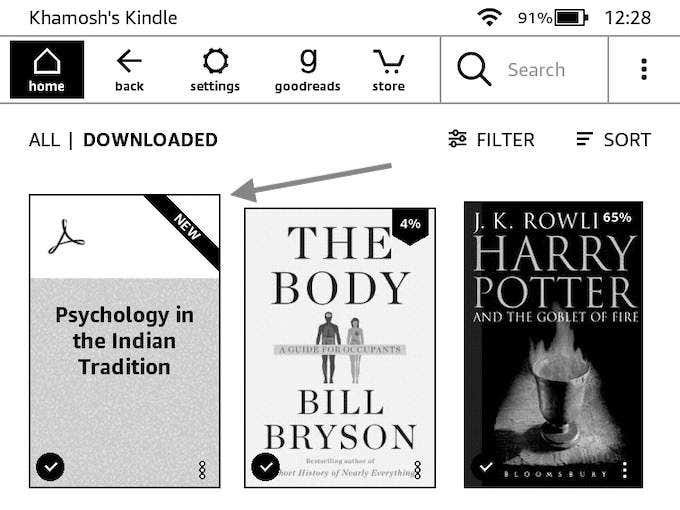 Through USB
This one is the most straightforward of all the options to send a pdf to KindleKindle. It allows you to access your Kindle'sKindle's internal storage and send numerous pdf at once and send files without an internet connection.
Step 1:Connect your Kindle to a computer with a USB cord
Step 2:Select the PDF file you want to upload to your Kindle device.
Step 3:Open Kindle on your computer, open the "documents" folder and copy the PDF file to your Kindle device's "documents" folder.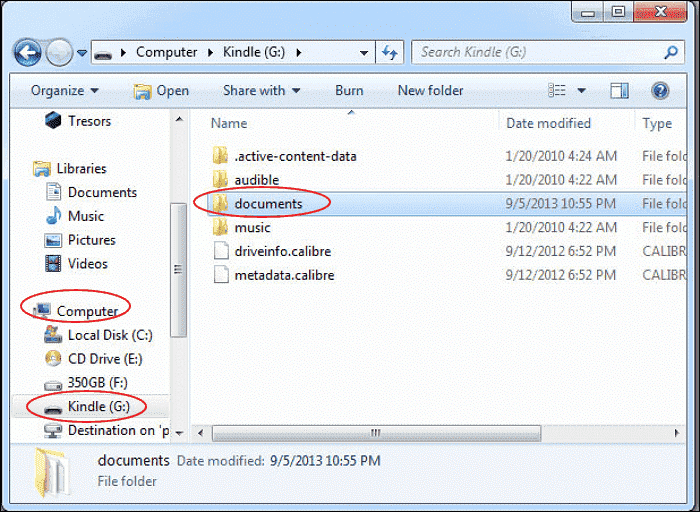 Using the Send To Kindle App
You should consider this option if you regularly send files to your Kindle.
Step 1:Download "Send to Kindle app" from Amazon's website and sign in to your account.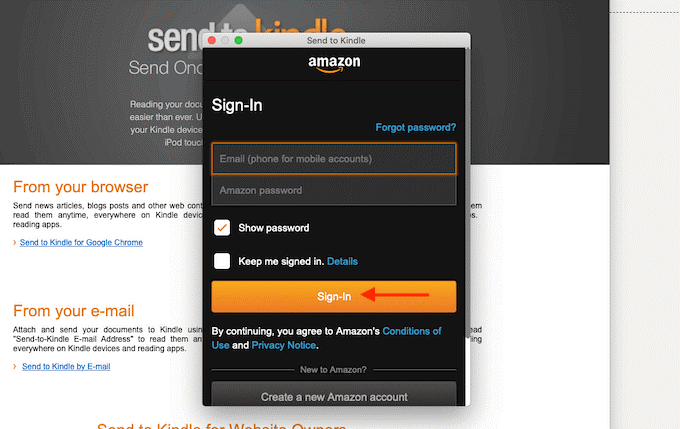 Step 2:Drag and drop a PDF directly on the app icon or the window.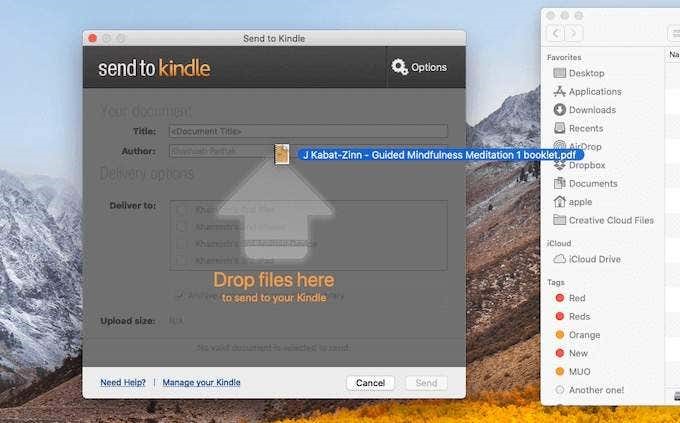 Step 3: Select your desired Kindle device and click the Send button once the PDF is added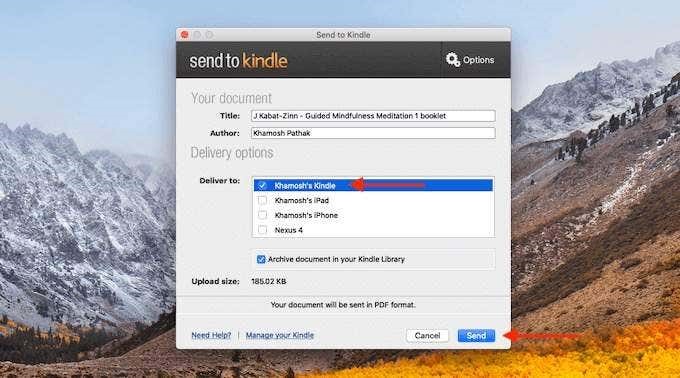 Step 4:The app sends the PDF file to your Kindle almost immediately and closes the window once the process is complete.
The downloaded PDF will be at the top of your home screen when you pick up your Kindle.
Convert eBooks to PDF for reading anywhere
Epubor UltimateConverter is a program that helps you convert any book of your choice. Upon opening the application after installing it, the right side of the program is built-in with a library that automatically scans book contents that are synced within the Windows application.
Perhaps you want to convert eBooks to pdf to transfer them from one device to another since it allows you to share your eBooks freely with anyone or read them on another preferable device. If you want to convert eBook to pdf free, then you can exploit Epubor Ultimate. It makes it simple and super easy to convert a bunch of books to either EPUB, PDF, or Mobi, and the altered books remain precisely the way they were when displayed.
Take a look at some of its features:
Modify Metadata, bring intactness to a book
Epubor Ultimate fixes all the Meta data problems like a cork. For instance, if you want to correct an improperly spelled name of a book's title or upgrade a book cover's edition. This action revises all the essential and helpful Meta information you desire.
Automatically detects devices and displays books.
Epubor Ultimate automatically detects any device and displays all the books when connecting your eReader to your computer. The software supports the main eReaders in the market, including but not limited to Kindle Voyage, Kindle Oasis, Nook, etc.
User manual guide to help you get by
A comprehensive user manual has been provided regardless of the software's easy navigation.
An instant troubleshooting guide pops up when you experience a problem while using the software to help you find a solution.
Price: Its Lifetime license costs $49.99/1 PC, $54.99/1 MAC.
Compatibility: Windows and Mac
How to convert ebook to pdf
Step 1: Download and Install Epubor Ultimate
Step 2:Your purchased eBooks will sync automatically as soon as you launch KindleKindle for pc or connect the KindleKindle to your computer via USB cable. Epubor Ultimate will detect and display the books at the left sidebar right under the Kindle device tab.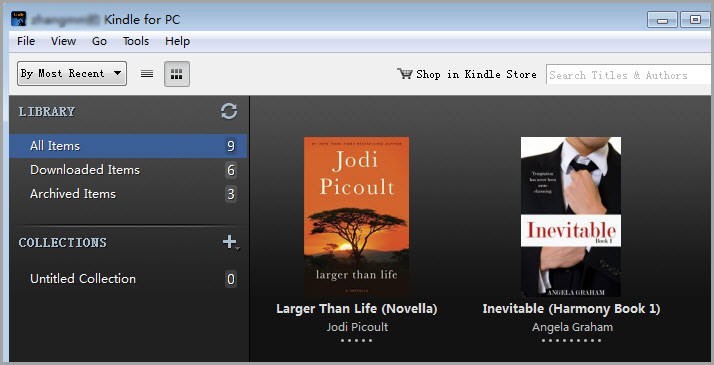 Step 3:Drag and drop your eBooks on the right main window or select the "Add" button to decrypt the eBooks.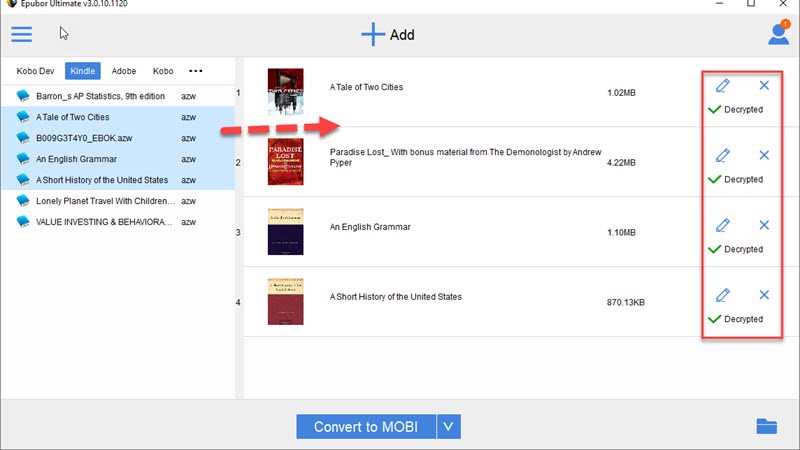 Step 4:Choose "pdf" as the format and click the "Convert to PDF" button. Finally, you get your converted pdf eBook by clicking the "Folder" icon.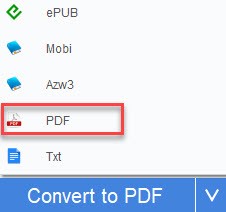 Conclusion
Portable Document Format (also known as PDF) file format is commonly used to present numerous document types across various platforms and doesn't exempt e-books. PDF files can be viewed independently, regardless of software, operating system, or hardware. If you only have one option to convert from eBook to PDF, you should considerEpubor Ultimate.
Price: Its Lifetime license costs $49.99/1 PC, $54.99/1 MAC.
Compatibility: Windows and Mac
No more content