Who hasn't heard of Facebook? It is among the most popular social media sites, with over 2 billion active users. With that many subscribers, the platform has already established itself as the world's biggest people search query, allowing you to scour for profiles, individuals, posts, activities, and more. Once you own a Facebook account, you can find anyone. But what if you do not own a Facebook account and wouldn't want to get one to look for someone? Is it possible to search or view Facebook profiles without owning or logging into a Facebook account? Yes, you certainly can.
You can find folks you've lost touch with on Facebook and reconnect with them. So, if you're seeking your college girlfriend or closest mate, try using the guide below to locate the individual you're looking for without needing a Facebook account.
4 Effective Ways to Search Facebook Profile Without Account
You could check up practically every account on Facebook using one of several methods till a few years back. You could usually see all of their posts, images, videos, remarks, likes, and other information. However, in response to widespread criticism and mounting legislative pressure, Facebook has modified its privacy policies, and it now restricts what and how much data other users can see. However, there are still various ways to check up or search specific users without creating an account, and we'll show you how.
Method 1: Use Google Search Engine to Search Facebook Profile
Method 2: Use People Search Engine to Search Facebook Profile
Method 3: Use Social Search Engine to Search Facebook Profile   
Method 4: Use Facebook Directory to Search Facebook Profile
Method 1: Use Google Search Engine to Search Facebook Profile
We know there's no rival to Google when it relates to organic search. You may use specific advanced search tactics to look at Facebook accounts without logging in or creating an account. Launch Google Chrome and type in the keyword below, accompanied by the user profile, email address, or mobile number to find the Facebook profile. For example, we're looking for an account based on the profile name. Replace the profile name with the names of the people you're looking for and press Enter.
"site:facebook.com Profile name"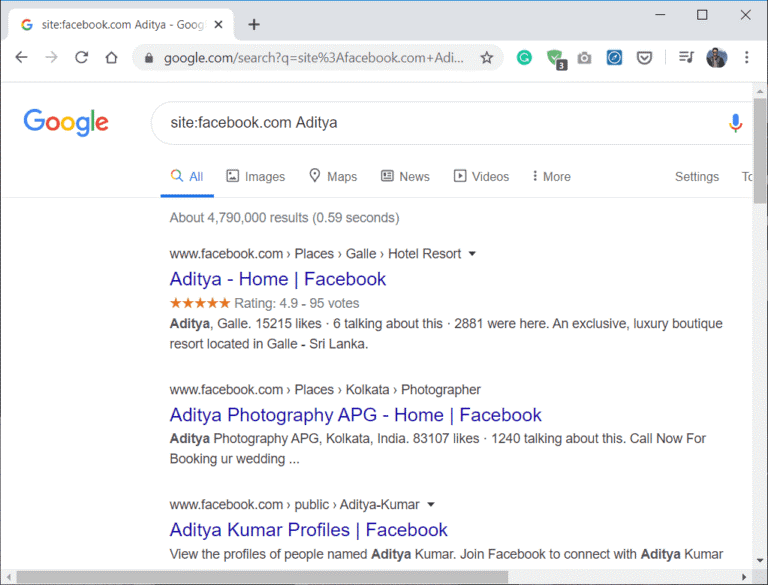 If the user has approved to have their profile read and searchable by Google search engines, the information will be kept and displayed in search fields. As a result, finding the Fb profile account will be a breeze. It's worth noting that such a search tool will only show profiles with such names if those users haven't restricted visibility in their privacy settings. All Facebook account owners have this choice, and they can make their profile searchable or hide it from google searches. Furthermore, individuals can limit the display of their posts to others who aren't friends with them on Facebook. Company accounts, unlike individual accounts, will typically appear in open search results.
Method 2: Use People Search Engine to Search Facebook Profile
What could be better than using Facebook Directory, the company's database? Although Google is the most advanced search engine for finding individuals and websites, Facebook does have its search databases. This directory allows you to look for persons, pages, and locations. You have to select the appropriate tab and type in the applicable question.
Step 1: Go to Facebook, scroll to the bottom and select People from the drop-down menu.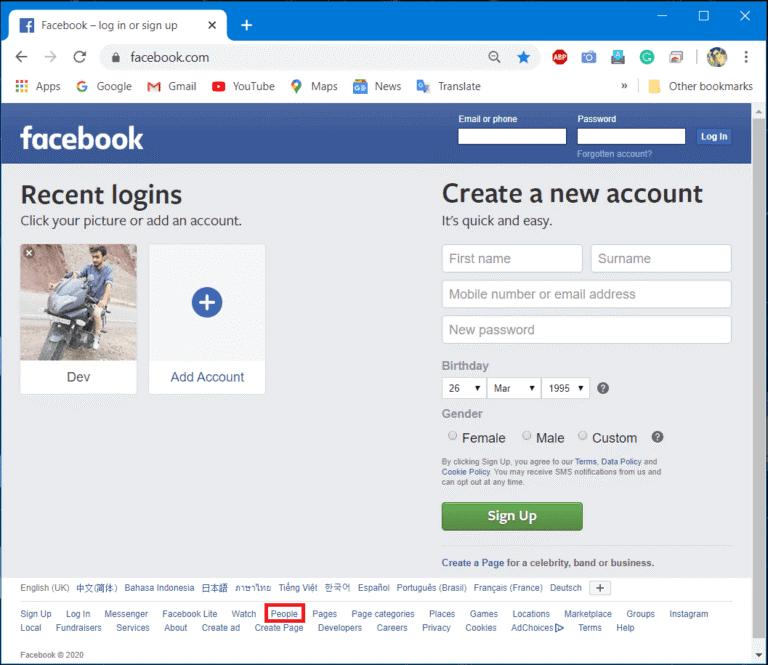 Step 2: A security screening popup will display; tick the box and then tap on Submit icon to verify your identity
Step 3: A collection of profile names would then show; click the search option in the right window screen, input the profile name you're looking for, and select the Search function.
Step 4: A Results Page box will display with a li profiles; click on the name of the profile you're searching for.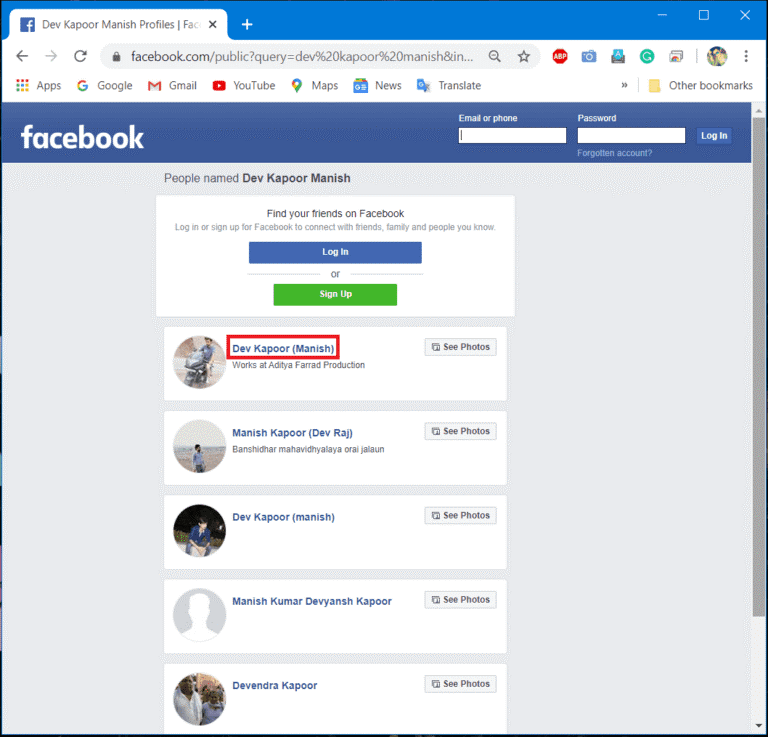 Step 5: A Facebook profile along with all the individual's basic information will display.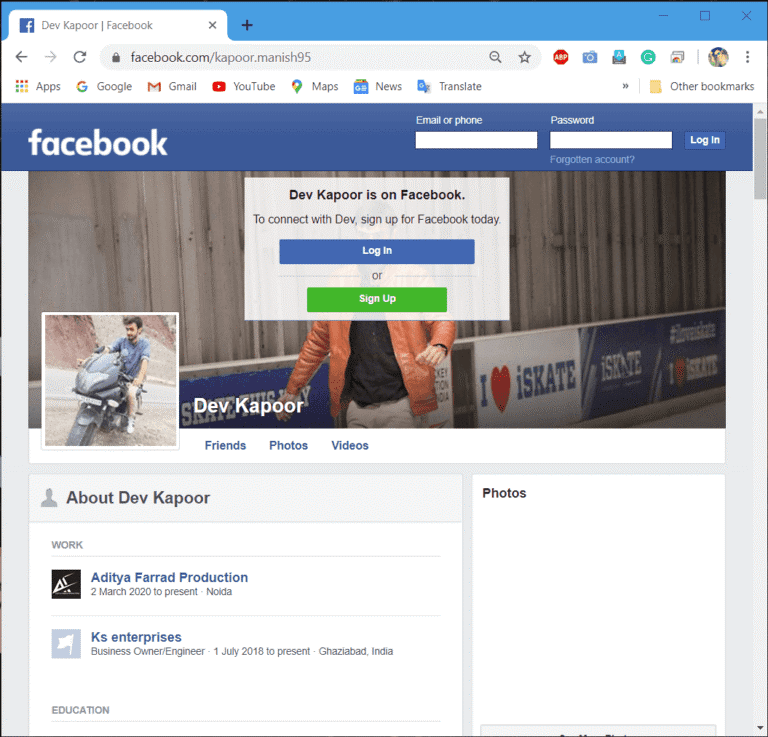 Method 3: Use Social Search Engine to Search Facebook Profile
Social search engines use algorithms to comb through the vast amount of information about people on social media. Social Searcher (webpage) as well, as well as a snitch. Name (website), of the most famous free alternatives, allow you to scour Facebook without having an account. Similar to conventional search engines, social search engines allow you to cut down the range of your search using a variety of variables, like location data. This rapidly limits your search to a certain area. As a result, if you're looking for John Doe in New York City, you won't be flooded with information on John Doe in Edinburgh, Melbourne, or California. Many social search engines also allow users to filter results depending on tags and themes.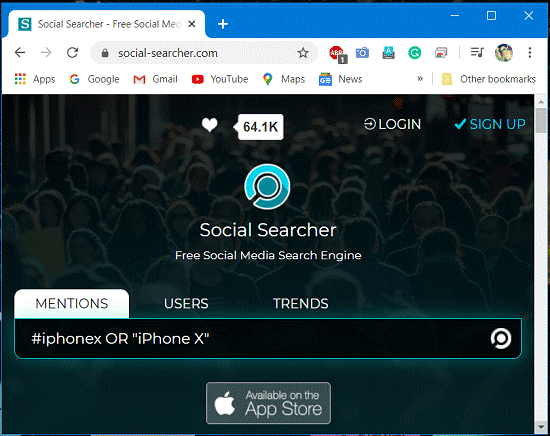 Method 4: Use Facebook Directory to Search Facebook Profile
Another place to search is https://www.facebook.com/directory/people. If you aren't signed in, you must first prove that you aren't a robot before proceeding. Following this fast security check, you have three options for browsing Facebook. You need to wait for the verification process every time you turn on a section or a search result. When you utilize the search bar, the same thing happens. Let's have a look at the three options you can choose from:
people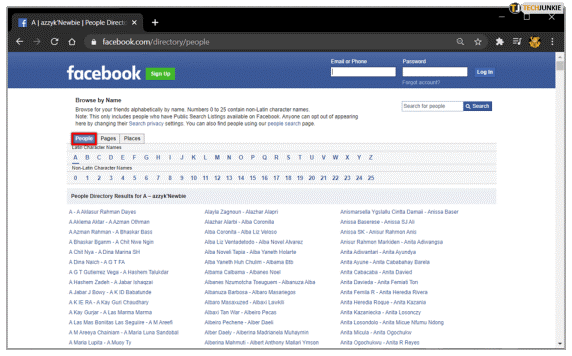 A database of Facebook users, organized chronologically, can be found here. Input the names of the individual you're searching for in the right-hand search field. The privacy choices of individual users will influence the search results. Users on Facebook cannot wholly stay out of searches, and they can have their names removed from the Directory. They can also limit how many of much data you have access to.
Pages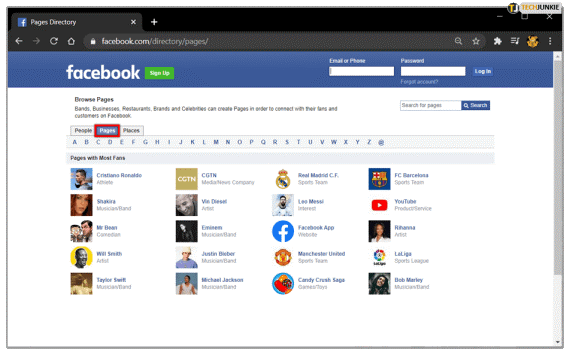 Verified celebrity profiles, eateries, and some other businesses are included in this category. This is a fantastic place to start if you're searching for a society or an NGO. You can also look at the corporations that have Facebook pages.
Places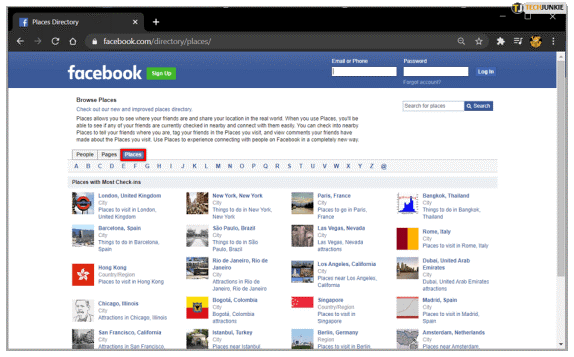 Here is where you may look for upcoming shows, hotels, and organizations. Places displays among your connections are nearby once you're signed in. Even if you don't have an account, you might be able to find what you're looking for by searching this tab.
Which Method is Suitable for You
Because of an increased campaign for privacy, Facebook used to permit each individual to look up details about anyone on the app. Those times are gone. And this has had a great impact on how you may collect data about People on Facebook, whether you own an account or not. It'll only be a question of time until finding people on Facebook without a Facebook account becomes nearly impossible. However, you can search using any of the four techniques listed above until then.
No more content