Facebook is widely used by people worldwide as a social media application. We can connect with our friends, relatives, and colleagues on it. It is also an excellent tool to share files, pictures, videos, and audio among contact friends. The Facebook application also contains other functions, such as sharing some news. Your friends will see it and give like and comment on it. 
Although it is very popular, many people still do not want to use it after using it for a period. When it comes, we can choose to deactivate or delete it.
Or, someone deactivated or deleted their Facebook account but still needs to use it again. How to recover your deactivated or permanently deleted Facebook account?
Well, keep reading this passage. It will give a complete guide on deactivating, deleting, and recovering Facebook accounts.

Before getting to the specific solutions, let's learn the difference between the "deactivate Facebook account" and "delete Facebook account".
"Deactivate Facebook Account" means your Facebook information won't be deleted forever. You just stop to use for a while, and you can activate your account at any time. Some of the messages that you sent to others are still there. 
"Delete Facebook account" means all the relevant information will be deleted forever after 90 days. And you can't use your Facebook account to resign any other apps. Messenger can't be used anymore, either.
If you are not sure whether you will use it later, it would be better to deactivate rather than delete your Facebook account.
Part 1. How to Deactivate Your Facebook Account
Part 2. How to Permanently Delete Your Facebook Account
Part 3. How to Recover Your Facebook Account
Part 1. How to Deactivate Your Facebook Account
Deactivating a Facebook account is very easy to operate. Here are the specific steps:
Step 1: Locate your "Profile" on the right bottom of the interface.
Step 2: Scroll to find the "Setting &Privacy" > "Setting".
Step 3: Click "Account Ownership and Control".
Step 4: Then click the "Deactivation and Deletion".
Step 5: Choose "Deactivate Account" and confirm the construction.
Part 2. How to Permanently Delete Your Facebook Account
If you are sure you need to delete the account forever, you could follow the steps:
Step: Do the same operation as "How to Deactivate Your Facebook Account" till step 4. Then you should select the "Delete Account" button. Click "Continue" to delete the account.
If you choose to delete the Facebook account, all the relevant information will be deleted. Make sure to do a backup for the valuable information.
Part 3. How to Recover Your Facebook Account
For deactivated accounts:
Step 1: Launch your Facebook app on your smartphone or software on PC.
Step 2: Enter your phone number(or email address) and password on the displaying interface.

Step 3: Click the "Log in" button.
If you input the correct account ID and password, Facebook will sign in successfully as usual.
For permanently deleted accounts:
Fortunately, Facebook gives those deleted accounts a chance to recover. But it is only limited to 30 days. It is impossible to find your Facebook account back if you have deleted it for over 30 days. Now, let's look at the steps in detail:
Step 1:Go to the Facebook official website: https://www.facebook.com/
Step 2:Input your Facebook ID and password, and click "Log in".
Step 3:After logging in, you will see the following picture. You can see two options: "Cancel Deletion" and "Confirm Deletion". Choose the "Cancel Deletion".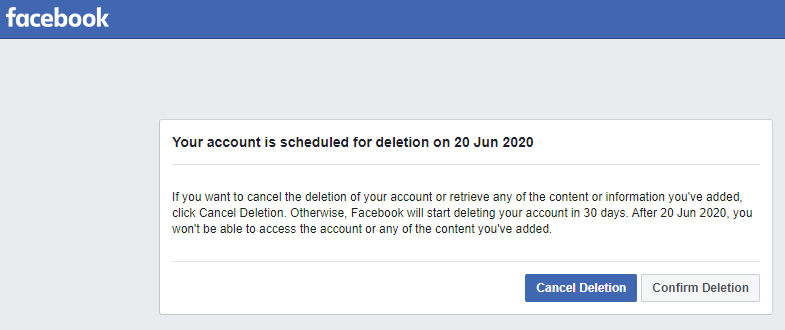 Now you can use your Facebook account as usual. All the previous information, including photos, videos, and files will be restored. 
No more content