Screen recording has never been this easy as it is today. With a myriad of screen recording extensions available, you can now record your screen anytime, anywhere, without purchasing a third-party app.
Whether you have tutorials to read or games to stream, the best screen recording extensions for google chrome should fulfill all your needs, keeping you a step ahead in tech.
Top 7 Screen Recording Extensions for Google Chrome (H2)
1. Awesome Screenshot & Screen Recorder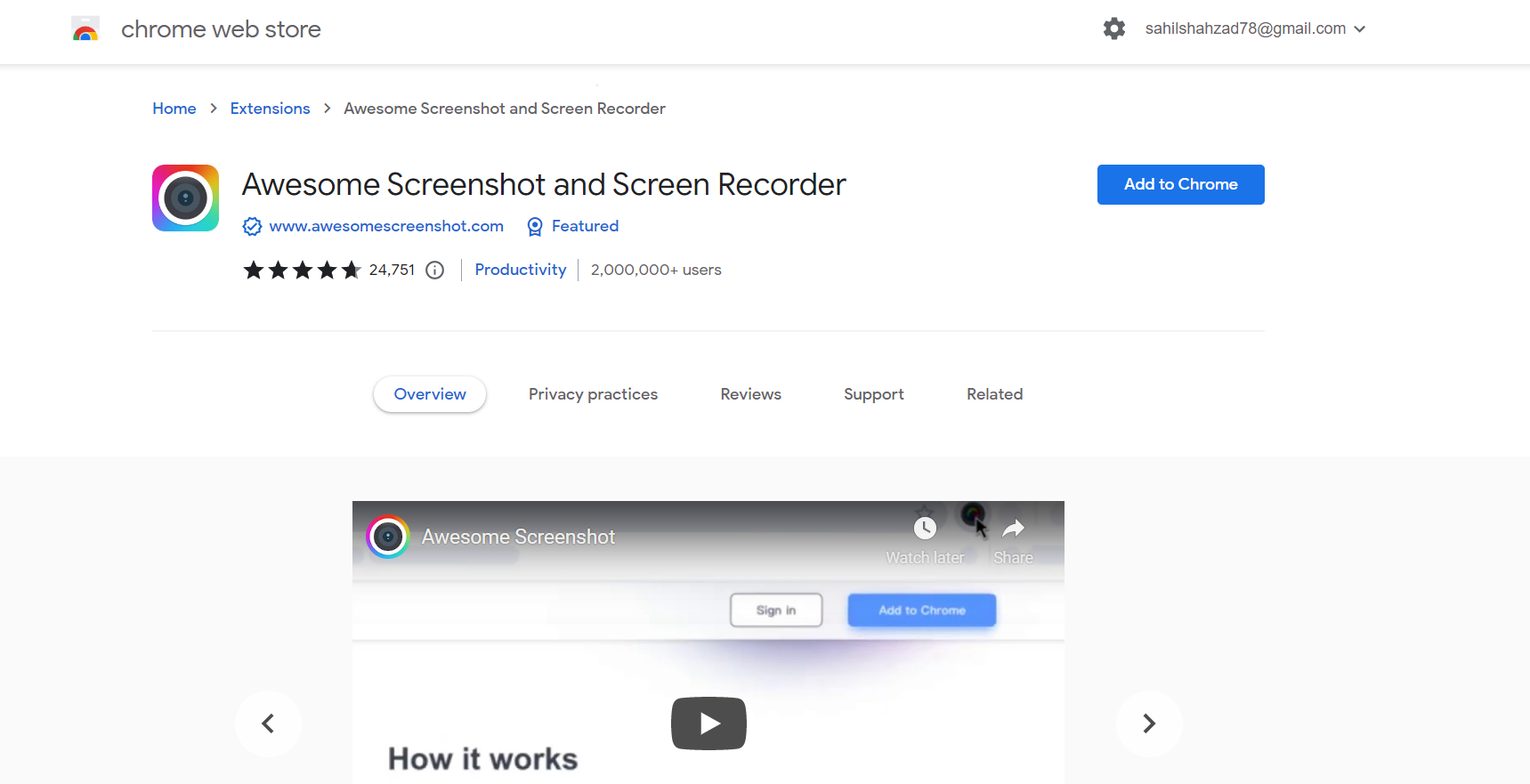 As the name says, Awesome screen recorder delivers awesome results when it comes to capturing screens fast and easily. With over 2 million users, it is compatible with nearly all versions of Windows, Mac 11.0, iOS, and other devices.
Screen recording is an absolute breeze to record, edit and save your recordings for free without facing any hurdles.
On top of all, it also acts as the perfect spyware to keep your system safe and secure while taking care of the user's browsing history.
Pros:
Easy to trim, record, and save your videos
Google Drive sharing is available
Both the free and paid version
Edit recordings easily
Offers MP4 file capture feature
Cons:
2. Screencastify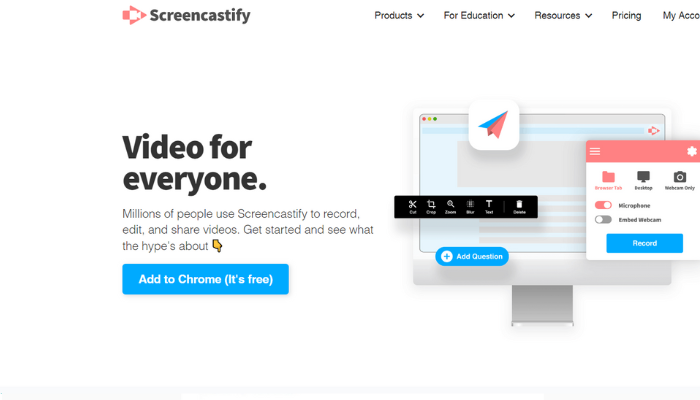 The next widely used screen recording extension we have on the list is Screencast, hyped for its ultra-friendly features to record, create and edit screens.
Setting the bar high, Screencastify has over 100M videos created in 2020 with a user base from 190 countries all around the world.
It also comes with a special webcam and special browser-based editor to help you edit videos and customize them accordingly.
Pros
Webcam camera available
Special facial features
Multiple video dimensions
Easy to share recorded videos
Support screen drawing
Cons:
Premium version Features not available
3. Droplr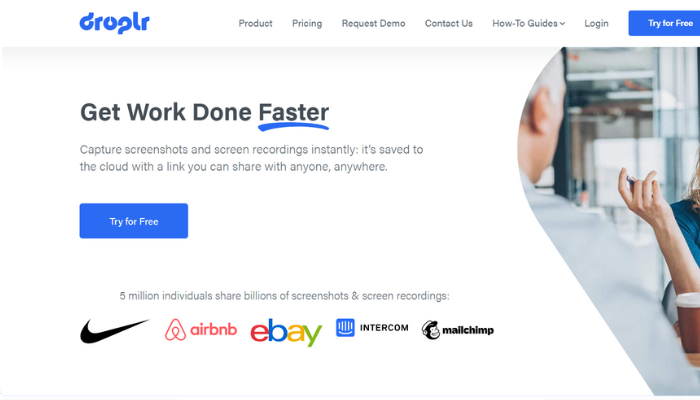 Droplr is a trusted name in the screen recording extensions and offers the facility to capture screenshots right from your PC. All it takes is a simple login to start recording with Droplr by dragging the screen into the box.
It's as affordable as you want and lets you save all the recordings to the cloud with just a link. With a wide range of features like 4k resolution, video capturing, and 60 fps recording, Droplr is the perfect simple and start screen recorder you need.
Pros
Perfect for Mac
Instant screen recording
Sharing made easy
Free online file-sharing features available
Multiple editing and overlay features available
Cons
4. Fluvid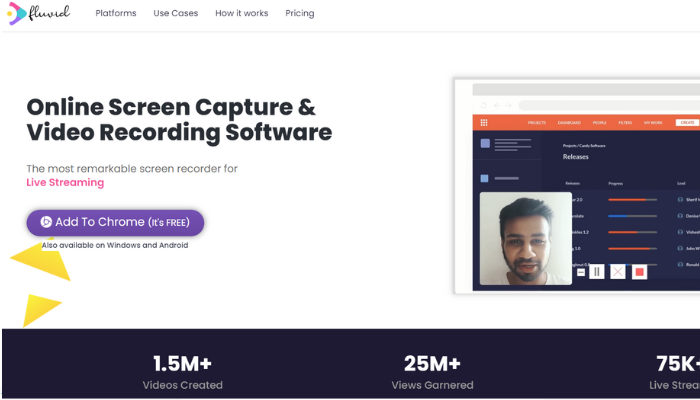 Are you looking for a 3-in-one screen recorder that saves you time, money, and effort? If yes, the Fluvid screen recorder is the perfect option for you.
Whether you want online screen capture, record videos, or stream games online, it has all the features you need to record the screen in just 5 simple steps.
The best part is Fluvid is 100% free, so you can now say goodbye to all those expensive pain-in-the-back third-party apps.
Whether you want to crop, resize, or sharpen images, this screen recording extension has all the options you need.
Pros
HD Screen-recording available
Control the duration of the recording
Multiple editing features available
Quick save and share
Friendly user interface
Cons
No third-party apps required
5. Vmaker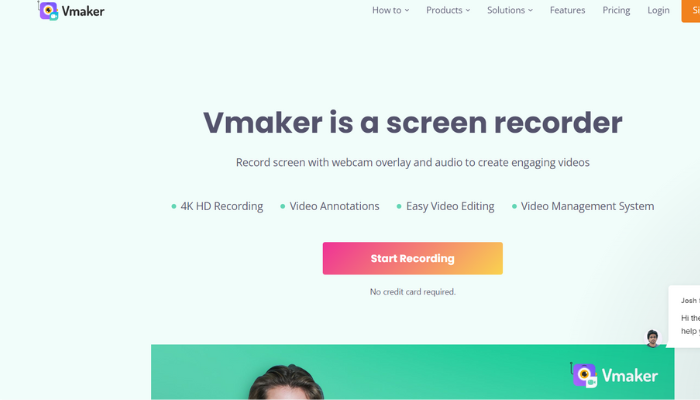 Vmaker has undoubtedly all the screen recording features you are looking for. From recording screens, video chats, and streaming games to much more, Vmaker can help you record from any time, anywhere, without banging your hand with other tools.
Not only does it have the simplest user interface, but it also allows recording in the highest quality 4K format to customize your recordings easily.
With the auto-deletion feature, you can easily set an expiry timestamp for your recordings and record for as long as you want. Another impressive feature is that Vmsker comes with its external audio to use in your videos and customize exactly the way you want.
Pros
Unique video calling feature available
4k format screen recording
Auto-deletion features available
Cons
Interface is not intuitive
6. Vimeo Record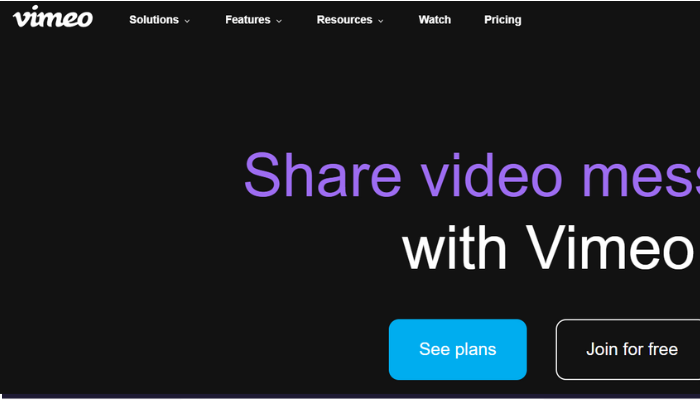 What it feels like to have a screen recorder that lets you share unlimited videos and audio without showing your face.
From product demos to live games, Vimeo lets you instantly record screens in just a few clicks. Known for automatic recording, Vimeo also allows its users to replace and organize screen recordings into different team folders.
Not only this, but this screen recording tool also allows private link sharing with an unlimited recording facility to leave no room for doubts or complaints.
Pros
Unlimited recording feature
Impressive editing features
Professional screen recorder.
Cons
8. Scre.io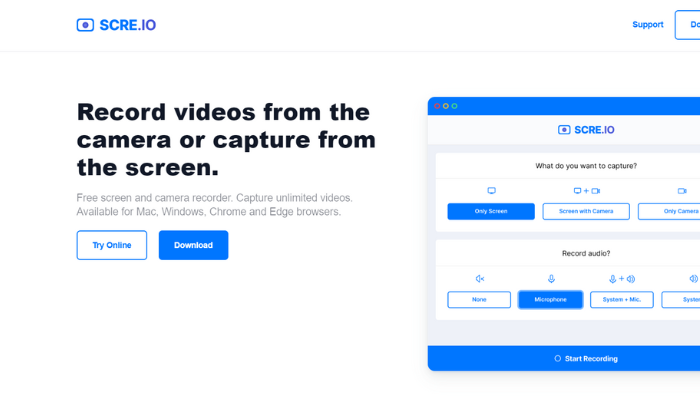 Not every free screen recording extension comes with a webcam, and Scre.io is no exception to this too. With a quick and simple sign-up, you can use this screen recorder for absolutely free and enjoy unlimited recording videos.
The autosaving feature helps you save recordings automatically, while the inbuilt webcam and microphone keep you away from the hassle of using any pain in the back screen recorder.
Pros
Webcam and microphone available
Con
Bonus Tip: Best Screen Recorder for Google
If you're still not convinced and looking for a reliable screen recorder trusted with word-of-mouth and certified by experts, Ease US Rec Experts is all you need.
As one of the simplest and smartest screen recorders, Ease US lets you capture audio, video, and all images with ultimate ease.
Whether you've got to record your office meetings or capture YouTube videos, it's the perfect screen recorder you need to record the screen with a special internal audio feature.
Not only this, but you also get a 30-day money-back guarantee on your purchase along with a free trial for all first-time users. It
The good news is that the screen recorder is also compatible with Mac, Windows 11, 10, 8.1 /8.7, and other versions.
With this powerful recorder, it's your golden chance to record multiple screens from your computer, microphone, and web camera at the same price as mentioned.
Plus, it also offers scheduled recording with the special auto stop, and auto split feature to customize your recording video.
Long story short, EaseUS Rec Experts makes screen recording a child's play for you to enjoy recording with your system.
Price: It starts $19.95/Monthly.
Compatibility: Windows and Mac
How to use:
Step 1. Run EaseUS RecExperts on your Windows. If you want to capture everything on your screen, click the "Full Screen" option. This is a perfect choice when playing the streaming video in full-screen mode.

Step 2. Alternatively, you can opt for "Region" to record the specific area if you want to play the streaming video in a window.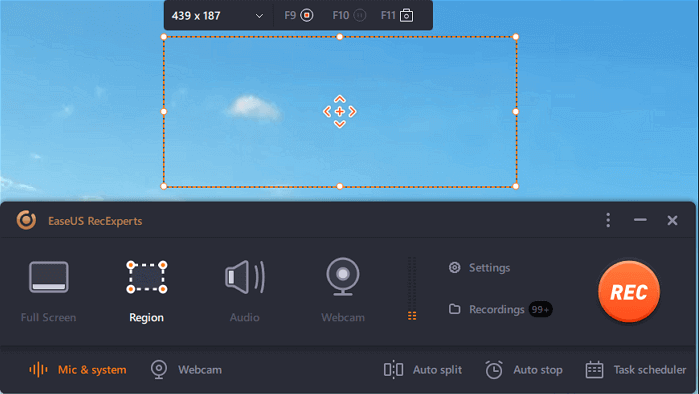 Step 3. Now, you can hit the "System sound" button to choose the sound source you prefer and adjust the volume. Upon that, click "REC" to start recording.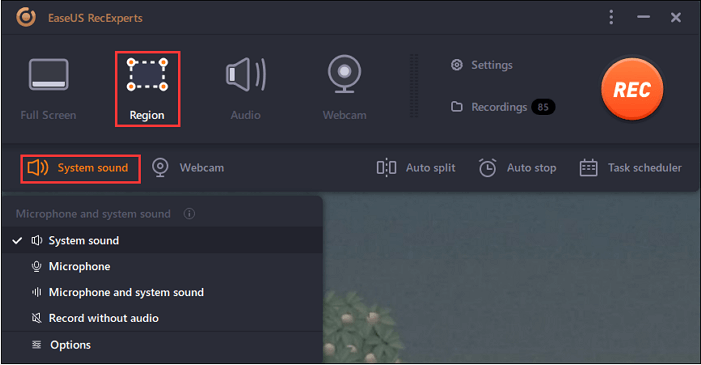 Step 4. When the recording is ongoing, you'll see a toolbar floating on the screen, which you can avail yourself of to pause or stop the recording process.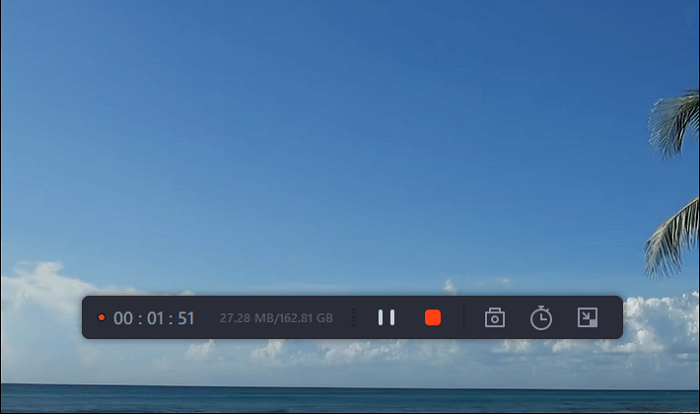 Step 5. Once you are done with the recording, click on the red stop button and then your captured video will be automatically saved on your device. You are also allowed to view the recording and utilize tools for trimming it, extracting audio from it, or adding an opening and ending section as the built-in media player appears.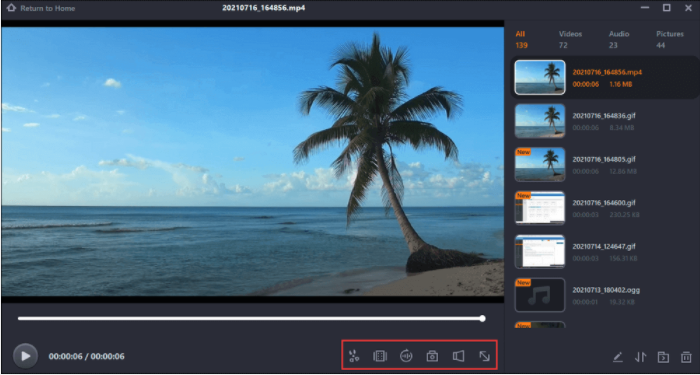 Conclusion
Choosing the best screen recording extensions can be daunting, especially if you're not clear about your requirements.
For this reason, a good rule of thumb is to look for an ideal screen recording tool that helps you create a screencast, save, record, edit your capture and utilize all the flexible output settings with multiple formats available.
From online meetings to presentation recordings, you can use EaseUS for all your recording needs, and it won't disappoint you.
Price: It starts $19.95/Monthly.
Compatibility: Windows and Mac
No more content