Video recording software must be worth a million words if a picture is worth a thousand words.
Video now accounts for the majority of the media we consume daily. Moreover, according to research, watching videos helps us remember more information than reading, so it's simple to understand how significant video is in our personal and professional lives.
Although numerous YouTube downloaders are available, they only allow you to save the entire video. Most of the time, you only want a section of the video. A YouTube recorder is the best alternative in this circumstance. The key, though, is to select the best YouTube recording software. So, if you're curious about the software that YouTubers use to record their screen, take a look at our list of recommended screen recorders.
3 Reliable YouTube Video Recorders
The video recording software we'll be discussing isn't the same as what you'd use to capture and edit a Hollywood blockbuster or even a stupid home movie. This list excludes Adobe Premiere and Final Cut Pro.
Video recording software for your computer, on the other hand, is a tool that allows you to record your screen, your webcam, or both at once. You can swiftly record films for your clients, provide project feedback, and explicitly indicate difficulties using visuals rather than text. It retains all of the advantages of an in-person connection, including voice and pictures, while also allowing you to consume content at your leisure.
This software allows customer service representatives to close tickets faster, and sales teams can sell with personalized demos. It's also a must-have for the remote workforce.
1. EaseUS RecExperts
This software's functionality and user interface are about as basic and compelling as any user could want. It enables you to build something from your screen without the need for time-consuming downloads.

EaseUS RecExperts has a user-friendly, intuitive record screen that allows you to establish recording jobs, annotate recordings, modify recorded films, and even share them. Recexperts is one of the most incredible screen-recording applications with a complete set of features, evidenced by the software's record screen. A drawing board appears on the screen, allowing various editing activities while recording. Whether it's a full screen, fixed area, selected area, or even a locked window, you can annotate or mark a recorded area.
EaseUS RecExperts screen recorder is your best bet if you're looking for screen recording software that allows you to simply record any section of your screen. When generating films, if you don't want to show a specific part of your PC screen, the options to capture full-screen, single-window, or a selected area on the screen are beneficial.
The EaseUS RecExperts screen recorder can also be used for the following tasks:
         Zoom function: This function gives you the excitement of enlarging a specific portion of the film. Using the default shortcut key F10, you can zoom in on any section.
        Locked Windows recording: This software can record a single window or application, regardless of what is running in front of it.
        Spotlight recording: The default shortcut key F4 can highlight critical areas or features in your recordings.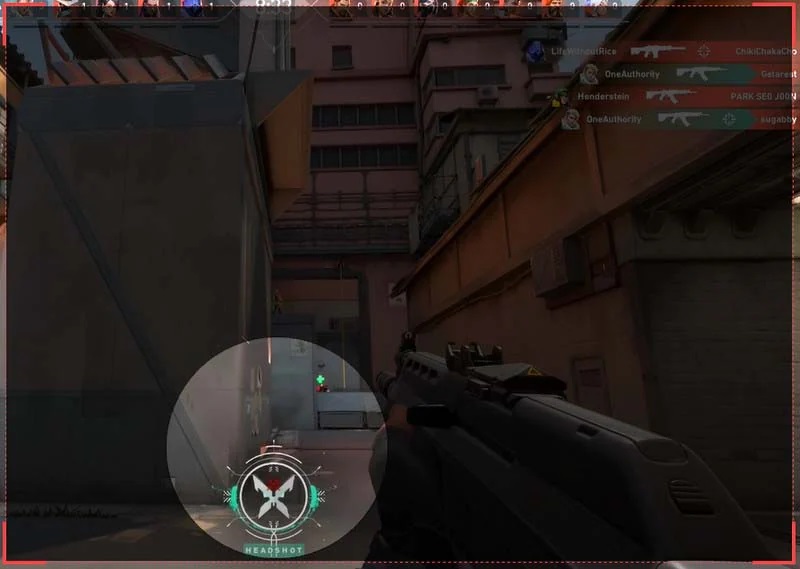 Record Video and Audio Simultaneously
The EaseUS RecExperts download and installation on your PC enables you to simultaneously record background sounds and your voice through a microphone. This is a fantastic feature that will assist you in creating high-quality, interactive material.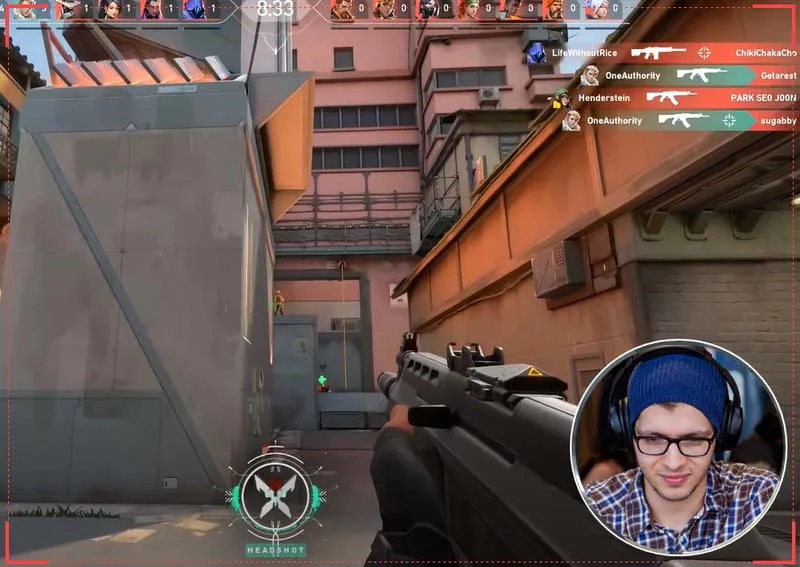 Creators who record tutorials will appreciate the ability to record webcam. You can record a webcam as an overlay over a video for improved content distribution. To improve content engagement, you can use this tool to capture the screen and include yourself in the video.
Other Great Features
Dedicated Game Recording Mode: Allows users to capture high-quality 2D/3D gaming in 4K UHD resolution. EaseUS RecExperts screen recording is a valuable tool for gamers who want to record their gaming professionally.
       Task Scheduler: This program should be your first choice if you're seeking video recording software that can organize and execute several tasks simultaneously. Many users like the feature of automatically creating recording tasks. Even if you are not present, the software will begin recording when you specify.
      Advanced Editing: This feature allows users to edit screen recordings as they are being recorded. However, the options for adding lines, arrows, words, and other elements are limited. Even so, it's useful for creators who want to film courses or need to indicate specific objects on the screen with indications.
      Background Noise Removal: This is a must-have function for excellent video recording and editing tools. Which video artist would tolerate some obnoxious background noise in their work? The EaseUS RecExperts screen recorder has a built-in feature to reduce background noise. As a result, you won't need to look for third-party software to get rid of it.
EaseUS RecExperts allows users to export their finished recordings and share them immediately on prominent social and business platforms like YouTube and Vimeo. You might also save your work to Google Drive or Dropbox directly.
EaseUS RecExperts screen recording program supports a wide range of video, audio, and image formats. AVI, FLV, SWF, MP4, MOV, ASF, WMV, and M4V are some of the supported video formats.
Windows 10, 8.1, and Windows 7 are all supported by EaseUS RecExperts software. When you've finished downloading EaseUS RecExperts, the program will install as a standalone app on your computer. There will be no need for any other add-ons. EaseUS RecExperts for Mac should be available shortly, as the creator sees a lot of potential in the OS.
Supported Video and Audio Formats
EaseUS RecExperts can handle a wide range of video and audio formats. Video formats supported by the software include MP4, AVI, ASF, FLV, WMV, and MOV. In addition, MP3, Wac, and AAC are among the supported audio formats.
According to our review, PNG, BMP, JPG, TIFF, and GIF image formats are supported by EaseUS RecExperts. In addition, you may still use the application to import images from various photo formats.
Pros
With customizable settings, it is possible to capture any portion of a PC screen.
Screen, webcam, audio, and gameplay can all be recorded.
Screen recording can be set to start automatically at a specific time.
While recording, it has fantastic options for adding lines, words, and arrows.
Features include video length cutting, watermarking, and much more complex editing.
Provides features for enhancing audio by reducing background noise.
The capacity to compress videos without compromising their quality.
The ability to save the recorded file in one of ten alternative formats.
Allows for immediate exporting of recordings to Vimeo, Google Drive, YouTube, and other services.
Cons
Editing options are limited.
The free trial only allows you to record two minutes of video and adds a watermark to your movies.
Price: It starts $19.95/Monthly.
Compatibility: Windows and Mac
2.  Vmaker
Vmaker is an all-in-one suite that allows you to record your screen and camera and edit, share, and download on the go. Vmaker will enable you to record your screen, webcam, or both to produce spectacular 4k videos from the ground up. Add fascinating annotations to your movies with a single click of your mouse. To offer pro-grade videos, groom your videos with easy-to-use editing tools and more. Then, with a single mouse click, you may share or download your video. It's completely free to record as many videos as you want for as long as you want.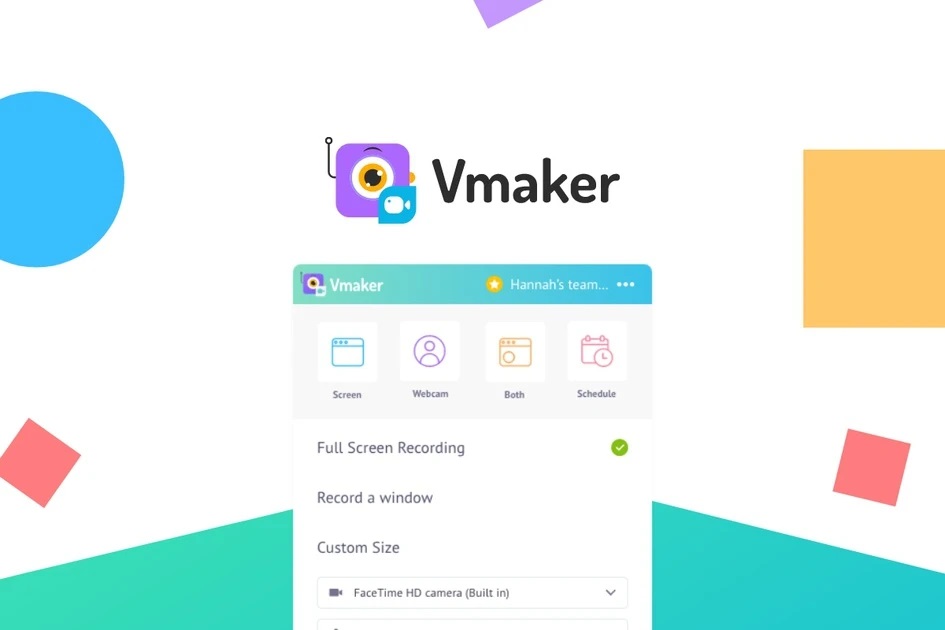 Features
Quickly record, edit, and share videos!
Emails with video
Instructional Videos
Videos with Instructions
Product Demonstrations
Video Tutorials
Video Tutorials
Presentation in Video
Pros
Vmaker is an excellent communication tool with a promising future."
Any Mac user will appreciate the Mac app as well.
This is a fantastic, low-cost product.
It's a fantastic software for making instructive and YouTube videos.
Cons
It is presently only available as a standalone application for Mac.
Vmaker's sole drawback is that you can't record merely a window on your second monitor with it. The second monitor can only record in full-screen mode when using two displays.
3. Wondershare DemoCreater
Wondershare DemoCreator, the successor to Wondershare Filmora Screen, is a terrific piece of software for gamers, content developers, and tutorial creators alike. It includes professional recording and editing facilities and a wide range of effects that may take videos to new heights. In addition, it's one of the best screen recorders on the market, with a comprehensive feature set.
DemoCreator by Wondershare is available for Windows and macOS. It has a free trial edition that gives you access to all the tools, but the movies you make are watermarked. DemoCreator's paid plans are also not prohibitively pricey. The yearly plan is $39.99, while the everlasting plan is only $59.99. So it's a big thing.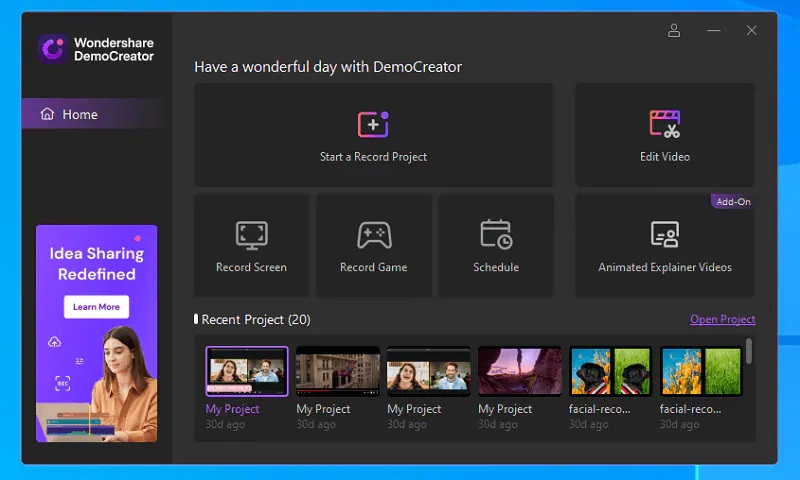 Wondershare DemoCreator comes with a plethora of useful functions. To begin with, users may capture videos in 4K resolution at up to 120 frames per second, which is ideal for gamers. In addition, users can record anything on their screen and their webcam and audio.
DemoCreator's editing suite is likewise powerful. To achieve the most significant results, users can edit video and audio independently. In addition, users can add a variety of visual effects to their films, such as green-screen effects, transitions, zooming, panning, and various animation and text possibilities.
AI facial recognition is also available in Wondershare DemoCreator, allowing users to enhance their faces. Dynamic stickers, cursor effects, motion effects, and a variety of additional effects can help make videos stand out.
Features
It eliminates the need for a video downloader.
The amount of time you can record on YouTube is unlimited.
DemoCreator allows users to immediately post files to YouTube.
The recorded file size is smaller than expected, and there is no latency in the recording.
YouTube can be recorded at 15-120 frames per second.
There are several tutorial features and annotation functions to choose from.
It supports a wide range of video and audio formats. More than 50 different file formats can be imported and exported.
Pros
120 frames per second recording in 4K
Editing software with lots of features
Face recognition via AI
Has the potential to influence game performance.
Cons
The webcam turns off after the recording is over. The microphone, on the other hand, remains turned on. It could result in a privacy issue.
Sum Up
EaseUS RecExperts is a feature-rich screen recording software that is simple to use. In addition to what's on your screen, this recording application can capture audio and webcam video. We appreciated it also has a scheduled recording feature and an auto-stop feature. EaseUS RecExperts is a good value for money program.
Price: It starts $19.95/Monthly.
Compatibility: Windows and Mac
No more content