Video calls are the norm, and they are one of the most popular ways for people to interact and communicate remotely, even if they are thousands of kilometers apart. All programs for this purpose, such as WhatsApp, Google Duo, and Skype, have seen their usage continue to rise. We may use a simple recording tool to capture these video calls.
It doesn't have to be for a sinister reason; it might simply be to remember a chat with someone we only meet once a year, keep a bet that can't be forgotten, or even prepare for a job interview. As a result, we'll demonstrate 3 Simple Ways to Record Video Calls.
3 Simple Ways to Record Video Call
Table of Content:
Solution 1: Use Built-in Screen Recorder to Record Video Call on iPhone
Solution 2: Use Third-Party App to Record Video Call - AZ Screen Recorder
Solution 3: Use EaseUS RecExperts to Record Video Call on PC(Recommended)   
Solution 1: Use Built-in Screen Recorder to Record Video Call on iPhone
If you're using iOS 11, 12, or higher, you'll be grateful to Apple for saving you time and simplifying your life. Why? Because your phone now has screen recording capabilities! You can do all of this without having to jailbreak your iPhone.
Though there are third-party apps for recording WhatsApp video calls on the iPhone, we'll stick to a simpler method.
Step 1: To access the page where you must hit '+' to record, go to Settings > Control Center > Customize Controls.
Step 2: To go to the Control Center, swipe up from the bottom of the screen.
Step 3: You must select the Record icon + Microphone option here (to record audio). The settings are now complete.
Step 4: Visit WhatsApp, select the person you want to call, and the recording will start automatically.
Step 5: Stop the process at any point during or after the call by clicking the red bar at the top. 'Stop Screen recording,' says the pop-up. Select 'Stop' from the drop-down menu.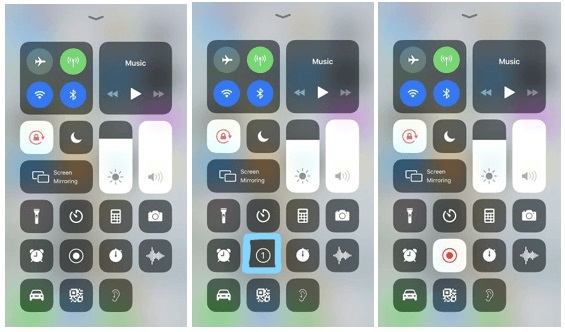 Solution 2: Use Third-Party App to Record Video Call - AZ Screen Recorder
AZ Screen Recorder is an app that allows you to record everything that happens on your Android device's screen without needing to root it. However, you must have Android 5.0 (Lollipop) or higher to utilize the app.
The UI of AZ Screen Recorder is simple and attractive. When you first launch it, you'll see four options in the center of the screen: start recording, alter program settings, access your recorded movies folder, and exit. You may change the video output quality or see screen interactions done during the recording from the options. Let's look at how to record a Whatsapp video call on an Android device.
Step 1: The AZ Screen Recorder may be downloaded and installed from the Google Play Store.
Step 2: Open the AZ Screen Recorder app from your mobile device. A pop-up widget displays on the top of the screen once you tap the symbol, and it stays there.
Step 3: You must also check that the audio is enabled in the AZ Screen Recorder settings by clicking on Audio Configuration and turning on the option next to Record Audio.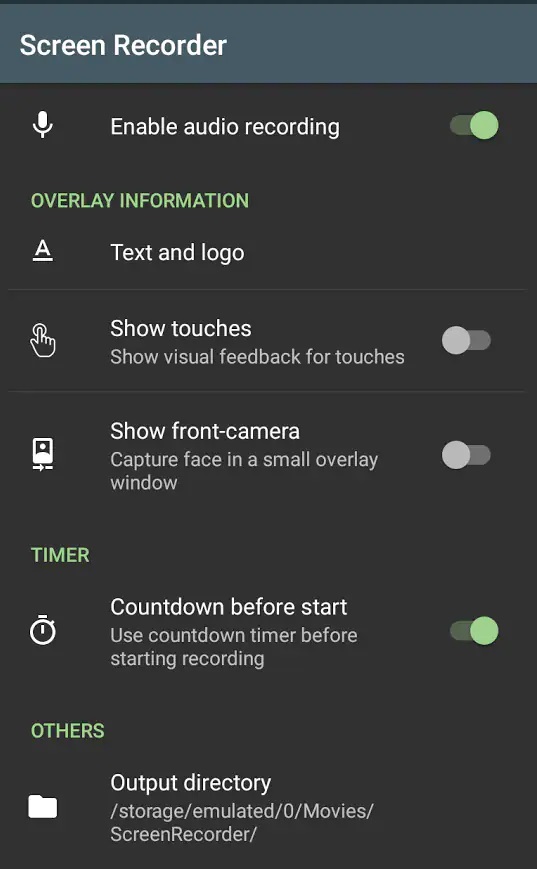 Step 4: Make a call to the person you wish to record with the Whatsapp video call android recorder using the Whatsapp application.
Step 5: After you begin the call, tap the Az Screen Recorded pop-up widget to open the recorder icon, and when you finish the call, tap the notification panel at the top to stop the recorder.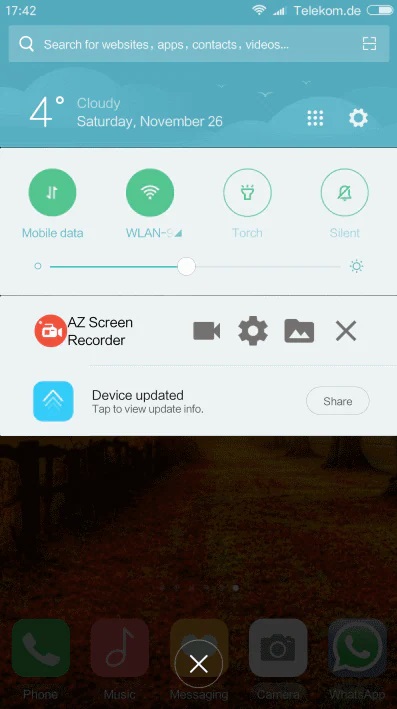 Step 6: When you get an incoming Whatsapp video call on your Android device, you may open the Az Screen Recorder from the app drawer and record the Whatsapp video call right away.
Step 7: Your Android device's Whatsapp video call is automatically saved.
Solution 3: Use EaseUS RecExperts to Record Video Call on PC(Recommended)
Screen recording software is becoming an increasingly important tool for creating and capturing material. Any content developer who wants to give high-quality webinars, lectures, or tutorials will need the greatest screen recorder. Gamers, YouTubers, and streamers can all benefit from screen recording software. EaseUS RecExperts screen recorder is a full-featured, sophisticated screen recording program ideal for creating professional-grade videos. This unique program is a multi-functional screen recording tool that includes screen recording and additional features like a webcam.
Furthermore, it enables you to record internal audio on your Mac and Windows PCs, and you may choose from various audio sources, including microphones and other external audio devices.
Pros
It is possible to capture any portion of a PC screen with customizable settings.
Screen, webcam, audio, and gameplay can all be recorded.
Screen recording can be set to start automatically at a specific time.
While recording, it has fantastic options for adding lines, words, and arrows.
Cons
Editing options are limited.
The free trial limits you to two minutes of video recording and adds a watermark to your videos.
Price: It starts $19.95/Monthly.
Compatibility: Windows and Mac
Step-by-step Guide
Step 1. Launch EaseUS RecExperts on your computer. The first option, "Full Screen", can help you capture everything on your screen. If you play the streaming video in full-screen mode, this is suitable for you.

Step 2. If you play the streaming video in a window, it would be better to select the "Region" option to record only the specific area.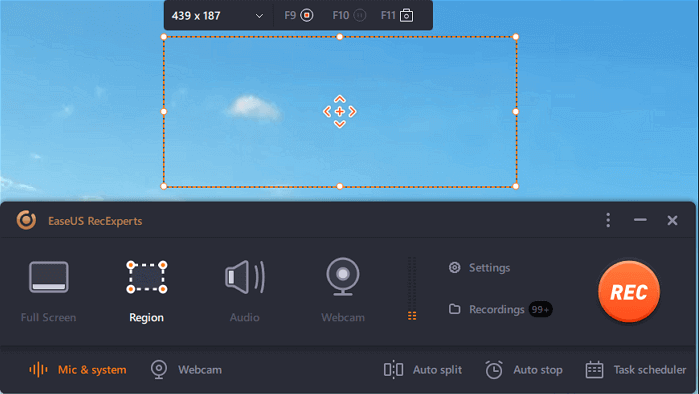 Step 3. Ensure that you are in "Region" mode. Then, click on the button in the bottom right-hand corner to select a suitable sound source and adjust the volume. After that, click on the "REC" button to start recording.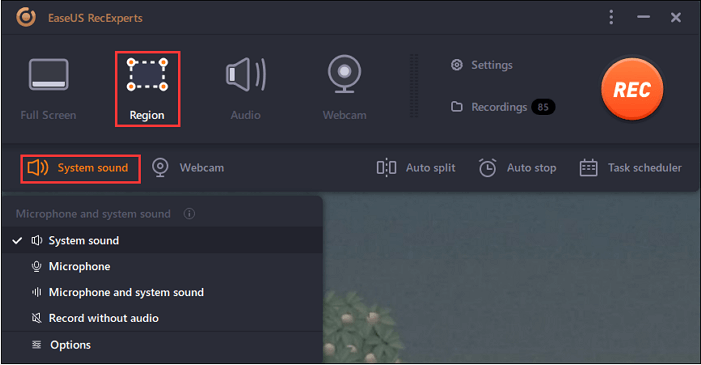 Step 4. There will be a floating toolbar on your screen when you are recording the video. The two buttons on it can help you pause or stop the recording.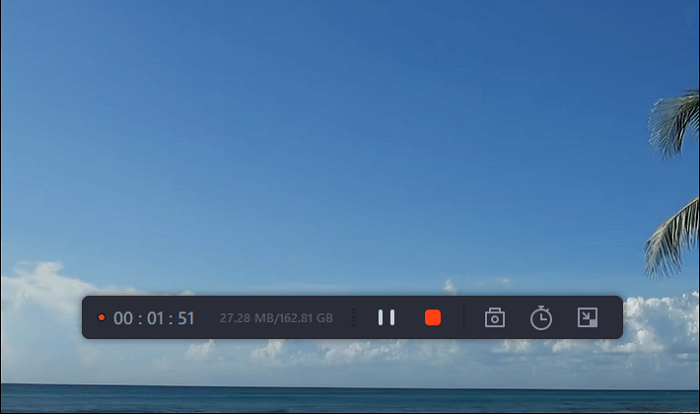 Step 5. If you click on the red stop button, the recording will be ended, and the captured video will be saved on your computer. When the built-in media player pops up, you can view the recording and use tools to trim it, extract audio from it, or add an opening and ending part.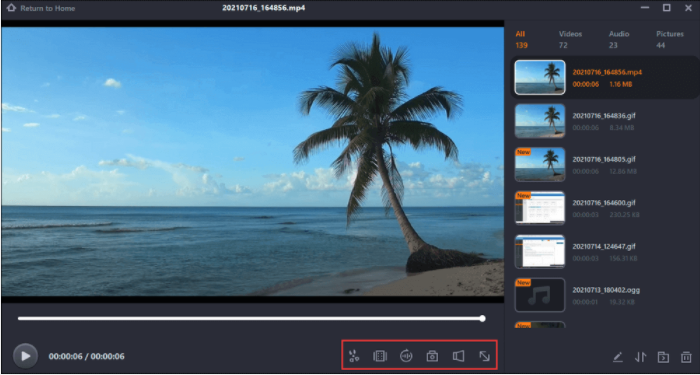 Wrapping Up
When recording video calls, users have numerous options based on their specific situation, device kind, etc. However, if you want to enjoy a high-resolution video that can be tailored to your liking with a plethora of editing options, the EaseUS RecExperts screen recorder is unrivaled. Because of its larger screen, recording on the desktop provides more advantages than recording on any iPhone or Android smartphone.
Price: It starts $19.95/Monthly.
Compatibility: Windows and Mac
No more content