With the high rate of cybercrimes, recording screens secretly on Windows and Mac has become very common. This invention has solved many problems ranging from tracking activities on the computer, particularly in the case of parents who want to monitor what their children do on their computer, such as calls, internet activities, websites they visited, calls they made, etc. Apart from this, it has solved the problem of navigating websites and completing tasks in short periods.
Why You Need to Record Screen Secretly
You may be wondering why you need to record your screen secretly, and that's alright. If you have ever come across something while surfing the internet, and you realize it will be beneficial to others to see, then a screen recording is essential. Recording screen secretly isn't a bad thing, nor is screen capture. Screen capture only captures the page; it may not be able to present further steps that you may want to come back to or review. While some software can help you record screens secretly on Mac, some apps on iPhones can do this. That's is why what you do online isn't safe. Many app developers want to know how users are using their app and what things they look for; this, in turn, will help them improve on their app and provide better services for users. 
Although you can secretly screen record, still, some apps can detect it. For example, apps will try to prevent people from pirating their app and will get alerted when a user screen records. Screen record has its immense benefits. These are: to save the information you would like to show a colleague, to send a how-to guide by making use of personalized video, to make a GIF or meme, and other important reasons you would like to explore.
Perfect Screen Recorder- EaseUS RecExperts
The EaseUS RecExperts software allows you to capture audios, videos, audio-visuals, images, zoom meetings, games, youtube videos, slides etc. The EaseUS RecExperts has impressive features, and it is highly recommended for screen record purposes. This software enables you to record the whole or part of your screen. You can also capture a web camera and save audio and video while displaying your screen. Another flexible option is that it allows you to edit the recordings before converting them to a GIF for training or entertainment purposes.
The EaseUS RecExperts is automated so that recording can be done in an organized manner using the in-built task scheduler. If you desire audio boosting and want to remove background noise from the record, the EaseUS RecExperts software features cover it. Another function is that it helps you do video annotations. Video annotations are necessary for labelling video clips used in machine learning, AI, video production, software design and redaction workflow. Most importantly, with the EaseUS RecExperts, you can export the recordings in different formats such as MP4, WMV, AVI etc.
Price: It starts $19.95/Monthly.
Compatibility: Windows and Mac
How to Record Screen Secretly in Windows & Mac with EaseUS RecExperts
Recording screen secretly on your Windows and Mac isn't so complex, but because of its features, you will see step-by-step methods to record screen whether it is a sound alone or a video, or both, or whatever. Sit still, and let's dive into this quickly.
Screen Recording With Sound on Windows with EaseUS RecExpert
Step 1. Run EaseUS RecExperts on your Windows. If you want to capture everything on your screen, click the "Full Screen" option. This is a perfect choice when playing the streaming video in full-screen mode.

Step 2. Alternatively, you can opt for "Region" to record the specific area if you want to play the streaming video in a window.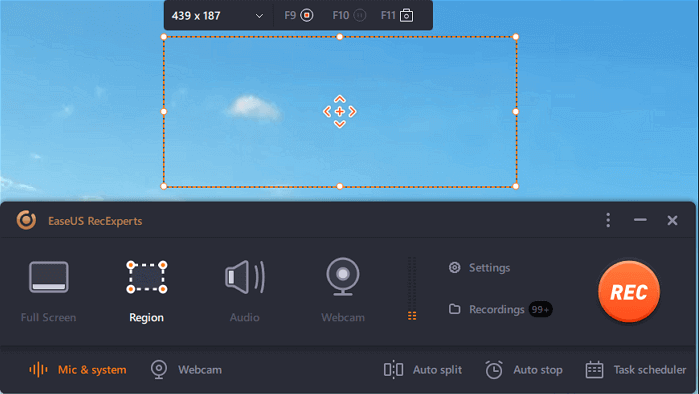 Step 3. Now, you can hit the "System sound" button to choose the sound source you prefer and adjust the volume. Upon that, click "REC" to start recording.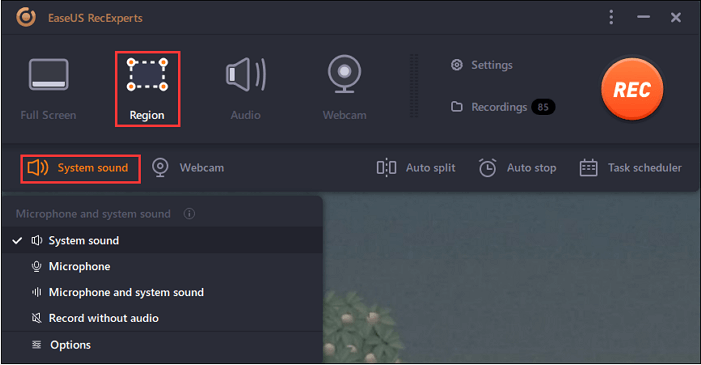 Step 4. When the recording is ongoing, you'll see a toolbar floating on the screen, which you can avail yourself of to pause or stop the recording process.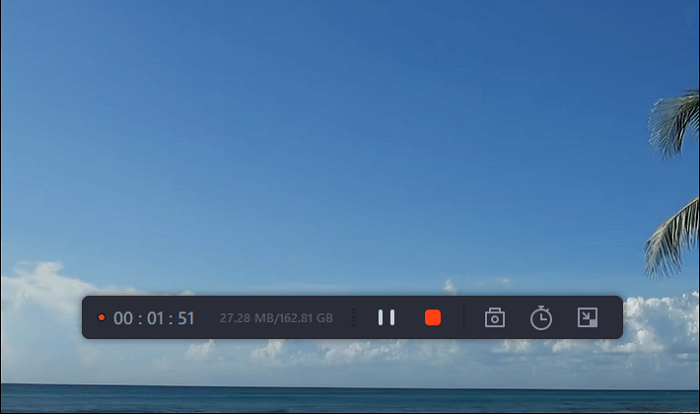 Step 5. Once you are done with the recording, click on the red stop button and then your captured video will be automatically saved on your device. You are also allowed to view the recording and utilize tools for trimming it, extracting audio from it, or adding an opening and ending section as the built-in media player appears.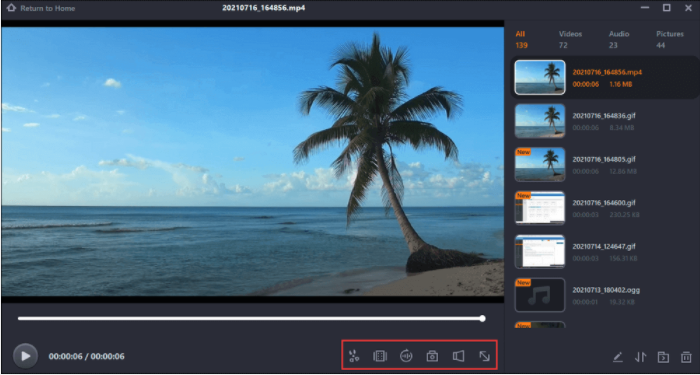 Screen Recording With Sound on Mac with EaseUS RecExpert
Step 1. Open the your favorite video and launch EaseUS RecExperts on your Mac. If you prefer to capture the whole screen, you can select the "Full Screen" option. Alternatively, you can choose "Region" to customize the recording area and select the recording area with your mouse. 
Meanwhile, to capture the screen with audio, you'll need to click the Sound icon at the bottom left corner.

Step 2. You can apply options like changing the output format of the video, the quality, etc by clicking the "Settings" option.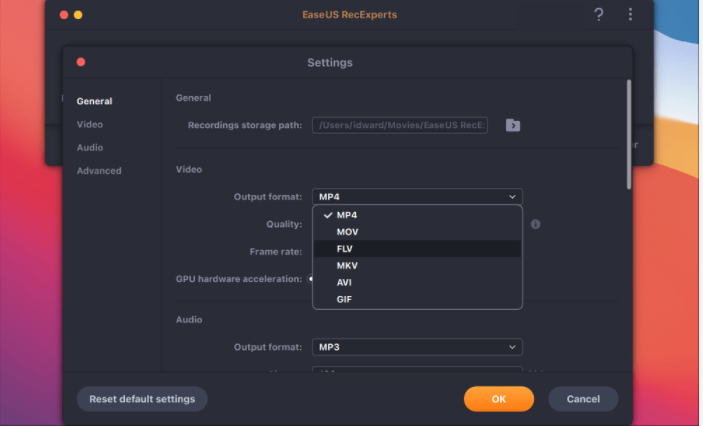 Step 3. Once done, go back to the main screen and hit the Sound icon. With that, enable the system or microphone sound if you want to record audio and screen simultaneously. Confirm the audio options by clicking "OK" , then hit the "REC" button to start recording.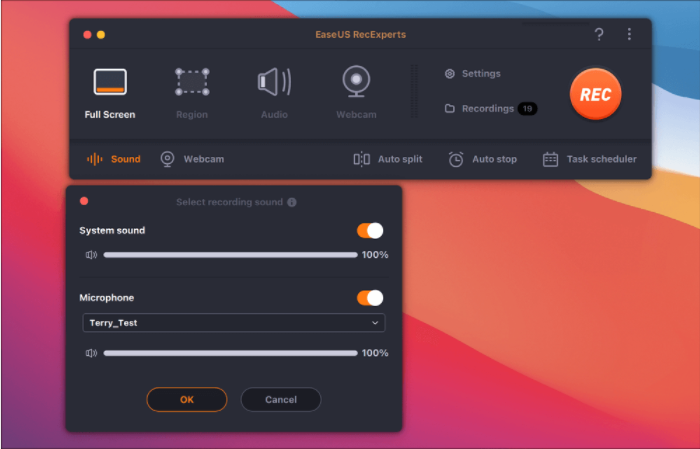 Step 4. After you finish the recording, click "Stop" to end the process. You are allowed to watch the captured video in "Recordings" and review the target saving from the lists.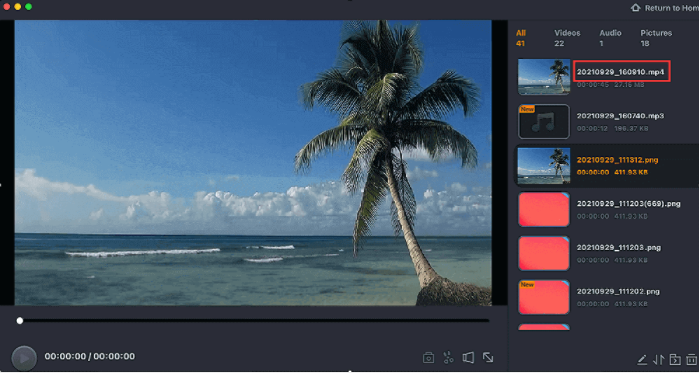 Sum Up
With the above steps, you can go ahead to screen record a zoom meeting, online class, video, website or page. However, if you encounter any difficulty or glitch using the EaseUS RecExperts, do well to reach out to them via email or in the chatbox provided on their website. Screen recording, as stated in the body of this article, is highly important in any setting, whether organizational or individual. There might be cases where you need to save the information or monitor what is going on by a user on Windows or Mac 2022, and all you need to get this done is a record screen software such as the EaseUS RecExperts.
Price: It starts $19.95/Monthly.
Compatibility: Windows and Mac
No more content