As data breaches and malware attacks are becoming more common, businesses of all sizes—from sole proprietors to multinational companies are stepping up their security measures to combat cybercrime.
Hacker attacks are nearly continual, with one occurring every 39 seconds annually. No one is immune to a determined cybercriminal, especially when computers are utilized in public places.
We'll talk about why privacy screen protectors are essential and how they work in this article. Additionally, we'll demonstrate how to secure your files using EaseUS LockMyFile for Windows.
The Importance of Screen Protector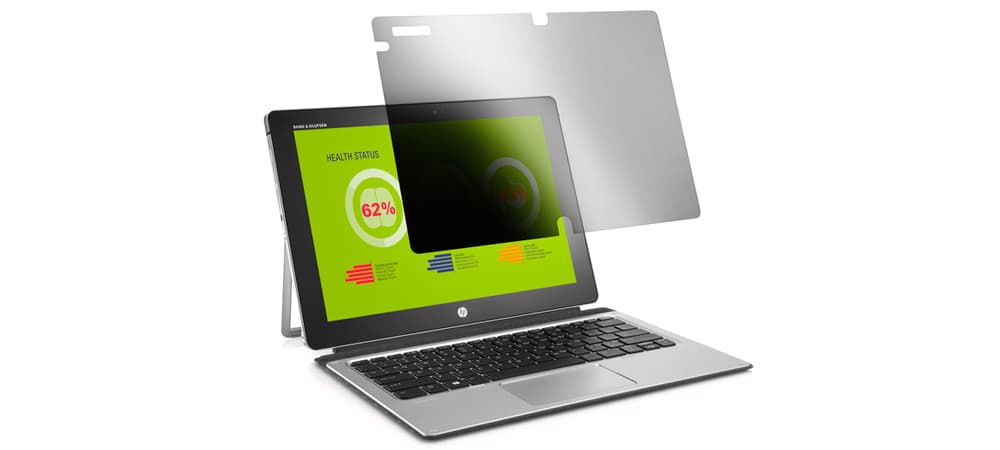 Many digital users are concerned that their online activities may be digitally watched or spied on by their bosses, internet providers, or government authorities.
Whether or not these fears are justified, it's crucial to note that spying doesn't have to occur in the digital realm. Watching over your shoulder is a low-tech method of espionage that is as effective.
How Privacy Screen Protector Works
If you're unfamiliar with privacy screens, imagine them as vertical blinds that can only be seen when turned at a specific angle.
Computer privacy screens work similarly, but on a smaller scale, significantly restricting viewing angles to the point where you must stare at the screen straight to see the display.
The micro louvers, also known as polarised blinds, allow you to see the contents of your computer screen while blocking out the person lurking to your left or right.
The more light that can travel through the blind for the intended user, the thinner it is. A polarised plastic sheet employs the same privacy-filtering technology as polarised glasses, in which an optical filter blocks out light from specific angles.
Privacy screens usually restrict visibility at roughly a 30-degree side angle and may seem blacked-out approaching a 60-degree angle, depending on the make and model.
Although utilizing a privacy screen protector is a good idea, it will not protect your computer from other privacy risks. We recommend using EaseUS LockMyFile to secure/password protect your PC.
Use EaseUS LockMyFile to Protect Your Files for Windows
The EaseUS brand has a well-deserved reputation worldwide, and its data recovery software, disk/partition management software, and Windows backup software clients have been steadily increasing over the years. The encryption software for files and folders works in the same way.
If you want to password-protect personal files/folders or a hard drive, we recommend EaseUS LockMyFile. It's comprehensive encryption software that gives Windows users a one-stop shop for locking, hiding, and protecting sensitive information.
The following are some of the key features and functions of EaseUS Folder Password Protector that you might be interested in:
Support for local disc file and folder protection: hide, lock, protect, and monitor individual files/folders and the entire local Drive with a single click.
Support for file and folder protection on external discs: hiding and locking files and folders
On a network drive, enable shared folder encryption.
More file management options, such as shred
What are the unique features of EaseUS LockMyFile? If you look around a bit more, you'll discover that the folder protector software can do more encryption than you might imagine.
You can password-protect files and folders on OneDrive and other cloud storage services.
A secure USB flash drive can be used on standard USB flash drive modules.
All forms of Office files, including Word documents, Excel spreadsheets, PowerPoint presentations, and so on, can be locked and encrypted.
Without a file size limit, lock photos and videos at lightning speed.
Price: It starts $29.95/Monthly.
Compatibility: Windows 2000/2003/XP/Vista/7/8/10/11
Setting up the EaseUS folder password protection and locking the desired things is a breeze. Follow the instructions outlined below.
Step 1. To register, open EaseUS LockMyFile, input a valid email address, and create a password.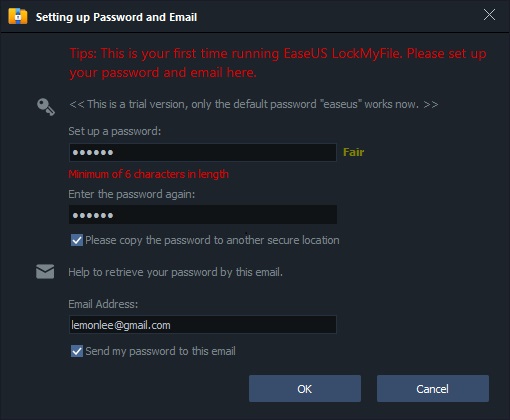 Step 2. Under Local Disk, select Protecting File. Choose Protect File, Folder, or Drive from the right panel.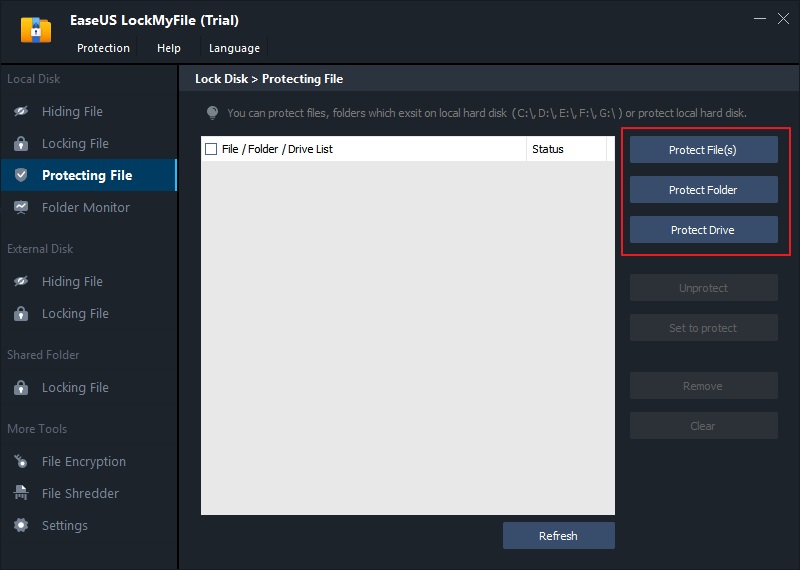 A. Select the file(s) or Folder (s) to be added from the specified location.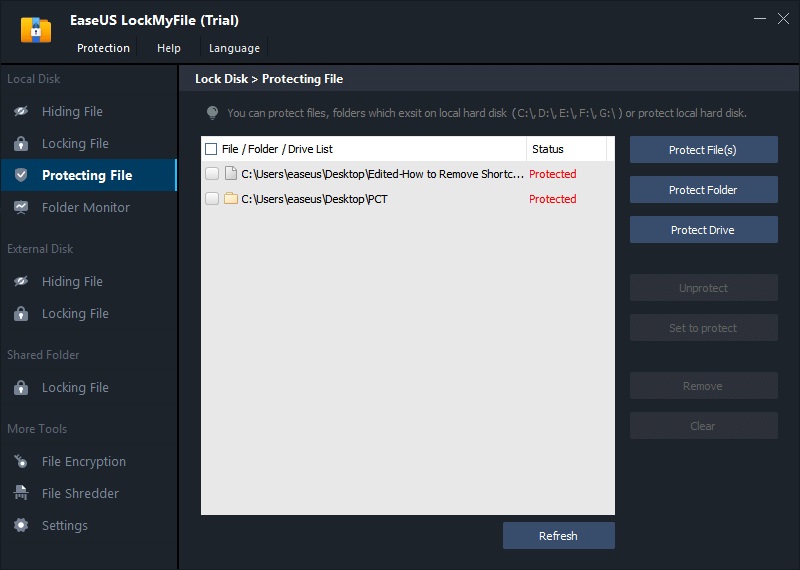 B. To add a drive to be protected, click the Protect Drive button. Click OK after selecting the Drive.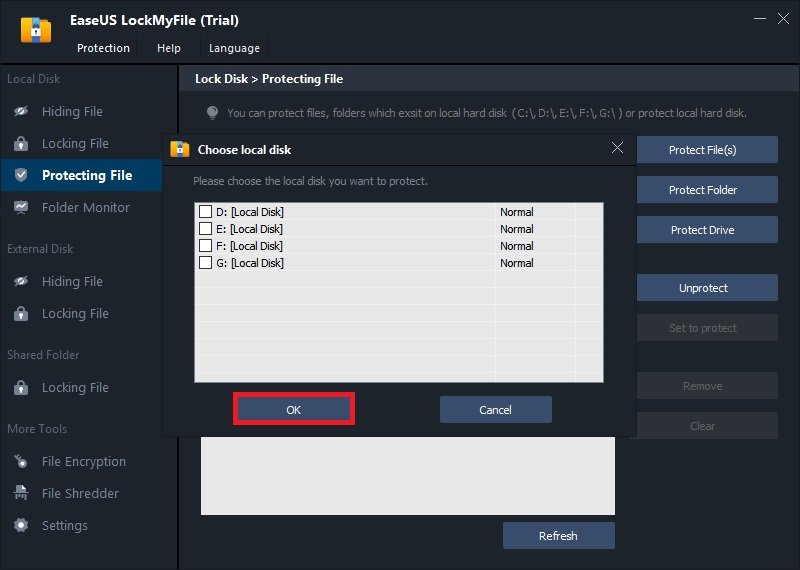 Step 3. Check and double-check the files, folders, and drives you want to safeguard.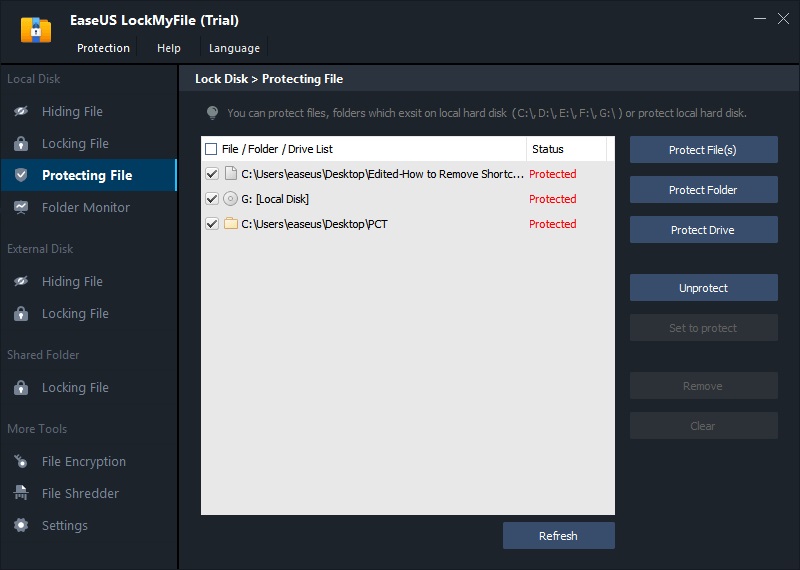 Notes:
Tick the target data and click the Unprotect button to unprotect the selected files, folders, or drives.
Wrapping Up
A privacy screen protector is an inexpensive solution to add more security to your browsing, especially if you're in a public place. When you share your computer with others, human error is always a possibility - the unintentional loss of a file, the incorrect change of a vital document, or the accidental sharing of a private folder. As a result, you must use EaseUS LockMyFile to secure and protect your Folder.
Price: It starts $29.95/Monthly.
Compatibility: Windows 2000/2003/XP/Vista/7/8/10/11
No more content