The encryption of the SD card means that you are protecting your files on the SD card through a password. It guarantees that no other individual can access your data until you share your SD card password with them. To lock the SD card, it's essential to opt for a method as per your Windows version on the computer.
If you use a digital device like a camera or smartphone, you require an SD card to ensure that you don't run out of ample space to store your essential files and documents. To remove the problem of limited space capacity, memory cards are widely used.
That's where the role of EaseUS LockMyFile comes in place. This protection software will protect your SD card password lock and would eliminate any threat to misuse your SD card. This article will introduce every little detail about this fantastic software.
How to Password Protect SD Cards in Windows?
Whether you are a student, a businessman, or an employee, a computer helps assist the routine work. You save your sensitive information, personal details, and other files on your PC. However, it might give rise to a big problem if they ever get leaked. With EaseUS LockMyFile software, you don't have to worry about data theft by privacy leaks and malicious behavior.

EaseUS LockMyFile is one of the popular powerful file SD card password lock protection software offering reliable folder security functions. It supports a pen drive, hiding partitions/ folder/files, memory card, write protection, flash drive, file deletion, folder operation record monitoring, and encryption. It is compatible with thumb drives, internal disks, external disks, and even network drives.
Features:
The software gives you the freedom to protect multiple files, folders, and even whole drives. Moreover, it offers world-class features to the users. Amongst many features, some of them are described below:-
1. Easy to Use
With the help of this software, you can keep a password to protect your drive and folder. It enables easy locking of a folder or files with Windows explorer or simply dragging and sagging into the program's main window. If you enter an incorrect password or forget it, check your registered email to recover the password.
2. Self-protection Mode
It's impossible to uninstall the software without the password, and this app can be hidden in invisible mode. If any individual enters an incorrect password more than 4-5 times, you will receive alarm notifications in your registered email. It would ban any unknown login.
3. Advanced Settings
System programs or files can't be locked; you can use the exclusion list filter. To view the comprehensive history of every operation, use the Program log. Moreover, it would allow you to adjust the system settings as per your requirements.
Price: It starts $29.95/Monthly.
Compatibility: Windows 2000/2003/XP/Vista/7/8/10/11
Functions:
1. Hide Files/Folders/Drives
EaseUS LockMyFile works efficiently when safeguarding your private files/folders from external USB and local disk. It won't be visible to any programs or individuals under Windows Safe Mode. Search results never show any hidden files.
2. Protect Files/Folders/Drives
You can set a password to protect your virtual drives, files and folders. People can read write-protected files, but it isn't easy to rename, modify or delete without a password. So that's why make sure to not forget your password.
3. Lock Files/Folders/Drives
Passwords protect any external disk, local disk or folder, so every new or additional becomes password secured. Locking the folder on USB with the master and the user's password is excellent.
4. Folder/Disk Monitoring
Monitor a folder or disk along with the sub-folders while writing or changing any changes or operations made by the user. This is so far one of the best functions of this software.
5. Lock LAN Shared Folder
EaseUS LockMyFile helps set new passwords for the shared folder on the network, limiting access.
Advantages:
Monitors the folder or disk while the user is making changes.
One of the most effective and safe protection tools.
Encryption of folders and files from other users
Passwords protect folders and files on LAN networks, Local drives and USB Drives.
Disadvantages:
If your device starts crashing and requires reinstallation, this might lead to corruption or losing your important files.
Your files might corrupt even in case of a system failure.
Applicable scenarios/users:
Customers get to enjoy commendable support from the community 
Ensures proper protection of documents and passwords
Regular backup of your necessary files and folders
Step by step guide
Step 1:  Launch EaseUS LockMyFile. While running this software for the first time, set the password for your EaseUS LockMyFile account.
Step 2:  On your main screen, click on "Lock File" present on the panel. On the right pane, choose 
"Lock Drive" for encrypting your local drive on the device with a password.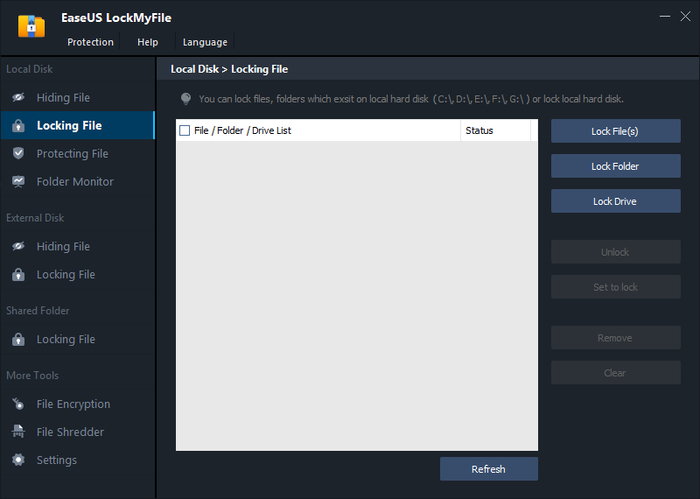 Step 3: You will see all the local drives in your Window. Opt for the purpose you need to lock. Click 'OK'.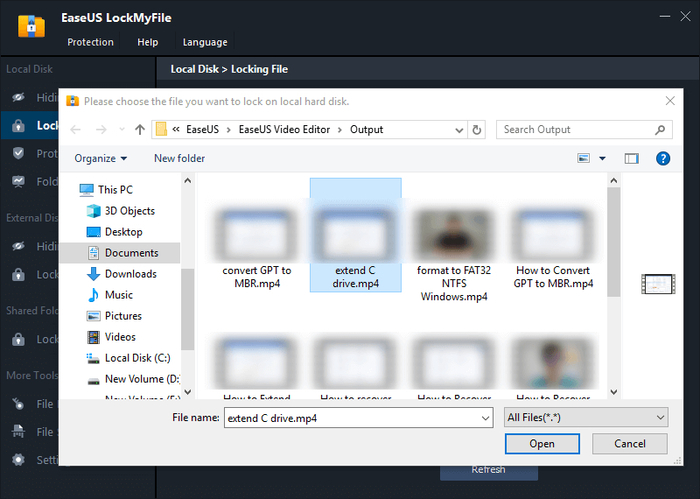 Step 4: Your hard drive would immediately be locked by EaseUS LockMyFile and your set password while running the tool for the first time.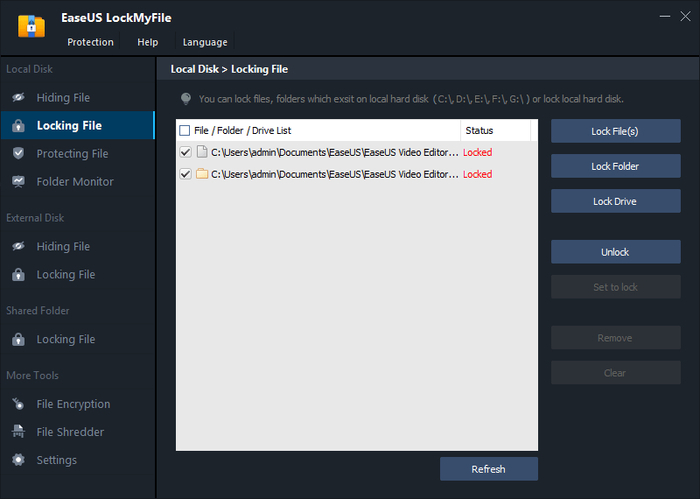 Step 5: After your partition is locked, the usage, as well as the size of the drive, won't be displayed under the drivers and device. Any user who requires access to the drive must enter the set password.
How to Monitor Changes in SD Card?
It's essential to use the protecting file characteristic to ensure complete security of your mandatory drives, files, and folders in which you select. You can easily read the protected drives, files and folders, but you won't be able to rename, delete or modify them without the password.
This feature allows users to monitor their folder or disk and the sub-folders. The users process every change or operation to the specified folder or disk visible on the page.
Below are the steps you can follow:
Step 1:  Open the folder which requires monitoring.
Step 2: Tap on 'Add' to add the folder to the monitor.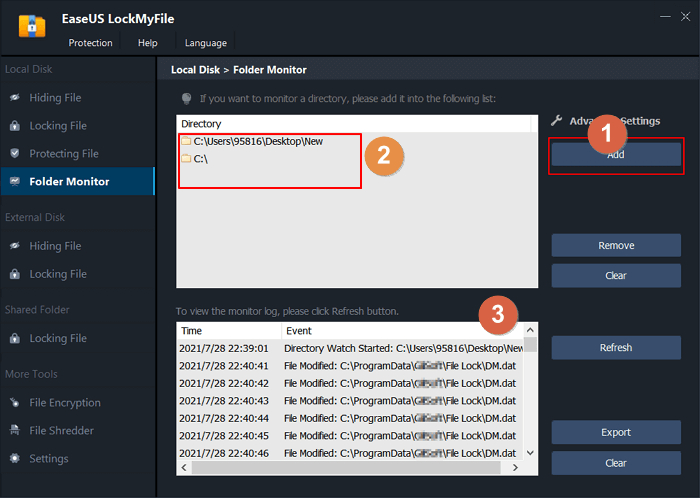 Step 3: The monitor log can be cleared, viewed, refreshed, and exported on the page.
Conclusion
The digital emergence has increased the need for SD cards because they easily store ample amounts of mobile data. SD cards have become a subsistence for everyone. To ensure that your data doesn't get lost or leaked, it's essential to use SD cards and put an SD card password lock to maintain safety.
In the above article, EaseUS LockMyFile has been introduced along with the different ways to protect your SD cards and safeguard the password. Make sure to go through them properly, so it relieves your worry about the encryption and security of your necessary files.
Price: It starts $29.95/Monthly.
Compatibility: Windows 2000/2003/XP/Vista/7/8/10/11
No more content