If you have ever lost the passwords to a wireless network to which you are connected, you are not alone. This could happen to anybody at any time. However, you can recover a lost or forgotten Wi-Fi password on your Chromebook by following simple steps. Whenever you connect to a network, your Chromebook automatically stores the passcode for such a network, and you can easily find this password in your history. This article will guide you through the process and show you the step-by-step procedures to help you find wifi password on Chromebook.
Table of Content:
1. What Are Chromebook and Chromebook Developer Mode
2. How to Turn on Developer Mode on Chromebook
3. Find Saved WiFi Password on Chromebook From Crosh Shell   
4. Find WiFi Password in Windows
What Are Chromebook and Chromebook Developer Mode?
Chromebook
Chromebooks are a newer breed of laptops that runs on Google's Chrome operating system. It is a Google-developed operating system that includes Google Cloud and a plethora of other built-in apps, with the best component being data protection. These laptops have evolved through time from decent computers to the finest and also most wanted after laptops for business and school.
Chromebook Developer mode
Rooting an Android operating system and jailbreaking an apple device is similar to Chromebook Developer mode. You can enter this mode on your Chromebooks to execute other commands, install additional software, and personalize your computer to your preference. You can use the mode for various tasks, but it comes with a cost. Using this could expose your Chromebook to the danger of being hacked and turning the device on.
Every data stored on your Chromebook before activating developer mode would be erased. This means that each wifi password stored on your computer before activating the mode will be inaccessible. However, after the device is in the required settings, you would then be able to retrieve any wifi passwords formed with your network connections.
Note: Without entering developer mode, you won't be able to retrieve the wi-fi passwords you've saved on Chrome
How to Turn on Developer Mode on Chromebook
Follow these steps to turn on developer mode.
Step 1: Simultaneously, hit the Esc, refresh, and power buttons on your device. The Chromebook will now boot into recovery mode. A notification stating that Chrome OS is missing will also appear. Don't worry about this. Your operating system is still present.
Step 2: The next action is to hold down the Ctrl + D keys.
Step 3: You'll see a window to continue, press enter.
Note: The complete procedure will take approximately 15-20 minutes. After completing the procedure, your Chromebook will be erased.
How to Find Saved WiFi Password From Crosh Shell
You can easily acquire the wifi password now that you've activated developer mode. You'll receive the password in no time if you follow the steps below.
Step 1: You can access the Crosh Shell command prompt by pressing Ctrl, Alt, and T simultaneously.
Step 2: Write the following while the window is open.
shell
sudo su
cd/home root
ls
Step 3: Type "more shill/shill.profile" in the following window. Hit enter once more, and this will bring up a list of all the wifi networks currently connected.
Step 4: Check for "Passphrase=rot47:" under the network's name for which you want to get the password. Some random text will follow this. This is the password for the wireless network, however, it is encrypted.
Step 5: Type "echo > encrypted password | tr '!-~' 'P-~!-O'" to decode the password.
Step 6: The needed Wi-Fi password is now in your possession.
How to Find WiFi Password in Windows 
There's a lot of third-party software to help you find stored passwords on your Windows OS. Only a handful of them is trustworthy and valuable. EaseUS Key Finder is one such program that comes in handy in such situations.
EaseUS Key Finder is a WiFi passcode finder program that works with all current versions of windows. This software is primarily designed to recover stored passwords from a system, as the name implies. Windows 10/11 and older versions of Windows users can see and recover stored or lost WiFi passwords and accounts simply using the WLAN function.
Key Features
EaseUS Key Finder's capabilities not only function to retrieve WiFi passwords, it also has a slew of other useful functions that a Windows user would find helpful. The following are the most notable features:
retrieving a Product Key that has been misplaced,
In the case of a system malfunction, recovering product licenses
Recovering passwords stored in web browsers like Chrome, Firefox, Edge, and internet explorer.
Price: It starts $19.95/Monthly.
Compatibility: Windows 11/10/8.1/8/7/Server
Step-by-step Guide
Step 1: Download and install the EaseUS Key Finder.
Step 2: Open the software, and select "WLAN" on the left side.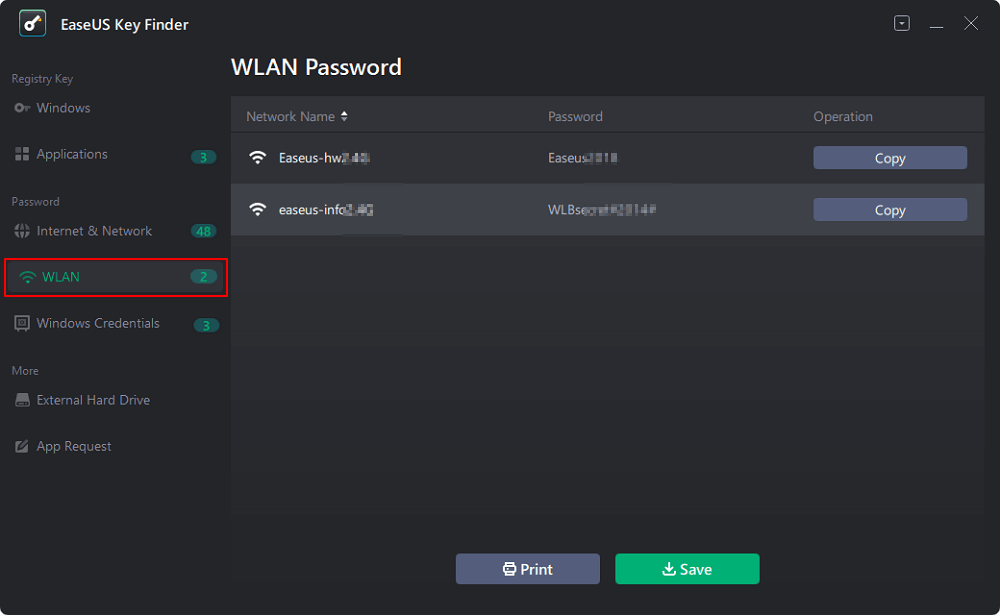 Step 3: Find your WiFi account, and you'll see the password next to your network name. You can click "Copy" to copy the WiFi code and immediately join your wireless network. You can also click the "Print" or "Save" button to back up all your WiFi networks addresses and passwords.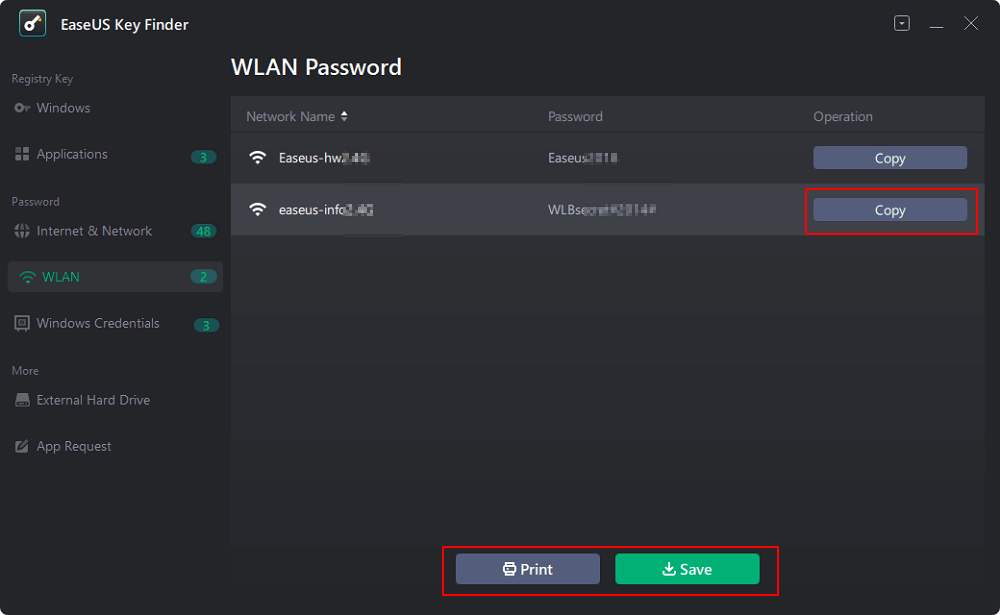 Final words
On your Chromebook, you may locate and retrieve the wifi password you are connected to. The procedure is a little tough to figure out, but you could easily obtain the material you need if you follow the directions strictly.
You can enter recovery mode by pressing the power button, pressing Esc, and pressing the refresh command. You choose whether or not to start the developer mode from here.
Don't utilize developer mode if you're hesitant because it exposes your Chromebook and Google to risk. EaseUS Key Finder is the finest solution to retrieve your WiFi passwords in Windows operating systems if you're a Windows user.
Price: It starts $19.95/Monthly.
Compatibility: Windows 11/10/8.1/8/7/Server
No more content