Online image theft has become a concern to individuals and business owners, especially businesses with a significant online presence. There are several reasons one may wish to steal pictures, most times for personal reasons/interest rather than for publicizing a product or even for mischievous reasons.  
However, none is suitable for the original owner—especially photographers who earn a living by selling high-quality images. In addition to this, pictures are not only stolen when posted online. They can be easily hacked and copied when stored without a password on a device or transferred from one system to another via an insecure network.
The only way to get through this is not to upload at all, but you'd agree this would do more harm than good from a business perspective. However, there are some tricks/tips you can adopt to protect pictures to some extent and make it difficult for thieves to steal them. 
This article provides you with the best software to protect your pictures from being accessed by others. Follow through to find out!
EaseUS LockMyFile - A Professional File Protector
EaseUs LockMyFile is an easy-to-navigate powerful software for file protection with comprehensive folder security questions. It gives you the ultimate freedom to protect many files, folders, external USB drives, internal hard drives, etc. It supports multiple security-related scenarios ranging from simply hiding a file to locking a file/folder and encrypting a file with secure AES encryption.
This software is ideal for any Windows PC looking for a safe way to password lock files/folders, and it also allows them to monitor the disk/folder when the user makes changes. Not only can you lock your files, but you can also hide your files in invisible mode to prevent anyone from knowing the file exists. You'd be intrigued by the number of outstanding features of this software.
Price: It starts $29.95/Monthly.
Compatibility: Windows 2000/2003/XP/Vista/7/8/10/11
Installation 
For the first the using the software, you'll be asked to set up your account using an email and a password. There's a default password when using the free version, and you cannot modify it until you upgrade to a paid version. Please ensure to use a password you can easily remember or hide in a place for future reference.
Hiding Files
This feature is available for local disks and external disks and makes your files/folders invisible to anyone or any program. You can select the preexisting file on your PC via the file picking option or drag and drop the file into the tool. As soon as the files are added to the tool, they will no longer be visible to the PC without access to the LockMyFile software, which will require your password. If you do not feel the need to hide the files any longer, you can easily unhide the files with the unhide option right where you clicked to hide it. 
Locking Files
This feature allows you to encrypt files, folders, or drives you'd like to set apart. The locked files cannot be opened, moved or copied without a password. Once a file/folder is locked, you do not need to open LockMyFile tool to access the file folder. Instead, an already set password box will appear whenever an attempt to open it is made. With the password inputted, you can access the previously locked file normally, and once the window is closed or the PC shuts down, the file gets locked automatically. To unlock files/folders, you'll need to open the LockMyFile tool and click on the unlock button displayed on the LockMyFile screen.
Monitoring Folder
The folder monitor tool applicable to only folders is another helpful addition to the LockMyFile tool. This tool, once activated, discreetly monitors all activities in the specified folder on the PC. To monitor any folder, all you have to do is drag and drop the specified folder or click on the add button displayed at the right top corner of the screen. After the file has been added, this tool monitor every activity carried out and continues until the monitoring process is stopped. And once this is done, it will reflect on the event log towards the bottom of the main window.
Encrypting Files and Folders
This feature is one of the most valuable features of the EaseUs LockMyFile tool. It allows to easily and quickly apply the AES level encryption to files and folders. You can choose to add single or multiple files/folders, all contained in the final encrypted container.
Now that some of the main features have been discussed, there's a need to know how to protect your photos with the step-by-step guide provided in this article.
How to Protect Pictures from Being Accessed By Others
Step 1: Launch EaseUS LockMyFile, enter the valid email, and set a password to register.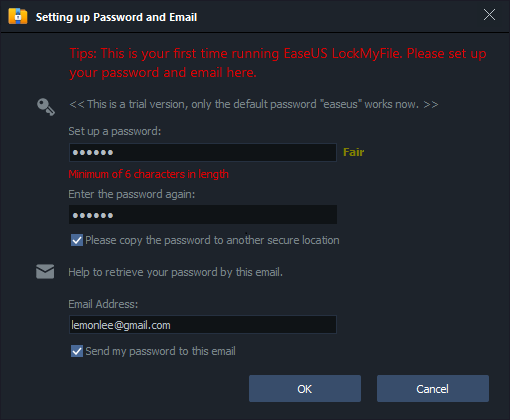 Step 2: Click Protecting File under the Local Disk. Select Protect File(s), folder or drive from the right panel.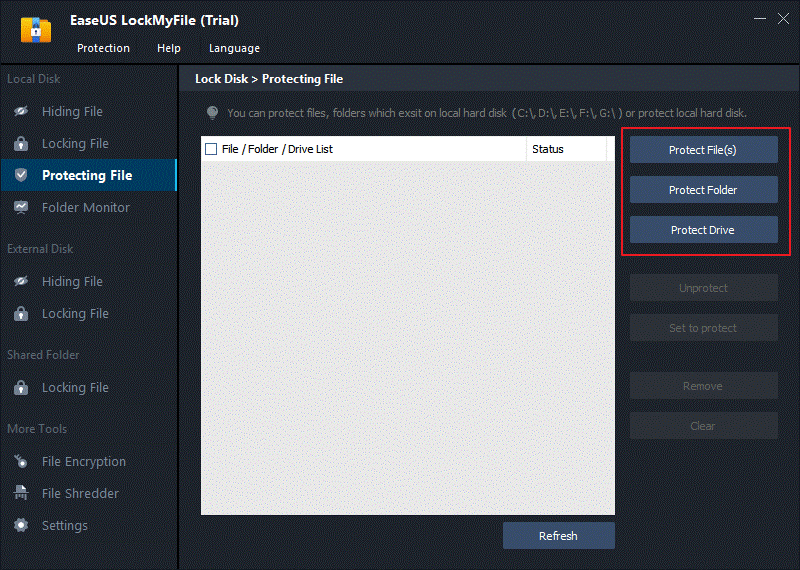 Step 3: Add a file(s) or folder from a specific location.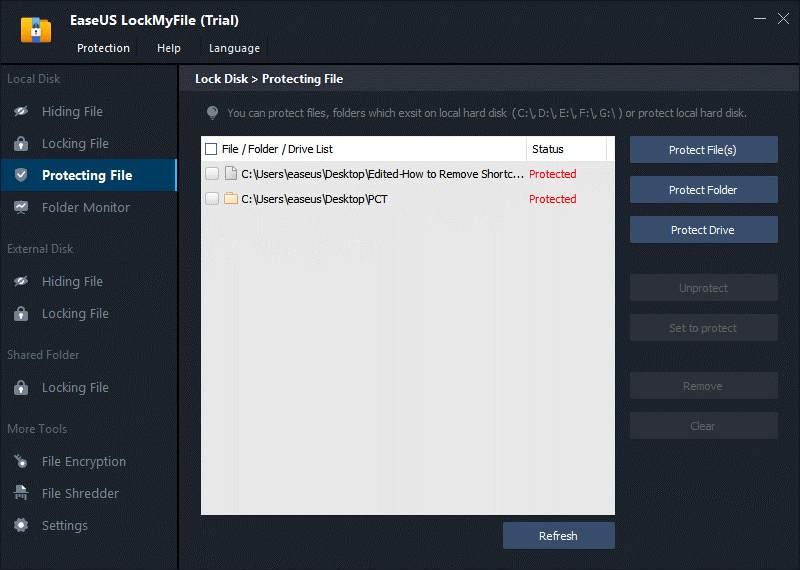 Step 4: Click on the Protect Drive to add the drive you want to protect. Select the drive and click OK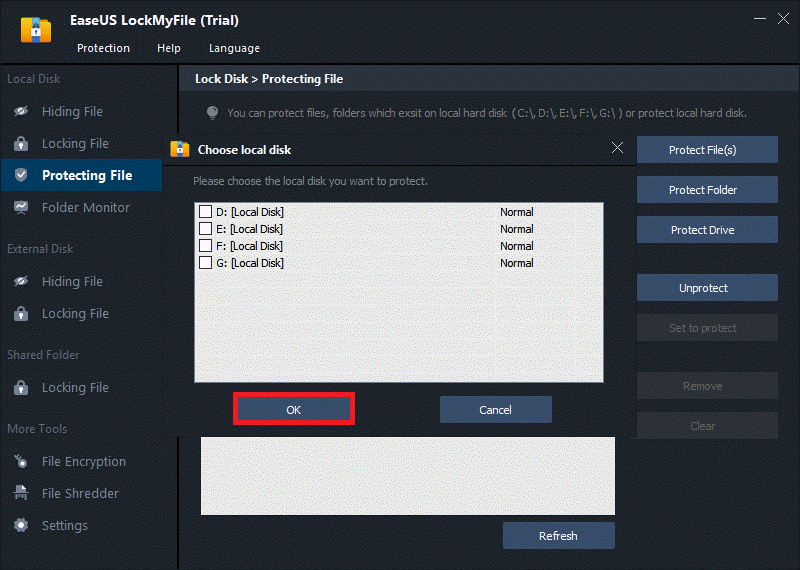 Step 5: Check and confirm the files, folder, and drive you want to protect.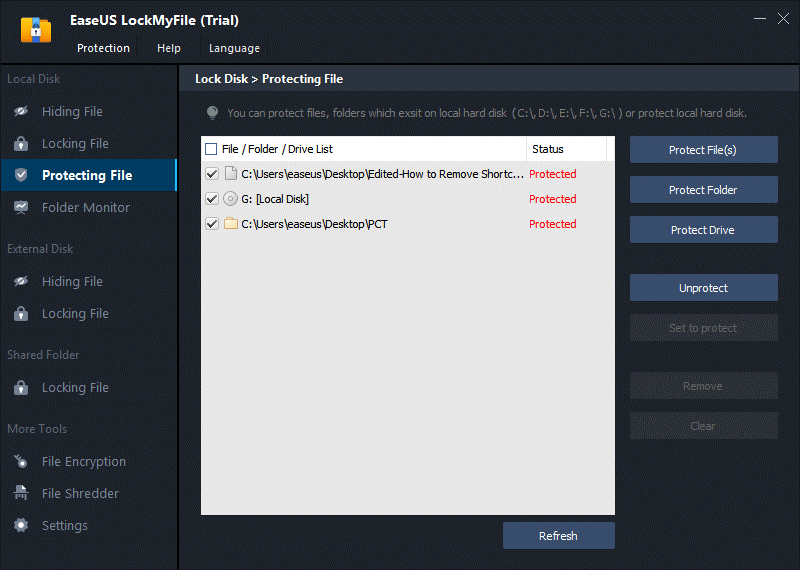 Wrapping Up
There are several methods to protect your pictures from being accessed by others; some methods prevent theft to some extent, while some are complete protection. Any method you choose will depend on your need and solely your decision but deciding the most effective method could become very challenging.
However, using EaseUs LockMyFile and following the step-by-step guide on this tool is a game-changer. You can use any of the features, and be rest assured that no other party will have access to
your pictures. If you value the integrity of your pictures, you should consider taking the necessary
steps. Good Luck!
Price: It starts $29.95/Monthly.
Compatibility: Windows 2000/2003/XP/Vista/7/8/10/11
No more content