A serial number is well known as a string of characters or a unique number used to identify a specific product. While every product has a peculiar serial number, they are widely common for electronics like mobile devices, audio, computers, and video equipment.
It gives a unique identity to your computer. It detects the ownership identification as well as for warranty purposes. The serial number collectively ties a wide range of components 
with separate serial numbers. If you find the serial number in the registry, it becomes simple to find it within a few clicks.
If you can't find serial numbers for your computer, then this article will help you to get computer serial number from the registry. Most computer programs keep the serial number stored in the registry, a database allowing computer programs to store using the default setting for user data etc.
2 ways to Get Computer Serial Number
Method 1. Get Computer Serial Number from Registry
The Windows Registry is considered a hierarchical database storing lower-level settings for applications and the Microsoft Windows operating system that uses the registry. The Security Accounts Manager, kernel, user interfaces, and device driver could use the registry.
The Windows registry keeps a database of settings, information, options, and other values of hardware and software installed on every version of the Microsoft Windows operating system. After installing a program, a new subkey named registry is created.
Pros
All third party OS and lower-level applications and components such as kernels and device drivers can operate the registry.
It reflects and stores users' changes to policies, configurations, applications, and preferences.
While talking about profile system performance, it provides access to the required counters.
It maintains storage of physical registry files in various locations depending on the Windows version.
Cons
Requires a dedicated uninstaller to remove registry entries for those applications based on a .NET framework.
Transfers the user settings of each program between the Windows machines, which is quite a daunting task since the Windows registry is primarily dependent on the local machine.
Applicable scenarios/users:
When the user requires any data, he can check the Windows registry and receive the relevant information.
Best for users who don't have much time to scroll through huge files since it would provide you with the relevant file data immediately.
Storage the services data in the registry and subsequently helping the security manager double-check the needed details.
Step by step guide: 
Step 1: Tap on 'start'.
Step 2: Click 'Run'.
Step 3: Enter in Regedit and confirm by tapping 'OK'.
Step 4: Inspect for the program's title by pressing 'CTRL+F' and entering the program's name in the given search box.
Step 5: Click 'OK'.
Step 6: Jot down all the numbers shown in the data column if it is the device's serial number.
On many complex programs such as Microsoft Office, you might need to look via many sub-folder to find a "Registration" folder. Many also search for "Office Genuine Advantage".
After finding the correct folder, a long list of letters or numbers would reflect in your data column; note it and keep it in a safe location.
Method 2. Get Computer Serial Number from EaseUS Key Finder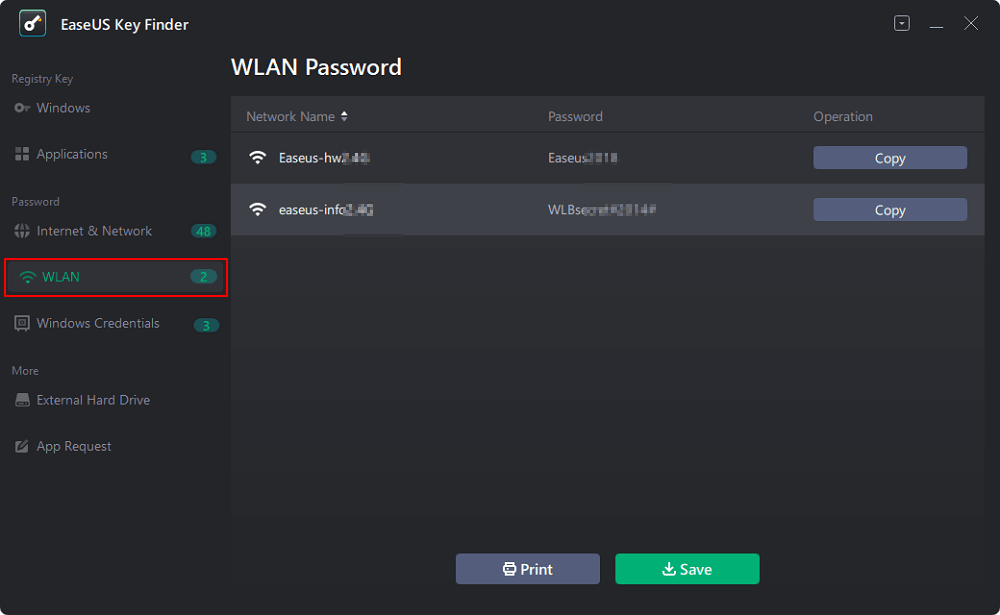 With the help of EaseUS Key Finder, you get to access both personal and business versions to a commendable degree of efficiency. It helps to deal with every aspect of a PC when it comes to finding the serial number of your PC. It works on every version of the Windows operating system, including 7, 8, 10, and 11 versions accompanied by Windows Server computers. 
The feature of the product key finder on EaseUS is one of the best options to recover your every need or to look for serial keys for inventory software. It also works well for recovering the serial or product key on many tools or software, including operating apps or systems.
Pros
Finding product keys might take more time and money. You can easily copy the product keys into the text file or save them on your PDF document.
EaseUS key finder helps scan the product keys from unbootable hard disc drives or dead Windows operating systems.
Commendable technical support gives you 24/7 support helping every customer with instant and professional solutions.
The revelation of accounts and passwords because of the intelligent utility in some browsers like Edge, Internet Explorer, Google Chrome and Mozilla Firefox.
Cons
Sometimes, it consumes a lot of time to processing recover files
No Mac version
Applicable scenarios/users:
Simple and easy user interface. Facilitates easy recovery of data from USB sticks and bad hard drivers without any hardships.
The base version of the program is available for free, and it works supremely well.
Restores deleted files instantly
Price: It starts $19.95/Monthly.
Compatibility: Windows 11/10/8.1/8/7/Server
Step by step guide:
Step 1. Select Application from the Registry Key drop-down menu.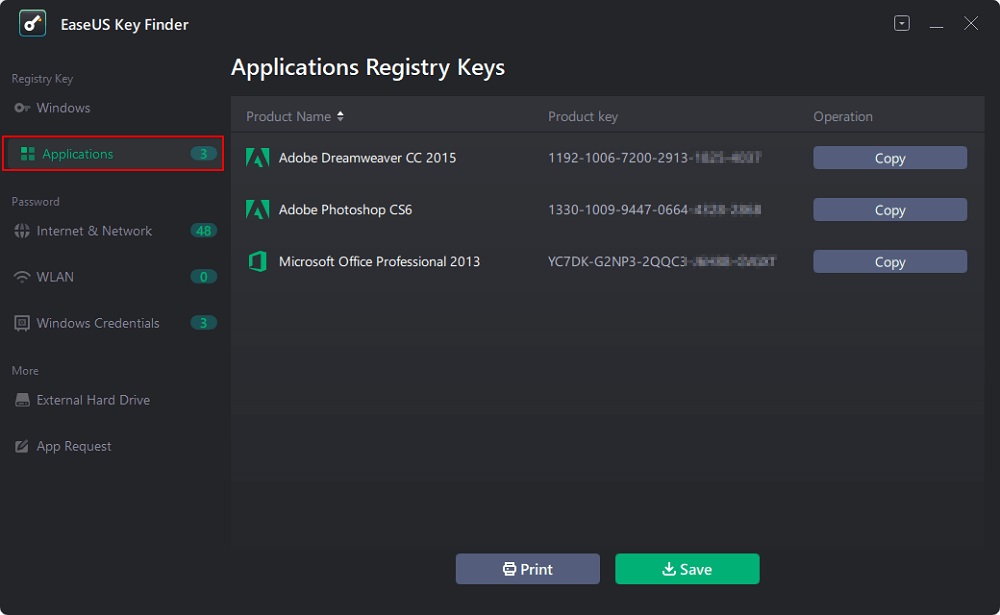 Step 2. On the right panel, look at the Applications Registry Keys. EaseUS Key Finder displays all of the installed software's keys. Copy the serial numbers you want to use. You can also click Print or Save.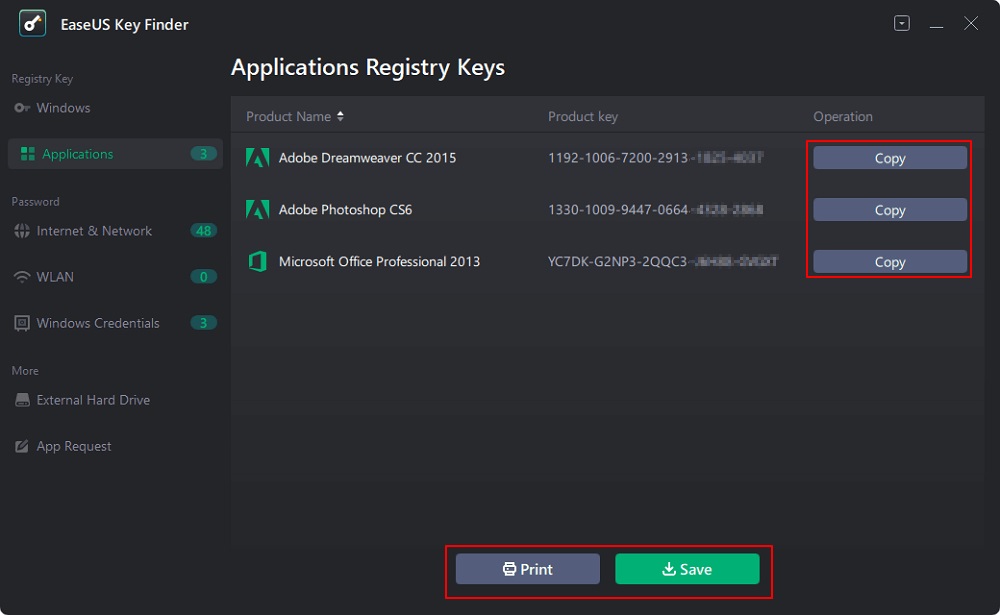 Conclusion
A serial number is a unique number assigned to every individual product to differentiate the product from other categories. At times a serial number is primarily used for warranty purposes and version control. 
They are generally assigned sequence wise per product. The manufacturer usually gives the serial numbers to every product. That's why it's essential to get computer serial number from the registry to identify your product and get additional updates about the replacement or compatible parts.
Use EaseUS Key Finder to know your computer serial number. Follow the guide described below to solve every query regarding how the process would occur.
Price: It starts $19.95/Monthly.
Compatibility: Windows 11/10/8.1/8/7/Server
No more content