Smart TVs have become so popular that they are now utilized for more than just streaming web information. You can also instantaneously mirror the screen from your Android or iOS device. Why would you want to do something like this? If you're going to exhibit a paper or a presentation file, this will come in handy. In addition, if your conference room only has one TV screen, you'll know how to present it remotely. Today's tutorial will show you how to mirror iPhone to Toshiba TV in two simple steps.
So, what exactly does Screen Mirroring entail? It allows you to mirror the display of your phone or computer on other devices. Except for streaming services protected by DRM, you can wirelessly stream nearly anything from your device to your TV. In any case, casting a smartphone on a Toshiba TV is a straightforward procedure. The methods below will demonstrate how to mirror your iPhone's screen to your Toshiba Smart TV.
2 Simple Ways to Mirror iPhone to Toshiba TV
Method 1: Use Apple TV to Mirror iPhone to Toshiba TV
Things may be simpler if you have an Apple TV. Apple TV is a streaming device that connects your iOS devices (such as iPhones and iPads) to your television.
Pros
The Streaming Service
Miscellaneous Applications
iOS Device Mirroring
Cons
Another application
Apple Product Dependence
Issues of Compatibility
Step-by-step guide
Simply follow the steps below to screen mirror your iPhone to your Toshiba Smart TV using Apple TV.
Step 1: To begin, connect your Apple TV to your Toshiba TV through an HDMI cable.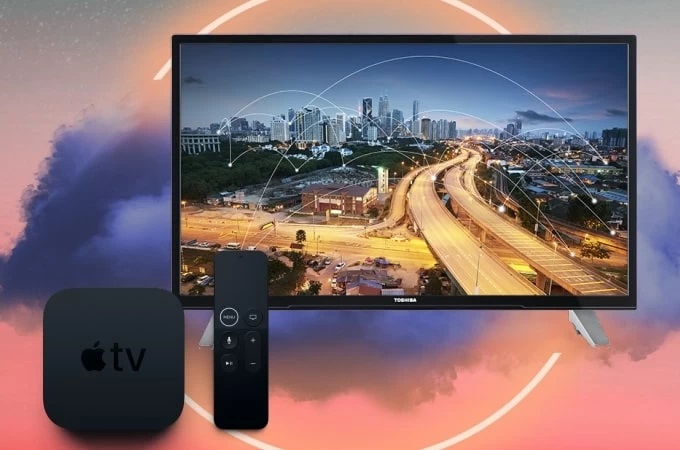 Step 2: Show the Control Center on your iPhone and tap Screen Mirroring. Wait for your Apple TV's name to be detected. To begin mirroring, tap it.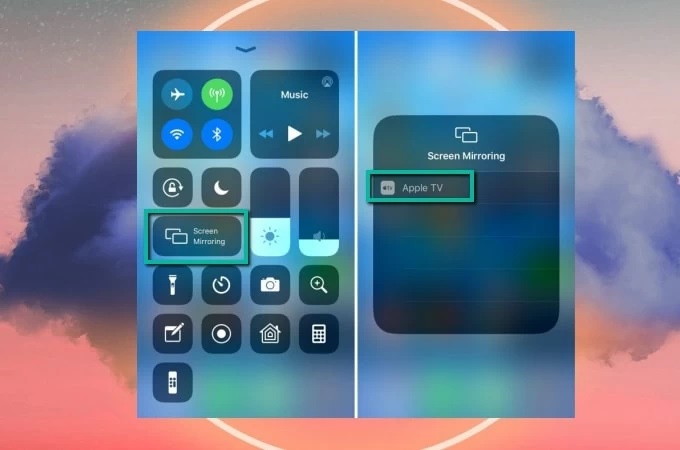 Method 2: Use ApowerMirror to Mirror iPhone to Toshiba TV
Apowermirror is one of the best tools for testing screen mirroring from an iPhone or Android phone to a Toshiba TV. It will quickly connect your iPhone or Android phone to your Toshiba TV. All videos, images, and other assets are high-definition mirrored. You can also capture displays and take screenshots, record real-time screen recordings, and annotate using whiteboard markers. These are the other features of this fantastic tool.
Pros
Mirrors iOS/Android displays to a computer with ease.
It's possible to utilise a computer to operate your Android device.
Between the computer and the gadget, data can be transmitted.
Compatible with the most recent iPhone and Android devices.
Cons
iOS devices do not have the same level of control as Android devices.
Because ApowerMirror is still relatively new, nothing is known about it.
Applicable scenarios
Entertainment at Home
Presentations at Conferences
Intelligent Learning
Gaming
Livestream
Price: It costs $39.95.00/Yearly, $59.95/Lifetime.
Compatibility: Windows
Step-by-step guide
To get started with this tool, follow the steps given below.
Step 1: Install the app on your Android or iPhone and your Toshiba TV.
Step 2: After installing the software, run it and connect all your devices to the same Wi-Fi network.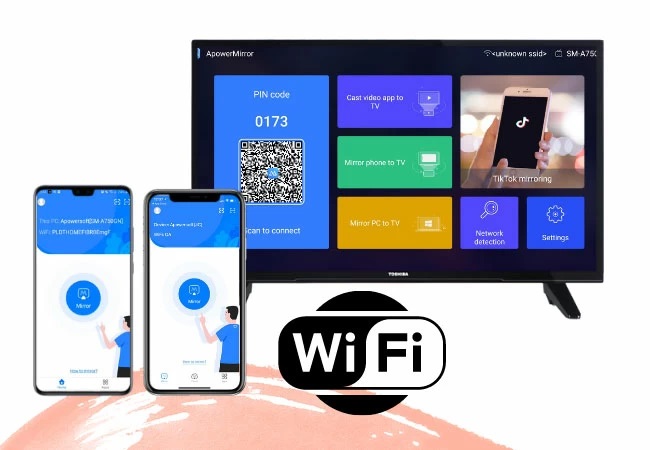 Step 3: Tap the mirror button on your phone, then select the name of your Toshiba TV.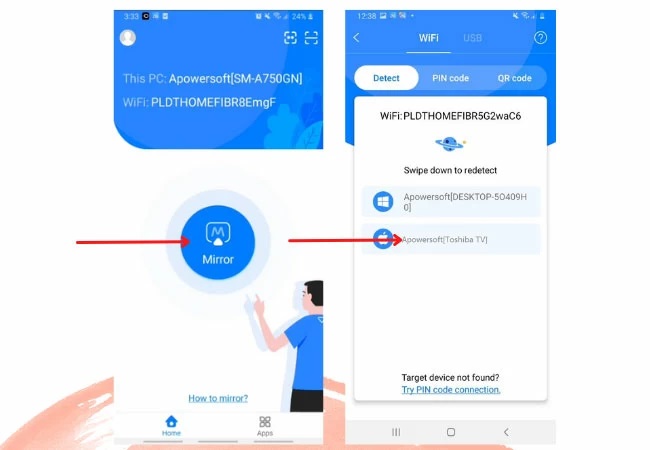 Step 4: Tap Phone Screen Mirroring on the iPhone, then Control Center.
Step 5: Select your Toshiba TV by tapping the Screen Mirroring icon.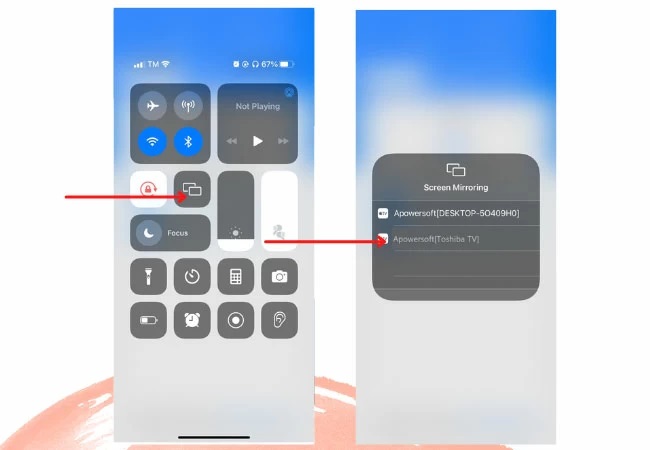 Conclusion
The two methods shown above are straightforward ways to mirror an iPhone to a Toshiba TV. They are dependable and have straightforward procedures to follow. If you don't have an Apple TV, utilize ApowerMirror to mirror the screen of your iPhone to your Toshiba TV. ApowerMirror is a tool that includes screen capture, screen recording, and annotation markers.
Price: It costs $39.95.00/Yearly, $59.95/Lifetime.
Compatibility: Windows
No more content