Kindle is a prevalent hand-held E-reader tool that allows you to access to thousands of your preferable books. However, you may get baffled when it comes to buying Kindle books the first time you dip your toe into the world of ebooks. 
In this guide, we will walk you through the comprehensive steps of purchasing Kindle books on diverse devices. Read through this post and find the resolution befitting your situation.
How to Buy Kindle Books on a Computer
You may naturally go to Amazon's official website to purchase Kindle books on your computer if you are new to Kindle. Below are specific steps on how to do it. 
1.Log in to your Amazon account via the browser and click on the menu icon in the upper left corner. Then click "Kindle E-readers & Books," which will bring you to the Kindle ebook store.
2. Click the book you are into to go to the detailed product page, where you should select the corresponding Kindle version.
3. Choose the suitable device after clicking the dropdown menu. Then tap on the "Buy now with 1-Click" button and fill in your credit card information to complete the purchase. With that, your preferable books will be automatically delivered to your Kindle.

How to Buy Kindle Books on a Mobile Device
Here come detailed steps on how to purchase Kindle books for your mobile device, which allows you to buy on the go and get your favorite books delivered to your portable device smoothly. 
1. Open the Amazon app and tap the icon with three lines at the upper left corner. After that, click "Shop by Department." and tap "Kindle Store." to look for books you want to take.

2. Go to the detailed page once you have taped the book you prefer to buy and then click the device below "Deliver to:" to switch the suitable Kindle format. You shall notice an orange bar with the text "Download Sample" above the chosen device.
3. Scroll back to the top of the page and click "Buy now with 1-Click" to finish your purchase. After that, your book will be delivered to your device.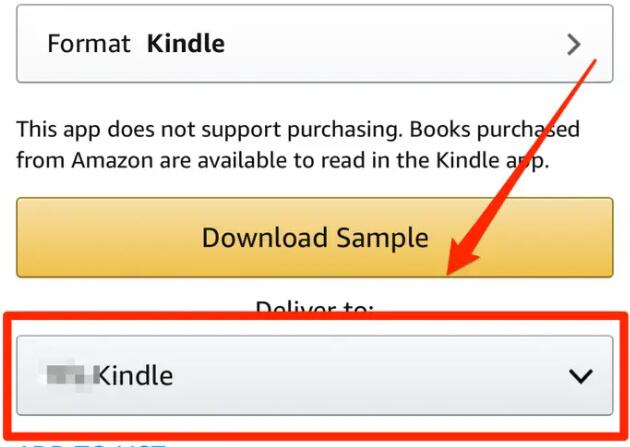 How to Buy Kindle books on iPad & iPhone
It is known to all that we are prohibited from directly downloading or purchasing Kindle books on the IOS platform because of the Apple-Amazon standoff. But do not worry, here we will show you a facile resolution to this annoying issue.
1. Open the App Store and install Kindle for iOS on your device.
2. Sign in with your Amazon account when the installation process is done.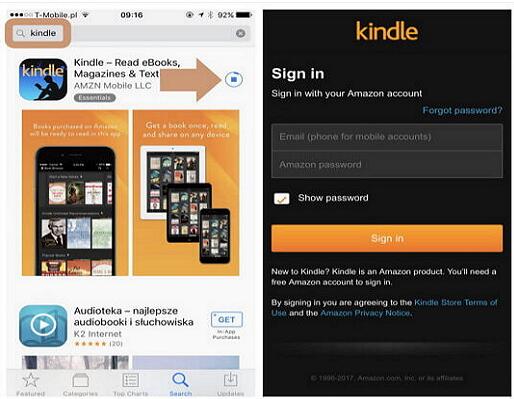 3. Fire up the Safari browser and navigate to "Amazon.com."
4. Ensure that you do not tap any prompts to run the Amazon app.
5. Click the dropdown menu and go to "Kindle Store."
6. Log in Kindle Store with your Amazon account and search for the book you are about to purchase.
7. Tap "Buy now with 1-click" and complete the purchase. With that, the book you selected will be delivered to your Kindle automatically.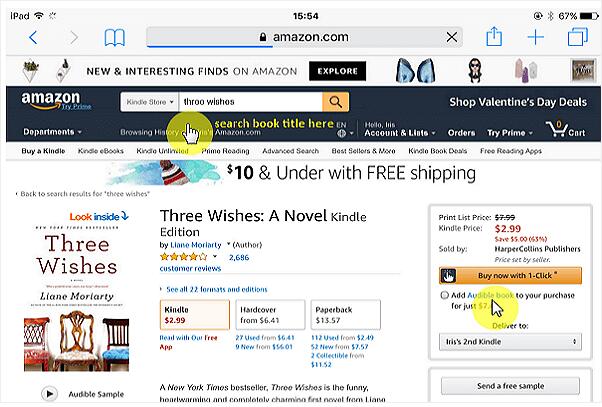 How to Buy Kindle Books on Kindle Paperwhite
This part will guide you through concrete methods of purchasing Kindle books directly on your Paperwhite. Follow the 3-step tutorial as below to finish your purchase without any painstaking:
1. Ensure you have set up a "one-click purchase" on the official Amazon website before purchasing any books.
2. Click the "Shopping cart" icon to head for Kindle stores. You can also tap the menu with three lines and click "Shop Kindle store" at the dropdown that comes out subsequently. Then, browse through the book you intend to buy and tap "Buy for $X" to continue.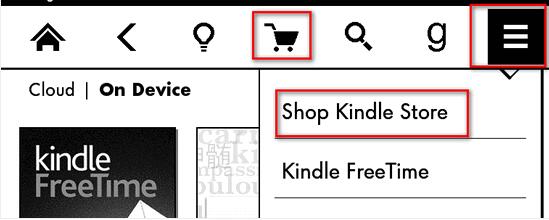 3. Complete the purchase by paying with your card after landing on the "payment checkout" page.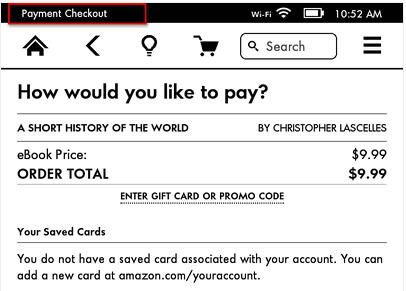 So much for this guide, and we sincerely hope this article will do you a favor with buying Kindle books on your device. 
No more content