Have you ever stumbled across a situation where you desperately need to reinstall your Windows Vista yet can't find its product key? This can be fairly vexing as you may need to get back to work. Yet don't get panic. In today's how-to guide, we will walk you through how to find the Windows Vista product key in three workable solutions. 
How to Find Windows Vista Product Key ( Four Solutions )
Solution 1. Find Windows Vista Product Key via the sticker
You can check the ticker on the computer case or inside the Windows installation package to find your product key in the Windows Vista system. Simply take a look at your Windows installation package (check the bottom if you are on a laptop) to find a sticker coming with a 25-digit number.
 


Solution 2. Find Windows Vista Product Key via EaseUS Key Finder 
In case you can't find your sticker, here we bring you a top-notch key finder to assist you in recovering your Vista product key smoothly. 
 
EaseUS Key Finder is a powerful and multi-function key finder utility that helps you find the product key of all Adobe and Office applications, retrieve Windows Credentials, and get more than 1000 software serials. You can directly copy your product keys into a Text file or save them to a PDF document to back up your activation keys. 
 
Better yet, EaseUS Key Finder can scan product keys from another dead Windows operating system or unbootable hard disc drive (HDD/SSD) and promptly unveil your wireless network password on a Windows computer if the WiFi passwords slipped your mind.
Pros:
24/7 technical support.
Intuitive interface.
Find WiFi and Browser passwords.
Support 1000+ programs. 
Cons:
Charge for the Pro version.
Price: It starts $19.95/Monthly.
Compatibility: Windows 11/10/8.1/8/7/Server
How to use:
Step 1: Download and install EaseUS Key Finder on your computer.
Step 2: Launch EaseUS Key Finder and select Windows under the Registry Key tab.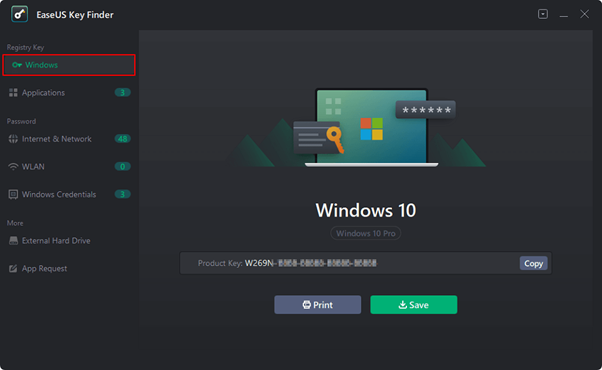 Step 3: Check the product of the Windows on the right side. Hit the Copy option to copy the product key.
Note: You can also save or print the product key.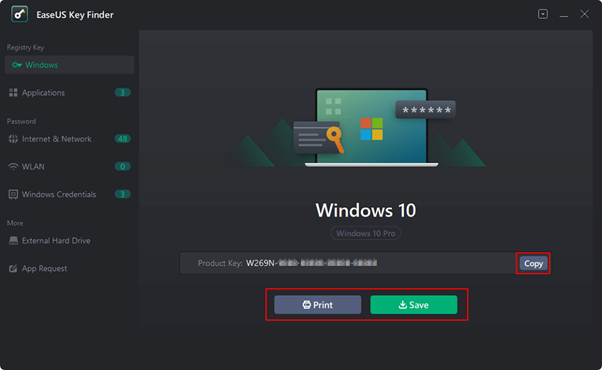 Solution 3. Find Windows Vista Product Key via the Installation CD
You can also try to recover the product key by checking your installation CD. Normally, you will learn all the details of the Windows Vista product key from the files on the CD. To do so, follow the detailed guide below.
1. Insert your Vista installation CD into the drive on your device.
2. Scan the files and locate the i386 folder. 
3. Run the file named after UNATTEND.txt .
4. Scroll down to the bottom of the file. Now you should find the Windows Vista product key.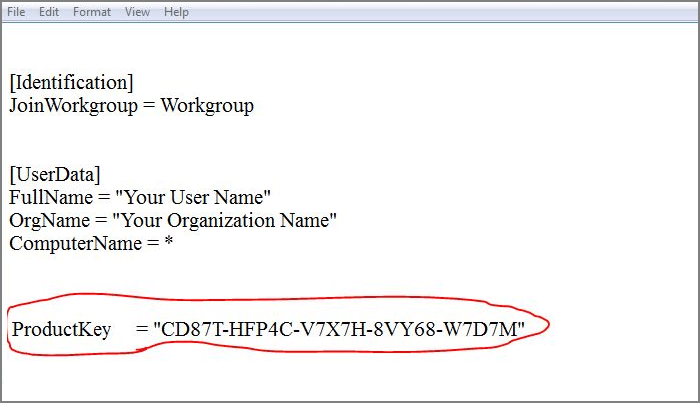 Solution 4. Find Windows Vista Product Key via Windows Registry
The Windows registry is another option for locating your product key. Since Windows maintains the key in the registry, you can only restore it if you haven't formatted your machine. To recover the Windows product key from the registry, follow the step-by-step guide below:
Note: this method only perfectly works for certain OEM devices. 
Hit on Start and Run, then enter regedit.
Go to HKEY_LOCAL_MACHINE >Software and scroll down to locate the operating system you want to find the product key for. 
Find the option coming with the terms like Digital Product ID or serial. 
Check the value for the product key. 
Alternatively, You can try the path 
HKEY_LOCAL_MACHINE\SOFTWARE\Microsoft\Windows NT\CurrentVersion\DigitalProductId to recover the Windows Vista product key. 
Sum Up
Basically, finding the Windows Vista product key can be tricky and not that easy for those who are not literally tech guys. In this case, a handy key finder tool is vital. Among multifarious key finders out there, we highly recommend you to use EaseUS Key Finder as it comes with an intuitive interface and enables you to recover your product key with simple clicks.
Price: It starts $19.95/Monthly.
Compatibility: Windows 11/10/8.1/8/7/Server
No more content