QuickBooks is a small business accounting software widely used in the world. It helps businesses manage their income and expenditure and keep track of the organization's financial health. QuickBooks is equipped with various features and can be utilized for paying clients and other finance-related features.
Knowing that QuickBooks is an essential tool for most users who works on payroll, you must understand the intricacies embedded in having your QuickBooks product key or serial number. 
Finding and storing the product key for QuickBooks is essential for any restructuring. Even if it's only for reinstalling the software package or simply installing it on a new computer, the continuity in QuickBooks is crucial for information accessibility.  
Losing pieces of information such as records and operating data can negatively affect the operation of your business and might cause problems for your business with certain government authorities.
There are many ways to acquire your QuickBooks product key, although the best way is to get it directly from Intuit. However, when you buy QuickBooks, you will be given a numerical key called a product key or serial number. Assuming you don't have your QuickBooks product key or serial number stored or you can't seem to remember the number, this guide will examine three ways to recover your QuickBooks product key.
Table of Content:
1. Find QuickBooks Product Key with QuickBooks Desktop APP
2. Find QuickBooks Product Key with QuickBooks Desktop APP
3. Find QuickBooks Product Key with EaseUs Key Finder   
Find QuickBooks Product Key with Registry
If your purchase QuickBooks online, you will be sent an email with your product key, and if you purchase it offline, the key will be attached with the installation CD. Assuming you deleted the email or the offline copy, you can recover the QuickBooks product key in the Registry.
The product key is required when registering or installing the software on your computer and future upgrades or improvements. This guide contains the steps to find the QuickBooks product key using the Windows registry.
Step 1: To launch the QuickBooks Desktop program, double-click its icon on your computer.
Step 2: Once the program opens, press F2 to navigate the Product Information page.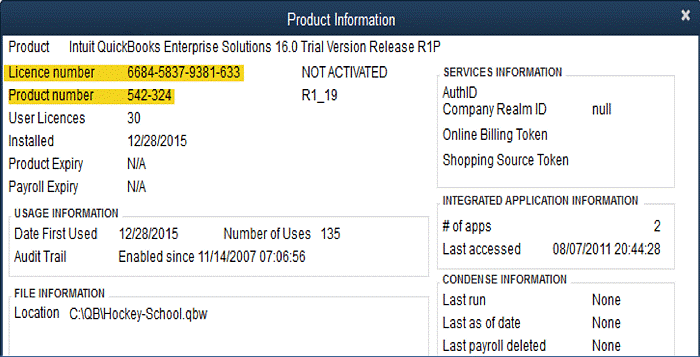 Step 3: Press F3 to access the Tech Help page
Step 4: Next, click the Open File tab.
Step 5: Search through the file list until you find the QBRegistration.dat file, and then double click.
Step 6: If, after clicking it, the file does not open, right-click it and select Open With, followed by Notepad from the drop-down options.
Step 7: Once the file is opened, press the Ctrl + F keys together and type License Number in the search box that displays, and press Enter.

The text you entered will be highlighted, and your product key is located beside the highlighted license number text. You can then copy the key and utilize it to register the application for continuity.
The outlined steps enable you to find the QuickBooks product key directly from the application registry.
Find QuickBooks Product Key With QuickBooks Desktop App
If you have the QuickBooks Desktop Application already installed on your computer, open the program and press F2 to find your product key. Pressing the F2 button will automatically bring up the Product & Information Windows, which will have your License Key displayed. Copy and store the code for both present and future use.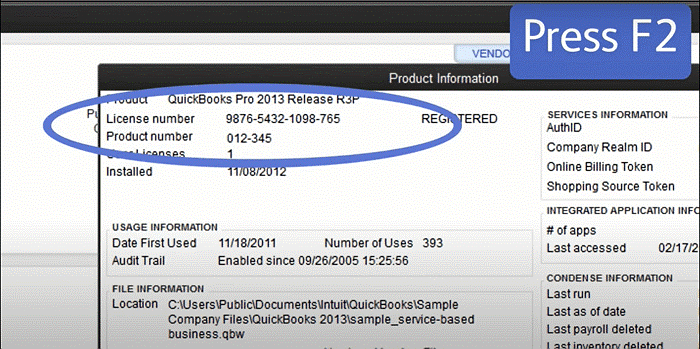 Find QuickBooks Product Key with EaseUS Key Finder(Recommended)
EaseUS Key Finder is a Desktop smart utility that helps you find your product key easily and quickly. You can find Windows product keys, WiFi codes, missing or forgotten browser accounts, and passwords logged in Browsers like Google Chrome, Internet Explorer, Edge, and Mozilla Firefox.
Most importantly, EaseUS Key Finder helps you regain your Windows Products Key access. You can find and store serial numbers of various office applications and copy or export a number to a private location with a single click.
You can also utilize the EaseUS Key Finder to recover different software products and serial numbers, such as QuickBooks Serial Keys. It smoothly transfers a vast amount of software data without losing any information.
Price: It starts $19.95/Monthly.
Compatibility: Windows 11/10/8.1/8/7/Server
Here are the detailed steps to find the QuickBooks product key using the EaseUS Key Finder:
Step 1: Launch the EaseUS Key Finder and click application under the Registry Key.
Step 2: From the right panel of the page, click on View Applications Registry Keys. The EaseUS Key Finder will automatically display all the keys of installed software on your computer.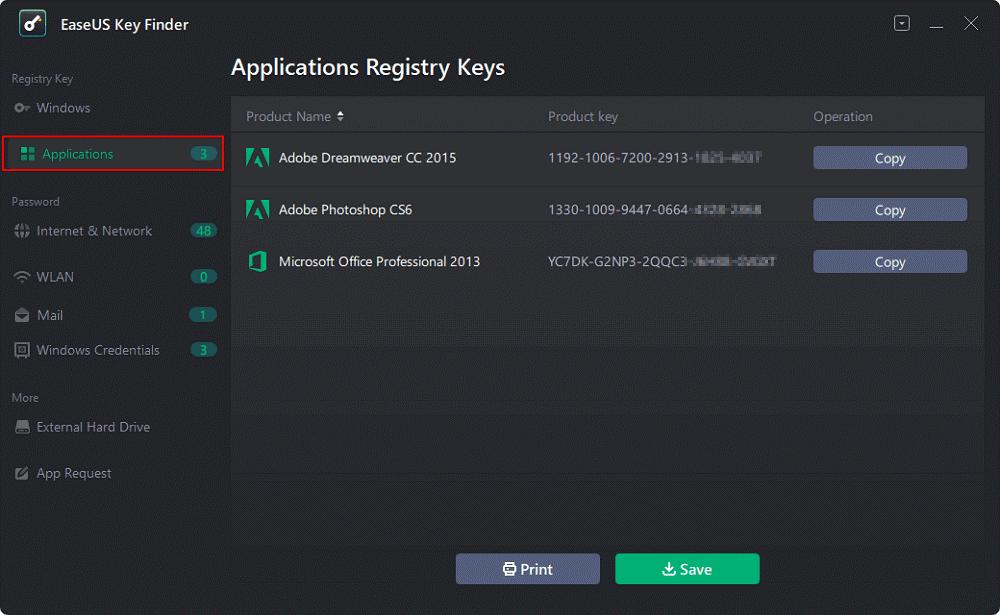 Step 3: Copy the QuickBooks serial number. You can also click Print to have the hard copy and store it or click Save to store it in your computer folder.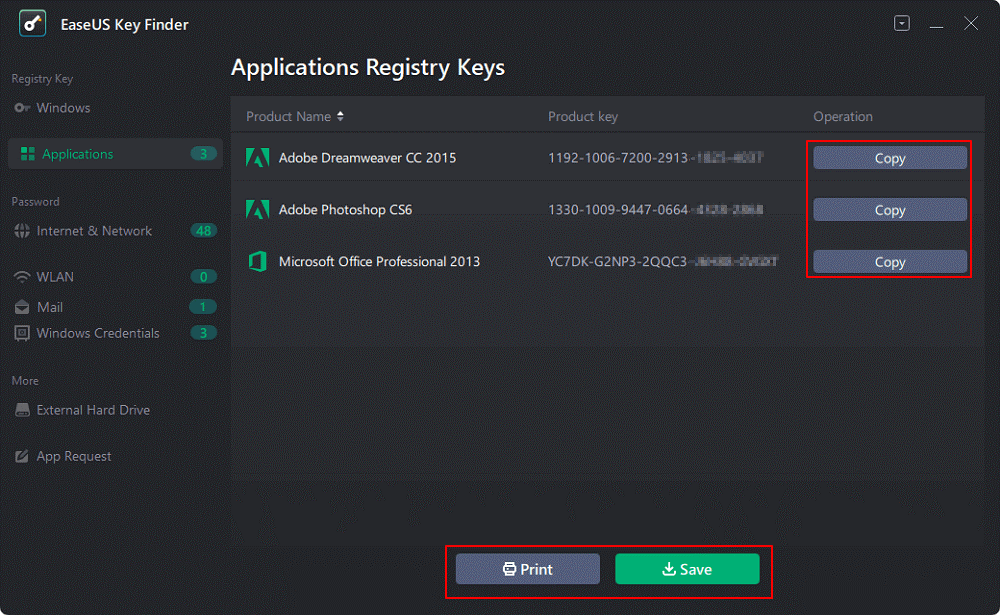 To fully exploit the numerous features embedded in the EaseUS Key Finder software. You must download and install it.
Bottom Line
You can utilize the product information you have found to initiate your QuickBooks programming. You may likewise replace or upgrade the product and serial numbers depending on the QuickBooks version or later in the future if the need is needed.
QuickBooks can be utilized to see the records through Windows Explorer or change the qbregistration.dat file. To try not to lose the keys once more, you should store them in a protected area. Try not to record them on bits of paper.
If you just bought your QuickBooks, ensure you keep the installation CD and product sticker. They are helpful if there should be an occurrence of any issues that could come up in the future.
Compared to retrieving with Register, which can be much more cumbersome, we recommend you utilize the EaseUS key Finder to recover QuickBooks Product Key. We hope this guide relieves you of the time-consuming process of finding your QuickBooks Product key. Download the EaseUS Key Finder and follow the steps indicated in the guide.
Price: It starts $19.95/Monthly.
Compatibility: Windows 11/10/8.1/8/7/Server
No more content