Spotify is one of the most prevalent music streaming apps that helps you explore music or podcasts. This fantastic software holds a host of episodes and tracks, via which you can browse and play a wide range of the collection of songs created by diverse artists and celebrities around the world.
However, there are times when you are prohibited from accessing Spotify songs in that Wi-Fi or data connection may not be available at times, like on flights or subway commutes. In this case, you might need to download your favorite music to your phone in advance for offline listening.
In today's how-to guide, we will show you how to download music from Spotify on different devices based on your needs. Read on and learn how to do that.
How to Download Music from Spotify
To download music from Spotify, you need to select the album or playlist you prefer and tap the "Download" (for Android) or the downward-facing arrow (for iPhone). Once the download completes, you can see a green downward-facing arrow next to music.
Note: You cannot download individual songs directly but playlists, albums, and podcasts. What you can do is add your preferred song to a new playlist and download it later on.
How to download music from Spotify for Android
1. Start Spotify on your device and log into your Spotify Premium account.
2. Navigate to the "Your Library" tab at the bottom-right corner. Then open the playlist you prefer to download and tap the three-dot icon in the top-right corner to open the options menu.

3. Select "Download" to let Spotify begin downloading the playlist to your phone.
How to download music from Spotify on iOS
1. Tap on Your Library and select your favorite playlist. 
2. Tap Liked Songs and then select the download option at the top, which looks like a little circle with an arrow in the middle.
3. Now, Spotify will start downloading the whole list to your iOS device, and both songs and playlists will be labeled with a green version of the download symbol once they are downloaded. 
How to Remove Albums and Playlists from Downloads
If you do not need offline access anymore or you intend to clear off some space for your device, you can go to the album or playlist you want to remove from downloads and directly toggle the Downloaded button to off or tap the icon that comes with a green downward-facing arrow and select Remove in the pop-up window.
How to Download Podcasts on Mobile
Spotify is a prevalent podcast app and a decent way to store your music and podcasts all together in one spot. If you want to get the podcast to listen offline, you can either download one-off episodes you prefer or follow a specific podcast and download episodes as they show up in your library. This process is identical on iOS and Android. Below are specific steps:
1. Search for the podcast you want to download. 
2. Once done, tap the downward-facing arrow to download your preferred episodes right away on the podcast's page. 
3. You can also tap the Follow to put new episodes in your library. 
4. Now, you are able to download episodes whenever you like via Your Library > Podcasts > Episodes. Downloaded episodes will be found via Your Library > Podcasts > Downloads.

How to download music from Spotify for the Desktop
Spotify's desktop app is fairly limited in downloading songs, only allowing you to download your Liked Songs and playlists. You are not able to download individual albums or songs. To obtain the playlist of your favorite songs, follow the below-detailed instructions.
1. Open Spotify on your PC and choose "Liked Songs" by clicking the "Your Library" option in the sidebar.
2. Click the "Download" button to the right to make the toggle turn green. With that, the playlist will immediately start downloading.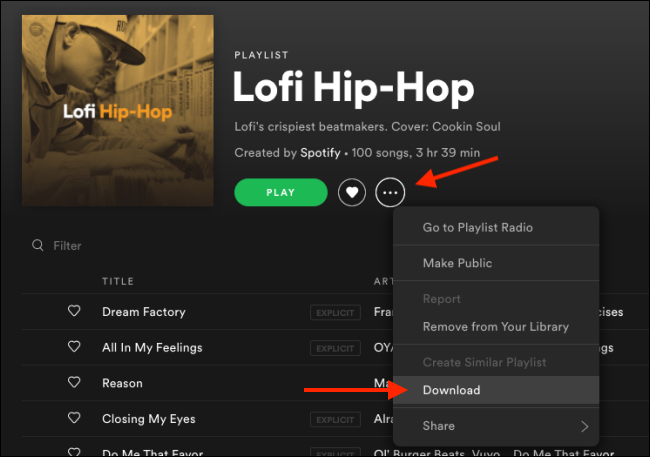 3. If you want to download your favorite playlist, open it in the Spotify desktop app and tap the three-dot Menu button. After that, select the "Download" option. 
4. The songs in the playlist will become available offline after downloading your songs. A green symbol will show up next to a downloaded playlist.
Bonus tip: Go Online Every 30 Days
You need to connect to the internet at least once every 30 days as Spotify prohibits people from downloading loads of content to their mobiles or PC and then stopping their Premium subscriptions. A cellular connection is fine. Otherwise, you'll lose access to downloaded music and podcasts a month later.
No more content