A watermark is helpful in a variety of situations. It is necessary when the goal is to maintain the legitimacy of the data included throughout the document. In other circumstances, watermarking PDF documents to prevent them from theft is regarded as safe.
Although most individuals oppose adding watermarks to PDF documents, there are numerous advantages to using watermarks. Watermarks can protect your documents or digital assets from being misused.
A watermark is an image or pattern that is used to identify work and prevent it from being used without permission. Unauthorized usage cannot be completely prevented by a visible watermark. However, it makes it more difficult for anyone to claim another person's document or artwork as their own.
A watermark, similar to a stamp, is text or a picture that appears in front of or behind existing document content in PDF. You may use a "Confidential" watermark on pages that contain sensitive information. You can apply numerous watermarks to one or more PDFs, but you must do it independently for each one.
In this article, we are going to explain how to add watermark to PDF on Windows, Mac, and your phone. So, here we go.
How to Add Watermark to PDFon Windows
Method 1.EaseUSPDF Editor(Easiest and Best Way)
Users looking for a PDF editor for Windows should look no further than this tool, which includes all of the necessary PDF editing features.
It allows you to easily add watermark to PDF to claim ownership and protect your copyright. You can modify your watermark in a variety of ways.
Key Features:
It helps you convert PDF files to Word, Excel, PowerPoint, and other formats.
It allows you to edit scanned PDF files.
You can also collaborate with your team members on a PDF file.
Price: It costs $29.95/Monthly, $49.95/Annual, $79.95/Lifetime.
Compatibility: Windows
This guide is helpful if you want to learn how to add a watermark to a PDF document. This software must be downloaded and installed on your Windows PC before beginning these steps.
Step 1. After launching the EaseUS PDF Editor, import files in which you want to add a watermark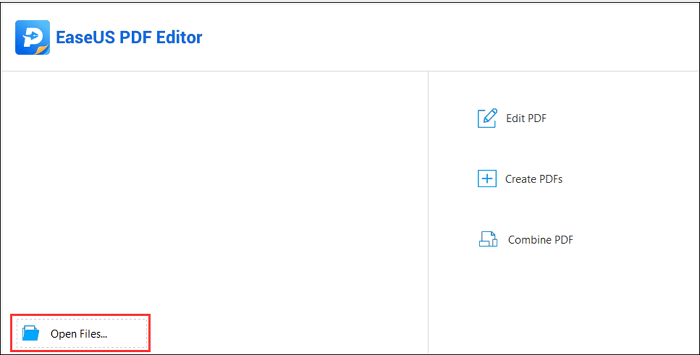 Step 2. Click "Pages," and you get the options on the right side of the screen. Under Page Design, press "watermark" and select "Add" from the drop-down menu.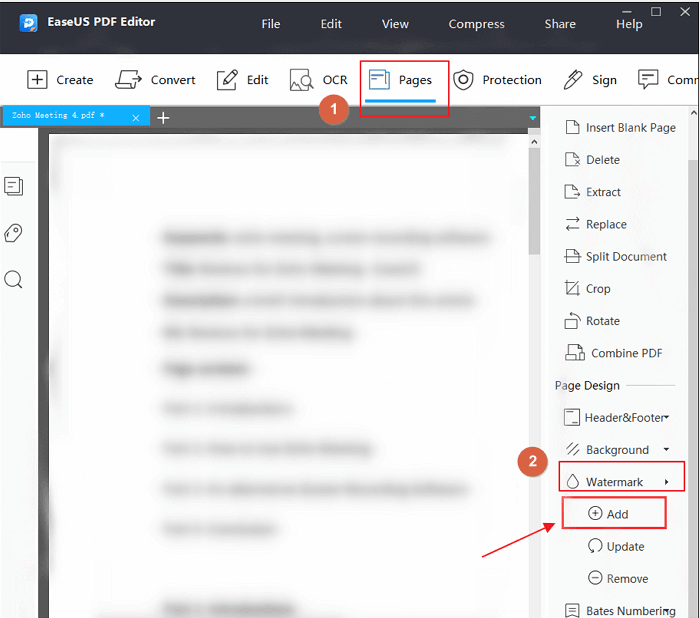 Step 3. Add the watermark text, and you can adjust the color, size, and font. After changing, press "OK."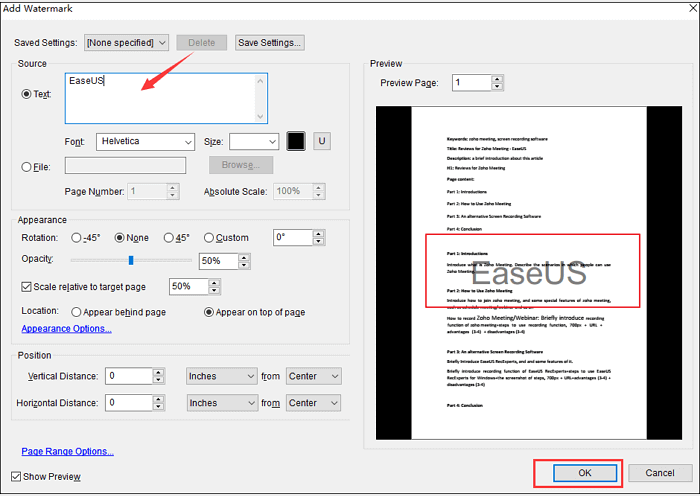 Step 4. Click on the "Files" and then "save or save as" to name a new PDF file with a watermark.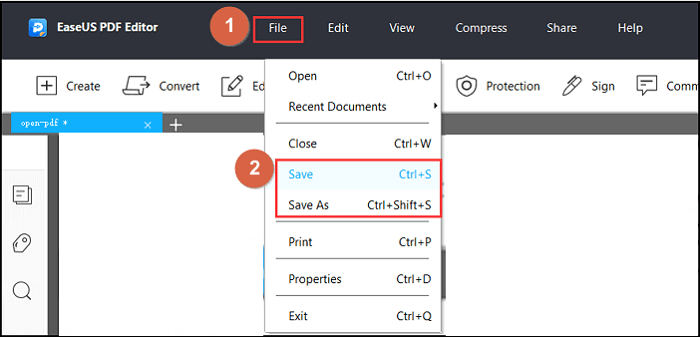 Method 2. Adobe Acrobat Pro
Adobe Acrobat is a popular PDF editing and viewing software. This software is almost definitely installed on your computer if you read PDF files. Because you can read and modify PDF documents in the same program, it could be useful to add a watermark as well.
This program allows you to add a watermark on selective pages. Which pages the watermark shows on is entirely up to you.
Step 1. Open the software and select the PDF file.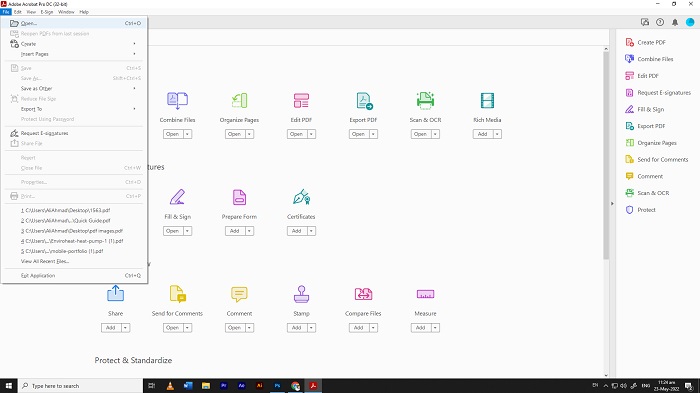 Step 2. Press the "watermark" and select the "add" from the drop-down menu.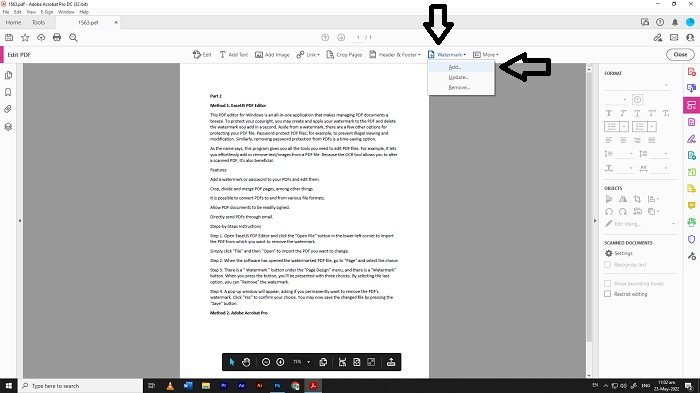 Step 3. In the "text" area, type your text for watermark and adjust the watermark accordingly and then press "Ok"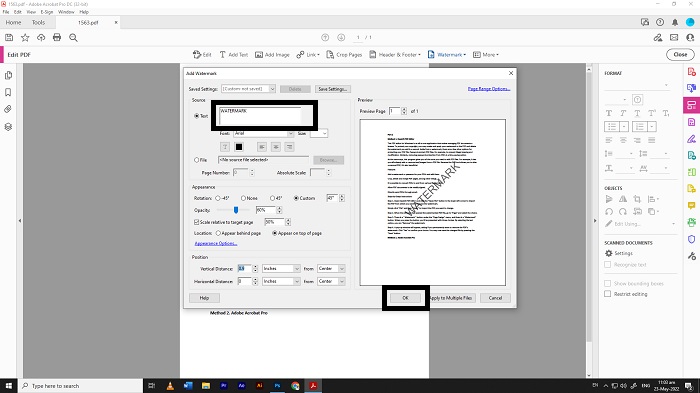 Step 4. Press "files" and save a new file with a watermark.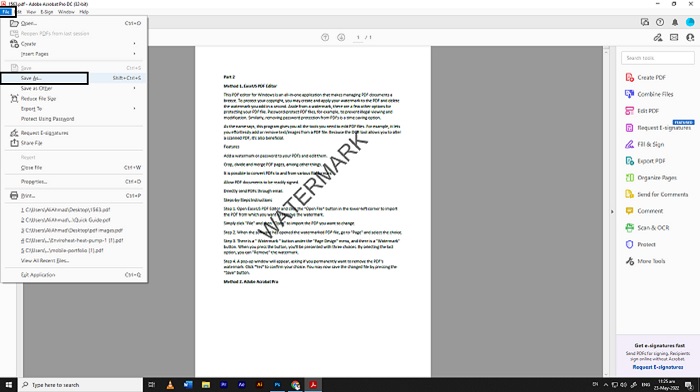 How to Add Watermark to PDF on Mac
For generating, protecting, and organizing PDF files, PDFelement is a sophisticated PDF editing tool. Fortune 500 companies select PDFelement for its fully-featured modules, flexible pricing, and outstanding performance.
PDFelement gives you complete control over your content, and its specialized tools enable you to make changes while maintaining the document's style and format. You may also use it to watermark multiple documents at once. If you have a multi-page document that requires a single watermark, follow the steps below.
Step 1. Import the PDF file in PDFelement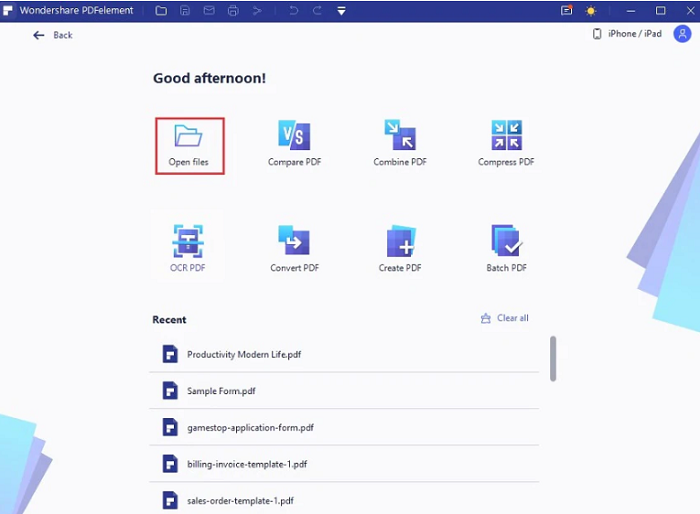 Step 2. Press "Watermark" and select the option "Add" from the drop-down menu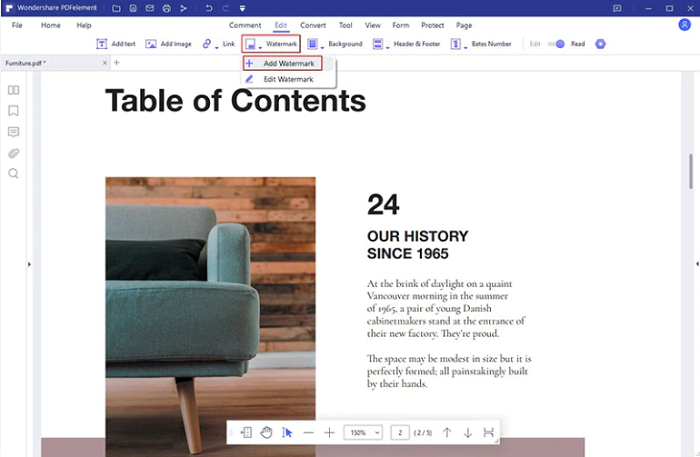 Step 3. Select the type of watermark.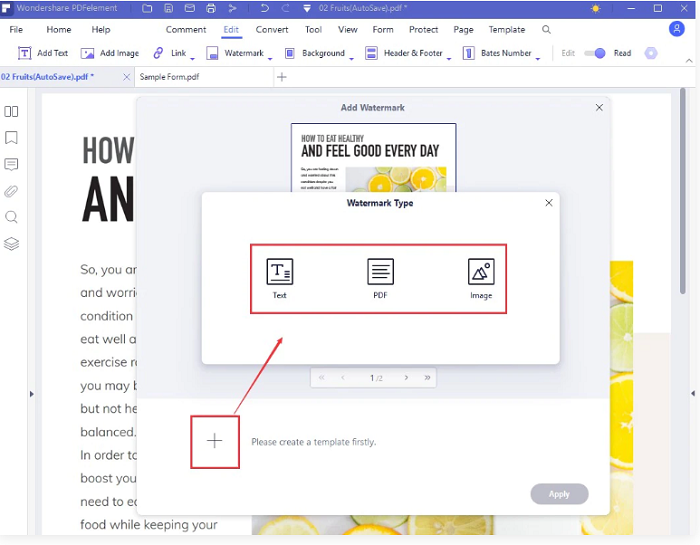 Step 4. Edit your watermark setting and save.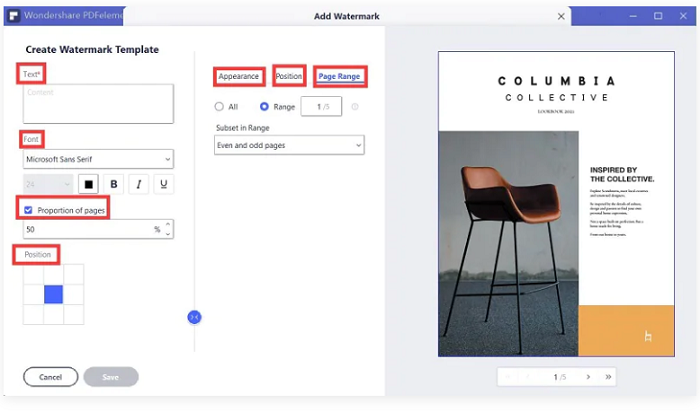 Step 5. Apply Watermark to PDF.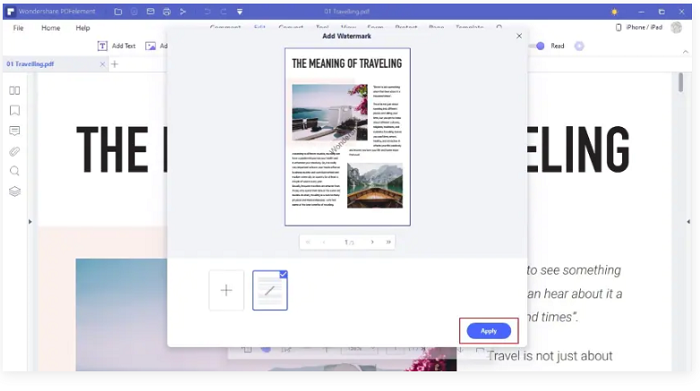 How to Add Watermark to PDF on a Phone
While there are other options for adding a watermark to your PDFs on the internet, iLovePDF stands out for its simplicity and convenience of use. With this web and phone-based tool, you may easily and quickly add a watermark to your PDF files.
You may be responsible for maintaining the confidentiality of your documents because this is a tool that requires you to upload your PDF. In this instance, you should only submit documents that you believe would not cause any issues.
Step 1. Open the tools option, then press the watermark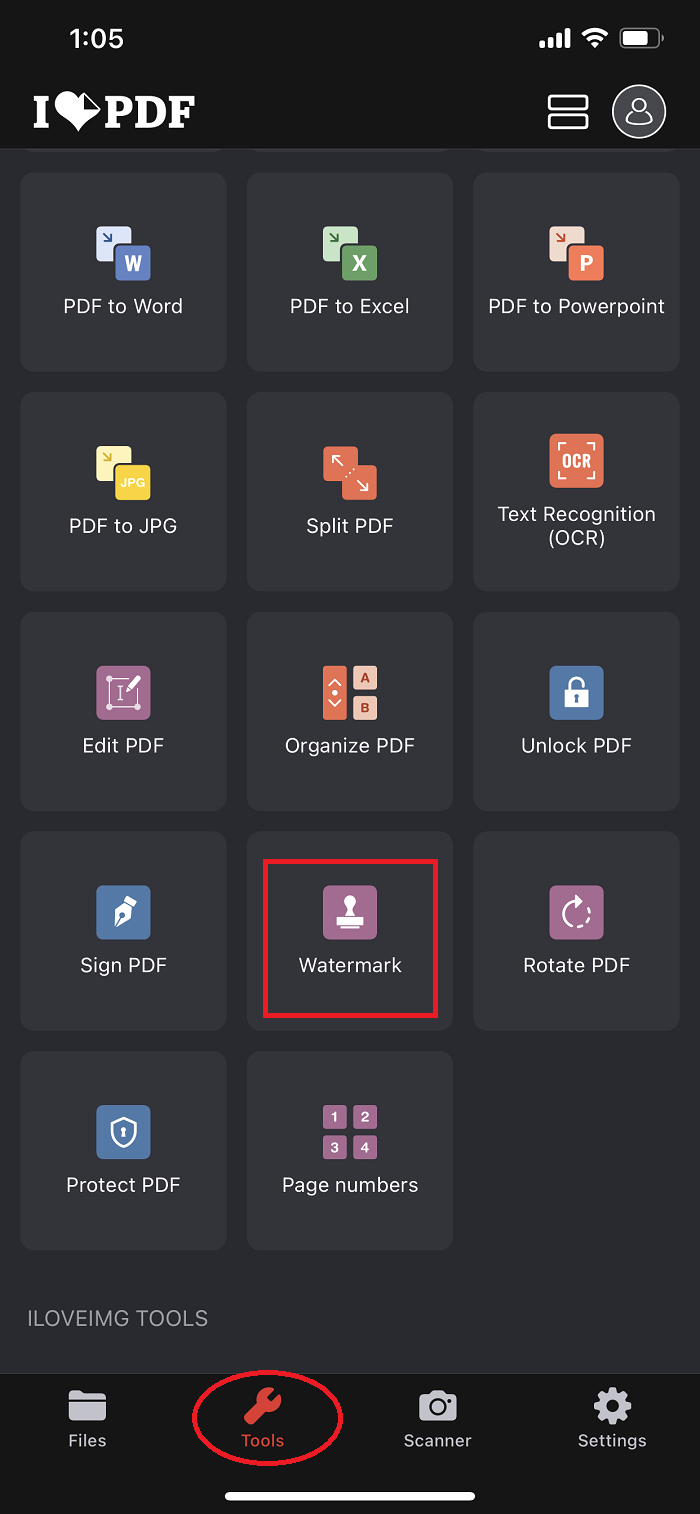 Step 2. Import the files to add a watermark.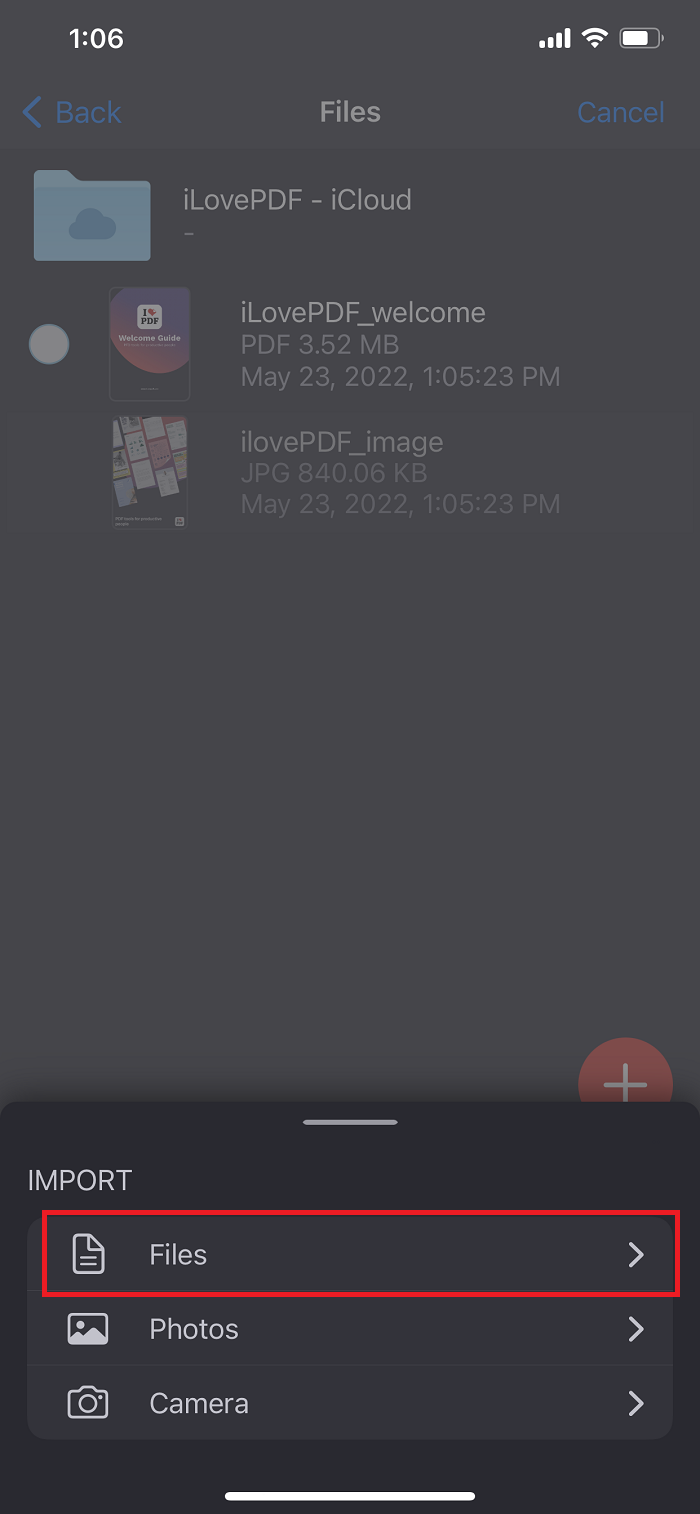 Step 3. In the "text" area, add the text of the watermark, and you can adjust the size, font, and color. Then press done.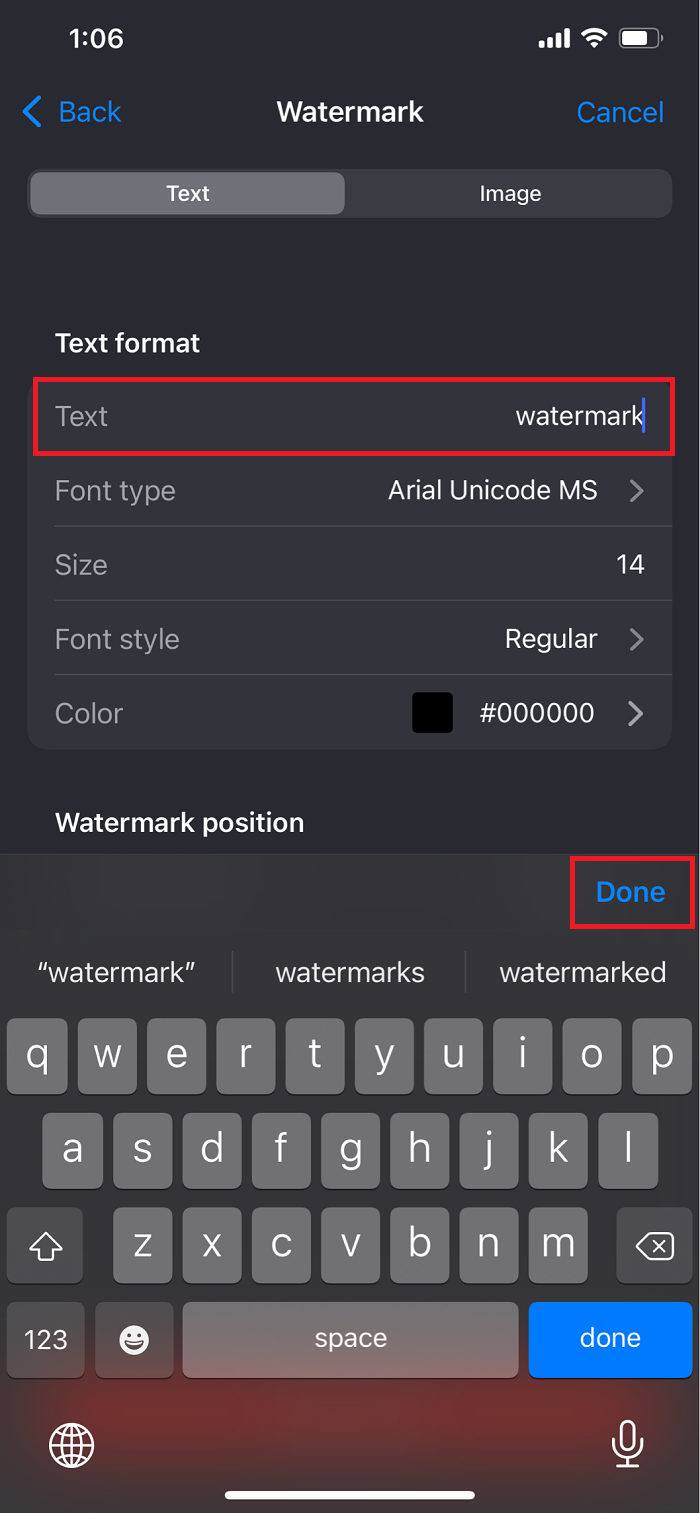 Step 4. Watermark is added to the PDF file. Press "go to files" to preview the new file with a watermark.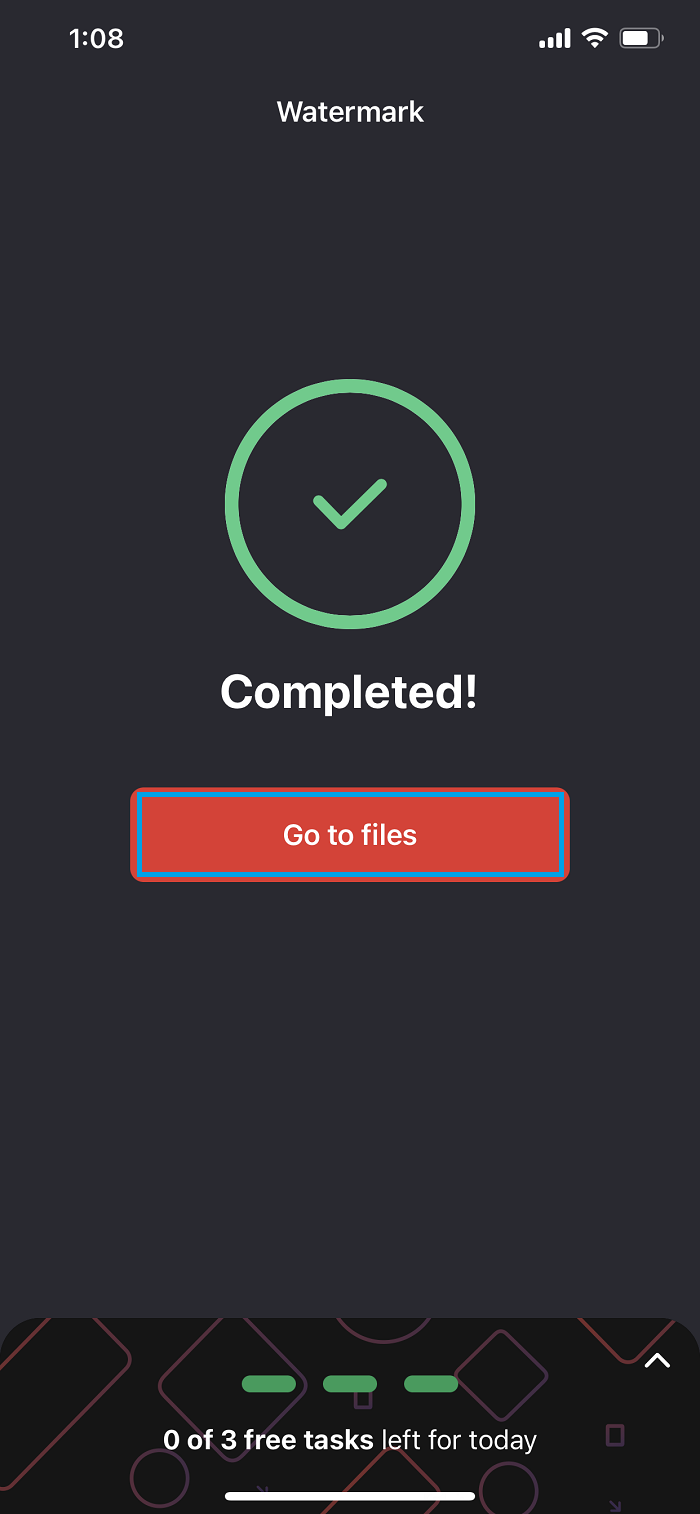 The Bottom Line
There are numerous online and offline alternatives to add watermark to PDF documents. Because of its ease and versatility, some people choose to use online tools. Users like working on online solutions because they do not need to download editors. While online PDF applications have advantages, offline PDF programs offer far more capabilities and tools.
Most people use offline tools if they want to make considerable changes to their documents. Installed, offline programs are also useful to add watermarks to PDFs without connecting to the internet. EaseUS PDF Editor is the best offline software to add watermark to PDF, among the other options available on the market.
Price: It costs $29.95/Monthly, $49.95/Annual, $79.95/Lifetime.
Compatibility: Windows
No more content