Many times when you encounter a warning message on your Android stating that the storage system is full. Although this isn't huge trouble to ponder about, it might seem like a daunting task when you are willing to store your required files on the device or phone.
There might be a wide range of seasons for the storage to not comply with the given data. However, one of the most common issues is the massive storage of duplicate photos on the device. It's pretty tricky to delete duplicate photos Android manually as it demands much time and effort to scour every image on the device.
Ample storage on your Android might seem like a mess, so undoubtedly, duplicate files could be filled without the knowledge. Thankfully this article will introduce an Easy duplicate finder to make the overall process easy. Go through till the end of this article to learn everything about it.
How to Delete Duplicate Photos on Android?
Method 1. Duplicate Photos Fixer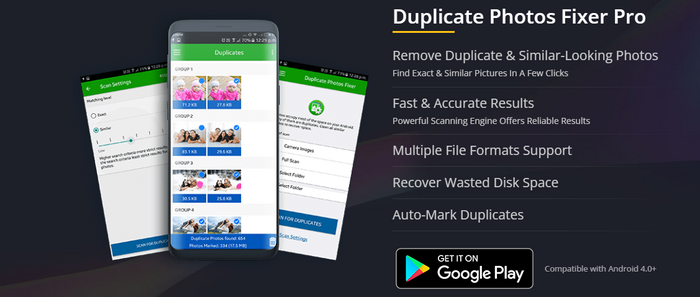 This super-friendly UI interface by Systweak Software is one of the assuring duplicate photo removers. As the name suggests, Duplicate Photos Fixer is the ideal app to relieve your device from the useless storage of photos and recover space on the Android.
This application allows users to set particular criteria to improve the accuracy of the scanned results. You would be amazed to notice this app's amount of free space after the deletion of duplicate photos.
Step-by-step guide:
Step 1: Start with launching Duplicate Photos Fixer.
Step 2: Set your matching criteria to acquire expected results similarly match or an exact match.
Step 3: Select the desired scanning mode and give the access permission.
Step 4: Be patient till it scans your device or smartphone.
Step 5: After the process marks end, you will get to analyze scanned results.
Method 2. Duplicate Media Remover

This app is highly rated on Google Play Store. It is a reliable solution to delete duplicate photos on Android. It finds image copies and removes the same pictures for other types of files like audio and video files.
It scans your device's internal and external memory, which is attached to the phone. Scheduling scans is possible to remove the unwanted duplicate photos automatically.
Step-by-step guide:
Step 1: Install Duplicate Media removed from the Google Play store.
Step 2: On the Android device, open your files by Google.
Step 3: Click on Clean at the bottom.
Step 4: On your duplicate files card, select your files.
Step 5: Select all the files which you need to delete. Tap on 'delete'.
Step 6: Affirm the delete command on the confirmation dialogue.
Method 3. Remo Duplicate Photos Fixer

The primary focus of Remo duplicate photos fixer is to remove duplicate images from the phone. While this might seem like a limited scope, this main function works properly in the favor of apps. If you are only concerned about the different files of your photos consuming the space on your device then this app is the ideal solution for you.
After the scanning is processed by the Remo it sorts all images into similar as well as duplicate images. This is how you would get rid of the redundant images in place of photos with poor lighting.
Step-by-step guide:
Step 1: Install as well as launch the Remo Duplicate Photos Fixer application on Android. Click on the scan icon.
Step 2: Now this Remo Duplicate Photos Fixer software would start scanning the entire Android device. It will show you all the identical as well as exact duplicate photos in the sets.
Step 3: You are free to preview every duplicate image found by the tool on your Android device.
Step 4: Look and choose the duplicate photos that you are looking forward to removing and tap on the 'delete' button.
Bonus tip: How to Delete Duplicate Photos on Windows?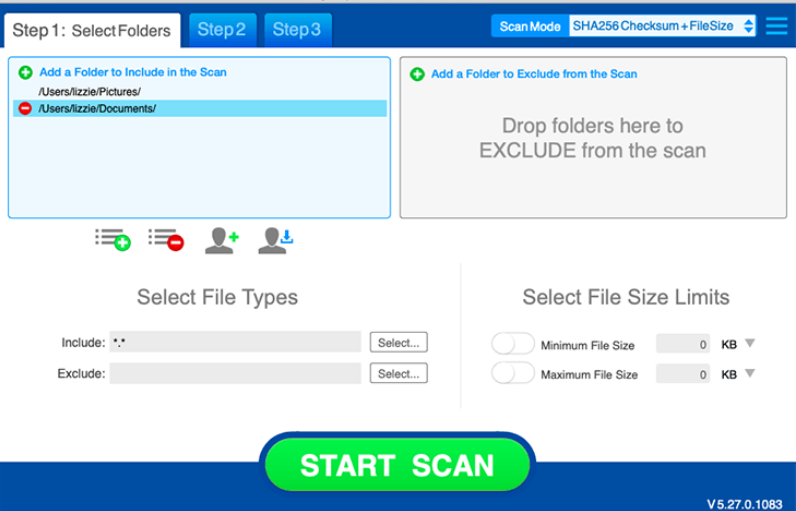 Easy Duplicate Finder is the priority of every user to delete duplicate photos from your PC. This app offers a scanning mode to find your duplicate files on OneDrive and simultaneously remove them from the cloud storage without requiring you to download them.
Moreover, you can also reclaim the disk space wasted on the SSD, HDD, or in your cloud and boost the computer by removing all the duplicate files.
Easy Duplicate Finder is a one-stop solution to delete duplicate photos from Windows since it uses the latest technology for identifying all sorts of duplicate files' super-friendly user interface and intuitive scanning process that makes the overall process smooth.

Easy Duplicate Finder Review
Unique features:
The 'Wizard' tool is responsible for removing all the duplicate files with just a few taps.
Get to explore 10+ scan modes and execute the methods for advanced-level file management.
Find every duplicate file with 100% guaranteed accuracy.
Preview all sorts of files for an effective and safer search.
Relieve duplicates in cloud storage solutions such as Dropbox and Google Drive.
Ensure the security of both system files as well as a folder.
For urgent recovery, click on the 'undo' button.
Price: Its single computer license charges $59.95/year.
Compatibility: Windows
How to find and delete duplicate photos via Easy Duplicate Finder?
Step 1: Initiate the scanning process
Start the process by selecting from various types of scan modes or simply tapping on 'Wizard' for a detailed guided experience. Find all your duplicate files instantly.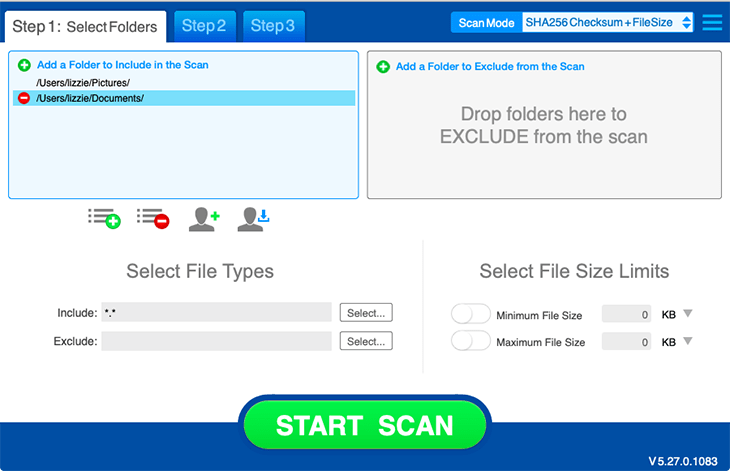 Step 2: Review your results
The intelligent technology of Easy Duplicate Finder selects only valid duplicate files to remove. It searches beyond merely looking at file extensions and file names.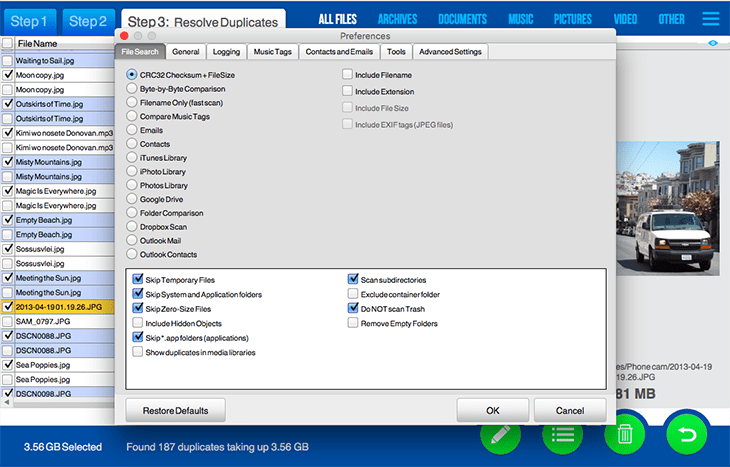 Step 3: Delete all the duplicated files
Look for all the duplicate files you require removal and delete them at once with just a click. Now you are all set to enjoy a speedy and properly organized computer.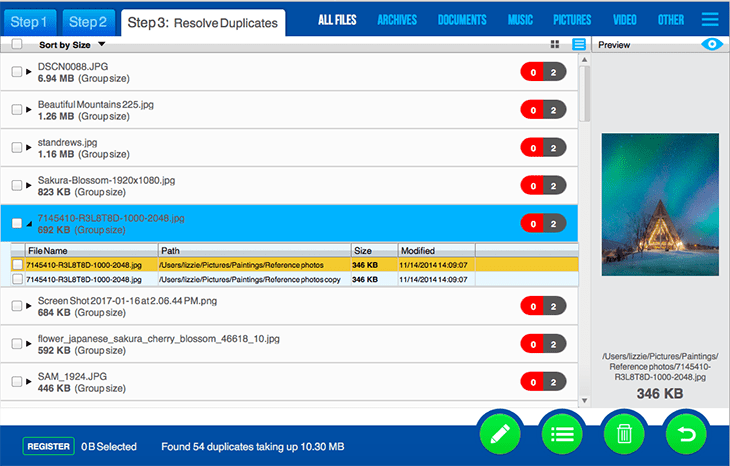 Conclusion
Trying to save your storage space on Android devices seems a monumental task. You make a note to only install and use those apps, which is necessary, followed by a backup of every important file to your cloud. Unfortunately, duplicate files can consume immense, unnecessary space indicating performance issues. This piece would brief you on a few software to delete duplicate photos on Android.
Erasing such files manually might take much effort. The best thing is that apps like Easy Duplicate Finder can instantly find duplicate finds within a few seconds. To delete duplicate photos on Windows this application is one of the best choices you can make, considering the kind of useful features and quality service it offers.
No more content