ACSM stands for Adobe Content Server Message File. It is usually used to protect digital files. If your eBook is in ACSM format, you can not play it in Kindle. So, our article gives you an in-depth, step-by-step solution to convert ACSM to Kindle.
Why do you want to convert ACSM to Kindle?
ACSM File
ACSM is a file format that is usually associated with eBooks. It helps the creators to prevent copy-right and protect the authors' ownership.
If you haven't seen the ACSM file, you can download or buy any eBook from any digital library. You will notice that the downloaded file or book has an extension .acsm.
ACSM is not a common file type, so your confusion regarding it is justified. But there is nothing to worry about, as our goal is to help you deal with this file. You will see how you can convert such files to your better use in this article.
Reasons to convert ACSM to Kindle
ACSM files are DRM protected. It means that you can not open these files if you do not have the right to open them. Also, DRM protection prevents you from opening this file in Kindle for reading. Therefore, it is better to convert the ACSM file to kindle.
Below are a few common reasons to convert ACSM to Kindle:
Remove DRM protection: When you convert the ACSM protection, the file is no longer DRM protected.
Freedom over your book: You do not have limitations with your eBook after the conversion. You can read it on any application or device that you prefer.
No ADE dependency: ACSM files can only be opened with ADE (Adobe Digital Editions). Once you convert them, the dependency no longer exists.
How to Convert ACSM to Kindle
Now, it's time to convert ACSM to Kindle. Fortunately, you can easily convert ACSM to Kindle using an automated tool. Let's see the process below to convert ACSM to Kindle.
Epubor Ultimate is a beautiful tool that makes reading eBooks easier for everyone. You can read eBooks, remove their DRM protection, and convert eBooks from one format to another.
Price: Its Lifetime license costs $49.99/1 PC, $54.99/1 MAC.
Compatibility: Windows and Mac
In our article, you will see how to convert ACSM to Kindle. Follow the below steps:
Step 1: Download Epubor Ultimate from their official website.
You can download the software in both macOS and Windows operating systems.
Step 2: Install the Epubor Ultimate software on your computer once you download it.
Step 3: Launch the Epubor Ultimate software on your computer and locate the downloaded ACSM book from the software interface.
You can easily see all the ACSM eBooks under the Adobe tab below the search input field (see the left side panel). Next, add all these files to the right of the window by dragging and dropping or pressing the + Add button after selecting them.
As soon as you drag the books to the right panel, DRM protection will automatically be removed from your ACSM eBook.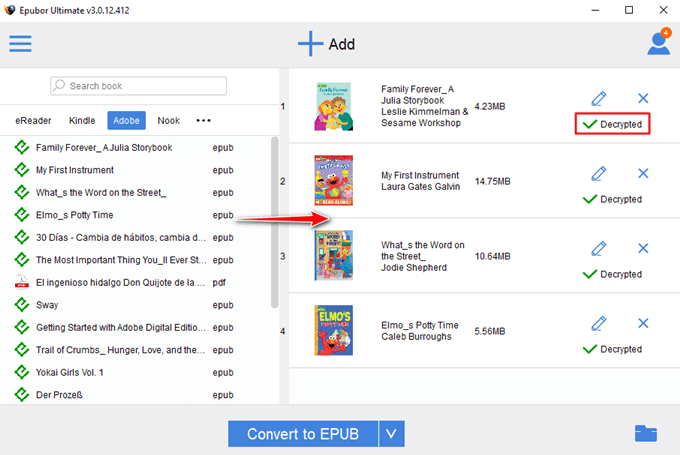 Step 4: Select the output format for conversion of your eBook.
Click on the blue button at the bottom of the software screen, which shows Convert to EPUB. Upon clicking it, you will see an expanded drop-down menu. From there, you can select the output format for your ACSM eBook.
You can convert your book into the format you choose after clicking the Convert button. Please select the EPUB format, so your ACSM book gets converted into a Kindle-supported format.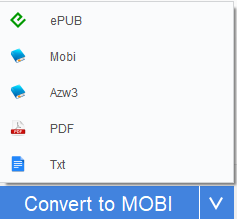 After clicking the convert button, the Epubor Ultimate software will start the conversion process. It will take some time, depending upon the size of your eBook. Usually, the conversion process of Epubor Ultimate software is 10x faster.
Once the conversion is complete, you can see your book in the same folder converted into Kindle-supported format (EPUB). Now you can easily read the ACSM format eBook with your Kindle.
Conclusion
The biggest challenge in the digital world is to protect the ownership, content, and rights of the publisher/author. Such is the case with eBooks. Owners and publishers fear for the eBook rights and distributions.
These privacy issues are handled by DRM protection. One essential DRM protection is achieved by ACSM format, Adobe's digital content protection format.
But, one big flaw to this ACSM format is that Kindle does not support it. So, any book that you download from the internet or any public library does not work for your Kindle. So, the only solution is to convert your ACSM format book into Kindle-supported format.
You can easily convert ACSM to Kindle by using Epubor Ultimate software. The simple tool lets you convert the books from ACSM to Kindle through simple steps.
Price: Its Lifetime license costs $49.99/1 PC, $54.99/1 MAC.
Compatibility: Windows and Mac
No more content