If you're sick of straining your eyes when viewing your phone screen, especially when watching movies or playing video games, wouldn't it be nice to see it on a bigger screen? You certainly can, but putting anything onto a large Tv isn't necessarily the easiest task. There are numerous solutions available, with Chromecast arguably one of the most prominent.
Chromecast is a good tool for casting the screen of your Android or iOS smartphone to your TV, but it's not the only option you have. Other apps and methods to help you cast screen to tv without Chromecast exist. This article will look at a few different ways to android cast screen to tv without Chromecast on your Android or iOS devices.
How to Android Cast Screen to TV Without Chromecast
Method 1: ApowerMirror (Easiest and Best Way)
ApowerMirror is a leading Android and iOS screen mirroring app that could enable you to cast your Android smartphone to your TV. Because it uses standard mirroring systems, it permits screen mirroring alongside sound and provides the best mirroring experience. Users could cast their smartphone screen to a TV without delay using ApowerMirror. This fantastic screen mirroring application is well-known for its superior image quality, speed, and lack of lags and glitches. Furthermore, the ApowerMirror application is cross-platform and device adaptable. You can use this technology for various purposes, including home entertainment, presentations, playing games, and streaming video.
Key Features
Screencasting with sound in High Definition and actual time
Synchronous Mirroring of Multiple Devices
Display in full-screen mode
Can work flawlessly with Android TV and smart TV boxes
Price: It costs $39.95.00/Yearly, $59.95/Lifetime.
Compatibility: Windows
Here's a step-by-step guide on how to mirror Android to TV without Chromecast using ApowerMirror.
Step 1: Begin by downloading the app and installing it on your TV and Android smartphone.
Step 2: Connect the TV to the same wireless connection as your Android device.
Step 3: To use the app, open it and press the Mirror icon on your phone. To begin mirroring, select your device's name and click "Start now."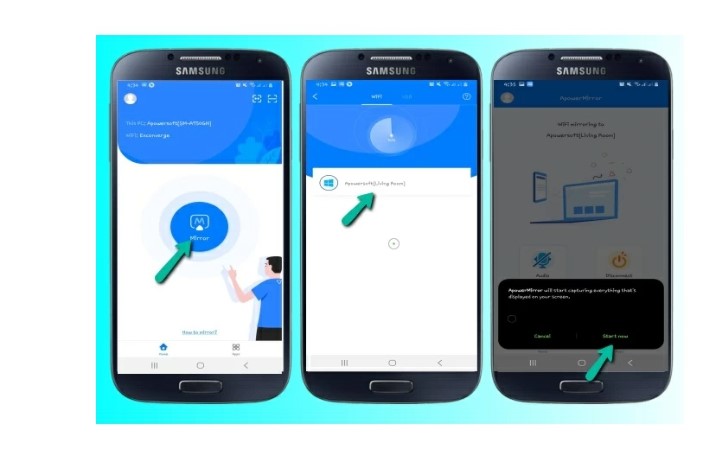 Step 4: Your Android device is now linked to your TV.
Method 2: Native Casting
Casting your phone's screen to most smart TVs isn't an issue as long as your phone runs Android 4.2 or above, especially if you want to do that without the use of Chromecast or any other pieces of hardware.
What matters is that your TV supports Miracast, a wireless technology that allows two devices to connect securely without having to connect to the internet. It's perfect if your Android mobile and TV are made by the same company (e.g. LG, Samsung, etc.).
Step 1: Go to Quick Settings Tray.
To access the Quick Settings icons, swipe downwards on your device to open your notification menu.
Check for a screencasting option. The screencast capability in Samsung devices, for instance, is known as Smart View.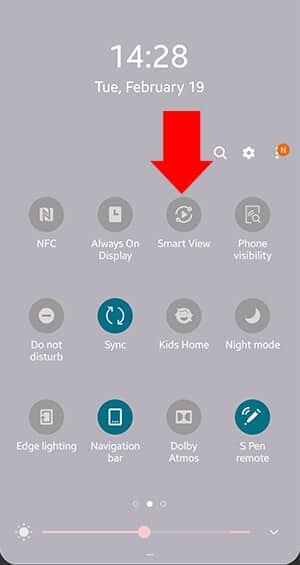 Step 2: Locate your smart television.
After you've enabled the screencast feature, look for your TV in the set of nearby compatible connections that appears. Ensure that all of your devices are all on the local Wi-Fi connection.
Choose your smart TV from the options. Your TV would then mirror your smartphone's screen within a few seconds.
Step 3: Start Casting
Watch your notifications tray for a popup showing that you're casting your screen after linking your device to the TV.
Method 3: LetsView
LetsView is also another option for connecting a phone to a TV without using Chromecast. This free and simple screen mirroring app allows you to cast your Android device's screen to your TV and use it to show and manage files on your device, as well as stream videos, and watch films for an improved viewing experience.
Step 1: Install the software on your Android smartphone and TV. Remember to link your phone and TV to the same Wifi connection.
Step 2: Launch the program on both your smartphone and your TV, and allow for your Android device to detect your TV.
Step 3: Tap it when it has been detected, and your smartphone would be linked and displayed to your TV.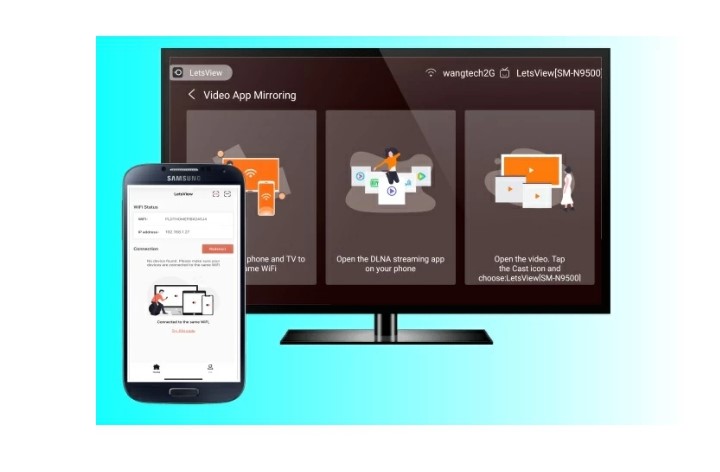 Method 4: Use Roku Streaming Stick
Roku provides an easy method to view your Smartphone screen on a larger screen. Screen mirroring is installed on the stick. All you'd have to do is activate it.
Step 1: link two devices to the same wifi network. Then connect the Roku streaming stick to your television.
Step 2: Go to Settings > Systems > Mirroring from the Home page. Go ahead and select your linkage mode from here.
Note: To allow casting on your Android phone, follow the instructions outlined for Native Casting above.
How to Cast iPhone Screen to TV without Chromecast
Method 1: Use Screen Mirroring
You could also link your iPhone to your TV using Screen Mirroring. The fastest way of screencasting is screen mirroring.
Step 1: To access the Control Center, swipe downwards on your main screen.
Step 2: The Screen Mirroring icon with two rectangles may be seen underneath the wifi and Bluetooth options.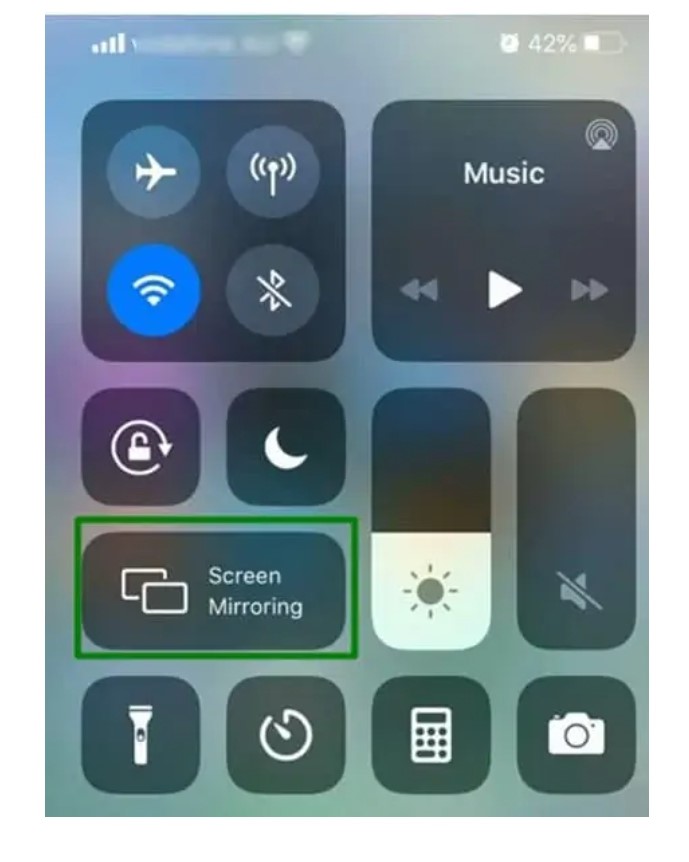 Step 3: Check if your TV is Wi-Fi enabled and suitable for Screen Mirroring.
Step 4: Tap on your TV's name when it appears in the list of options in Screen Mirroring and starts watching the program.
Method 2: AnyCast
AnyCast is a tv streaming solution that can mirror your iPhone to your Android TV. With AnyCast, you could stream movies, songs, and pictures from your iPhone directly to your television via a wireless connection.
Step 1: get an AnyCast unit and connect it to the HDMI connection on your TV.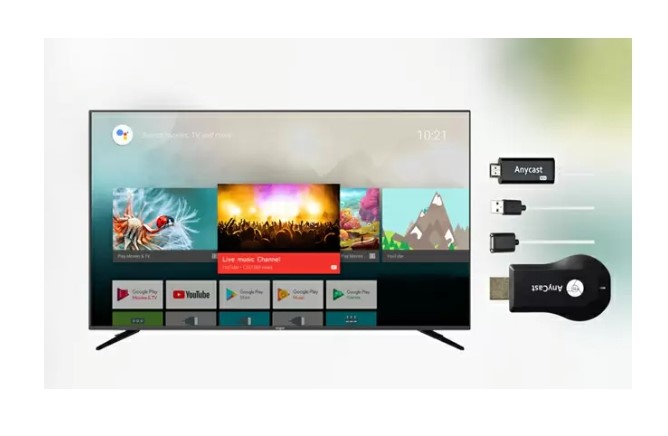 Step 2: Using the tv remote, move the "Input" tab on your TV and pick "HDMI." After that, you'll find the AnyCast device's SSID and password.
Step 3: Go to Wi-Fi options on your iPhone, hit the title of your AnyCast device, and then input the passcode on your TV screen.
Step 4: On your iPhone, launch Safari and type in the AnyCast IP address. Link your device to your personal Wi-Fi network by tapping the "Internet" tab on the screen.
Step 5: Finally, access the Control Center by scrolling down from the bottom of your iPhone. Choose the hostname of your AnyCast device under "Screen Mirroring."
The Bottom Line
The techniques listed above could let you view your Android or iPhone on your TV without using Chromecast. Native casting allows you to cast without a third-party application. LetsView also provides you with some cool features and quality resolution.
Finally, if you desire to watch your phone's screen on a TV, try using the ApowerMirror solution; the additional features, including screen-recording, make it the perfect solution to have at your disposal at all times.
Price: It costs $39.95.00/Yearly, $59.95/Lifetime.
Compatibility: Windows
No more content