Screen mirroring your Android device onto your Laptop may not be something that most people tend to search for. But, the growth of OTT services today has made it quite important to focus on the need to cast screens from android phones to laptops. Let us check out a few ways to enjoy the best screen mirroring functions from Android to the Laptop.
How to Cast Screen from Android Phone to Laptop?
Several methods are available for casting screens from Android to laptops. We will check out a few simple and easy-to-use ways to achieve a better experience and outstanding performance.
Method 1. MirrorGo (Easiest and Best Way)
The WonderShares MirrorGo is an outstanding tool providing an advanced Android mirror application. It has been rated to be one of the most convenient ways to mirror Android screens to large screens such as laptops, desktops, and TVs.
Some of the prime features offered by the screencasting application can be summed up as follows –
Ease of operation –The tool is quite simple and easy to work with. You can control your Android devices with ease using the tool.
No delay screen mirroring –The software assists you in mirroring your Android screen without any delay to your laptop screen. You can opt for an effective screen mirroring with a USB or WiFi connection.
Keyboard mapping –The software also lets you map the keys on the keyboard to your Android device
Transfer files with ease –The tool can also double up as an excellent choice for transferring files between Android and Laptop through a drag and drop functionality.
Record your Android screen –Apart from assisting you in screen mirroring, the tool can also help you record your phone, take screenshots, and save them on your PC.
How to cast screen from Android phone to Laptop using MirrorGo?
The steps involved are relatively straightforward –
Install Wondershare MirrorGo on your Laptop.
Launch the application
Connect your Android device through a USB connection.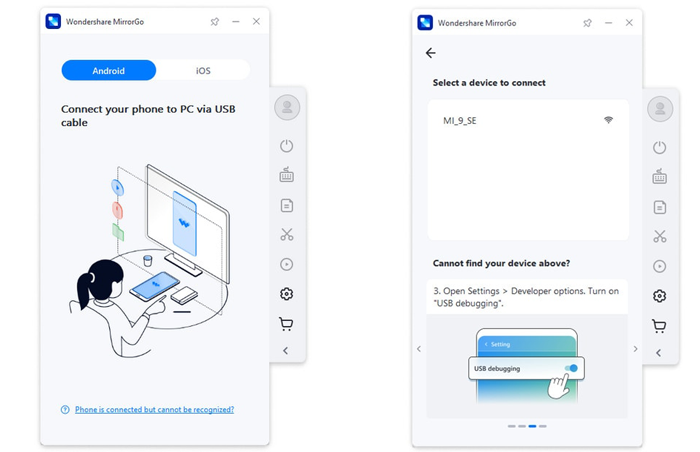 Enable USB debugging on your Android device.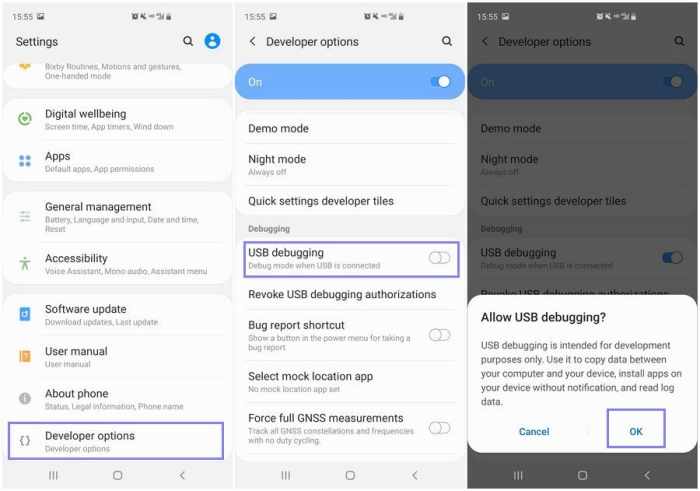 That does it. Your Android screen will be mirrored onto your Laptop.
Method 2. Use the Built-in cast feature
Most Android devices today come with built-in cast functionality. The casting or screen mirroring on an Android device works through Chromecast.
You can check out the steps here below –
To cast on Android, go to Settings > Display > Cast.
Tap the menu button and activate the "Enable wireless display" checkbox.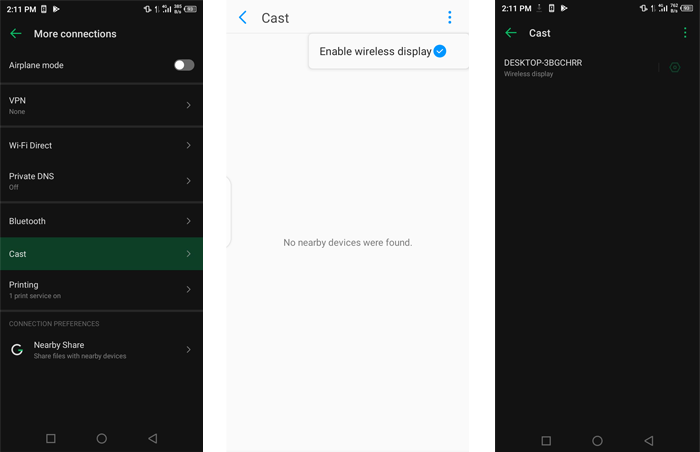 You should see your PC appear in the list if you have the Connect app open.
Tap the PC in the display, and it'll instantly start projecting.
If your phone does not support Miracast, the method may not work.
Method 3. Use Mobizen for accessing screen mirroring from Android to Laptop
Mobizen is one of the unique apps that has gone quite popular in terms of the best mirroring app for Android devices. It provides access to several features such as mirroring from Chrome, controlling the device via keyboard/mouse, transferring and viewing files on PC, and many other functions. The basic features of the app are available for free usage.
It can be your best choice for working with the android device on your PC or Laptop. The tool does provide you an opportunity to set screen transparency as well.
Here are the steps you can use to cast screen from Android phone to Laptop –
Download and install Mobizen on your devices. Ensure that you have the app installed both on your Android device and Laptop.
Turn on USB Debugging on your Android device.
Open the Mobizen app on your Android and sign in. You need to create an account if you already do not have one.
Launch the app on your Laptop and choose the connectivity options depending on whether you want to use USB connectivity or Wireless connectivity.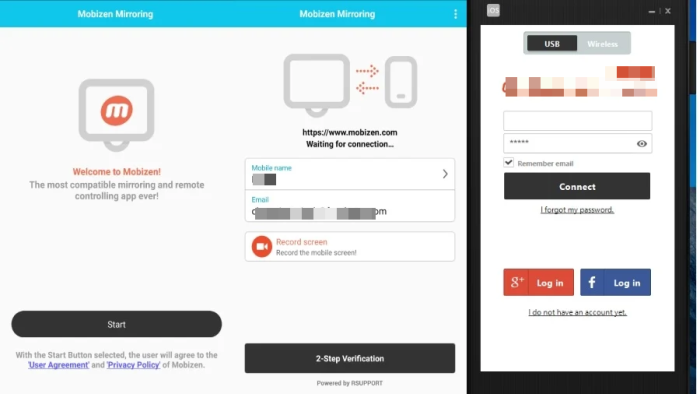 Tap onStart Now and begin mirroring your screen.
The Bottom Line
Most of us are unaware of the best screen mirroring capability offered by the Android ecosystem by default. It has been regarded as the most straightforward and accessible method in the long run. However, the default feature may have limited functionality in many cases. That is where you would find the third-party tools providing you with one of the most enhanced and exciting experiences in casting your screen with ease onto a laptop from an Android device.
No more content