Digital devices and machines tend to stop work for different reasons that are unexplainable to ordinary users. Like phones and other portable devices, the Kindle sometimes has sudden problems that frustrate its users.
Most users complain that their Kindle won't turn on even when the battery is full or has no problem the user is aware of. Finding solutions to Kindle problems like the "why won't my Kindle turn on?" problems is easy, unlike other issues that might prove so stubborn and require the attention of experts.
In this article, simple steps to take when the Kindle doesn't turn on problem surfaces are explained extensively.
Method 1: Charge or Replace Charger
Method 3: Reset through the Recovery Menu
Method 4: Use Amazon Customer Support
Method 1: Charge or Replace Charger
When a device's battery goes down, its work ends and cannot continue until the battery is resuscitated. Battery charging is essential for the continuous use of the Kindle.
There are cases where the battery charge is so slow or ineffective. This is often caused by the charger used in charging; probably it's an old or faulty one. A kindle charger consists of an adaptor and a USB cable.
It is usual for a USB cable to lose value and effectiveness over time as the continuous cycle of plugging and removing can decrease the effectiveness. A USB cable can become faulty if:
Internal wires break due to constant bending and folding of the wire.
The cable is less expensive. Cheaper lines are not as strong as the expensive ones. This is because of the quality of materials used in their production.
You use your device while charging. Using your device while charging will add extra load on the cable, leading to its gradual deterioration.
In this regard, the best thing to do as a user is to replace the old charger or cable with a new and better one. This is better than repairing the charger or cable.
How to Correctly Charge Your Kindle
Using a wall adapter:
Get a quality wall adapter capable of charging the Kindle without restrictions. Although some Kindles come with a USB cable and an adapter, you can get quality adapters online or nearby gadget stores for those that do not come with a cable or adapter. It is advisable to purchase one on Amazon.
Connect the USB end of the cable to the adapter port appropriately.
Search for the charging port of the Kindle and connect the other end of the line to the port.
Wait for the light indicator to appear. Note that the yellow light changes to green after the Kindle is fully charged.
If the soft hand doesn't appear, the Kindle is not charging. Plug the adapter to a different wall outlet/socket or restart your device by pushing the power button for 20 to 30 seconds.
Using a computer:
Please search for the charging port of your CPU or laptop and connect it to the USB cable.
Connect the smaller end of your cable to your device
Wait for the yellow light indicator to appear.
If it doesn't appear, restart the Kindle or plug the cable into a different computer port.
NOTE: Do not use your Kindle while charging
Method 2: Reset Your Kindle
In a case where your Kindle is freezing in operation, unable to open your ebooks, or access your Amazon account, the best solution is to reset your Kindle. Resetting your Kindle clears all ebooks, digital magazines, and all forms of settings on it. When you reset your Kindle, your personal information linked to your Amazon account will not be lost. So all that's required is to login into your Amazon account after resetting to get your contents back.
Resetting your Kindle should be done only when you have no choice but to do so.
How to Reset your Kindle
Click on the home menu by pushing the house icon at the top left corner
Click on settings/all settings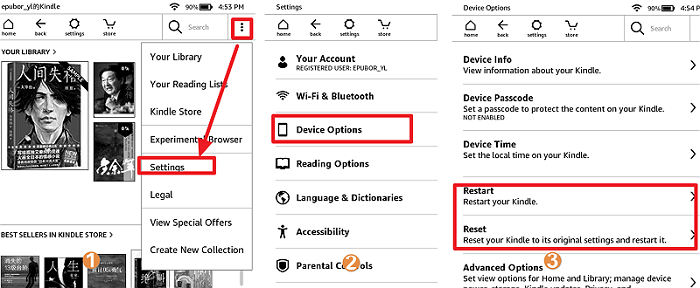 Once the settings come up, click on device options or Menu
Click on Reset or Reset device.
If asked, click on Yes to confirm
After clicking on the Reset/Yes, there's no going back, and all data will be lost. Patience is needed to complete the process, as resetting might take some time.
Method 3: Reset through the Recovery Menu
This method is used when Kindle's operations cease periodically (freezing) and when the setting menu is inaccessible to carry out the standard factory reset kindle process.
To do this appropriately, follow the steps below;
Switch off the device using the power off button
Press a combination of buttons to start the recovery mode process. For Kindle Fire HDX and Fire (4th and 7th generation) devices, press the power button and volume up button down simultaneously and release a logo that immediately pops up on the device screen.
Long press the reducing volume and power button on the devices to launch the recovery mode. Also, when the logo pops up on the screen, release the buttons.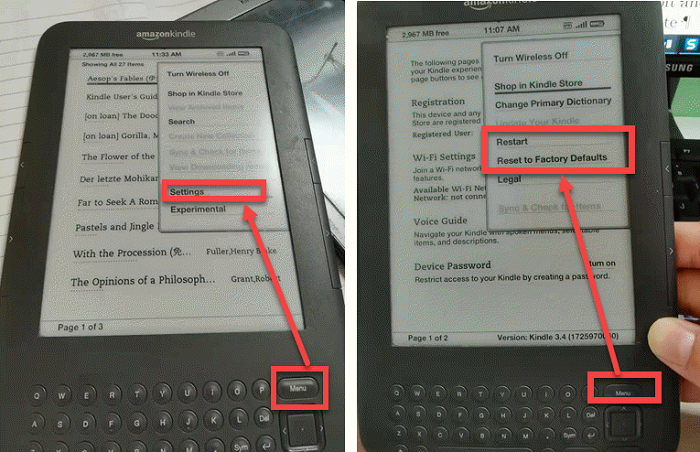 After the mode launches, use the volume up and down buttons to navigate the screen. Afterward, click on wipe data/factory reset and, lastly, the power button to confirm your choice.
Method 4: Use Amazon Customer Support
Another way of rectifying the Kindle won't turn on issue is by contacting Amazon Customer Support. Like every other company, Amazon-the producers of Kindle- have their customer support/service section that attends through which users with different queries or complaints get answers to all. Therefore, it is essential to contact the Amazon's customer support to solve whatever complaints one has.
To be able to get help concerning Kindle problems, click here. Next, click on "Kindle e-Reader."
After that, click on the version of Kindle you are using and watch any of the videos or read any of the articles that answer your questions and complaints correctly.
Other Problems That May Happen to Kindle
Apart from the Kindle won't turn on problem; there are other problems or malfunctions of Amazon's e-Reader device. Some of them are;
Overheating
Overheating is rampant among technological devices and is highly harmful to users. Most Kindle users make overheating complaints while watching a movie or surfing the internet on the Kindle Fire. In some cases, the device shuts down automatically due to faulty components in it.
The best and only solution is to contact Amazon, especially if the front area is so hot.
WiFi network issues
Many Kindle users complained of the inability to connect their devices to a WiFi network.
Solution:
Make sure your device is not in Airplane mode.
Restart your router to reconnect.
If it persists, perform a factory reset process on the device.
Conclusion
Fixing the kindle not starting up issue isn't much of a big deal. By following the provided methods examined in this guide, you will in no time get back to enjoying your favorite eBooks.
No more content