Google Play Books, part of the Google Play line, is an online digital book website that owns millions of users. Featured by its excellent collection of books and convenient service, Google Play Books covers various categories where you can find almost any book you want. Most people still think that they can only read books through the website. The fact is that Google Play Books has launched a new feature - download the PDF format of the book, so that you can read your favorite book content anytime, anywhere on your phone, Kindle, or other devices. But do you know how to download the Google Books as PDF and how to edit the files you download? Well, don't worry, the following content will teach you how to operate step by step.
You need to be aware that the method to download a book for free is different from that of a purchased one.
Steps to Download Purchased Google Books as PDF
If you already have a Google Play Books account and want to download the books you purchased before, follow these steps and download books successfully.
Step 1: Login your Google Play account and go to "My Book" of the Google Play store, then click "My Books" under "Book" on the left side. All the books you bought will be shown on the page.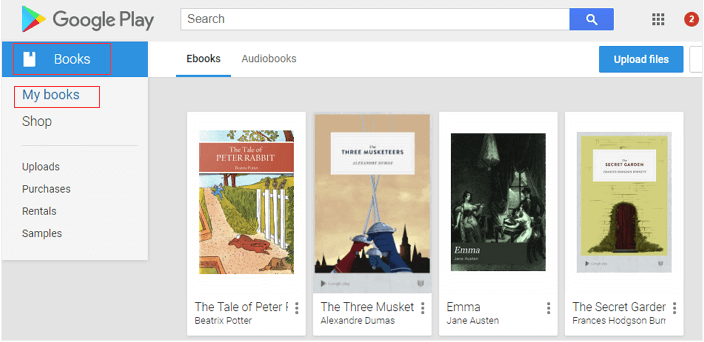 Step 2: Choose a book you want to download. On the book cover, you will see the title of the book and three small dots on the right. Please move your mouse to the dots, and it will show some choices you can make in this book. Choose the "Export" button.
Step 3: After clicking the "Export" button, you can see 3 choices: "Cancel", "Export as EPUB" and "Export as PDF". Click the "Export as PDF", you can download the PDF version directly.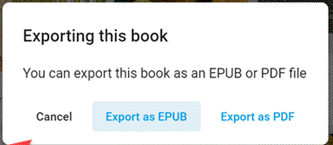 Attention: Sometimes, you can open the PDF file directly. However, there are still times you may download ACSM version, so you need to transfer the ACSM into PDF. You can refer to another passage about how to convert ACSM files into PDF files.
Steps to Download Free Google Books as PDF
Not all books are labeled with a price. Google Play Books offers a significant quantity of free books on its website simultaneously. 
Free books include four different forms: full view, preview, snippet view and no preview books. Out of some access limitations, preview, snippet view, and no view form can be scanned or seen on the web but can't be downloaded. The Full view books are available to download. Here are the specific steps on how to operate.
Download Full View Books
Step 1: Open your browser and input: https://books.google.com/ in URL volume. You will enter into Google Books' official website. Then enter the name of the book you are looking for, and click the search button.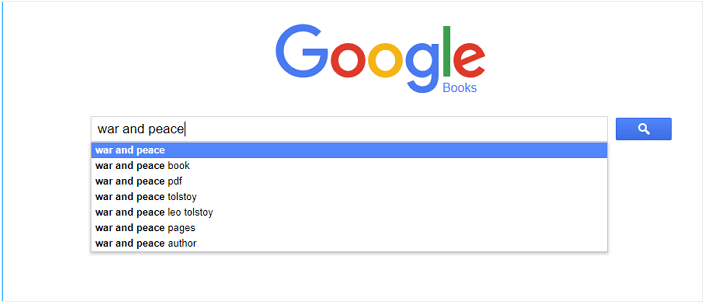 Step 2: The page will display all the search results. Find the links with "Full view" and click it.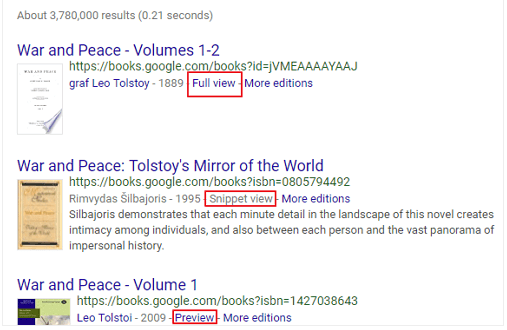 Step 3: After getting into the "full view" page, you can read the book's full content. At the top right corner, you can see a gear icon. Click it and select "Download PDF", then you can get PDF versions on your PC.

These are all the practical steps, and I hope they will help you to download PDF version of Google books effectively.
How to Remove DRM format of the Download Files
After downloading the Google books, you are accessible for reading them freely without the limitation of time and place. However, you can only read it because of DRM(Data Rights Management). Do you have the time when you only want to reserve part of the book, or do you want to take some notes beside the content? It will be so annoying and troublesome due to the restriction. Don't worry. A perfect tool called Epubor Ultimate can help you solve your problem easily and effectively.
With the feature of multifunctional, the Epubor Ultimate can integrate both DRM decryption and format conversion features with high speed and convert audible files into MP3 or MP4 format. Very easy to operate, the software is suitable both for beginners and professionals. With just several simple clicks, you can remove the DRM of your download files.
Price: Its Lifetime license costs $49.99/1 PC, $54.99/1 MAC.
Compatibility: Windows and Mac
Step-by-step Guide:
Step 1: Download and launch the Epubor Ultimate.
Step 2:Remove DRM in Kindle books.
On the left side of the interface, you can see some options, including "eReader", "Kindle", "Adobe", "Kobe" and some others. Select the "Kindle" button. In the displaying items, find the target you want to remove DRM. Drag it into the right side. The DRM will be removed automatically.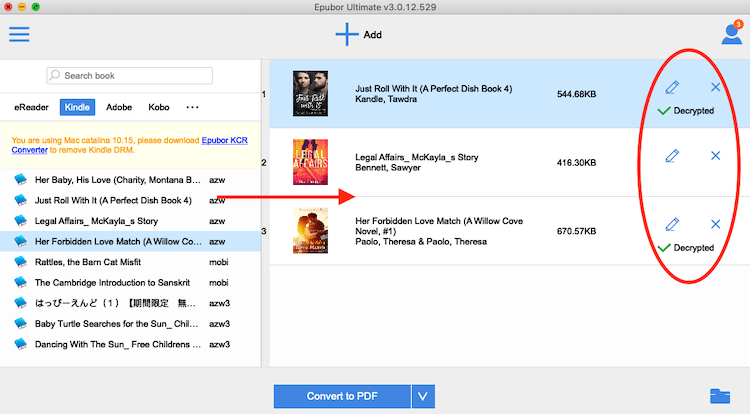 If you want to remove DRM or convert the format of other files that don't belong to any option, you can click the "Add" button. 
Sum Up
Although Google Play Books provides a convenient way to download books we like, some restrictions still limit you. If you want to edit your file, you are supposed to remove the DRM first. Epubor Ultimate is a practical and effective tool to help you achieve your goals. Hope all the tips are helpful to you.
No more content