Windows boot up slow, startup time lasting very long every day
"Do you know how to speed up the computer's boot time after using it for a long time? I have a Dell laptop which is installed with the latest Windows 10 April 2018 update now. 
Everything works so great with this laptop. But the computer becomes slower and slower in booting up the Windows system. Recently, my laptop becomes extremely slow in a startup after installing the latest Windows 10 update. I tried to find solutions online, and found out that there are quite a big number of Windows users are having the same problem.
And the methods online are too complex for me to follow, testing which one can help with this problem is also time-consuming. I need a straightforward and free method for helping me fix this issue. Help me please if you happen to know the solution. Thank you."
Are you experiencing computer slow boot issues on Windows 10, 8, 7, and even older Windows OS? Usually, when Windows computers become slow in the startup, the PC's working efficiency sometimes will somehow also get affected. So what will you do to resolve the Windows slow boot issue on Windows 10/8/7? Here the below, you'll find 5 free tricks collected by EaseUS software, and you can follow any one of them to speed up the Windows computer boot time without losing any data on your own now:
5 Free Tricks to Speed Up Windows Boot or Start Time
Just follow to see how to speed up your Windows PC boot or start time with simple clicks now:<
NOTICE: To avoid unnecessary data loss issues by speeding up Windows boot time, please backup important files in C drive to a secure location or device in advance.
Method 1. Enable and turn on Fast Startup
The most straightforward way to speed up Windows boot time is to enable and turn on Fast Startup on Windows system:
1. Type: control panel in the search bar and open Control Panel, click Power Options.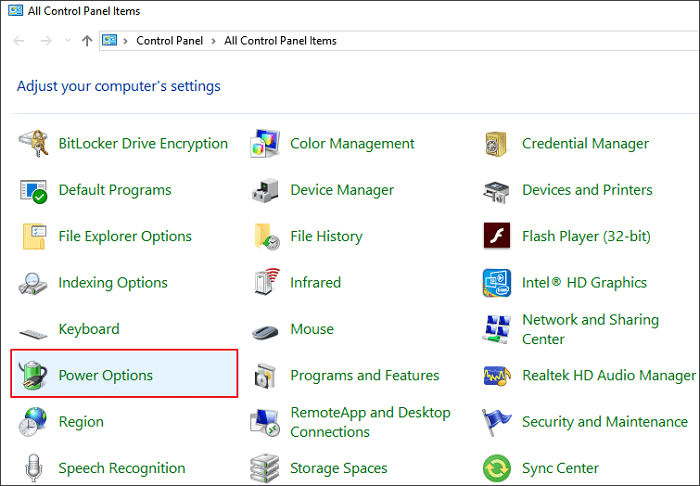 2. Select Choose what the power buttons do.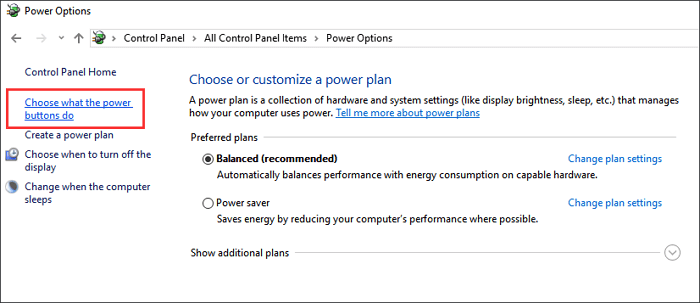 3. Click Change settings that are currently unavailable.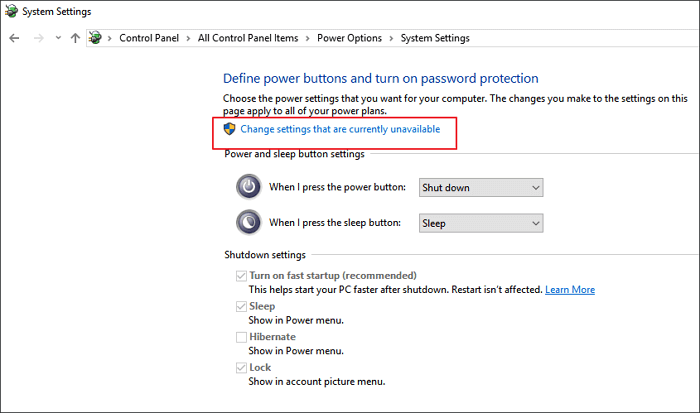 4. Go to Shutdown settings and select Turn on fast startup (recommended). 
This will help you start your PC faster after shutdown.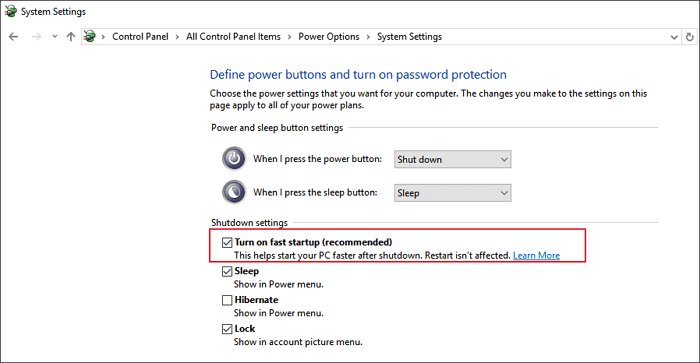 Method 2. Disable and turn off programs to boot from the startup
When you've enabled many programs to start up with the Windows system, the computer's boot time will be prolonged undoubtedly. Therefore, the other working method that can help you speed up Windows PC boot time is to disable and turn off some useless or unnecessary programs to boot from the startup. 
1. Right-click on the Start icon and select Task Manager.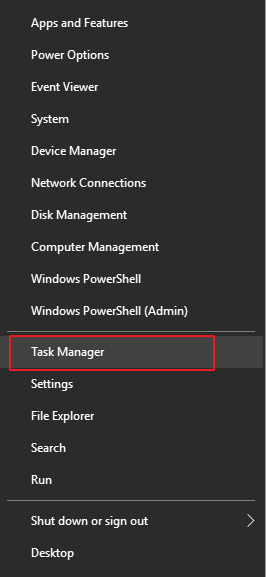 2. On Task Manager, go to Startup and select the program or applications that you want to disable in the list of automatically starting programs.
3. Click Disable or right-click on the exact program and select Disable.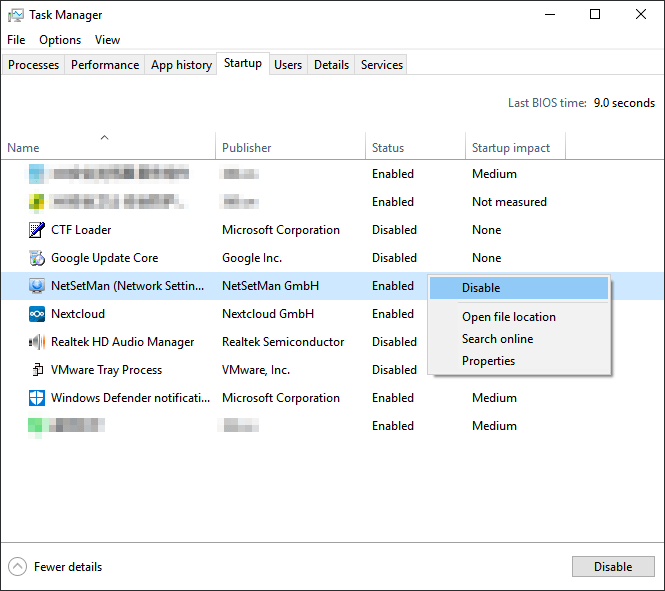 Method 3. Free up disk space and clean up junk files
When the Windows system C drive is running out of space, fully filled with useless junk files, the Windows boot time will be postponed.  You need to clean up the junk files regularly.
Method 4. Adjust Windows for best performance
To adjust Windows for its best performance may also help to decrease the Windows boot time at some extend. Here are the detail steps and you can follow to give it a try:
1. Type: Control Panel in the Search box. And open Control Panel, select System.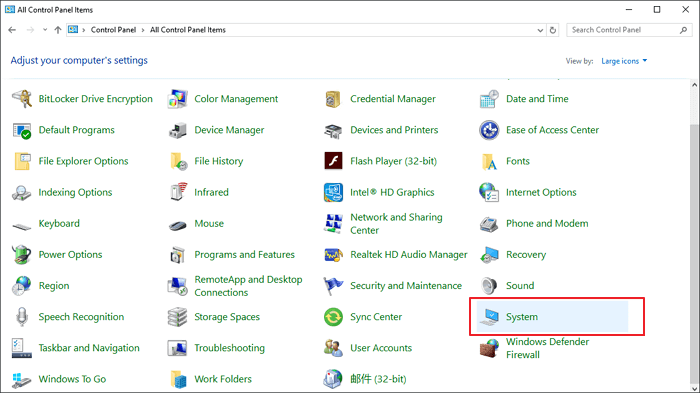 2. Click Advanced system settings and go to Advanced tab, click on Settings... under Performance column.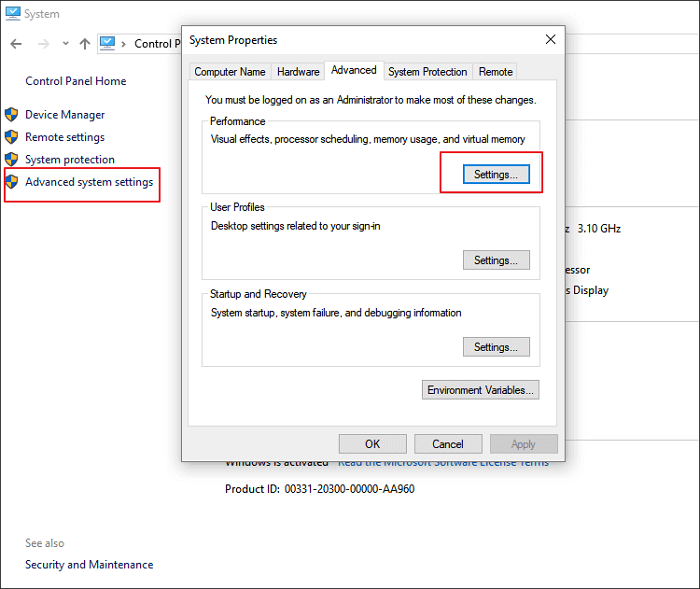 3. Check Adjust for Best Performance and click OK to confirm.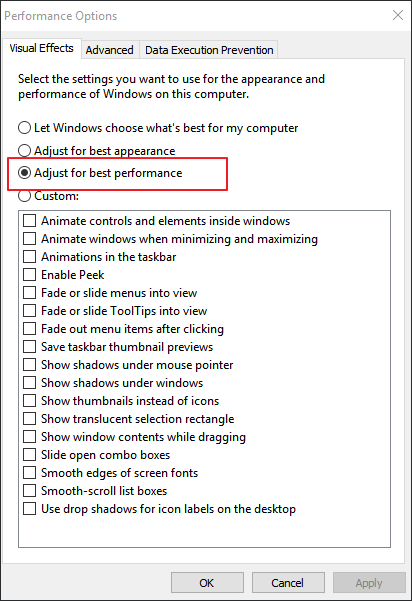 Method 5. Shorten the Boot Menu Timeout
1. Type: Control Panel in the Search box and open Control Panel, select System.
2. Click Advanced system settings and click Settings under Startup and Recovery.
3. Check Time to display a list of operating systems: 30 - 1 seconds and you can elect to reduce the time. Then click OK to confirm.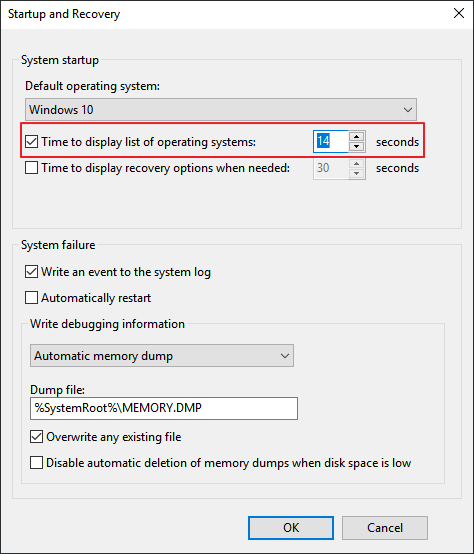 After this, you can just restart your PC, and you'll get a faster start time on your Windows PC. 
No more content