While playing your favorite PS4 games, one of the most frustrating occurrences is the PS4 black screen issue. It is a situation where your PS4 screen suddenly goes completely blank in the middle of a game. It is infuriating because it pops out of nowhere in the middle of your game and provides you with no error message.
The good news is this problem is a general one. If you have faced this problem once or more while firing up your PS4 console, know that you're not alone. As it is popularly called, the black screen of death is a general issue, and yours is no different. It can happen to anyone, no matter your experience level.
Don't worry. In this guide, you'll find some of the major reasons for the PS4 black screen issue and five detailed ways to fix this issue. Let's explore.
Why PS4 Black Screen Error Occurs
You should know that the reason for your PSa4 black screen can be anything. It might be a basic connection error or something way bigger. However, determining the exact cause for the PS4 black screen isn't always easy.
Nevertheless, here are the major causes of the PS4 black screen.
 Faulty hardware in the PS4 console that's making the system unstable and causing the system to be unstable.
A damaged connectivity cable that's unable to transmit video properly.
An incompatible software update.
Corrupt systems or files may result from incomplete updates, viruses, or other factors.
A defective PS4 power adaptor results in a low or no power supply to the system.
A power surge into the system or a sudden overheating
A defective HDMI port in the TV, monitor, or console.
5 Simple Ways to Fix PS4 Black Screen
Fortunately, most of the black screen cases listed above can be solved. But, of course, it all depends on what caused the black screen. Below, you'll find a step-by-step guide to help you troubleshoot and fix your PS4 black screen of death.
Method 1: Restart Your PS4
Rebooting your PS4 console is always the first option to explore whenever you encounter a PS4 black screen issue because it won't just help with this black screen issue, but it will also help with other random problems that are on with the console. So here's how you can restart your PS4 console:
Step 1: Press and hold the power button for about 7 seconds till the console produces a second sound.
Step 2: unplug the power cable of the console, monitor, and other devices from the electricity, and wait for about 30 seconds.
Step 3: Plug the power cables back into the console and other devices
Step 4: turn on your PS4 and see if the PS4 black screen issue has been fixed.
Method 2: Change Your PS4 Resolution in Safe Mode
Another effective method to remove this PS4 black screen issue is to change the PS4 resolution to safe mode. Safe mode is a diagnostic mode on computer devices and PS4 that allows users to perform advanced operations on the device. For example, it can help with upgrading your firmware, resetting your database, etc.
You can do this by:
Step 1: Turn off your PS4 completely.
Step 2: long press the PS4 console power button for like 10 seconds till you hear a second beep
Step 3: Connect your PS4 controller to the console using a USB cable. Press the PlayStation (PS) button on the controller for your PS4 to boot into the safe mode.
Step 4: Select the "change resolution" option, then press the "X" button.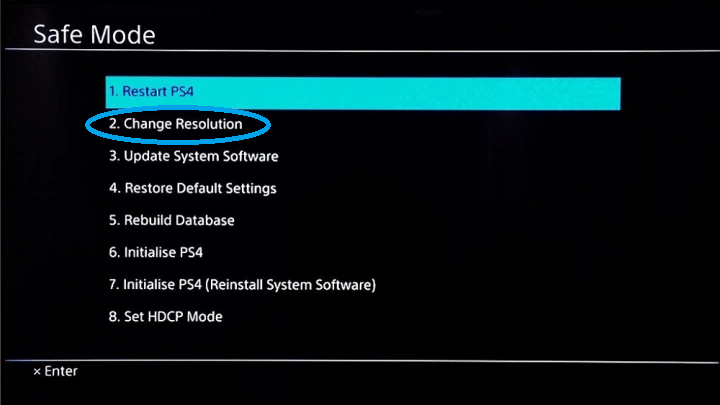 Step 5: After the system auto-restarts, you can choose a suitable video output resolution for your console.
Method 3: Check the HDMI cable and port
HDMI cables and ports are easily susceptible wears and tear. So, if you're using an HDMI cable for your video output while having a black screen issue, the source of the problem might be from the HDMI cable or the port.
You can easily detach the HDMI cable from the monitor and console ports, then brush each of the ports gently before reattaching them. This process removes any possibility of dust and foreign objects present in the ports, either in the cable or at the monitor or console, that might affect the ease of transmission.
You can also check if your HDMI cable has any defective parts. If not, try another port on the monitor or console. You can also try the cable with another monitor and console to determine what is faulty.
However, if all these fails, you can decide to get another HDMI cable.
Method 4: Turn off HDCP
Ps4, by default, uses HDCP (High-bandwidth Digital Content Protection), an anti-piracy technology designed into the system. It's compatible with digital video standards like HDMI, DisplayPort, DVI, etc., and prevents pirating using the same.
However, HDCP might cause your PS4 black screen issue, especially if your TV or Monitor isn't compatible with it, making them unable to display any video or audio output.
Nonetheless, you can try disabling the HDMI to see if it will solve the problem by:
Step 1: Select "settings" on the home screen.
Step 2: Navigate to and select "system"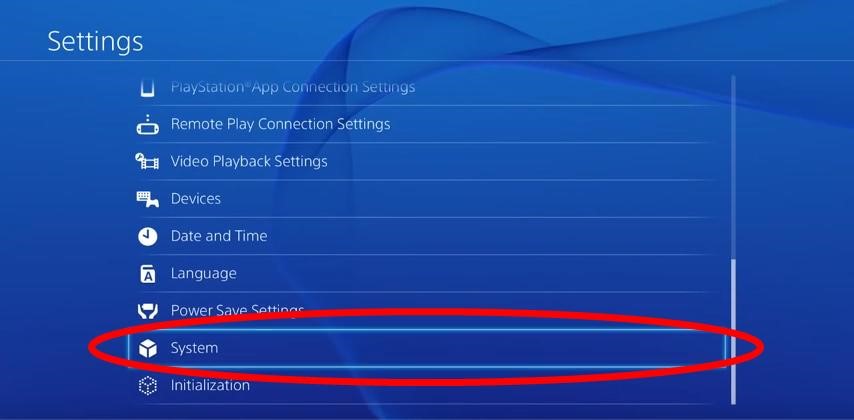 Step 3: Uncheck "Enable HDCP"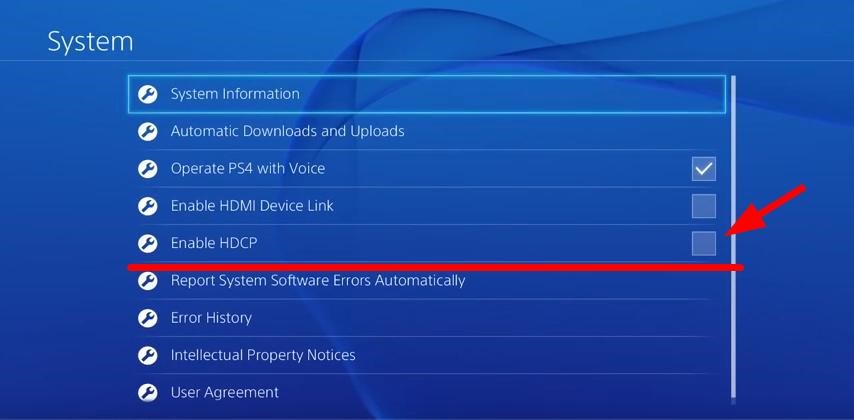 Method 5: Factory reset the black screen PS4
If all the methods above don't work, your trump card is to restore the PS4 to the factory setting. This mode will delete all user data and make it as good as new, so it is only advisable when you've run out of all other options.
Here's how to go about it:
Step 1: turn off the PS4 completely.
Step 2: Press the power button for about 10 seconds until you hear a second beep sound.
Step 3: Connect your PS4 controller via a USB cable to the console. Press the "PlayStation" button to enter the safe mode.
Step 4: Navigate to and select the "Initialize PS4" option.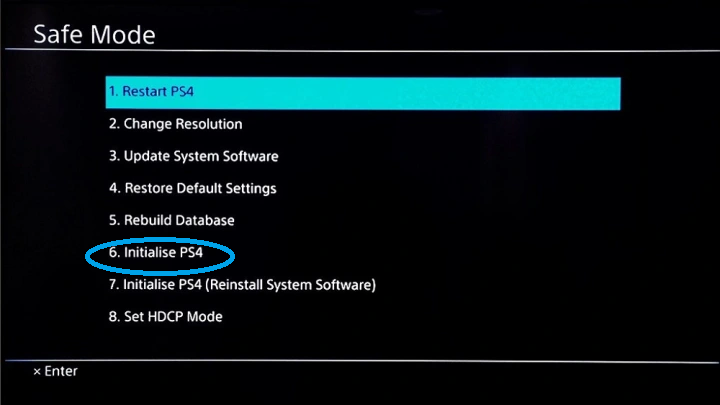 Step 5: follow the other promptings to restore the PS4 to the factory setting.
Final Words
PS4 black screen issue does not necessarily indicate a death sentence for your PS4. Instead, It merely shows that there's something wrong somewhere with your system for you to fix. There isn't one way to fix your black screen of death, as many factors can cause the problem. You have to troubleshoot using the trial-and-error method to determine what is wrong with the system.
Reasons you may experience a PS4 black screen issue have been discussed above. You should know them to avoid an occurrence of the black screen. However, if you experience one, the methods listed above can give you a heads up on what might be wrong with your system. Restoring to the factory setting, as earlier stated, should come as a last resort when other options have been explored, all to no avail.
No more content