Recent apple devices come with Face ID, which has a lot of functionalities, including allowing you to unlock your phone, log in to your applications, take amazing selfies, make purchases, etc. So, the inability to access these features when the face ID isn't working might worry you.
However, this problem is common, so it doesn't necessarily cause an alarm. When this problem pops up, there can be a lot wrong with the phone or camera, or you might not be doing something right. Therefore, you need to troubleshoot the device till you know what is wrong with it. Then you can fix the Face ID isn't working issue.
Not knowing where to start from is no issue; you are covered. In this guide, you'll find different ways to troubleshoot and fix the Face ID isn't working issue. Read through to find out.
How to fix face ID isn't working
Method 1: Check for updates
Apple releases updates on its software regularly. So, when your face ID is opened but not working, it might be that your iOS software is outdated. Your iOS device might have its updates turned on; therefore, the software should be updated automatically. However, some are not.
Regardless of how you set it, you need to check manually for available updates to ensure you're using the latest one. You can check for updates by:
Step 1: Go to settings > General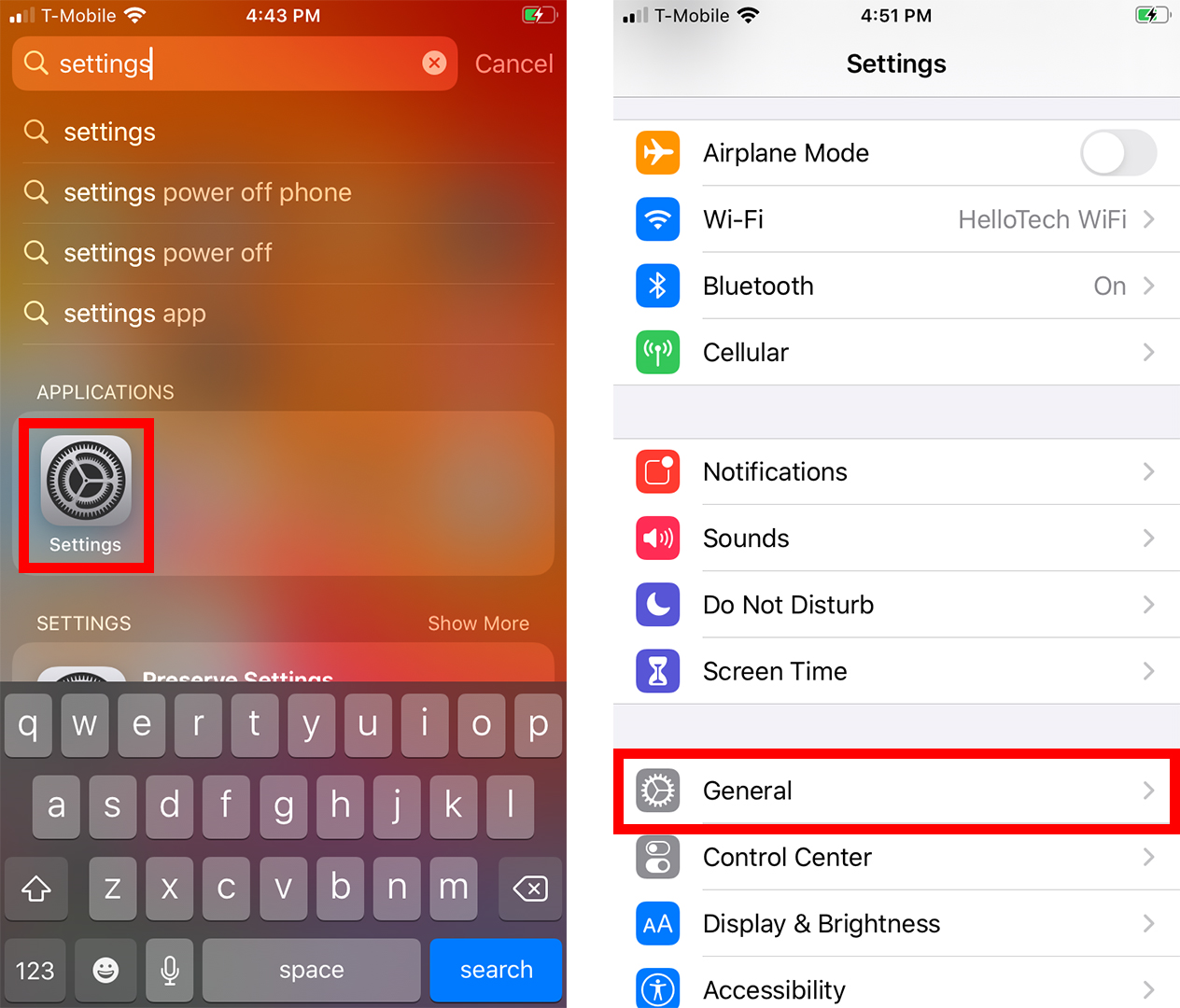 Step 2: Then click on "software updates" to check for available updates on the software.
Step 3: If there are updates, click "download and install". Agree to the terms and conditions, and wait while the update downloads.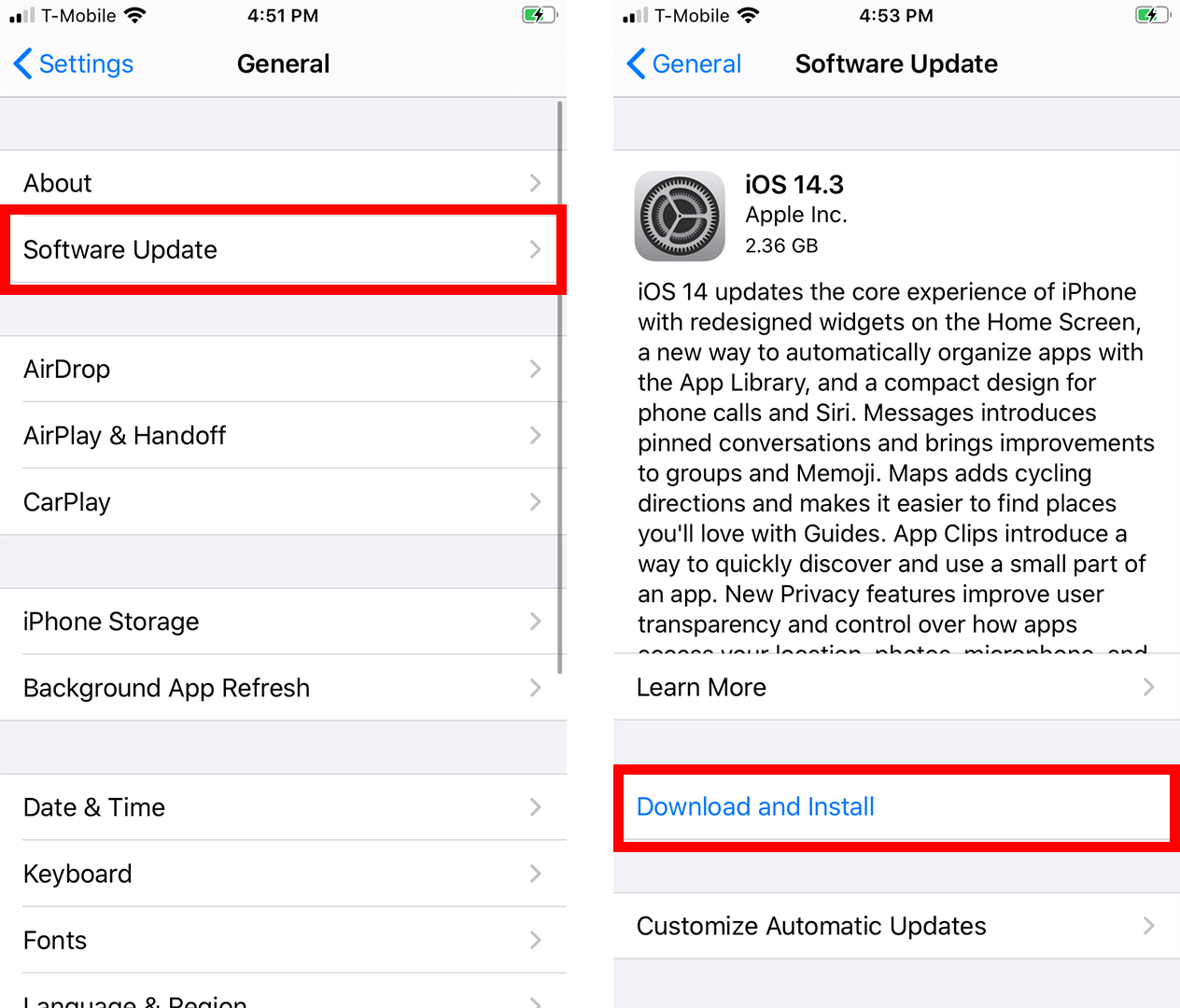 Step 4: Finally, click on install
Method 2: check if Face ID is turned on
Another way to troubleshoot this face ID isn't working issue is to check If the face ID is turned on. Due to one activity or the other on your phone, your face ID could have been turned off or disabled. Therefore, you need to check if it is turned on and properly enabled.
Here's how you can check and enable the face ID.
Step 1: Go to settings. Click on "Face ID and passcode".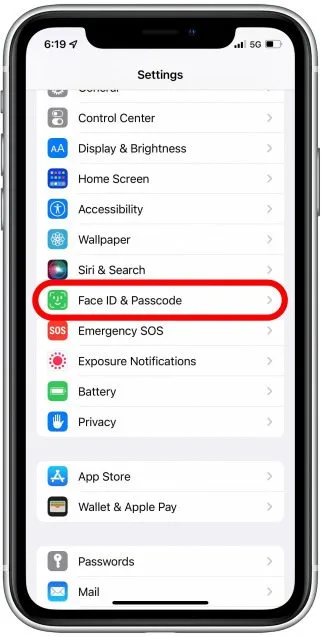 Step 2: Enter your passcode if asked.
Step 3: Ensure face ID is turned on for the feature you're trying to unlock.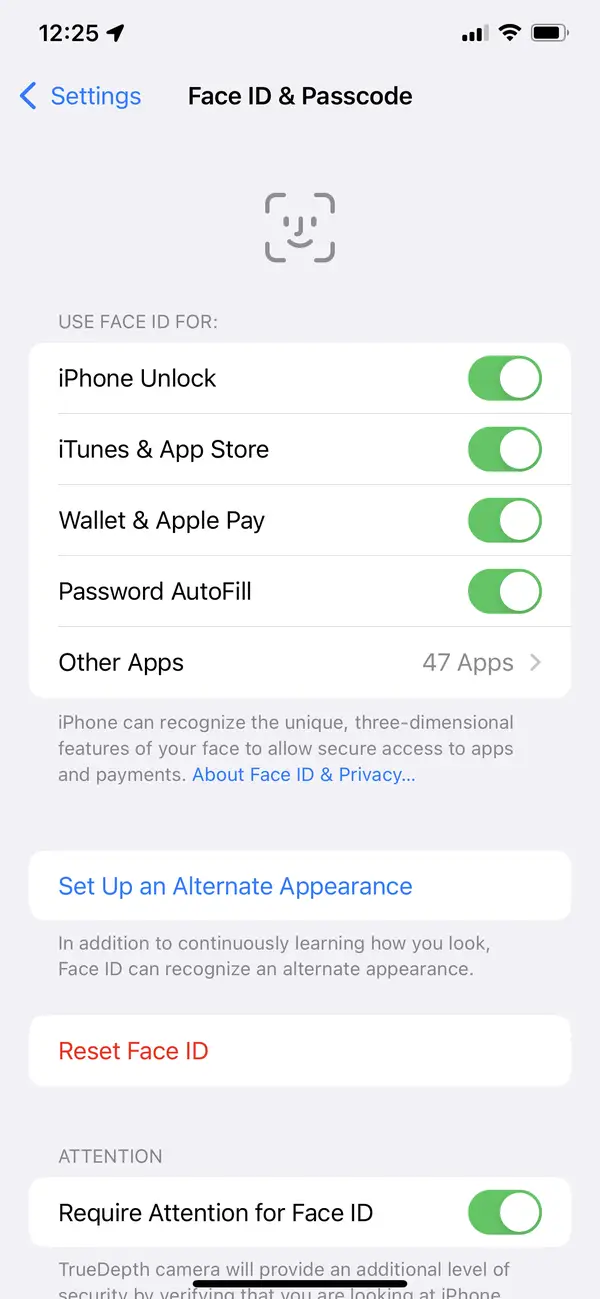 Method 3: make sure your face ID isn't blocked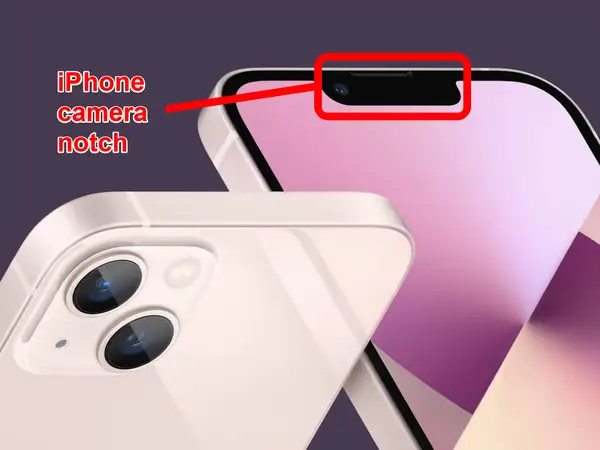 Face ID uses an Apple camera called Truedepth - the lens in front of your phone that projects many days in the form of tiny dots to your face. These dots create a map on your face that allows your device to recognize you. If the ray is blocked, there's no way face ID can work.
Therefore, you must ensure the camera notch is clean and clear. You can make use of a clean and soft cloth to wipe it regularly for it to have an undisturbed view. Also, check to see if your hands aren't blocking the camera or your screen protector and phone casing.
Method 4: Restart your device to reboot face ID and other software
Rebooting your device can help you solve several problems that might be wrong with your software. When you reboot, it can help you clear any bad data and free your device memory from any misbehaving app. It can also help to fix several problems associated with your device's software automatically. Therefore, your device comes up afresh.
So, switch off your device using the side buttons. Wait for two minutes, then turn it on again.
Method 5: setup an alternate appearance
If your face looks a bit different from what the face ID is known to, it might also give you some issues. For example, the issue might arise if you're wearing heavy makeup, wearing sunglasses, wearing a nose mask or have a different appearance from what your face ID is known to.
Therefore, you might need to set up an alternate appearance. This act is for you to help your device Face ID learn to recognize you in your other appearance, which it might not be used to. You have the option to set up a single alternate appearance aside from the main appearance.
To set it up,
Step 1: Go to "Settings" on your iPhone, and select "Face ID and passcode".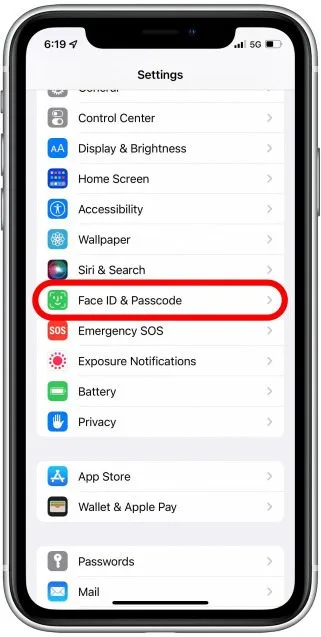 Step 2: Input your passcode if prompted.
Step 3: Click "setup an alternate appearance"
Step 4: Follow the instructions that follow to set up the appearance.
Method 6: Ensure all parts of your face are visible
When using the face ID, ensure you are looking at the camera properly, and you aren't hiding your face. Ensure your face isn't blocked, and all parts of your face are exposed and properly visible to the camera. Ensure you place the camera properly at the right angle. You can also clean your face to be sure.
Normally, the face ID should recognize you with your glass, but if it doesn't, make sure you remove it. Also, if you didn't register your appearance with makeup, sunglasses, lenses, face masks, and any other accessories or jewelry, your device might have difficulty recognizing you. Hence, you should remove them.
Method 7: Reset your face ID.
You can try resetting your face ID when all other measures are exhausted and still nothing positive. When you reset your face ID, your device will be able to recognize you again from scratch. You can do this by:
Step 1: Go to settings and select face ID and passcode.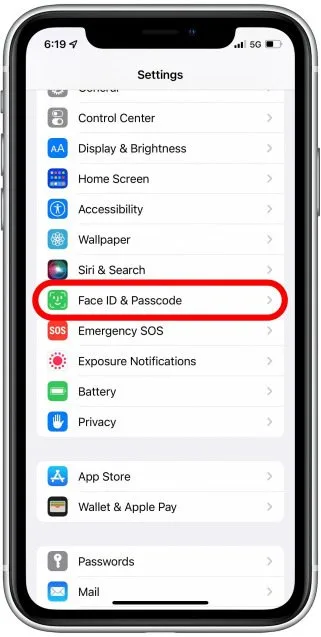 Step 2: Click on reset face ID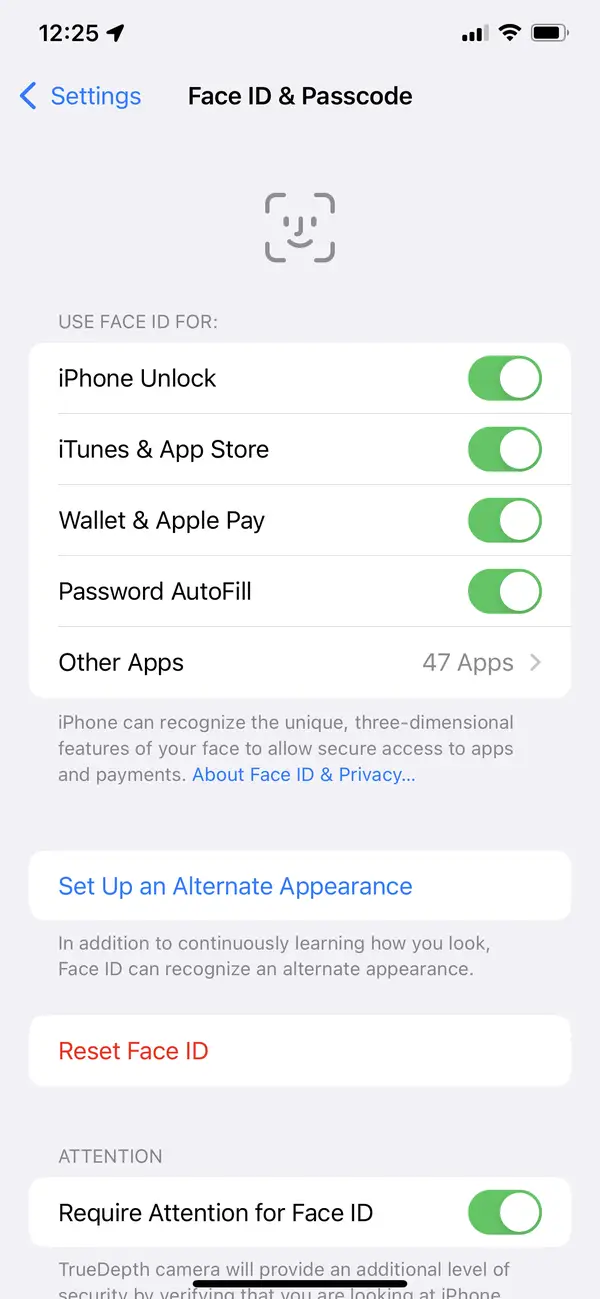 Step 3: Click on setup face ID and follow the instructions to set it up properly.
Bonus Tip: How to bypass face ID on your iPhone
Sometimes you're in haste or an emergency and need to use your phone, but the Face ID isn't working. Trying to troubleshoot and fix your phone at that point can be frustrating. However, with tools like EaseUs MobiUnlock, you can easily bypass your device's face ID.
EaseUs MobiUnlock tool is an easy-to-use software with a simple interface that can allow you to bypass and unlock your phone within seconds. It is very efficient and supports a wide range of iPad and iPhone operating systems. You don't need technical knowledge to understand how it works because it is easy to use.
Price: Its Windows version starts at $29.95/Month, its Mac version starts at $49.95/Lifetime.
Compatibility: Windows and Mac
Conclusion
As important as the iPad and iPhone face ID features, it comes with issues, one of which is the Face ID isn't working. When you get this error message, several things could be possibly wrong with your device. However, follow through with our guide above to see which of them works for you.
Using EaseUs MobiUnlock can save you a lot of stress when the face ID isn't working issue comes up. It can easily help you bypass it and unlock your phone in no time. It is easy to use and doesn't require any previous knowledge. You can try it out by clicking here.
No more content