MMS is for Multimedia Messaging Service and refers to a message that includes multimedia material such as a video, photograph, or other attachments sent through a cellular network to a smartphone. The maximum size of MMS video that can be sent over Android and iPhone is limited.
If your message is larger than the maximum size, you must edit and reduce the size before sharing it on mobile devices. Learn more about the Message Not Sent, Couldn't Resize Video issue and how to fix it in this post.
How to Fix not Resizing Video Issue
1. Fix not Resizing Video Issue via WinX HD Video Converter Deluxe
WinX HD Video Converter Deluxe takes your 4K/HD video converting speed to new heights by allowing multiple CPU cores to encode and decode videos using QSV and CUDA/NVENC at the same time. It allows you to quickly download and convert HD/Ultra HD videos and edit, trim, combine, crop, and subtitle videos.
An HD video converter, slideshow maker, editor, and downloader for YouTube, Everything you need to convert and edit videos is included in WinX HD Video Converter Deluxe. It allows you to convert any video without a third-party tool by supporting 320 video and 50 audio codecs. It also enables you to download videos from more than 300 different websites, including Vevo, YouTube, Facebook, DailyMotion, Vimeo, Yahoo, Break, SoundCloud, and MTV. You have the option of downloading or instantly converting the video.
This video converter can convert between all popular video formats, including 4K UHD video, 1080p multi-track high definition films MKV, M2TS, MTS, AVCHD, MOD, HD camcorder videos, Blu-ray videos, and standard definition videos AVI, MPEG, MP4, M4V, WMV, MOV, VOB, FLV, RM, RMVB, WebM, and Google TV.
It also comes with 410+ preset profiles for converting films for iPhone, iPad, Apple TV, HTC, Samsung Galaxy, Surface, Windows Phone, Amazon Kindle Fire, Chromecast, Nexus, PS4, PSP, and Fujitsu.
Price: It costs $24.95/3-month, $49.95/Annual, and $51.95/Lifetime. 
Compatibility: Windows and Mac
Step-by-step instructions
Step 1: Import the video
Simply drag and drop it into WinX's main UI or select the + Video button in the top left corner to open the source video. You can load multiple video files for batch processing if you have several to resize.
Step 2: Determine the output format.
WinX has more than 420 output profiles for common formats, devices, programs, and social media sites. You can choose between keeping the original format or changing it.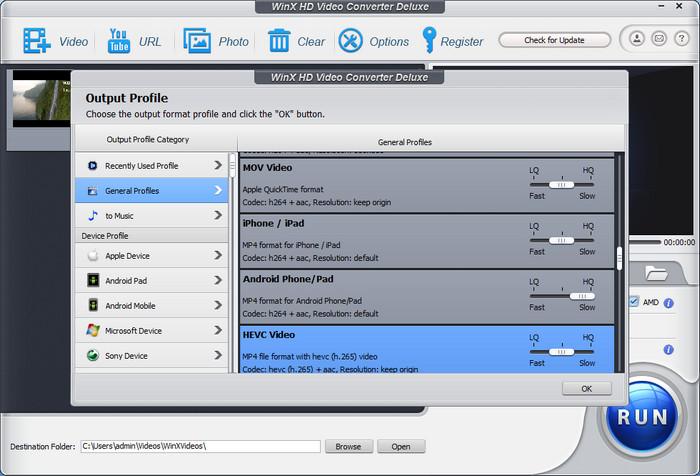 Step 3. Compress the video.
Change the audio and video parameters. You may access parameter settings by clicking the gear icon. You'll be able to change the bit rate, frame rate, resolution, sampling rate, and other settings.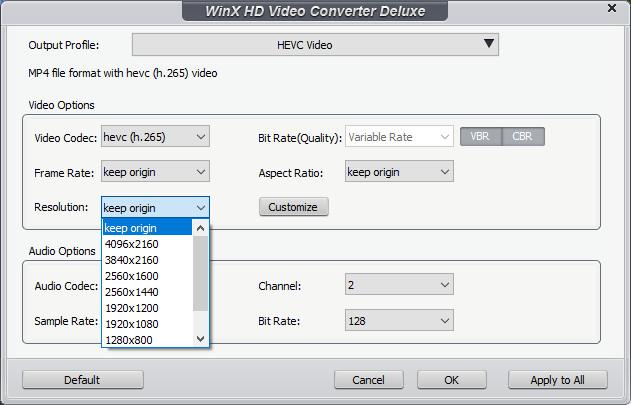 The first thing you should change is your resolution. It has a significant impact on video file size. The larger the file size is, the higher the resolution. A suitable resolution decrease will not result in consequential quality loss, especially on small screens. Use the resolution drop-down arrow or the Customize option to specify the appropriate width and height pixels regardless of aspect ratio to choose a lesser resolution.
The following is a list of WinX resolution options:
4096x2160
3840x2160
2560x1600
2560x1440
1920x1200
If you're not tech-savvy, you should avoid changing the other parameters. Otherwise, you risk receiving a file of poor quality. The most important aspect in influencing video quality is the bit rate. Lowering the bitrate and frame rate can result in a jerky, choppy, and pixelated video.
Trim the video. The Trim tab will appear once you click the Edit button. Check the Enable Trim box, and you can now trim out some clips to minimize video length and size.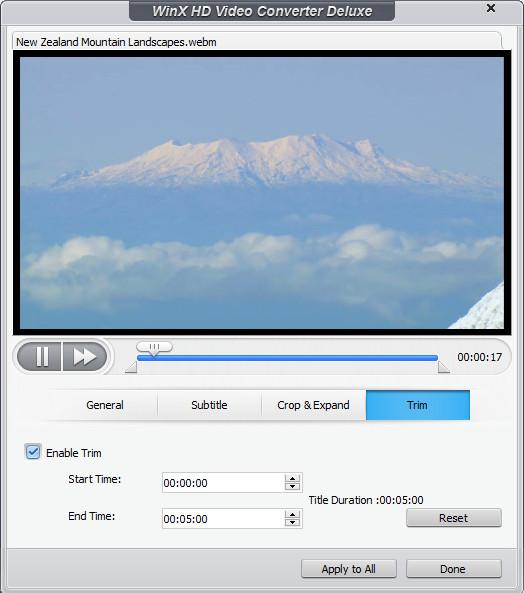 Crop the video: A Crop & Expand tab is next to the Trim tab. If you check the Enable Crop option, your movie will have a dashed border around it. You can clip black bars and more by dragging the border. Left, Top, Width, and Height values will alter as a result. Alternatively, you can use the Crop Original drop-down arrow to select an option or manually write in values.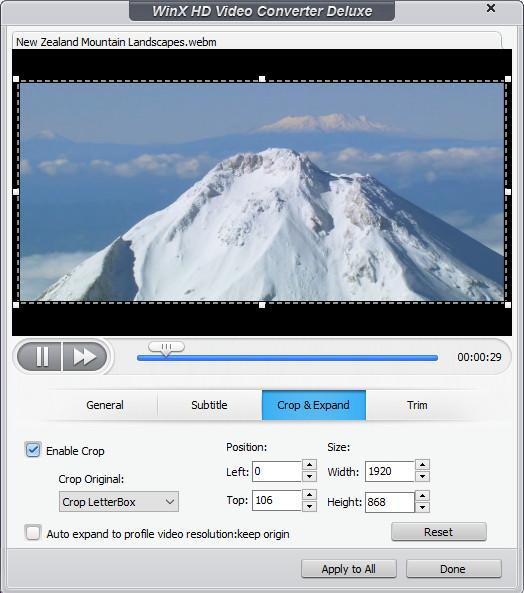 Step 4: Save the compressed file
After completing all configurations, simply press the RUN button in the lower right corner. The video resizer will then begin compressing your video as needed.
2. Fix not Resizing Video Issue via Google Photos link
We understand that this isn't exactly what you were hoping for, but MMS technology is quite antiquated in today's world. Being limited to 3 or so megabytes nowadays seems absolutely out of date. Modern cellphones capture too huge videos to fit within the 3.5MB limit. As a result, sharing the Google Photos link with the video is a better alternative. The recipient will be able to see the video clip without having to shrink or compress it to fit under the MMS file size limit.
Here's how to send a link to Google Photos by text message:
Step 1: Go to Google Photos and find the movie you'd like to send.
Step 2: Select "Create link" from the Share menu at the bottom. The link will be instantly copied to the clipboard.
Step 3: Now, you have to open Messages and find the conversation you want to join. From the top, you can add a new recipient.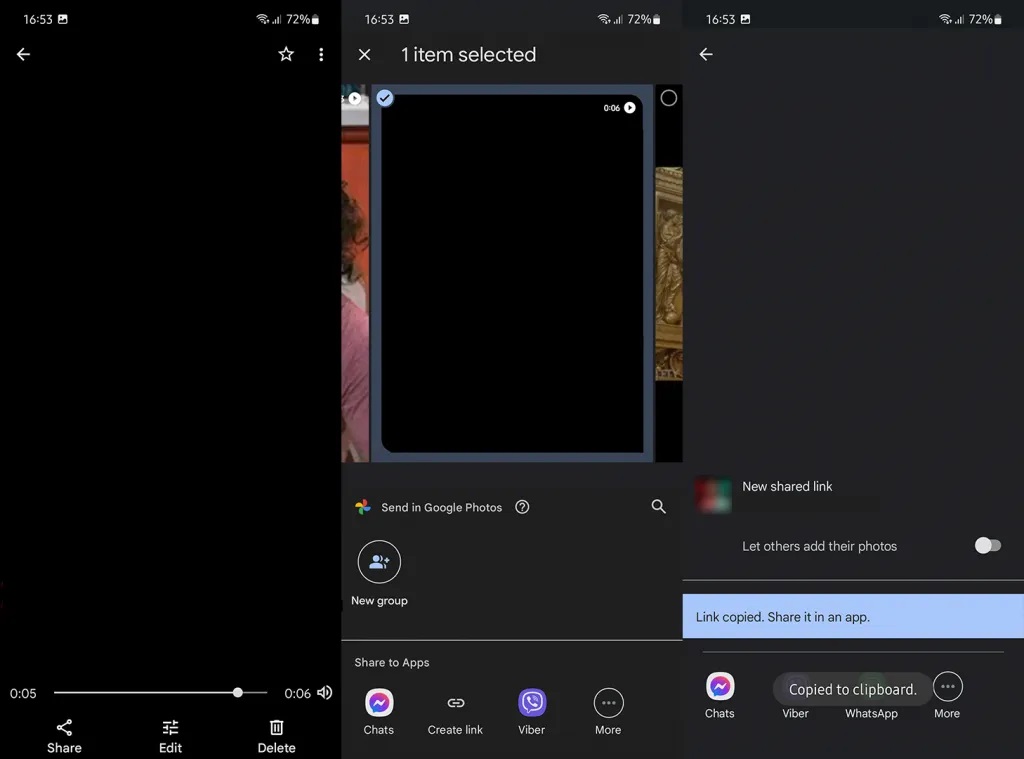 Step 4: Copy and paste the link into a text message.
3. Fix not Resizing Video Issue via RCS Chat Features
MMS and SMS are now obsolete technology, but they still serve a purpose. Particularly the latter. When it comes to multimedia files, any of the several instant messaging apps will suffice. The issue is that not everyone utilizes the same application. Some of your friends or family members use WhatsApp, while others prefer Telegram, Messenger, etc.
The RCS comes into play in this situation. A new messaging standard that uses network connections to convey substantially larger data and adds functionalities. Similar to iMessage on iPhones, it's like previous technologies on steroids.
Although adoption is slow at present, RCS is becoming more widely available among Android users who use Google Messages. If you'd want to use this feature, take these steps:
Step 1: Check your messages.
Step 2: Select Settings from the three-dot menu.
Step 3: Use the Chat options.
Step 4: Turn on the option to enable chat functions. Wait until your phone number has been validated before sending more complex text messages and multimedia assets.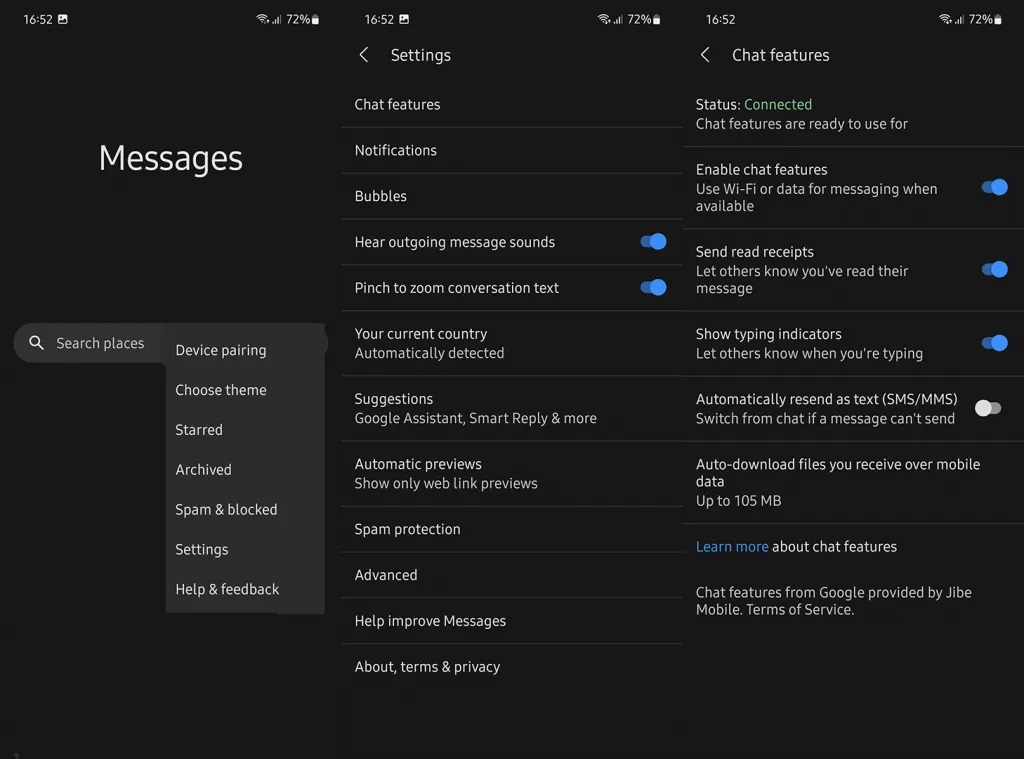 It's also critical that receivers have RCS enabled. Otherwise, they will only be able to receive simple messages rather than multimedia files.
Conclusion
In this article, we have discussed how to fix messages not sent and the couldn't resize video error. You can solve this problem by following any of the methods above. All of them are easy, but we highly recommend that you use Winx HD Video Converter Deluxe to compress your videos. Experts and amateurs alike will find it straightforward to use and trustworthy.
Price: It costs $24.95/3-month, $49.95/Annual, and $51.95/Lifetime. 
Compatibility: Windows and Mac
No more content