Whether you need to edit a video or want to clean it up for use on your website, you need an authentic watermark remover. Removing watermarks from videos is a time-consuming operation.
But there is various software available to remove undesirable items from your videos. Here's a quick rundown of the five best watermark remover from videos, along with step-by-step instructions. 
Top 5 Best Free Video Watermark Remover for Windows & Mac
1. Apowersoft Watermark Remover
Watermark Remover by Apowersoft is a simple but effective tool that helps as a watermark remover from videos and images. It may erase logos, texts, time stamps, and any other unwanted things from your file and watermarks. The entire watermark removal procedure is rapid and straightforward, and people with no prior experience can quickly learn how to use it.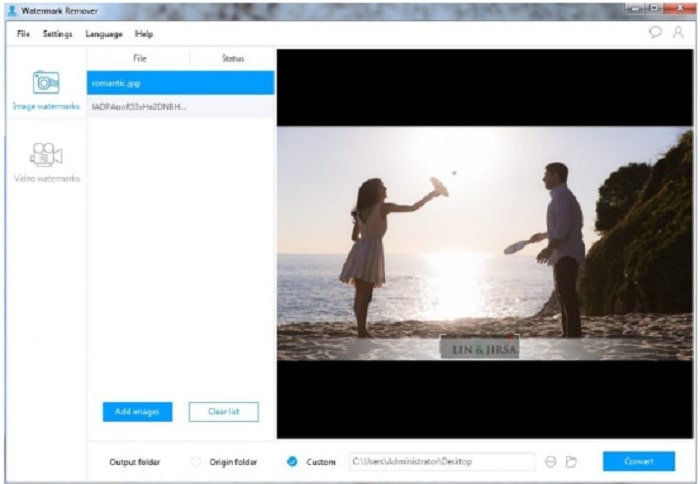 Pros
Multiple video file types are supported, including mp4, Flv, mov, wmc, and others.
It offers an easy-to-use user interface.
It allows you to process many videos at once.
Cons
It just provides a few editing options.
On Windows, there are only three free trials available.
Free watermarking is limited.
Compatibility: Windows 10 (34, 64 Bit)
Price: Free trial and with-in app purchases
Price: It costs $25.00/Monthly, $39.00/Annual, and $59.00/Lifetime.
Compatibility: Windows

Apowersoft Watermark Remover Review: An Easy-to-use tool to Remove and Add Watermark for Phots & Video
Brief Steps-by-step guide.
Step 1. Follow the instructions to download and install the software. Choose "Remove watermark from the video" as your approach when you open the software.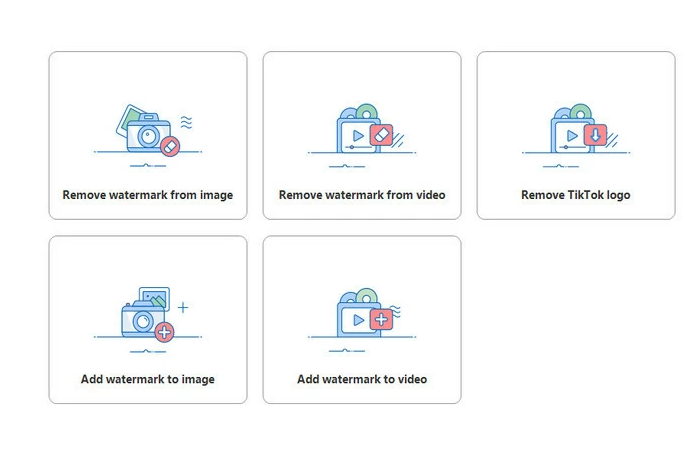 Step 2. To import the video you'll be editing, click the plus sign button.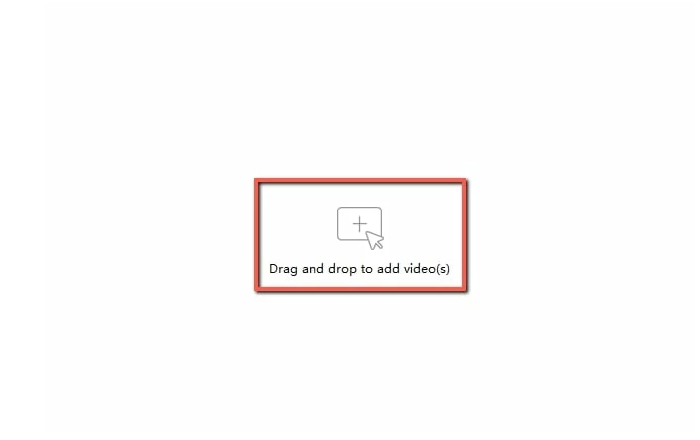 Step 3. After the file has been imported, select the "Selection Tool" option and drag the red box over the watermark regions you want to remove.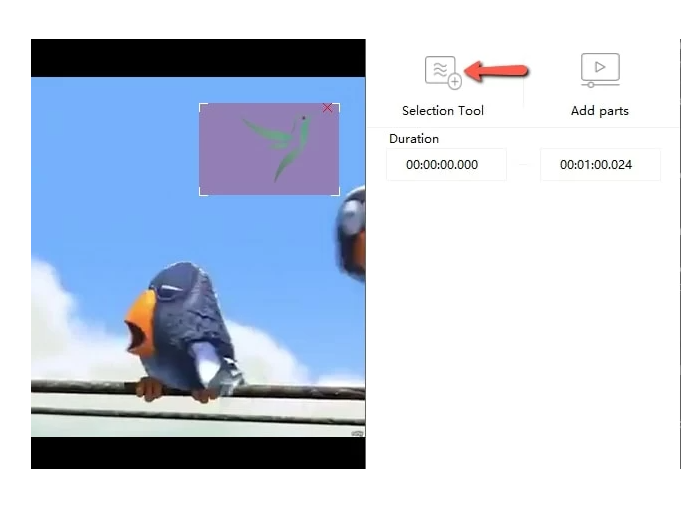 Step 4. Then, to convert the videos, click the "Convert" button. After conversion, the files will be saved to your local disc shortly.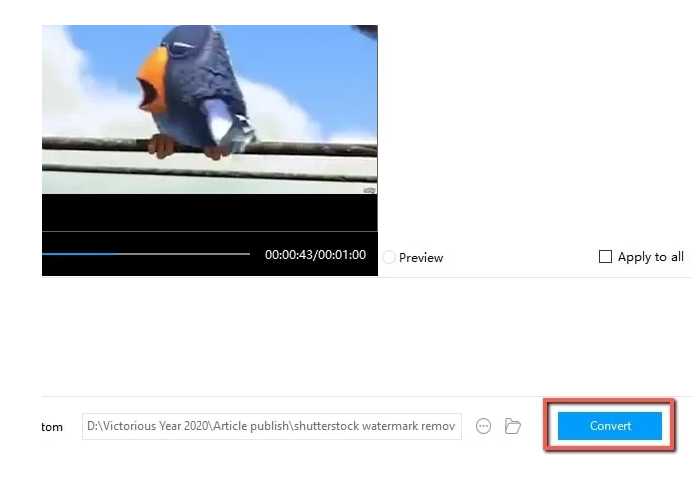 2. Media.io 
The Media.io Online Watermark Remover is the second tool on our list. This online tool offers a variety of video, audio, and image conversion, compression, and editing tools. It's also helpful to remember if you need to erase the watermark.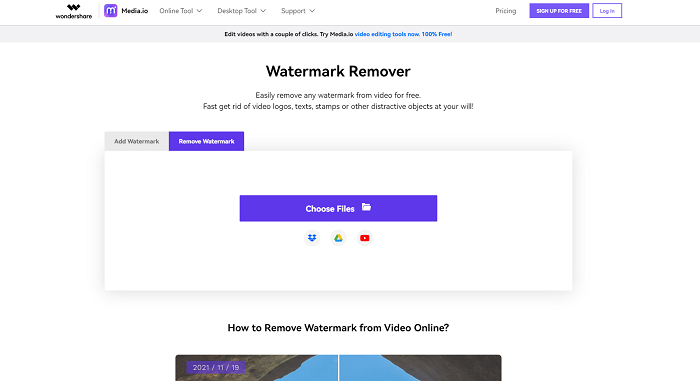 Pros
Drag & drop overlays to erase texts.
It provides a large number of accessible elements in various shapes.
You can change the element's size, color, position, and style to suit your needs.
It allows you to submit customized photos to cover any unwanted sections and eliminate texts.
Cons
Free users have a file upload limit of 100MB.
Compatibility: Android, iPhone
Price: $35.40 Yearly
Brief Steps-by-step guide.
Step 1. Begin by selecting 'Choose Files.' Browse the image or video on your computer and upload it.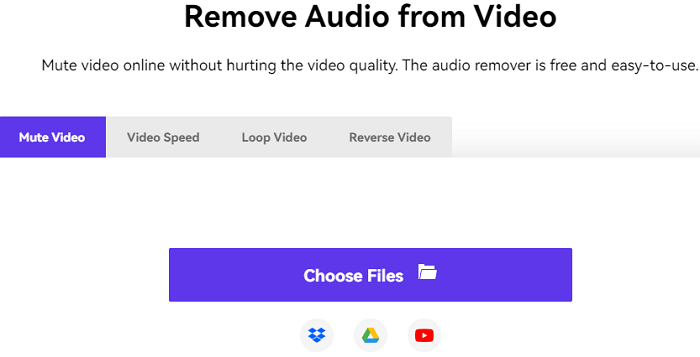 Step 2. In the top-right corner of your video, you'll notice the option to 'Add Area.' To continue, click it.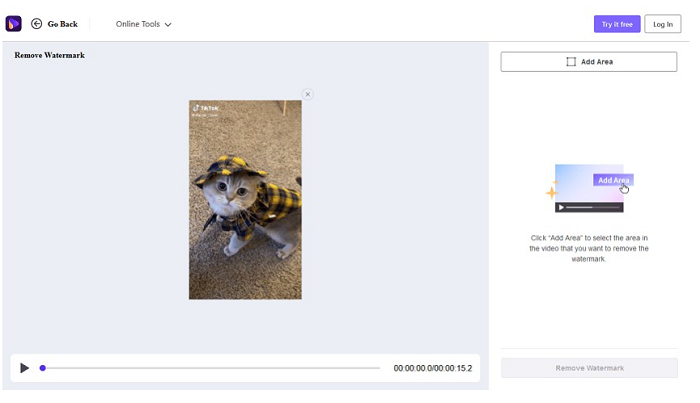 Step 3. Resize and remove the watermark
On your video, a purple overlay will emerge; you can drag and resize it to cover the watermark area. You can even select the timestamps for which the watermark appears. You can add another field if there is more than one or if it shifts around. Finally, choose 'Remove Watermark,' then wait for the file to be processed before downloading it.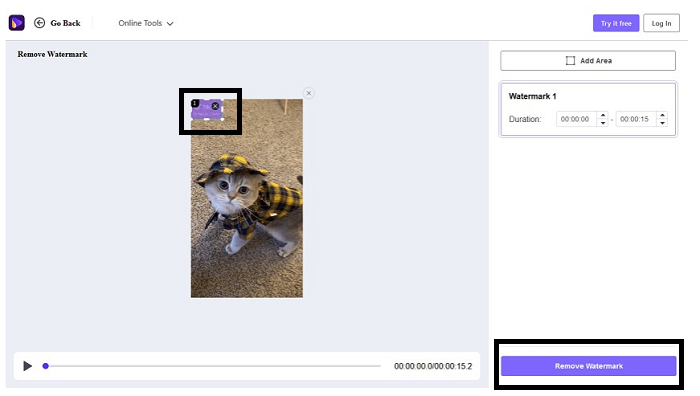 3. Remove Logo from Video
When creating content, you may need to remove the logo from a video that you have downloaded or shot, and it is pretty simple to do it yourself. Submit your video to this online tool and erase watermarks, blur brands, dates, and anything else that is excessive or unwanted in a few clicks.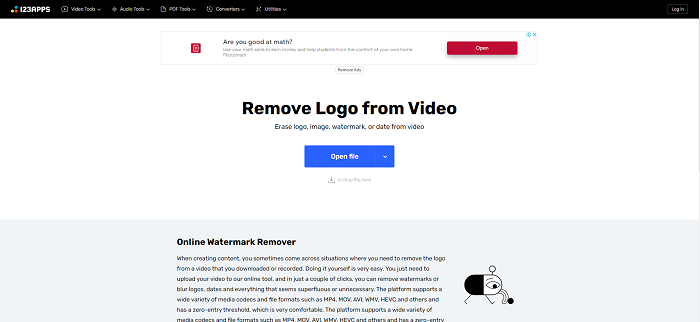 Pros
The platform has a zero-entry threshold.
It supports various media codecs and file formats, including MP4, MOV, AVI, WMV, HEVC, and others.
Cons
Compatibility: Windows
Price: Free and with-in app purchases
Brief Steps-by-steps guide.
Step 1. Open File
Drag the video onto the platform or open the file. You can use Google Drive or Dropbox to upload a video to the forum. You may also paste the URL, and it will work.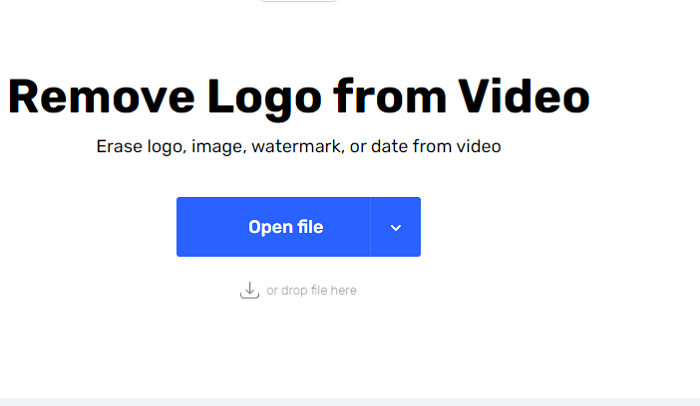 Step 2. Remove or blur the logo
Select the logo you want to blur or remove. Choose the watermark erasing tool and select the area with the logo. You must frame the entire video to remove the watermark entirely. Select a size you want to leave without the watermark using the "crop" tool. Your video will be trimmed slightly once you click "apply," but there will be no logo.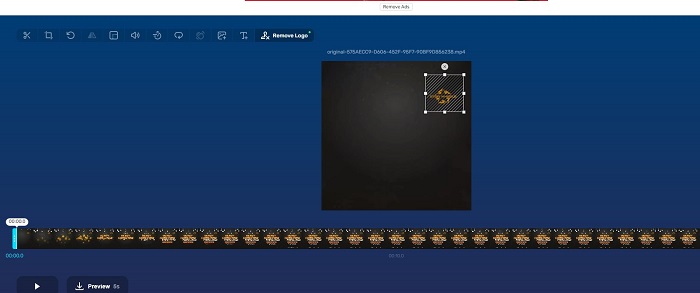 Step 3. Preview your video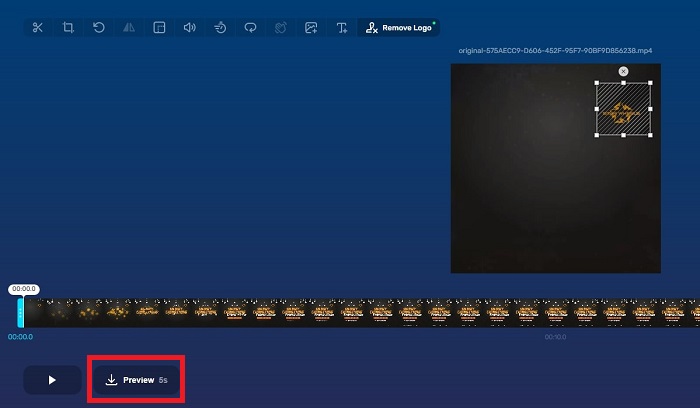 Step 4. Save your new video without a watermark.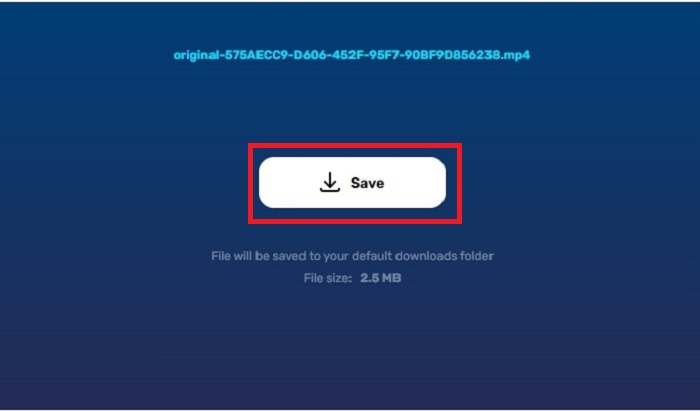 4. UniConverter Watermark Editor
Wondershare UniConverter's Watermark Editor is available for Windows and Mac, and it allows you to remove and apply watermarks to videos automatically. It's a terrific watermark removal as well as a useful watermarking tool. Text, brand, object, person, and picture watermarks can all be removed easily.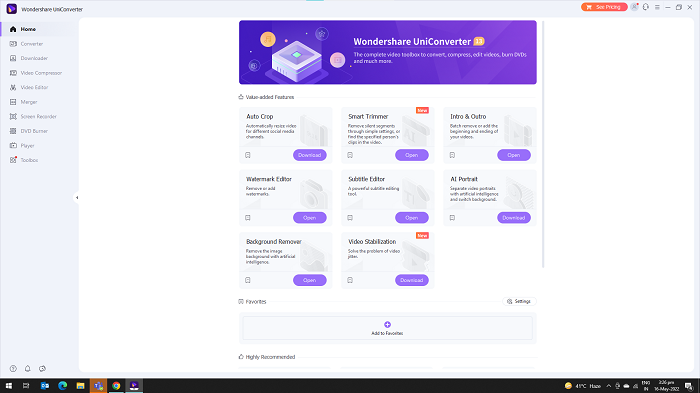 Pros
Using an AI technique, you can erase watermarks from videos automatically.
It allows you to add a watermark to the video with a single click.
Easily apply or delete the video's watermark in bulk.
Cons
Price: $9.99/month 
Compatibility: Windows, macOS
A brief step-by-step guide:
Step 1. Add videos to Watermark Editor.
Go to Wondershare UniConverter > Toolbox, then Watermark Editor to remove the watermark. Click the Add Files button to import your videos.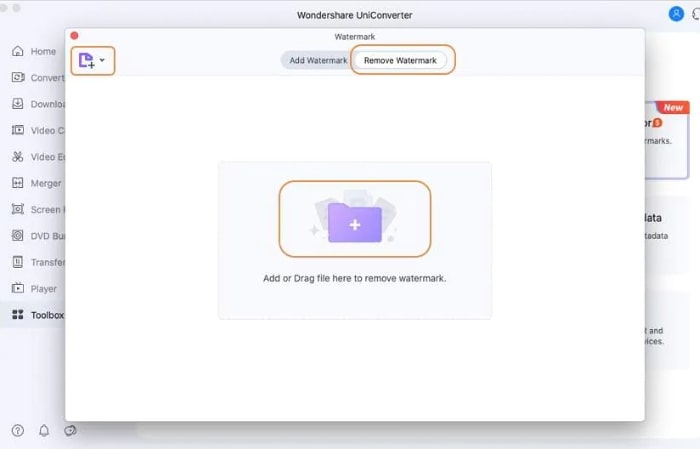 Step 2. Remove the watermark 
To remove the watermark, click the Remove Watermark option.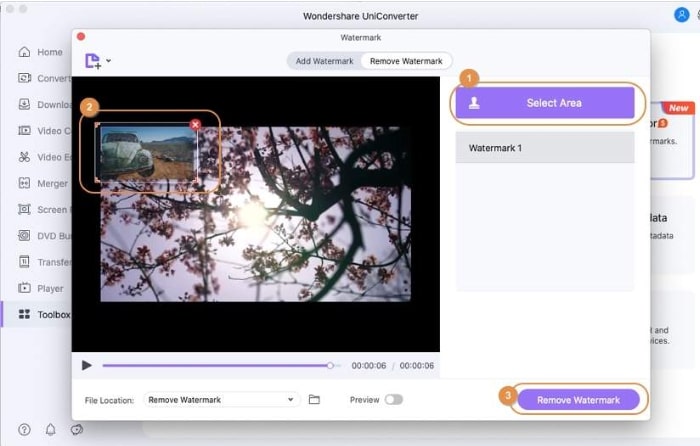 5. Video Converter Studio
Although Video Converter Studio isn't specifically built to remove watermarks from videos, you are highly advised to do so. Video Converter Studio allows users to convert their video files to AVI, MP4, MKV, or WMV without sacrificing video quality. Additionally, Video Converter Studio enables you to alter the contrast, saturation, and other image parameters of your videos and change the duration of the video, small photographs, capture still frames, and load subtitles.
Users who want complete control over video conversion can change the bit rates, frame rates, and frame sizes. The software automatically recognizes all watermarks on the footage, making watermark removal nearly painless. Video Converter Studio is a great choice for non-professional video editors who want to remove watermarks from their videos quickly and easily.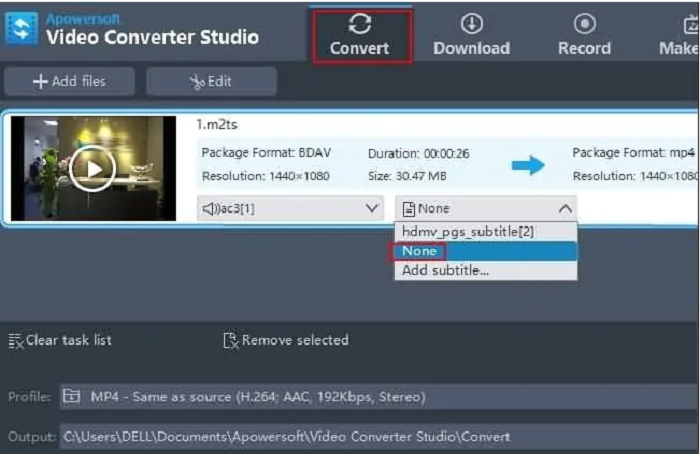 Pros
Users can convert video files using this fast and efficient watermark removal program.
Video editing features are available.
Cons
The software's free edition has limited features.
More advanced editing tools are not available.
Compatibility: Windows and Mac
Price: The full license to use the software costs roughly $40, and there is also a free trial version available.
Brief Steps-by-step guide.
Step 1. Open the software and drag the video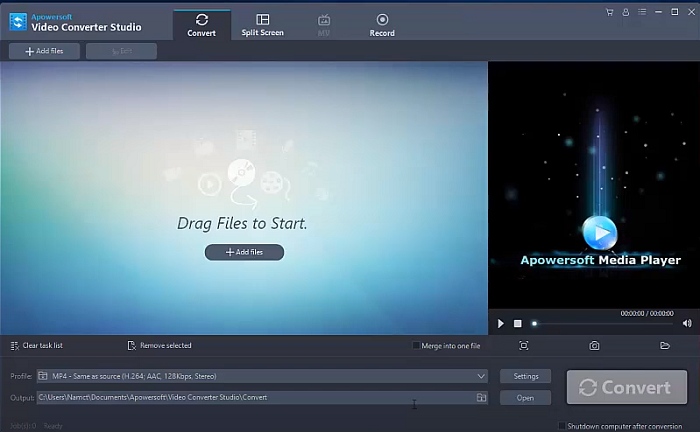 Step 2. Click the icon "Convert."
Step 3. Now press evaluate to remove the watermark.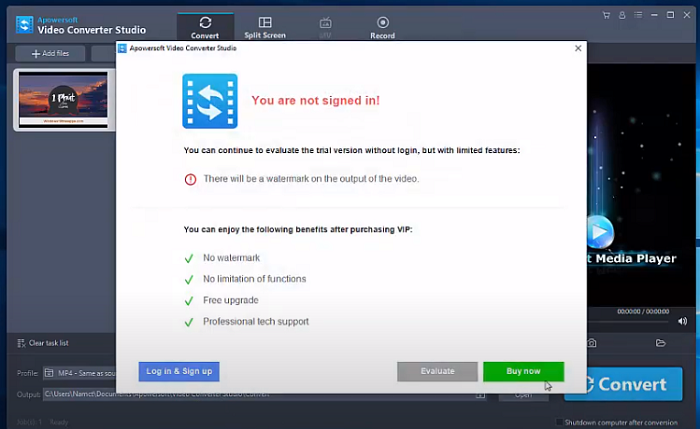 Step 4. Press OK to get a video without a watermark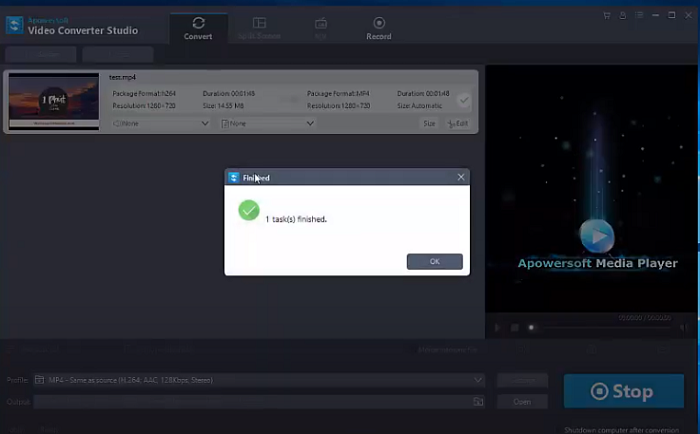 Sum Up
People often ask how to find the finest watermark remover for videos because there are a lot of tools available. In this article, we explained 5 watermark removers from videos for Windows and Mac. Media.io has an upload limit, so you won't be able to remove watermarks from larger files.
Also, some online watermark remover tools have multiple phases and require you to make various adjustments before the watermark may be removed. Apowersoft watermark remover, on the other hand, has a straightforward procedure. In only a few clicks, you'll be able to remove the watermark. Try it today!
Price: It costs $25.00/Monthly, $39.00/Annual, and $59.00/Lifetime.
Compatibility: Windows
No more content