There are a variety of screen recorders on the market that allow you to quickly capture any computer activity. Examples are streaming video, webinars, learning classes, video chat, and gameplay. However, not all of these screen recorders are without a watermark and can be used for free.
In fact, you may always encounter obnoxious watermarks on the final product video. Is there a free screen recorder that doesn't have a watermark? There are some! The following is a list of the Top 10 Screen Recorders for PC without Watermark in 2022 that you can use to record in excellent quality whatever you view or do.
Top 10 Screen Recorder for PC without Watermark in 2022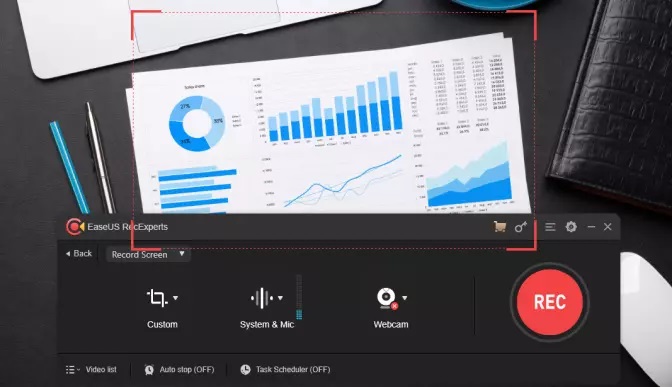 Recording gameplay, screen activity, or webcam footage is the best use for this device.
EaseUS RecExperts is a full-featured screen recorder that is also lightweight. Using this program, you may record your screen, audio, webcam, and even game sessions. When recording audio on your computer, you have the option of recording your microphone, system sound, or both. To edit a previously recorded audio recording, go to the Video list. EaseUS RecExperts is like having a Swiss army knife in your pocket.
Main features:
Game-recording mode is a feature that allows you to record your gameplay.
Features for advanced editing
Sharing directly to video platforms
The captured footage was saved in MP4, GIF, M4A, and other formats.
Variety of ways to record your computer's screen and webcam.
Capture video and audio in high-definition.
Encourage the creation of a recording schedule.
Price: It starts $19.95/Monthly.
Compatibility: Windows and Mac
How to use:
Step 1. Run EaseUS RecExperts on your Windows. If you want to capture everything on your screen, click the "Full Screen" option. This is a perfect choice when playing the streaming video in full-screen mode.

Step 2. Alternatively, you can opt for "Region" to record the specific area if you want to play the streaming video in a window.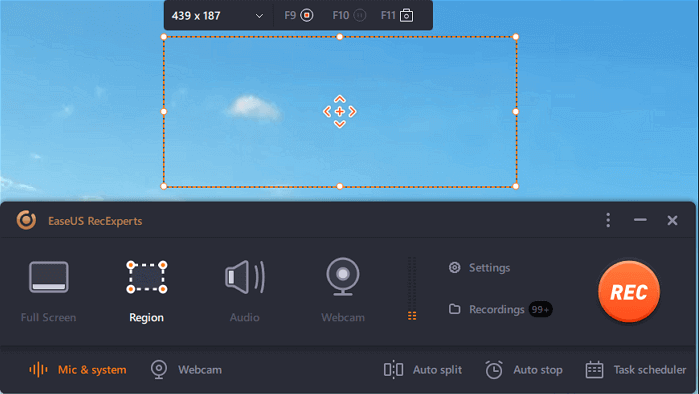 Step 3. Now, you can hit the "System sound" button to choose the sound source you prefer and adjust the volume. Upon that, click "REC" to start recording.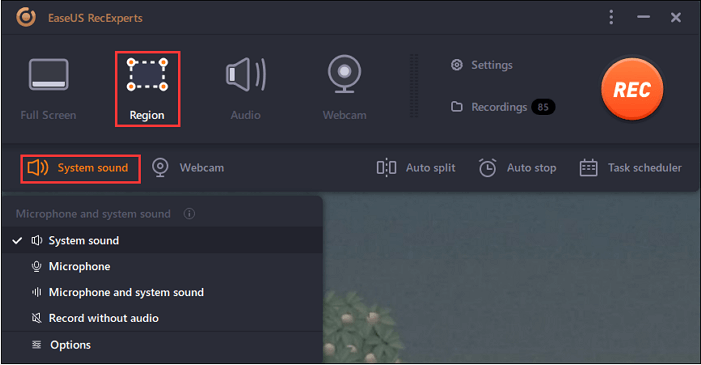 Step 4. When the recording is ongoing, you'll see a toolbar floating on the screen, which you can avail yourself of to pause or stop the recording process.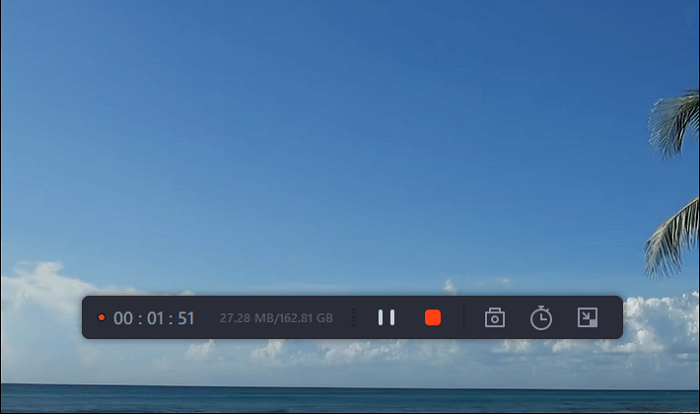 Step 5. Once you are done with the recording, click on the red stop button and then your captured video will be automatically saved on your device. You are also allowed to view the recording and utilize tools for trimming it, extracting audio from it, or adding an opening and ending section as the built-in media player appears.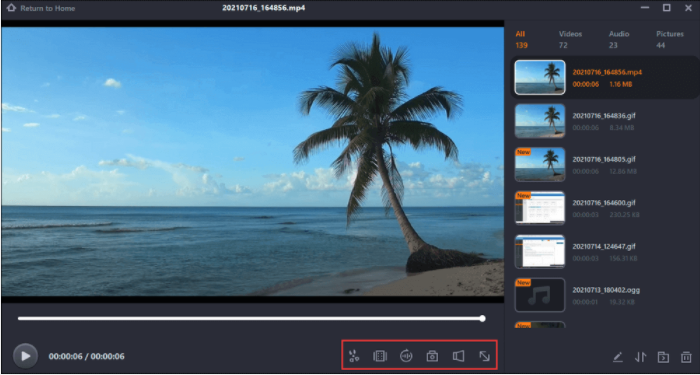 2. OBS Studio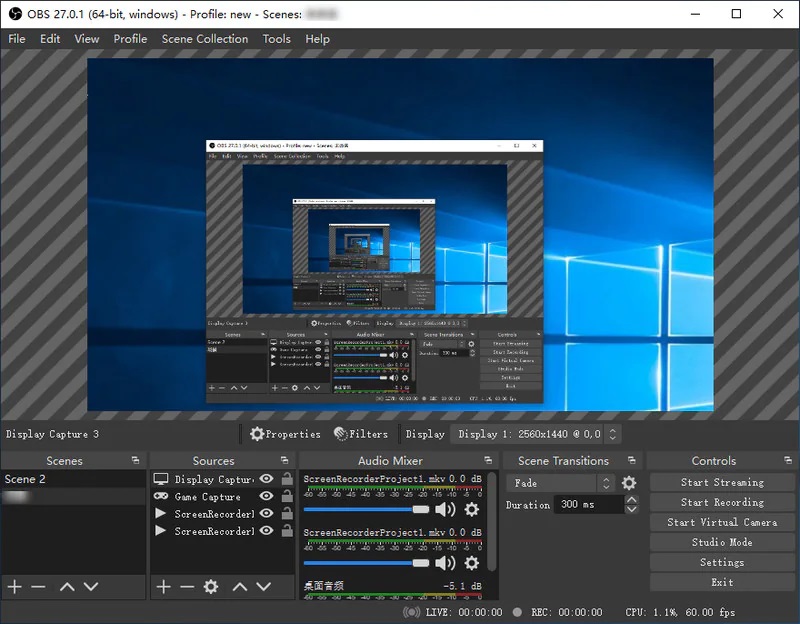 OBS Studio is the most outstanding free watermark-free recording software. This is because it has nearly all of the features found in a premium screen recorder. Furthermore, it is open-source software that works with all operating systems. Professional video creators use the software to broadcast and record screen and webcam video due to its extensive capabilities and functionalities. The advantages and disadvantages of OBS Studio are listed below.
Pros:
Options for advanced recording are available.
High-resolution and frame-rate recording.
Recording parameters can be customized as needed.
The video editing platform is really powerful.
Cons:
The user interface is a little challenging to grasp.
3. Free Cam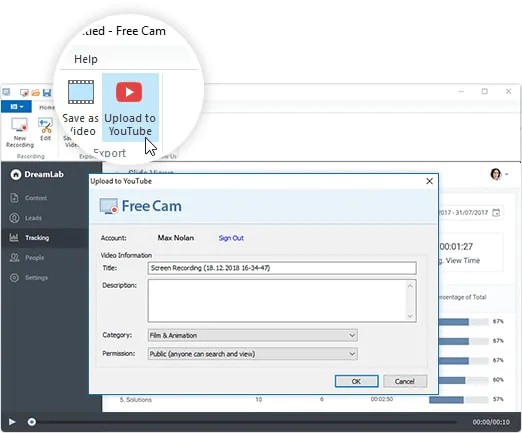 Free Cam is a no-watermark, no-time-limit screen recorder solely available for Windows users. Even if the app has a pro version, the recording time is unrestricted. The pro version, on the other hand, offers a higher resolution and more capabilities, such as picture-in-picture mode and webcam recording. The free version allows you to record at 760p resolution and store your recordings in WMV format. The advantages and disadvantages of Free Cam Screen Recorder are shown below.
Pros
Personalize the recording area.
Both the sound from the system and the sound from the microphone should be recorded.
Trim the video by highlighting the mouse point.
It's simple to eliminate background noise.
Directly upload to YouTube.
Cons
The recording quality isn't quite as good as it could be.
In the free version, there are only a few editing possibilities.
4. ShareX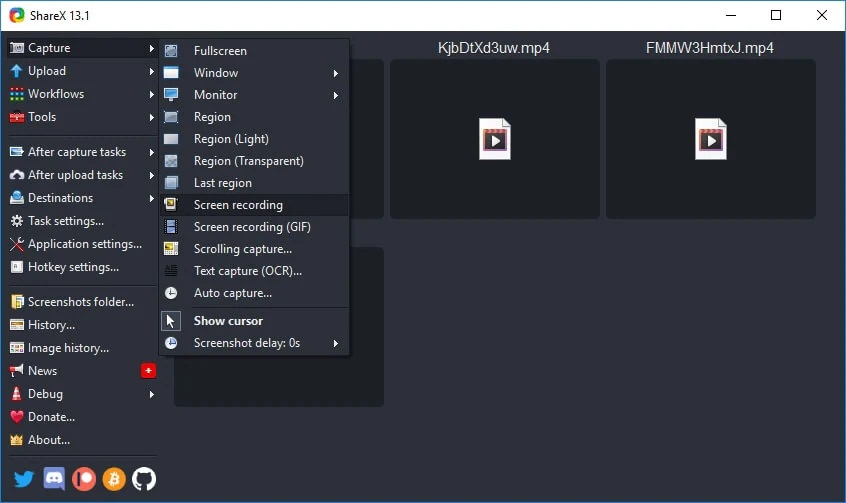 ShareX is another open-source, watermark-free screen recorder for Windows users exclusively. It's a very adaptable and capable recorder with many features and functions. You can flawlessly capture your screen and instantly submit the recorded video to multiple online networks. The software generated a web link for the recorded video, which you can immediately share with your friends and colleagues. The advantages and disadvantages of ShareX are listed below.
Pros
High-resolution screen recording
Take screenshots and obtain a link to distribute on the internet.
Effectively capture page scrolling.
Option to immediately upload captured video.
Option for video editing is available.
Cons
The user interface isn't very up to date.
Getting to know all the alternatives will take some time.
5. Windows 10 Game Bar
Windows 10 Game Bar is another free screen recorder with no watermark for Windows users. Windows 10 and later versions come with the tool pre-installed. As a result, there is no need to install a third-party screen recorder. The program shows as a widget, and there are shortcuts for quickly recording your screen. You may also take screenshots and record audio from your microphone. The advantages and disadvantages of the Windows 10 Game Bar are listed below.
Pros
Full HD resolution should be used to record the screen.
A customizable audio mixer is offered.
It's pretty simple to use and capture the screen.
Make memes out of screenshots.
Various widgets for keeping track of system parameters.
Cons
The system's performance may suffer as a result.
6. QuickTime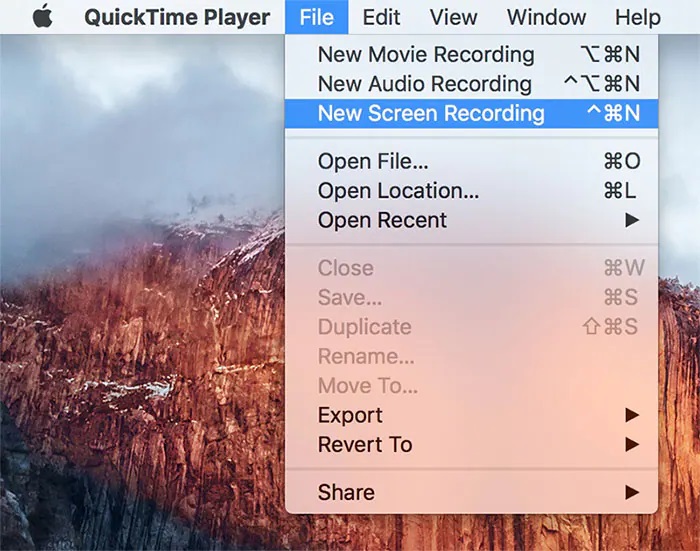 QuickTime Player is watermark-free recording software for Mac users only. There is no need for an external screen recorder because QuickTime is pre-installed on Mac. It's simple to record, and you can even capture the screen of your iPhone or iPad if they're linked to your Mac. The recording can be played right away, and there is no problem with file format incompatibility. QuickTime also allows you to edit the recorded video before uploading it to various online platforms. QuickTime's advantages and disadvantages are listed below.
Pros
Recording at a high-resolution setting.
Connected iPhones and iPad are recorded.
Some rudimentary editing tools are available.
Follow these simple steps to get started recording.
External installation is not required.
Cons
There are no options for Windows users.
It's difficult to record audio from a microphone.
7. VLC Media Player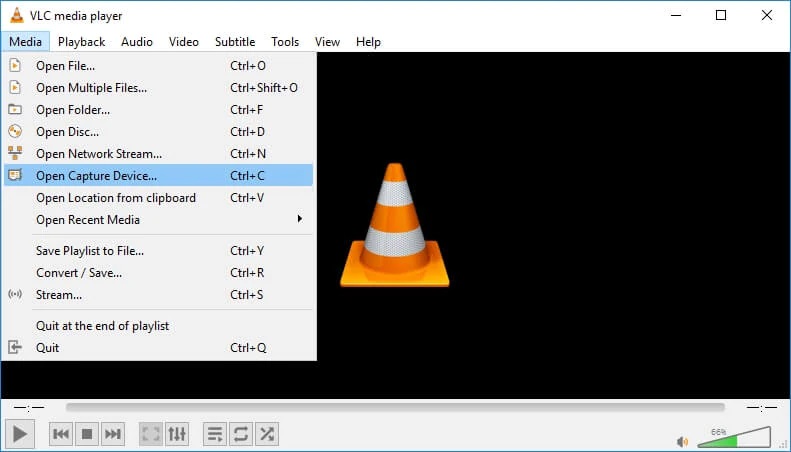 VLC Media Player may surprise you by appearing on this list. This is because VLC is primarily used to play audio and video files. VLC Media Player, on the other hand, provides a recording feature. You can record your screen without any watermark for free. Because there is no pro version, there is no limit to the time you can record. The methods for recording the screen are easy, and the recorded video can be played right away on the player. VLC Media Player's advantages and disadvantages are listed below.
Pros
Video recording and playback program with a lot of features.
To control the operation, use hotkeys and shortcuts.
Different file formats can be saved and even converted.
All operating systems are supported.
Cons
There are fewer options for adjusting settings.
It is not possible to record a specific area.
8. Debut Video Capture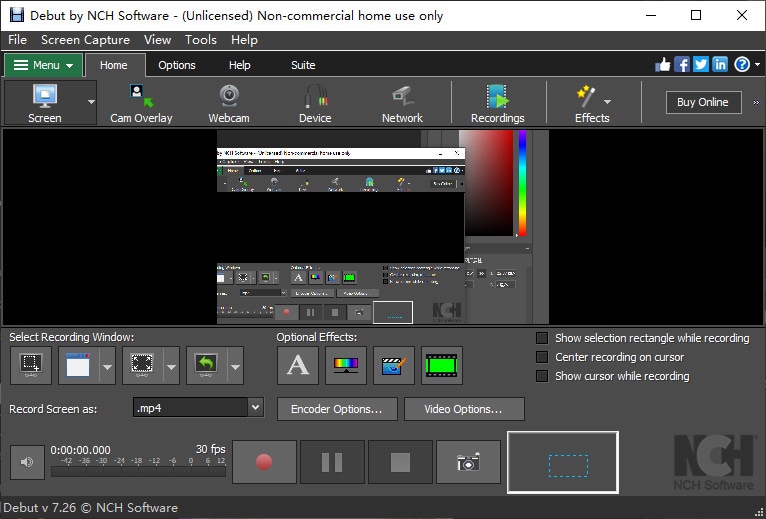 Debut Video Capture is free recording software that does not include a watermark. The free version is for non-commercial use only, and there is no need to register to download and use the software. You have the option of customizing the recording area and recording from a webcam. In reality, you may effortlessly capture any external device with the software. The recording can be saved in a variety of file formats. You can make a time-lapse video and take screenshots. The advantages and disadvantages of Debut Video Capture are listed below.
Pros
Any desired screen region can be recorded.
Change the recording settings.
Mouse clicks and keystrokes are highlighted.
Audio from a microphone and a capture system
Options for standard editing are available.
Your own watermark, logo, and text can be added.
Cons
It takes a while to get used to the user interface.
9. Screencast-O-Matic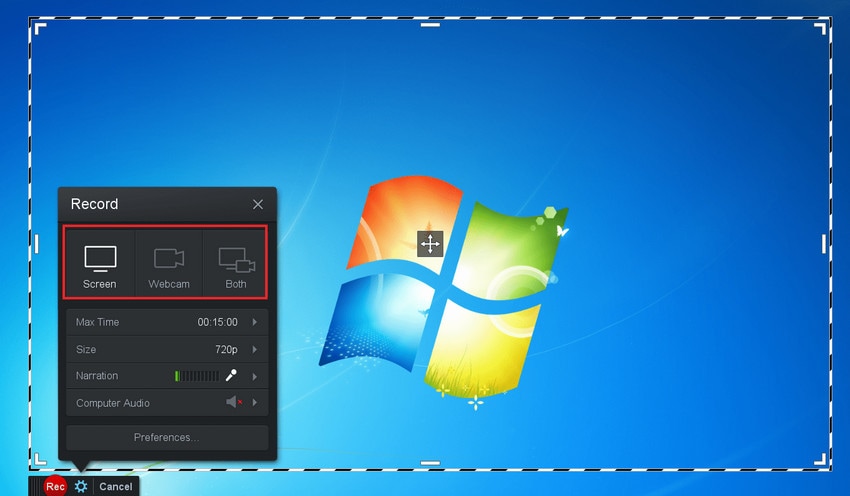 Screencast-O-Matic is a watermark-free screen recorder that works on all devices. It's an internet screen recorder that lets you record your screen while you're on the road. All you have to do is download the app's launcher and start recording right away. A pro version is available with additional features and functionalities. While recording the screen, you can add text and draw shapes in real-time. The advantages and disadvantages of Screencast-O-Matic are listed below.
Pros
Take a screenshot of any part of your screen.
Video and audio from a webcam can be added to a recording.
In picture-in-picture mode, record.
Drawing and annotations in real-time.
To add to the recording, you can use stock photos and music.
Cons
Editing options are rather rudimentary.
10. FlashBack Express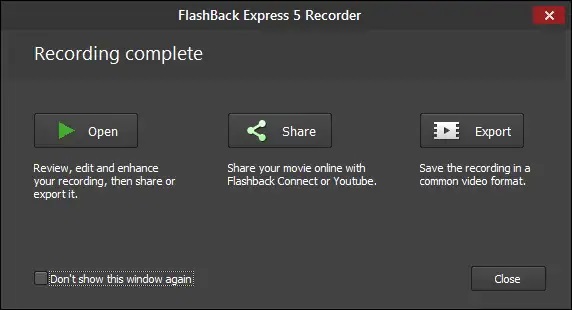 Flashback Express is watermark-free recording software that is only available for Windows users. It's a powerful screen recorder with many capabilities for high-quality recording. The sophisticated functions are limited in the free edition, but the offered features are sufficient to get the job done. You may record your screen, webcam, and microphone, edit the video, and share it on YouTube. You may also schedule screen recording and record from several screens. The advantages and disadvantages of FlashBack Express are listed below.
Pros
Create a customized screen area and record it.
Capture from several screens and devices.
Record both the mic and the system sound at the same time.
Editing options are available.
Save the recording in a variety of file types.
Cons
Only a few features are available in the free edition.
The user interface may be overpowering.
Conclusion
For your consideration, we've compiled a list of the Top 10 Screen Recorders for PC without Watermark in 2022. Some are desktop programs, while others are web-based screen recorders. Some are entirely free with no restrictions, while others include a paid version that removes the limits of the free version. If the free screen recorders do not meet your needs, you can invest in a professional screen recorder. We strongly advise you to use EaseUS RecExperts.
Price: It starts $19.95/Monthly.
Compatibility: Windows and Mac
No more content