Every PDF document we generate, edit, and read on our laptops and PCs contains metadata. The title, author, creator, subject, creation and modification dates, keywords, etc., are all included in the file's metadata.
The ones listed above are basic metadata tags; however, a PDF file may also contain more complex information. The updated metadata will include details such as Copyright, Identifier, Ratings, PDF Cover, Comments, etc.
The following are a handful of the editing processes that are frequently performed on metadata.
Edit each PDF's metadata in bulk.
Copy the metadata from the PDF file.
Export the metadata from the PDF file into another externalized file.
Remove the original metadata from the PDF and add new metadata to the file.
Top 5 PDF MetaData Editor for Windows
1. Calibre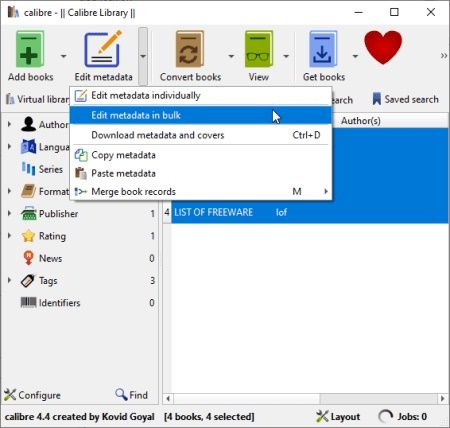 Calibre was initially developed to manage e-books, but it has since distinguished itself as a powerful PDF metadata editor for Windows. You may install the Windows version on their official website on your computer.
All PDF e-books supported by gadgets like the Kindle, WordProcessor, and others can have their metadata changed thanks to an e-book management program (like Author, Keywords). One can copy a PDF file's metadata, change PDF metadata in bulk, add a cover to a PDF file, and obtain metadata from the internet.
Pros:
You can mass edit PDF metadata.
It lets you copy the metadata of a PDF document.
It has a useful function that allows you to download metadata for a popular book from online sources.
You can even convert between book formats.
Cons:
Unable to open DRM-protected books
2. Hexonic PDF Metadata Editor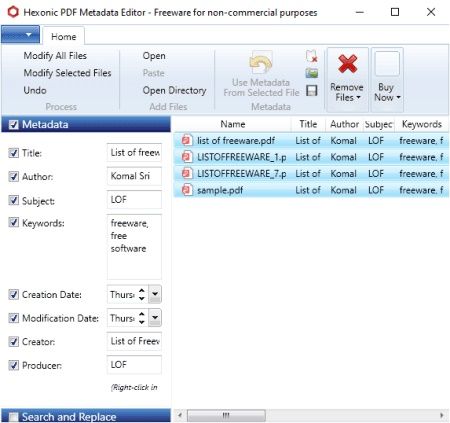 Hexonic PDF Metadata Editor's features extend beyond simple PDF modifications. Explore the features of this editor to modify PDF documents in mass by downloading and installing the PDF Editor for Windows from their official website (on their free edition, the bulk limit for editing is set to 5).
The PDF file's Keywords, Creator, and Producer information can all be changed by the user using the metadata editor feature. Clearing the original metadata from the files, importing metadata from external metadata files, and preserving current metadata data in an XML format in an external document are additional appealing and advantageous features of this software.
Pros:
It offers the helpful function of using a specified file's metadata for all other PDF documents.
You can import metadata into PDFs from a local file and save typed metadata to a local file.
You can remove all metadata data from one or more chosen files.
You can manually search a text using its Search and Replace function and replace it with another text in metadata sections of imported PDFs.
Cons:
This batch PDF metadata editor is available without charge for personal use only.
3. 4dots software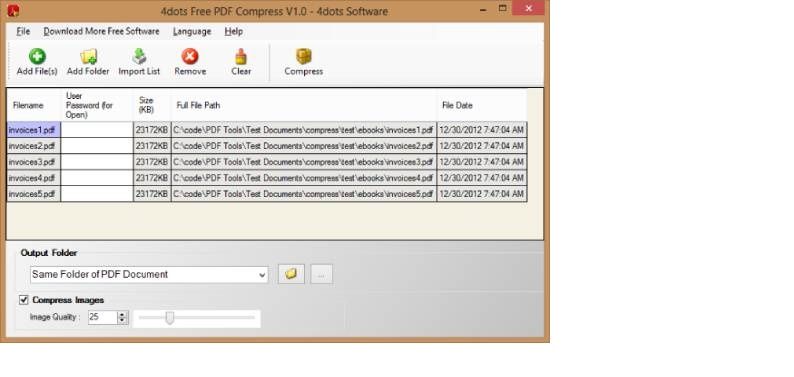 4dots software offers a simple-to-use mass metadata editor for PDF files. A PDF file's fundamental metadata modifications, such as Title, Author, and Keywords, can be changed. People from many regions can use this software's multilingual features for their PDF files.
Pros:
Batch compress PDF files to reduce the file size significantly.
It's free, very simple to use, and multilingual.
Subfolders, as well as entire folders containing PDF documents, can be compressed.
Available in 38 different languages.
Cons:
The software doesn't appear to have any significant problems.
4. AutoMetadata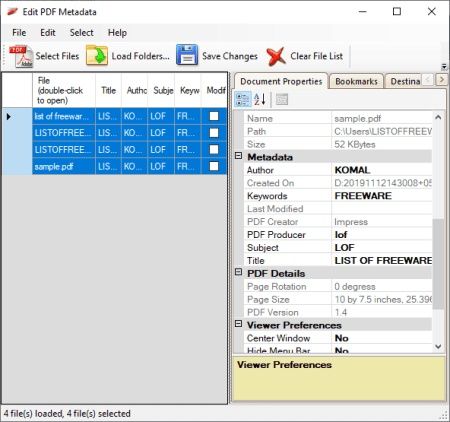 AutoMetadata for Windows is a free batch PDF metadata editor. It is specialized software that allows you to edit the metadata of several PDF documents simultaneously. You can modify the metadata of individual PDF files or folders containing PDF documents. It will enable you to enter metadata such as Title, Author, Subject, Keywords, and Producer. You may also customize the appearance of imported PDF documents by selecting options such as Center Window, Hide Menu Bar, Hide Toolbar, Navigation Tab, Page Layout, and so on.
Aside from editing, it can also be used as a PDF metadata viewer, as it can display a wide range of PDF data.
Pros:
The metadata in the PDF files can be deleted.
It allows you to instantly restore the original information to a set of PDF files.
It has a "Search and Replace" function that enables you to locate text in metadata fields and replace it with different text.
Cons:
AutoMetadata is only supported by Microsoft Windows XP, Vista, and 7.
5. PDF Shaper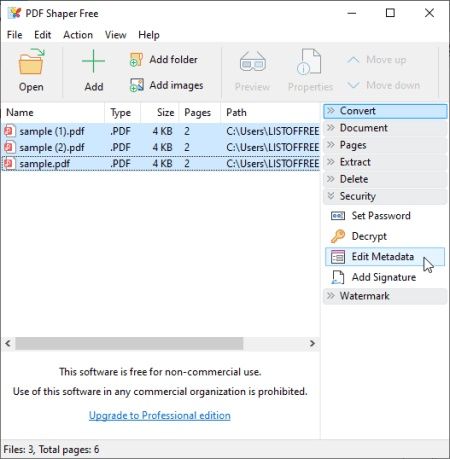 Another batch PDF metadata editor for Windows is PDF Shaper. It is essentially free software that comprises several PDF processing tools, one of which includes a PDF metadata editing tool. You may modify some basic metadata information for numerous PDF documents at once using this tool. It allows you to enter information such as the Title, Author, Subject, and Keywords.
Pros:
It can convert PDF to text, PDF to image, image to PDF, PDF to DOC, and so on.
It is used to combine or split PDF documents.
PDF pages can be rotated, cropped, inserted, and moved.
It enables you to implement PDF security features such as encryption and digital signatures.
Cons:
You may use it for personal, non-commercial purposes only. It also offers several paid editions with more advanced features.
Bonus Tip: Convert an Encrypted eBook for Reading Anywhere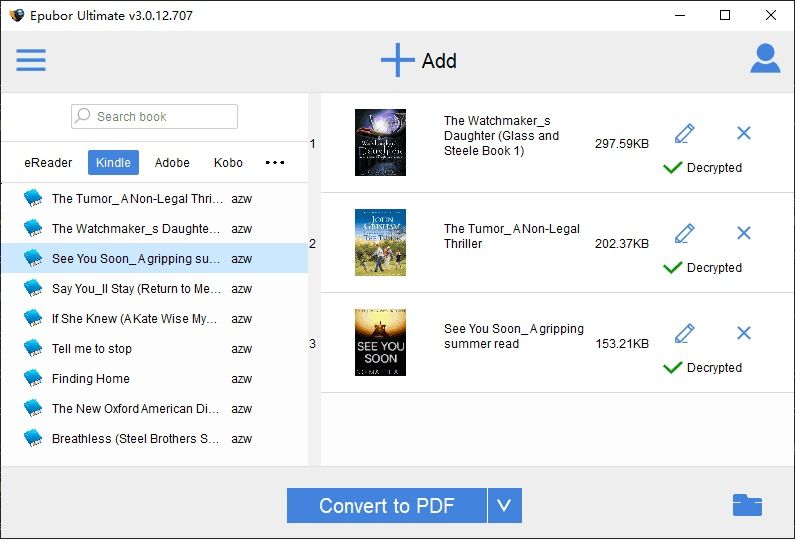 The most extraordinary eBook Converter and eBook DRM Removal features are included in Epubor Ultimate eBook Converter, which enables you to read books anywhere. The converted books are presented precisely as they are, and Epubor Ultimate eBook Converter makes it simple to convert many books to EPUB, PDF, or Mobi. If necessary, drag and drop books into the output format field, then click the "Convert" button. The books will all be changed into the format you require at that point.
Features:
• Convert eBooks from virtually all of the well-known stores.
• Change the metadata to restore a book's integrity.
• Detect devices and load books automatically.
• User guides make it simple to get started.
• Prompt assistance and attentive customer care.
Price: Its Lifetime license costs $49.99/1 PC, $54.99/1 MAC.
Compatibility: Windows and Mac
How to use:
Step 1: Download and launch the Epubor Ultimate.
Step 2:Remove DRM in Kindle books.
On the left side of the interface, you can see some options, including "eReader", "Kindle", "Adobe", "Kobe" and some others. Select the "Kindle" button. In the displaying items, find the target you want to remove DRM. Drag it into the right side. The DRM will be removed automatically.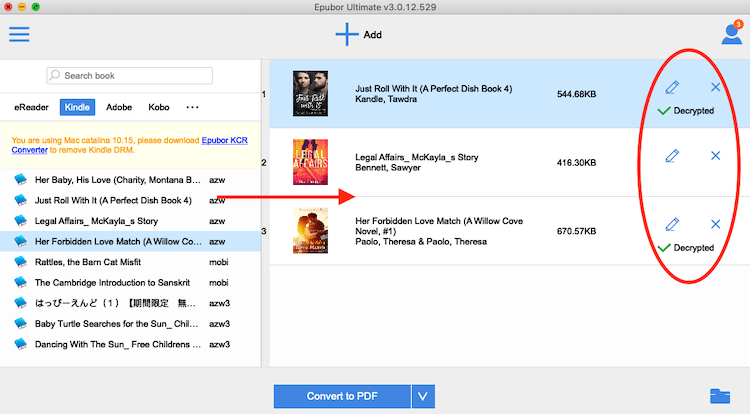 If you want to remove DRM or convert the format of other files that don't belong to any option, you can click the "Add" button. 
Conclusion
We don't want to impose a tool selection on you at the end of our assessment of the top 5 PDF metadata editors for Windows. You can choose any of these instruments that are appropriate for your task from this list, but we must point out that each one of these tools has a unique specialty. We strongly advise using Epubor Ultimate to convert an encrypted eBook so you can read it anywhere.
If you work with or read electronic books frequently, Epubor Ultimate is a terrific tool. It supports several formats and makes it simple to transfer these files to the e-reader of your choice.
No more content